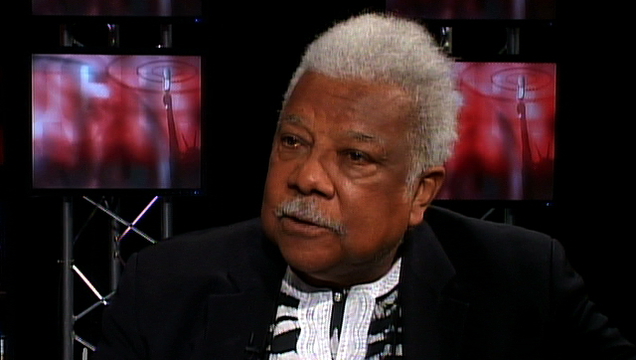 Guests
Ali Mazrui
Kenyan scholar and leading Pan-Africanist thinker.
This is viewer supported news
Donate
The renowned Kenyan scholar Ali Mazrui has died at the age of 81. For nearly half a century, he was considered an intellectual giant in African studies. In 2005, Foreign Policy and Prospect magazines named him among the top 100 public intellectuals in the world.
At the time of his death, he was an Albert Schweitzer professor in the humanities and director of the Institute of Global Cultural Studies at the State University of New York at Binghamton.
Born in Mombasa in 1933, Mazrui studied in Manchester, New York, and Oxford before becoming a professor at Makerere University in Uganda. In 1973, he was forced into exile by then-Ugandan dictator Idi Amin and taught in the United States and other institutions across the world ever since. He was the author or co-author of more than 20 books on African politics, international political culture and political Islam, including "Islam Between Globalization and Counterterrorism."
In 2009, Mazrui appeared on Democracy Now! to discuss the election of Barack Obama, the first black president in the Western world.
"We've had great individuals in African history, like Menelik II of Ethiopia or Ramesses II of Egypt or even a more recent one like Kwame Nkrumah. Those were powerful within their countries or their regions. They were not globally powerful in the sense in which a president of the United States is," Mazrui said. "He's easily the most powerful single black individual that's ever walked planet Earth. And that's a major breakthrough in race relations."
When asked to respond to critics such as Glen Ford who at the time challenged that Obama "will provide U.S. empire with a black face, and that could be very destructive," Mazrui was optimistic.
"It is a risk, really, because sometimes people are swallowed up by the position they occupy. I would hope Obama would help reshape the position he occupies, the presidency of the United States. … [T]he one thing I hope he will avoid is initiate another military conflict for the United States, because since the 1930s, every single American president has initiated a conflict … So, my hope is he will break that tendency for the American presidents to feel the way to be really presidential and commander-in-chief is to be ordering an army into action on another society."
"My dream was he will be the first president not to start a conflict."
---