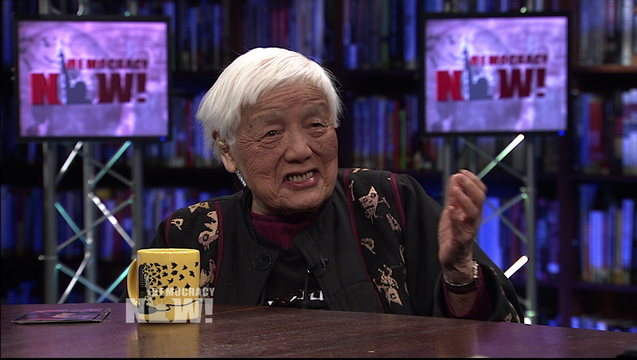 Topics
Guests
Grace Lee Boggs
legendary Detroit-based activist and philosopher. On October 5, 2015, Grace Lee Boggs died at the age of 100.
This is viewer supported news
Donate
Longtime Detroit activist and philosopher Grace Lee Boggs died this morning at the age of 100. Grace was involved with the civil rights, black power, labor, environmental justice and feminist movements over the past seven decades. She appeared many times on Democracy Now! over the years in wide-ranging interviews. Here are some excerpts from our conversations.
On Other People
"The only way to survive is by taking care of one another." || WATCH
On the U.S.
"We're in a very, very profound crisis. It's so obvious that no one in the power structure, either the corporate power structure or the political power structure, knows what to do or is willing to do what's necessary in relationship both to global war and global warming. It's so obvious that conditions are getting worse for the great majority of Americans. It's so obvious also that we face a very serious danger from people who feel, see themselves only as victims. And we have to somehow, in a very loving way, help the American people to recover the best that is in our traditions." || WATCH
On Detroit
"Detroit, which was once the symbol of miracles of industrialization and then became the symbol of the devastation of deindustrialization, is now the symbol of a new kind of society, of people who grow their own food, of people who try and help each other, to how we begin to think, not so much of getting jobs and advancing our own fortunes, but how we depend on each other. I mean, it's another world that we're creating here in Detroit. And we had to. I mean, we didn't do so because we are better people than anybody else, but when you look out and all you see is vacant lots, when all you see is devastation, when all you see — do you look at it as a curse, or do you look at it as a possibility, as having potential? And we here in Detroit had to begin doing that for our own humanity." || WATCH
On Grace's Childhood
"I first understood the changes that were necessary in this world, because the waiters in the restaurant, when I cried, used to say, "Leave her on the hillside to die. She's only a girl baby." I think they said it somewhat as a joke, maybe not, but it made me understand that being born female in this world was very different from being born male." || WATCH
On Malcolm X
"I began to host meetings at my home where he could talk to people and give them a sense that—most people think of the black movement in the '60s mainly as a struggle for white rights, but for Muslims, for people who joined the Nation, it was a question of creating our own identity. It was more a part of the identity movements of the '60s than it was just a rights movement. And I wanted folks to understand that. And so, I began working with Malcolm." || WATCH
On Rebellion
"A rebellion is something that is developing as an explosion coming out of the righteous grievances of a community of people." || WATCH
On Prisons
"We have this exploding prison population. We have the equivalent of martial law on a day-to-day, 24/7-hour basis in our cities, because we have not heard the cry for help by young people in 1967." || WATCH
On Materialism
"I think that deep in our hearts we know that our comforts, our conveniences are at the expense of other people." || WATCH
On Capitalism
"This capitalist society has not lasted forever; it's only a few hundred years old." || WATCH
On Iraq
"What we've done to the people of Iraq, the countless deaths that we have caused, and what we have done also to our own soldiers, in destroying their humanity and forcing them to engage in such a criminal, illegitimate operation, first we need to acknowledge that and to ask a kind of forgiveness. That will reconcile ourselves with our own humanity, to begin with." || WATCH
On Democracy
"Well, I would say that we've got to redefine democracy, that we have been stuck in concepts of representative democracy, that we believe that it's getting other people to do things for us that we progress." || WATCH
On Marx
"Actually, if you go back to what Marx said in The Communist Manifesto over a hundred years ago, when in talking about the constant revolutions in technology, he ended that paragraph by saying, "All that is sacred is profaned, all that is solid melts into air, and men and women are forced to face with sober senses our conditions of life and our relations with our kind." We're at that sort of turning point in human history." || WATCH
On Revolution
"I think our concept of revolution, in terms of getting the power to do things, is too focused on the state. We have a scenario of revolution that first, you know, comes from 1917, that first you take the state power, and then you change things. And we don't realize it's collapsed." || WATCH
---