Obama Condemns Islamophobia in Final State of the Union
January 13, 2016
Headlines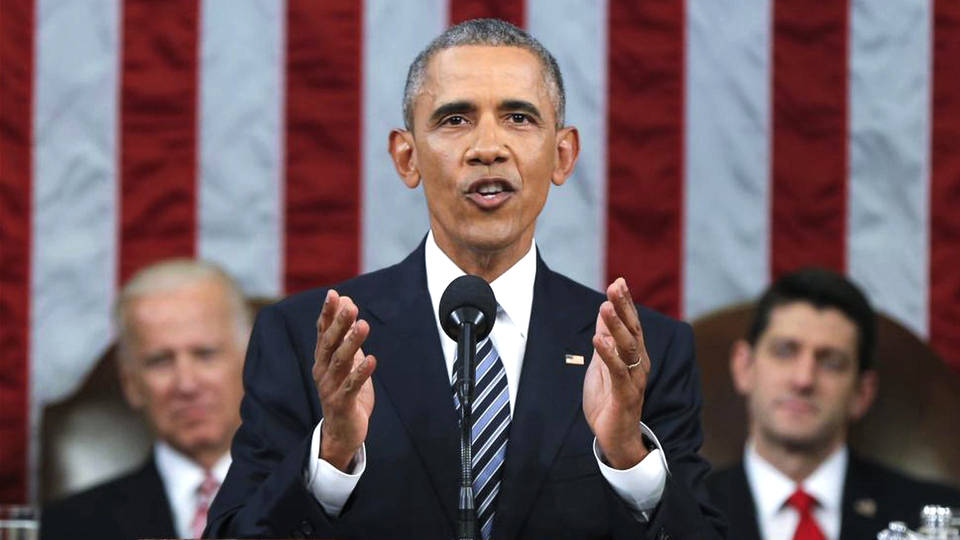 President Obama delivered his seventh and final State of the Union address Tuesday night. Obama defended his record, including his historic deals with Iran and Cuba, while implicitly criticizing the Republican candidates who seek to succeed him. While mostly avoiding specific policy proposals, Obama spoke out against stigmatizing marginalized communities, including Muslims.
President Barack Obama: "When politicians insult Muslims, whether abroad or our fellow citizens, when a mosque is vandalized or a kid is called names, that doesn't make us safer. That's not telling it what—telling it like it is. It's just wrong. It diminishes us in the eyes of the world. It makes it harder to achieve our goals. It betrays who we are as a country."
We'll have more on Obama's State of the Union address after headlines.
Iran Releases 10 U.S. Sailors Who Entered Iranian Waters
January 13, 2016
Headlines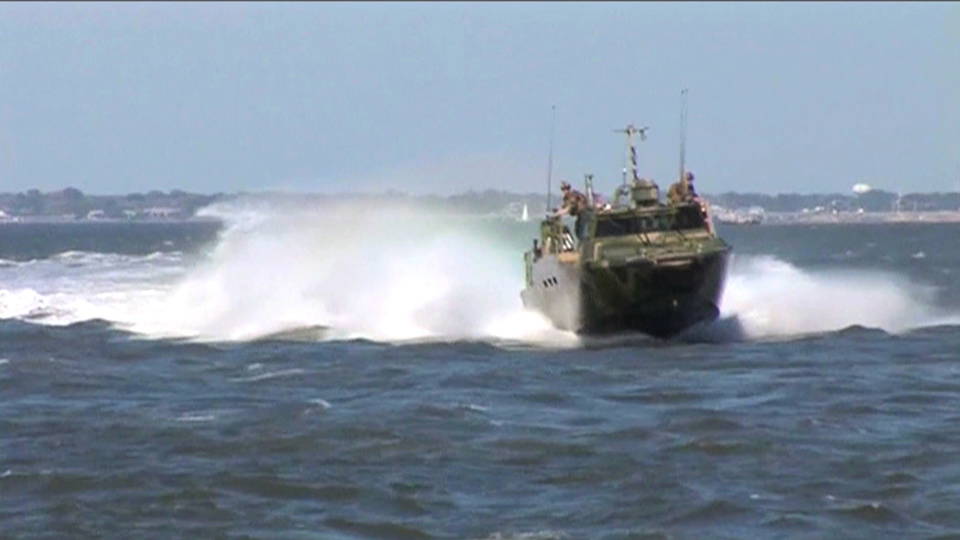 Iran has released two U.S. Navy patrol boats carrying 10 crew members hours after detaining them for entering Iranian waters. The Obama administration says the boats drifted after experiencing mechanical problems. The detention came just days before a landmark nuclear deal between Iran, the U.S. and other world powers is set to be implemented.
Pakistan: Suicide Bomber Attacks Polio Center, Killing 15
January 13, 2016
Headlines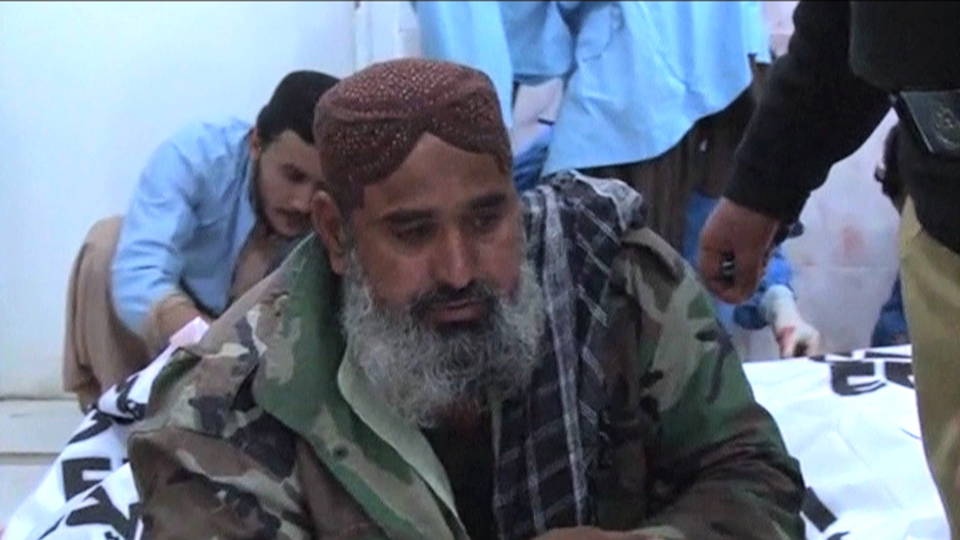 In Pakistan, a suicide bomber attacked a U.N.-backed polio eradiction center in Quetta, killing 15 Pakistani security forces and wounding 24 people. Militants have targeted polio campaigns after it was revealed the CIA used a fake vaccination program in its effort to locate Osama bin Laden.
Iraq: 2 Journalists Shot Dead in Diyala Province
January 13, 2016
Headlines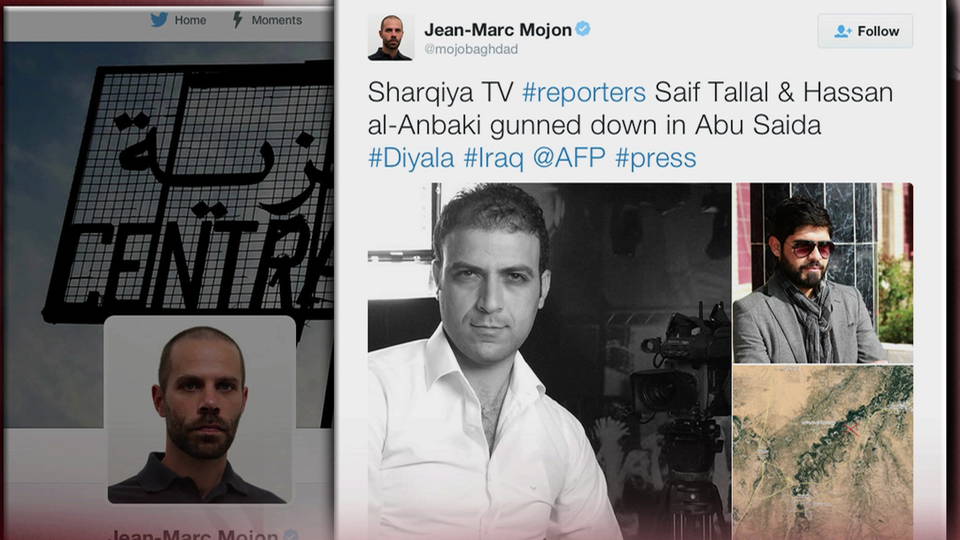 In Iraq, two journalists with the independent Al Sharqiya TV station have been shot to death near Baquba, the capital of Diyala province. Saif Tallal and his cameraperson, Hassan al-Anbaki, were reportedly killed while returning from a reporting trip. Iraq is among the deadliest countries in the world for journalists.
Saudi Arabia Arrests Top Human Rights Activist Samar Badawi
January 13, 2016
Headlines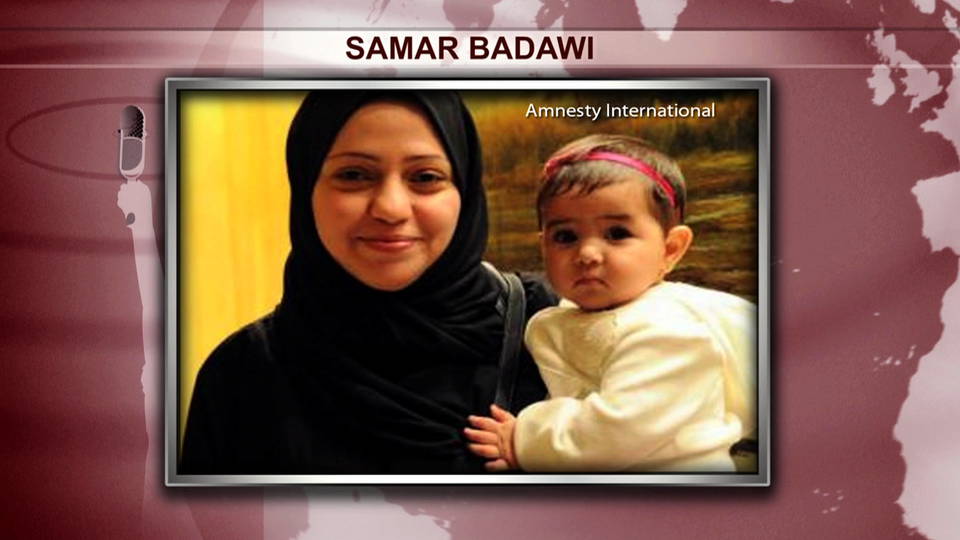 Saudi Arabia, a close U.S. ally, has arrested a leading human rights activist. Samar Badawi is the sister of blogger Raef Badawi, who was sentenced to 10 years in prison and received 50 lashes in a public square last year. She also campaigned for women's rights and the release of her husband, attorney Waleed Abu al-Khair, who is serving a 15-year sentence related to his activism. Amnesty International calls Samar Badawi's arrest "the latest example of Saudi Arabia's utter contempt for its human rights obligations."
United Methodist Church Pension Board Blocks Investment in 5 Israeli Banks
January 13, 2016
Headlines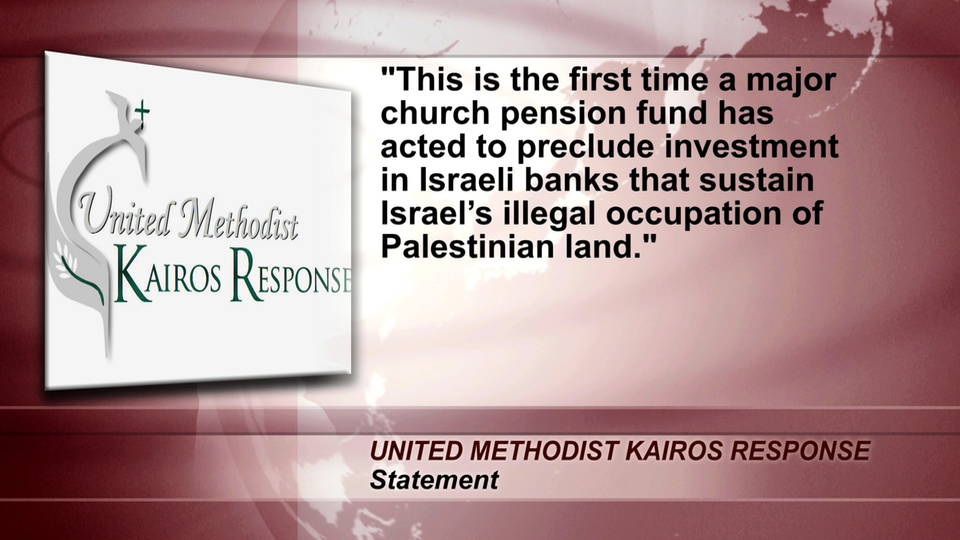 In what's being hailed as a historic victory for the global campaign to boycott and divest from Israel over its occupation of Palestinians, the pension board of one of the largest Protestant denominations in the United States has blocked investment in five Israeli banks. In a statement, a group within the United Methodist Church said it was the first time a major church pension fund has "acted to preclude investment in Israeli banks that sustain Israel's illegal occupation of Palestinian land." The church still invests in other Israeli companies.
Israeli Air Raid Kills 1 in Gaza; Soldiers Kill 3 Palestinians in West Bank
January 13, 2016
Headlines
In the latest from the Occupied Territories, an Israeli air raid today killed a Palestinian in Gaza and wounded three. Israeli officials said the men were plotting an attack. On Tuesday, Israeli soldiers fatally shot three Palestinians in the occupied West Bank, including one accused of trying to stab a soldier.
Denmark Poised to Pass Law to Strip Refugees of Their Possessions
January 13, 2016
Headlines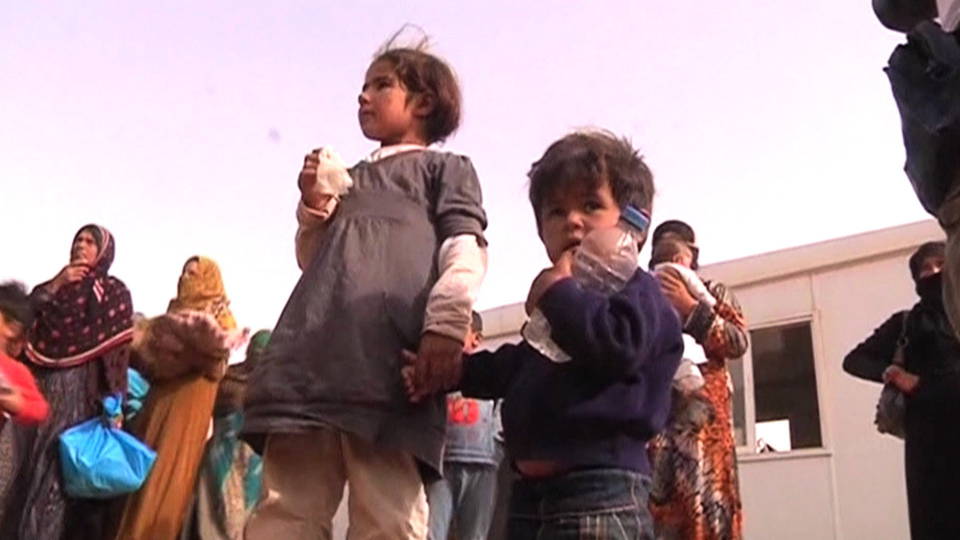 Denmark is set to pass a law to confiscate refugees' possessions, in a move that has drawn comparisons to Nazi Germany and condemnation from the United Nations. The law would force refugees to surrender anything over about $1,500 in valuables in order to pay for their stay as they apply for asylum. Meanwhile, a new United Nations analysis reveals the number of people migrating to foreign countries increased by 41 percent over the past 15 years to 244 million in 2015; of those people, the U.N. considers 20 million to be refugees.
France: Calais Refugees Vow to Peacefully Defy Eviction of "Jungle" Camp
January 13, 2016
Headlines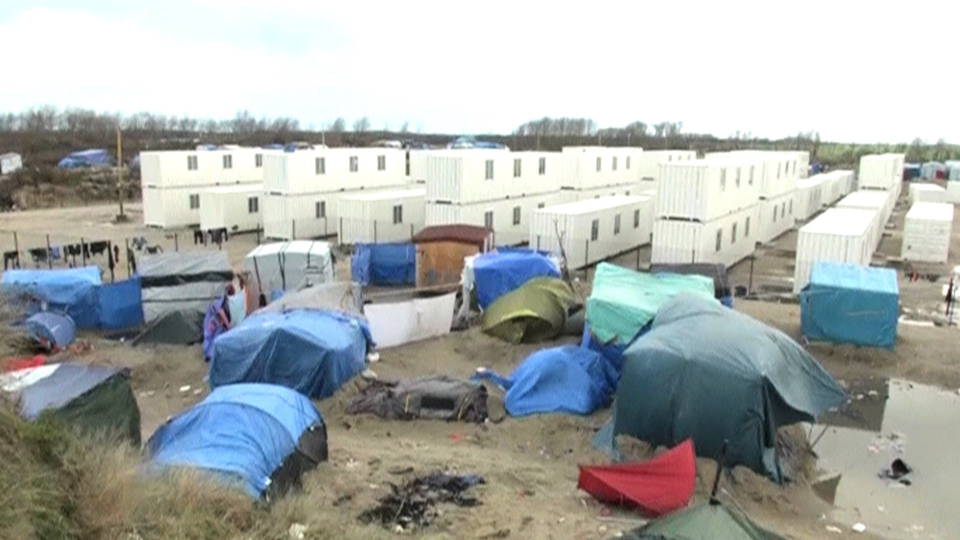 In France, residents of the Calais refugee camp known as the "jungle" have vowed to peacefully resist authorities' efforts to evict them and bulldoze parts of the camp. Thousands of refugees live in makeshift tents in Calais as they seek to enter Britain through the Channel Tunnel. But French authorities want to resettle about 1,500 of them in storage containers which the refugees say resemble a prison and lack common areas—like the makeshift kitchens and places of worship in the camp. Authorities have given the residents until tonight to move before they bulldoze a third of the camp on Thursday. In a statement, the residents said: "We, the united people of the Jungle, Calais, respectfully decline the demands of the French government with regards to reducing the size of the Jungle. We have decided to remain where we are and will peacefully resist the government's plans to destroy our homes." To see our report from the Calais refugee camp in December, go to democracynow.org.
The Yes Men Denounce War in Hoax at European Parliament
January 13, 2016
Headlines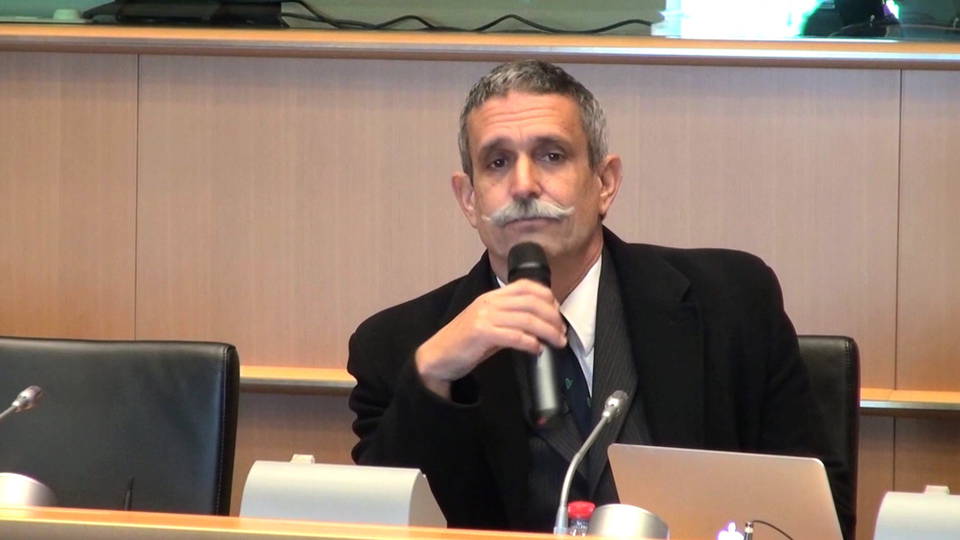 The culture jamming prankster group The Yes Men has struck again. On Tuesday, in the European Parliament in Brussels, a so-called defense and security consultant calling himself "Archibald Schumpeter" delivered a presentation about how drone killings, mass surveillance and military action fail to address terrorism.
"Archibald Schumpeter": "Unfortunately, responses that we've seen so far have not been very intelligent. In fact, it's been pretty much stupid all the time. As far as terrorism is concerned, France's attacks are like fighting fire with gasoline. It's guaranteed to generate more terrorists, just as the U.S. attacks on Iraq have. For war to work against terrorists, you would have to kill everyone in the country, and as we know, that's just not possible."
The presenter was actually Andy Bichlbaum of The Yes Men. After dismissing attempts to address terrorism through military action, he presented an "industrial" solution—an "ENDURAsphere," he said would allow citizens to shelter inside a "fully-defended orb" to withstand any terrorist attack. A person inside an "ENDURAsphere" costume appeared in the Parliament as he described the invention. Bichlbaum says the prank was aimed at "highlighting that there really is no solution to terrorism within the defense and security paradigm."
Report: New, Smaller U.S. Missiles May Increase Likelihood of Nuclear War
January 13, 2016
Headlines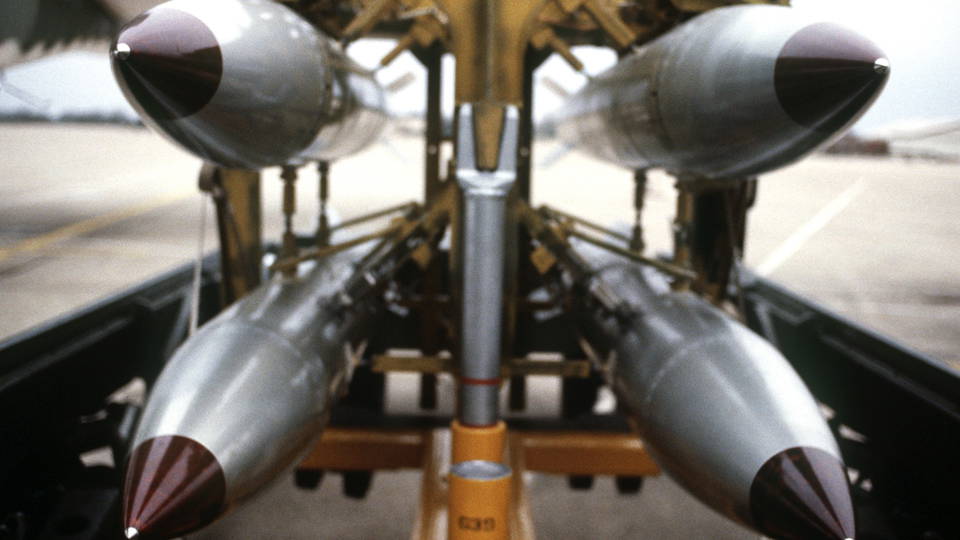 A new report reveals how the Obama administration has upgraded the U.S. nuclear arsenal to create smaller, more precise nuclear bombs. The New York Times reports that despite his advocacy for a "nuclear-free world," President Obama's administration has potentially increased the likelihood of a future president deploying a nuclear weapon by creating more precise warheads whose explosive force can be dialed up or down. A former top nuclear strategist for Obama, General James Cartwright, acknowledged "what going smaller does is to make the weapon more thinkable." The B61 bomb is part of a fleet of new warhead types planned under an effort that will cost up to $1 trillion over three decades. Russia has called U.S. tests of the missile "irresponsible" and "openly provocative." The U.S. is the only country ever to use a nuclear weapon in war.
Sanders Leads Clinton in Iowa; MoveOn Endorses Him by Record Margin
January 13, 2016
Headlines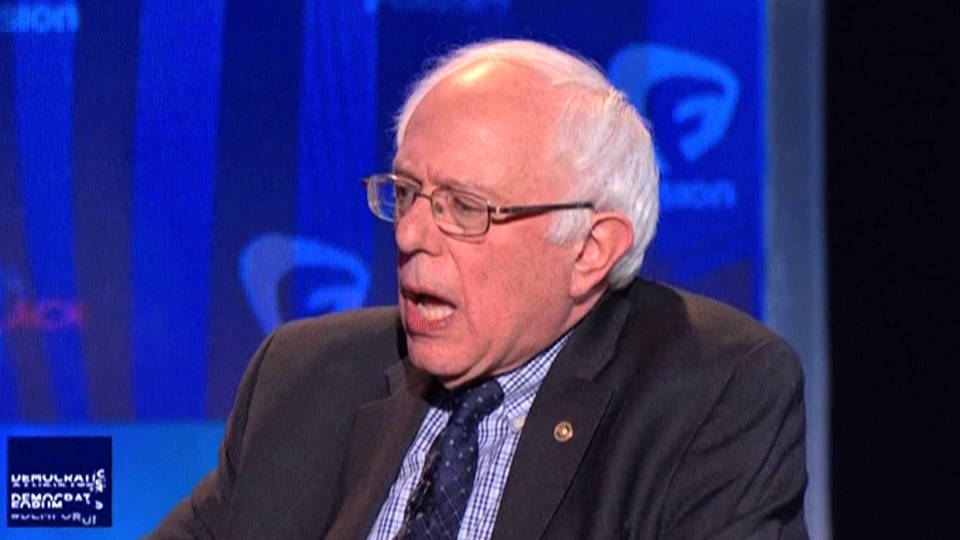 A new poll shows Democratic presidential candidate and Vermont Senator Bernie Sanders leading by five points over rival Hillary Clinton in Iowa. Just weeks before the Iowa caucuses, the survey from Quinnipiac University found 49 percent of likely Democratic caucusgoers back Sanders versus 44 percent for Hillary Clinton. Meanwhile, the latest New York Times/CBS News poll shows Clinton's lead over Sanders nationally has virtually disappeared. And members of the progressive advocacy group MoveOn have voted to endorse Sanders by the largest margin in the group's history. A record 78.6 percent of more than 340,000 MoveOn voters backed Sanders. Meanwhile, Hillary Clinton has taken aim at Sanders' plan for single-payer healthcare, calling it "risky." At a campaign event, Clinton's daughter, Chelsea Clinton, claimed that Sanders wants to dismantle Obamacare. Sanders attributed the attack to his surge in the polls, saying the Clinton campaign is "in serious trouble."
NYC: Protesters Target Bill Clinton over Conditions in Haiti 6 Years After Earthquake
January 13, 2016
Headlines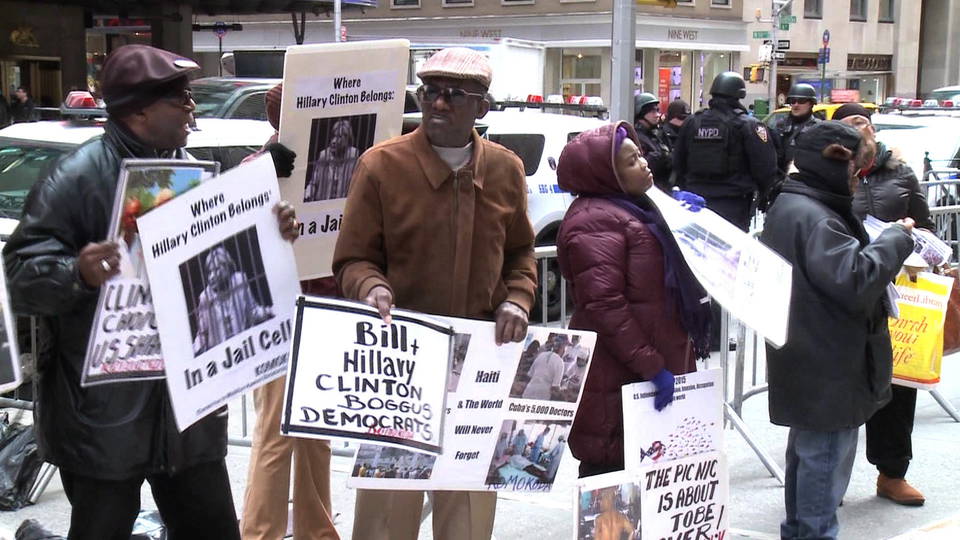 Tuesday marked six years since a 7.0-magnitude earthquake devastated Haiti, killing an estimated 300,000 people. Tens of thousands of Haitians are still living in tents. Here in New York City, a group of Haitians gathered in front of the Clinton Foundation to protest former President Bill Clinton's role as head of the Interim Haiti Recovery Commission. Activist Dahoud Andre was among them.
Dahoud Andre: "Today is the 12th of January 2016, six years after the earthquake. And for us, it was important to be in front of the Clinton Foundation, because Bill Clinton, as head of the IHRC, Interim Haiti Recovery Commission, was responsible for the $6 billion that came into his hands. He had unlimited control of this money. Six years after the earthquake, not much has changed, and as a matter of fact, Haiti is in worse condition than it was in 2010. Only Bill Clinton can tell the world what happened with this money."
Michigan Gov. Rick Snyder Deploys National Guard over Flint Water Crisis
January 13, 2016
Headlines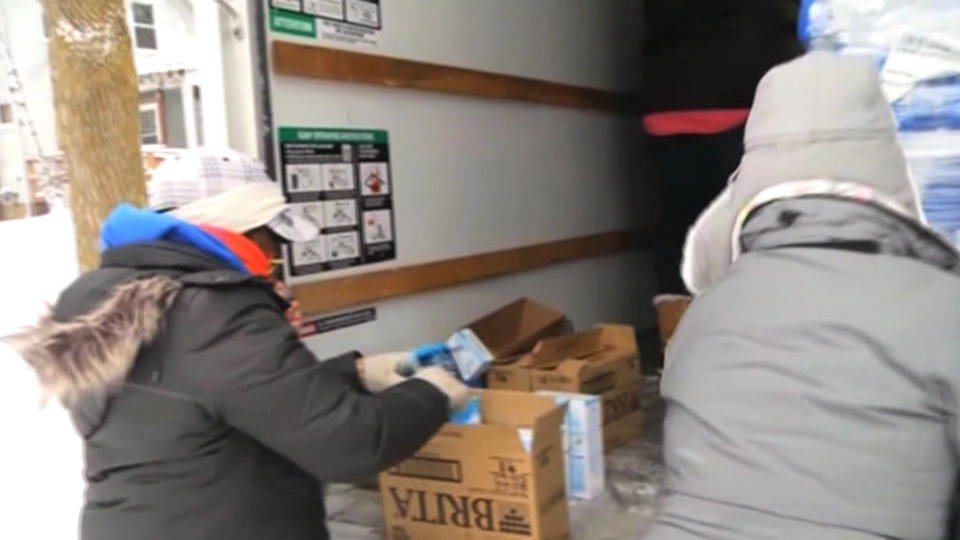 Michigan Governor Rick Snyder has deployed the National Guard to help distribute water and filters in Flint amid a crisis over the lead in the city's water. The poisoning began after an unelected emergency manager appointed by Governor Snyder switched the city's water source to the long-polluted Flint River in a bid to save money. Residents have reported lasting health impacts, including cognitive impairment. Residents have called for Governor Snyder's resignation and arrest.
Los Angeles Police Chief Backs Charges Against Officer Who Killed Homeless Man
January 13, 2016
Headlines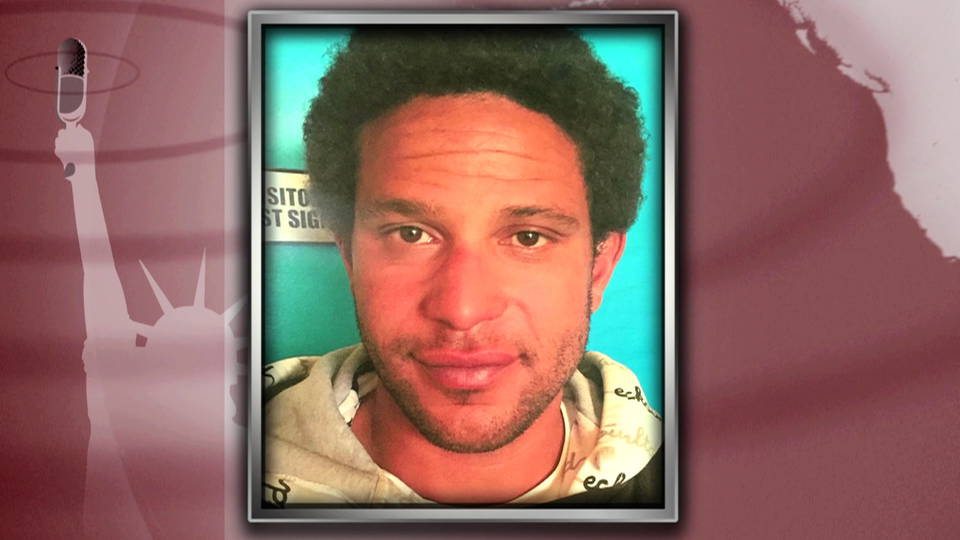 Los Angeles Police Chief Charlie Beck has recommended criminal charges against an officer who fatally shot an unarmed African-American homeless man in the back last year. Police say Officer Clifford Proctor shot 29-year-old Brendon Glenn while Glenn was on his stomach trying to push himself back up. Officer Proctor is African-American. Prosecutors have not said whether they will file charges against him.
Pennsylvania: Constable Fatally Shoots 12-Year-Old While Trying to Evict Her Family
January 13, 2016
Headlines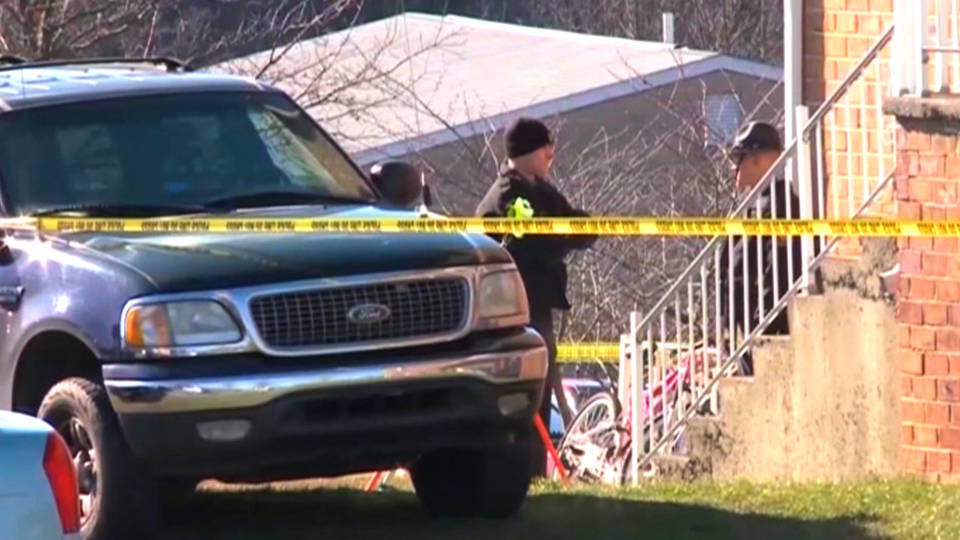 In Pennsylvania, a state constable has fatally shot a 12-year-old girl during an attempt to evict the girl's family from their home. Police say the girl's father pointed a gun at Pennsylvania State Constable Clarke Steele, so he opened fire. The bullet hit the father's arm, then struck 12-year-old Ciara Meyer, killing her.
Oregon: Judge Says He'll Bill Militia $70,000 Per Day for Refuge Occupation
January 13, 2016
Headlines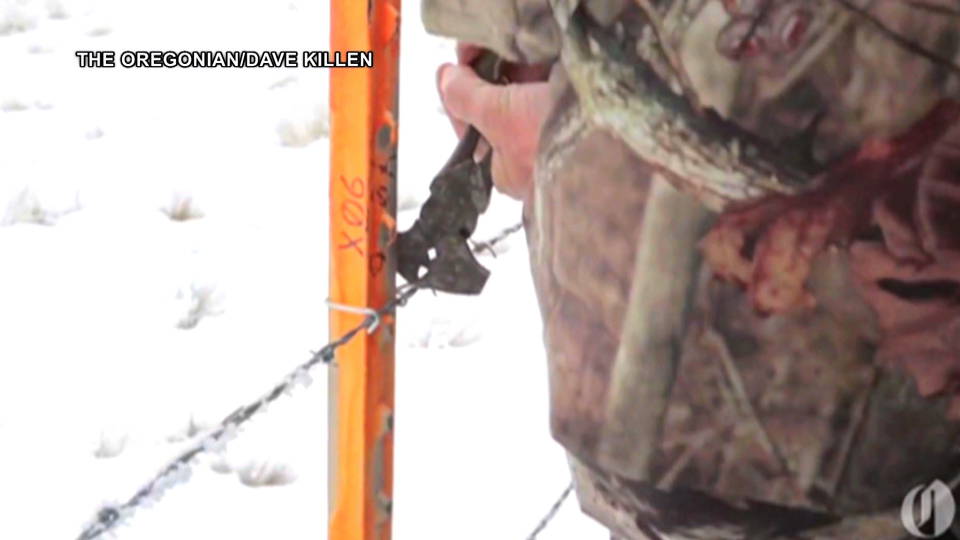 And in Oregon, Harney County Judge Steve Grasty says he'll bill the right-wing militia members who have occupied a federal wildlife refuge up to $70,000 a day for their cost to the public. Grasty says shuttered schools and closed government offices as well as increased security are costing taxpayers. The militants have torn down a fence and say they have been going through government documents at the Malheur National Wildlife Refuge. They occupied the refuge earlier this month in support of two ranchers sentenced to prison for setting fires that burned federal land.