Pakistan: Dozens Killed After Gunmen Storm University
January 20, 2016
Headlines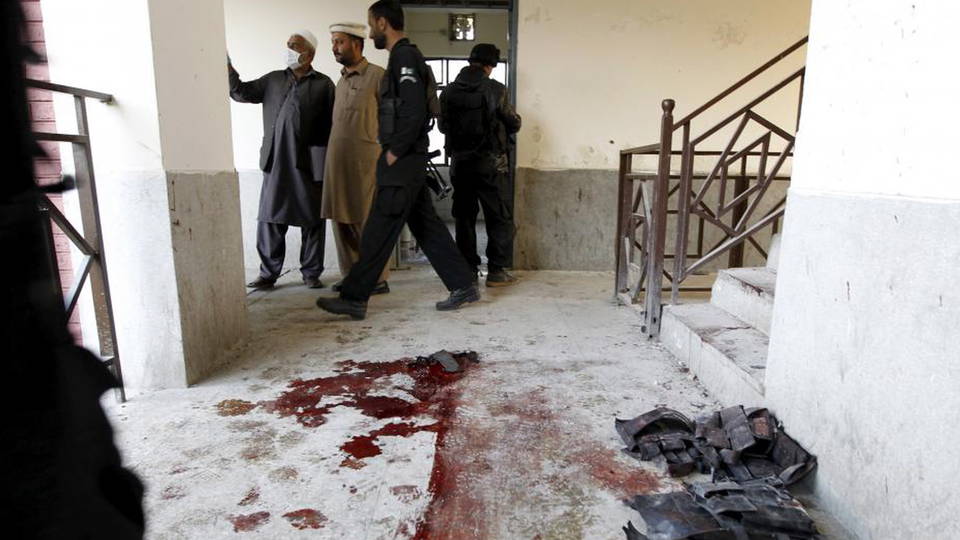 In Pakistan, gunmen have stormed a university in the northwest, killing at least 30 people and injuring dozens. The attackers stormed Bacha Khan University earlier today under the cover of morning fog. A Taliban commander initially claimed responsibility, but another spokesperson issued a conflicting statement condemning the attack. Initial accounts put the death toll at 30, but there are reports it could be much higher.
Topics:
Michigan Gov. Rick Snyder Apologizes for Flint Water: "You Deserve Better"
January 20, 2016
Headlines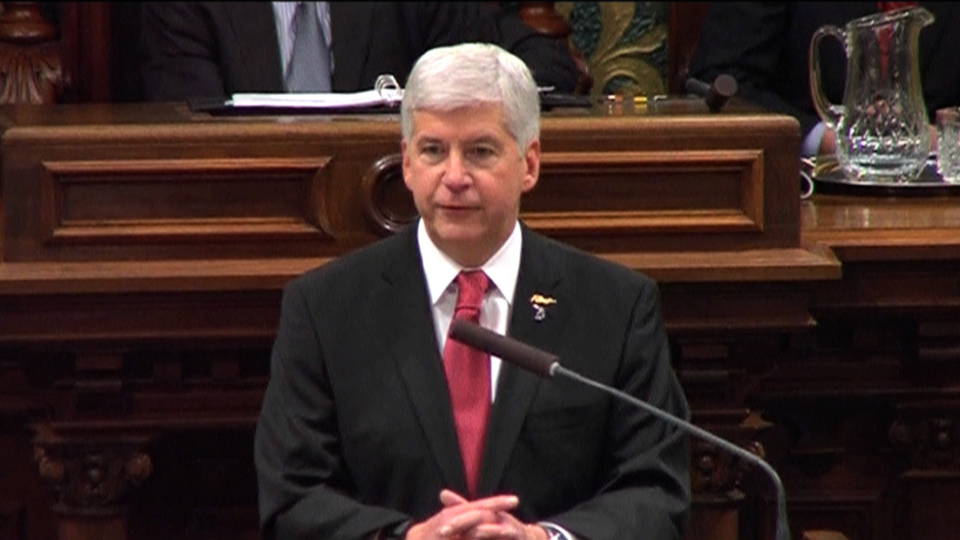 Michigan Governor Rick Snyder has apologized for the crisis of lead poisoning in Flint's drinking water during his State of the State address. The poisoning began in 2014 when an unelected emergency manager appointed by Snyder switched the city's water supply to the long-contaminated and highly corrosive Flint River in a bid to save money. Complaints about the water in Flint began within a month of the switch, but it took about a year and a half before officials heeded the complaints and switched the water back. Speaking Tuesday, Snyder acknowledged his government failed the people of Flint.
Gov. Rick Snyder: "To you, the people of Flint, I say tonight, as I have before, I am sorry, and I will fix it. No citizen of this great state should endure this kind of catastrophe. Government failed you—federal, state and local leaders—by breaking the trust you placed in us. I'm sorry, most of all, that I let you down. You deserve better."
Snyder spoke after documents obtained by local news outlets showed officials at the city, county and state level knew 15 months ago about a potential link between the Flint River water and a deadly outbreak of Legionnaires' disease that has killed 10 people. People using the water were only told of the potential link last week.
Michigan: Protesters Rally Outside Snyder's Speech to Call for Resignation
January 20, 2016
Headlines
Outside Snyder's speech Tuesday, residents rallied to continue calls for his resignation and arrest. Among those present was Melissa Mays, who says her children have suffered a rash of lasting health problems—from cognitive impairment to anemia—as a result of the poisoned water.
Melissa Mays: "They put poison into our homes. We fed it to our children. We were promised it was safe. The state failed us. They lied. They took away our rights to protect our children and our families. They have taken away our children's futures. We are here to say we are not going to be your victims anymore."
More Than 80 Detroit Schools Shuttered by Teacher "Sickout" over Conditions
January 20, 2016
Headlines
Meanwhile, more than 80 public schools in Detroit are closed today amid a massive teacher "sickout" to protest the state's inaction over black mold, rat infestations, crumbling buildings and inadequate staffing. This comes as President Obama plans to visit Detroit later today for the Detroit Auto Show.
Supreme Court to Consider President Obama's Actions on Immigration
January 20, 2016
Headlines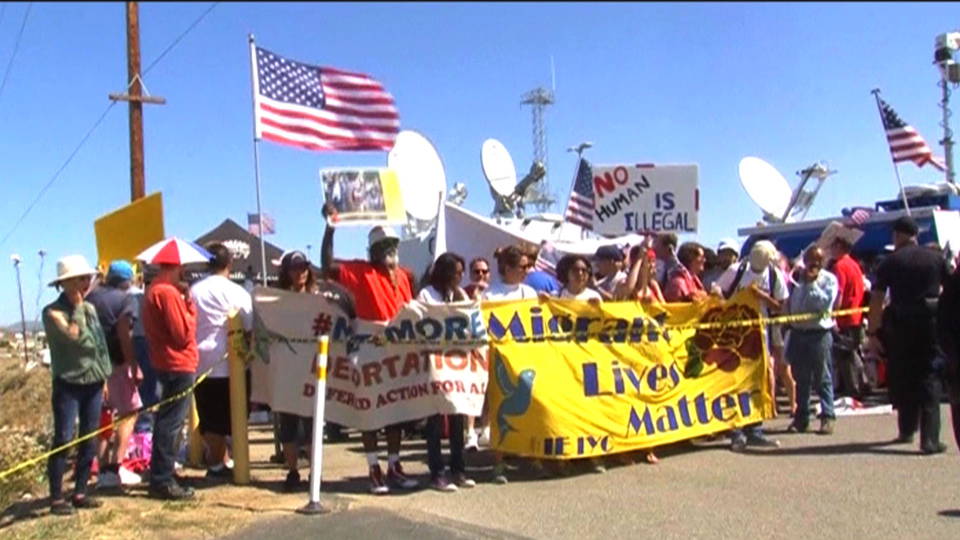 The Supreme Court has announced it will take up President Obama's executive actions on immigration. In 2014, Obama unveiled a program to shield from deportation up to 5 million undocumented people who are parents of U.S. citizens and permanent residents. But a coalition of 26 states filed suit, and last February a judge in Texas halted the program. The Supreme Court's upcoming decision could impact the balance of power between Congress and the president—and the lives of millions of undocumented people. A decision is expected by the end of June.
Topics:
Sarah Palin Endorses GOP Presidential Candidate Donald Trump
January 20, 2016
Headlines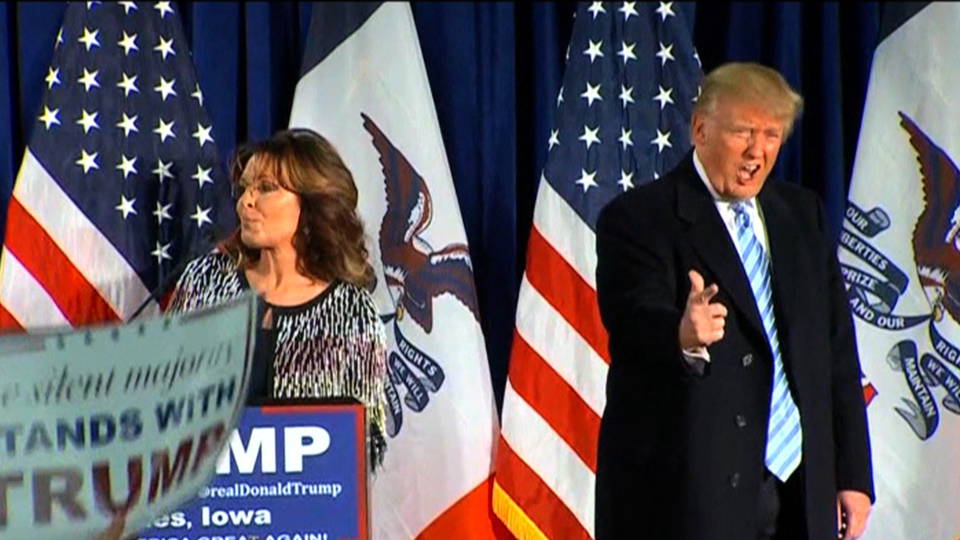 Former Alaska governor and 2008 vice-presidential nominee Sarah Palin has endorsed Donald Trump for president, marking the highest-profile endorsement of a Republican candidate in the 2016 race. Palin made the announcement in Iowa, a state where her backing could give Trump a boost less than two weeks before the caucus.
Sarah Palin: "He, better than anyone—isn't he known for being able to command, fire? Are you ready for a commander-in-chief? You ready for a commander-in-chief who will let our warriors do their job and go kick ISIS ass? Ready for someone who will secure our borders, to secure our jobs and to secure our homes? Ready to make America great again? Are you ready to stump for Trump?"
Today's New York Daily News cover shows a photo of Palin and Trump pointing at each other with the headline "I'm with Stupid." Less than 24 hours before she endorsed Trump, Palin's 26-year-old son, Track, was arrested for allegedly hitting and kicking his girlfriend and pointing an AR-15 assault rifle at her.
Review: Clinton Emails Contained Info Beyond Top Secret
January 20, 2016
Headlines
A review of the private home email server used by Hillary Clinton while she was secretary of state shows the server contained information classified at higher levels than previously reported. Officials reviewing the emails found information deemed to be "top secret/SAP," which stands for "Special Access Programs," a level of classification beyond "top secret." Clinton has previously said none of the emails she sent or received were marked classified at the time.
Topics:
Poll: Sanders Beating Clinton by 27 Points in New Hampshire
January 20, 2016
Headlines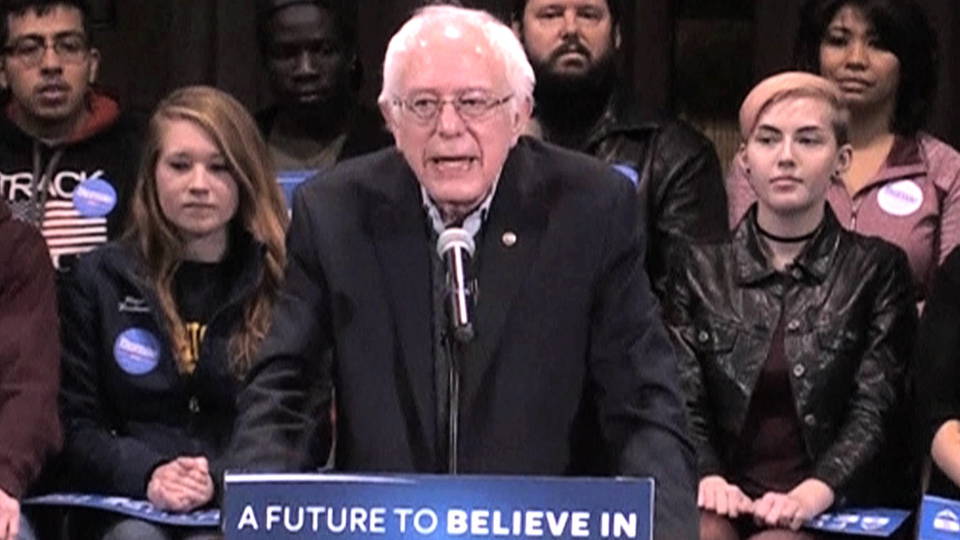 Clinton's Democratic presidential rival, Vermont Senator Bernie Sanders, has increased his lead over her in New Hampshire. Just weeks before the primary, Sanders leads Clinton by 27 points—60 percent to 33 percent. Speaking in Iowa Tuesday, Sanders said Clinton is no longer the "inevitable candidate" for the Democratic nomination.
Sen. Bernie Sanders: "When I began the campaign, people said, 'Well, you're running against an inevitable candidate. Secretary Clinton is the inevitable candidate of the Democratic Party. You might be able to, you know, raise some good issues, but you can't win.' Well, when we started, we were in 3 percent in the polls. We were 50 points behind. Today, the inevitable candidate does not look quite so inevitable as she did eight-and-a-half months ago."
Meanwhile, Sanders is facing criticism for saying last week he opposed reparations for slavery. Author Ta-Nehisi Coates published a rebuke, writing, "Sanders says the chance of getting reparations through Congress is 'nil,' a correct observation which could just as well apply to much of the Vermont senator's own platform. ... [I]f this is the candidate of the radical left—then expect white supremacy in America to endure well beyond our lifetimes and lifetimes of our children."
Topics:
David Miranda, Glenn Greenwald's Partner, Wins Press Freedom Victory in U.K. Court
January 20, 2016
Headlines
In a victory for press freedom in Britain, an appeals court has ruled the U.K.'s sweeping counterterrorism laws are "incompatible" with fundamental rights. The case concerns David Miranda, partner of investigative journalist Glenn Greenwald, who used documents from NSA whistleblower Edward Snowden to expose U.S. mass surveillance. Miranda was detained and questioned for nine hours at London's Heathrow Airport in 2013 under British counterterrorism law while transporting some of the Snowden documents. Last year, the High Court in London dismissed a challenge by Miranda, saying his actions met the law's definition of terrorism. But on Tuesday, the appeals court partially overturned that ruling. Miranda tweeted: "Thrilled with the court ruling! My purpose was to show UK's terrorism
law violates press freedoms. And journalism isn't 'terrorism.' We won!"
Human Rights Watch Calls for Firms to Drop Business with Israeli Settlements
January 20, 2016
Headlines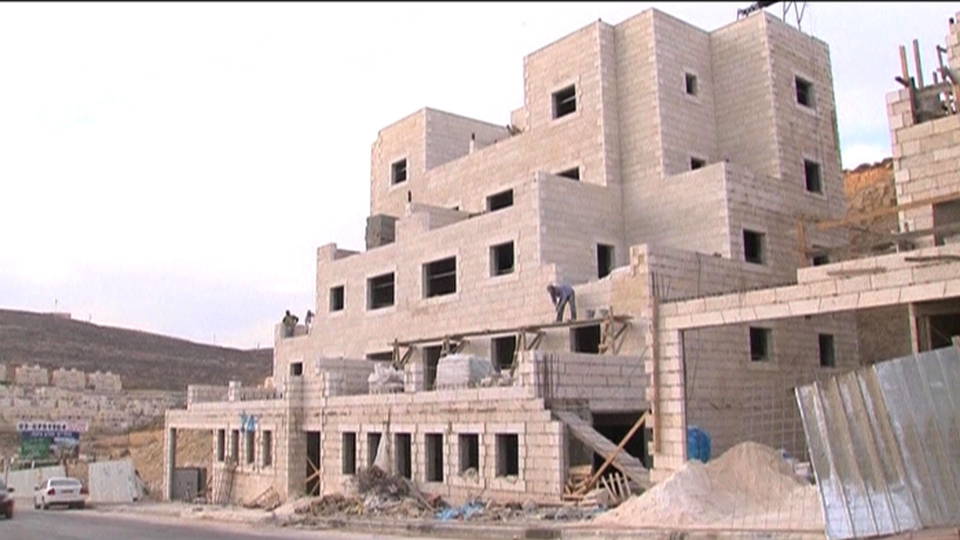 Human Rights Watch has called for all businesses to stop operating in, financing or doing business with Israeli settlements in the occupied West Bank. The group's new report, titled "Occupation, Inc.," also calls on countries like the United States to "[withhold] funding given to the Israeli government in an amount equivalent to its expenditures and related infrastructure in the West Bank." The settlements have been deemed illegal under international law.
Topics:
U.S. Ambassador: Israel Has 2 Standards of Justice in West Bank
January 20, 2016
Headlines
The Human Rights Watch report comes after the U.S. ambassador to Israel, Daniel Shapiro, said Israel appears to have two standards for adherence to the rule of law in the West Bank—one for Jews and one for Palestinians. Shapiro made the remarks Monday at a high-profile security conference in Tel Aviv.
Daniel Shapiro: "Too many attacks on Palestinians lack a vigorous investigation or response by Israeli authorities. Too much vigilantism goes unchecked. And at times there seem to be two standards of adherence to the rule of law—one for Israelis and another for Palestinians."
Topics:
New York: Animal Rights Activists Target Construction Firm over Seattle Research Lab
January 20, 2016
Headlines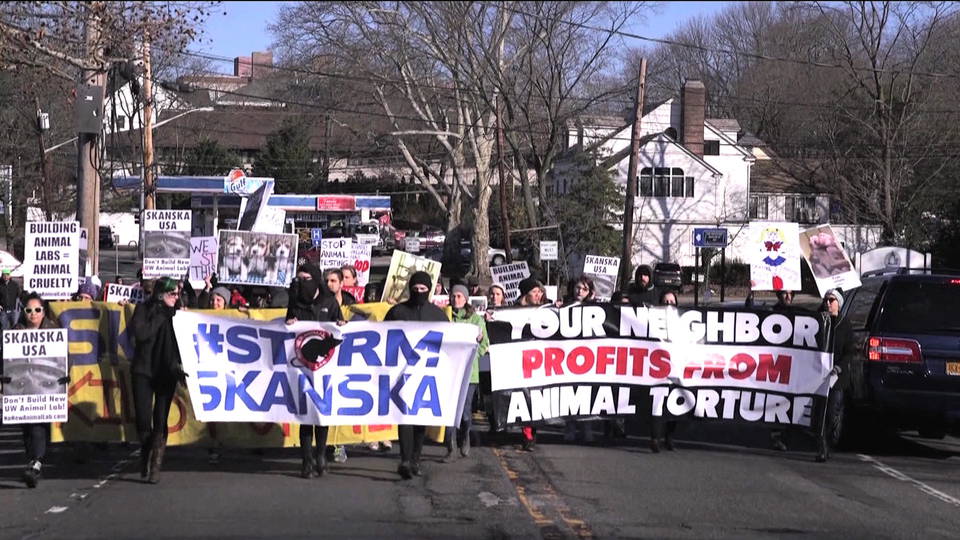 Animal rights activists are protesting the University of Washington's plan to build what they say would be the largest underground animal testing facility in the United States. Here in New York, protesters targeted the home of Richard Cavallaro, CEO of Skanska USA, the construction firm contracted to build the lab. Michelle Gjuraj was among the protesters who marched three miles to Cavallaro's house in Long Island.
Michelle Gjuraj: "Skanska USA is a large construction company that was contracted by the University of Washington to build an underground animal research facility. If this lab is built, thousands of different kinds of animals, including primates, guinea pigs, cats and dogs, will be subjected to terrible torture and eventually be killed."
Two people were arrested attempting to scale Richard Cavallaro's home with a banner urging him to drop his contract to build the animal testing lab in Seattle.
Topics:
Report: Drug Overdoses Drive Increased Death Rate for Young Whites
January 20, 2016
Headlines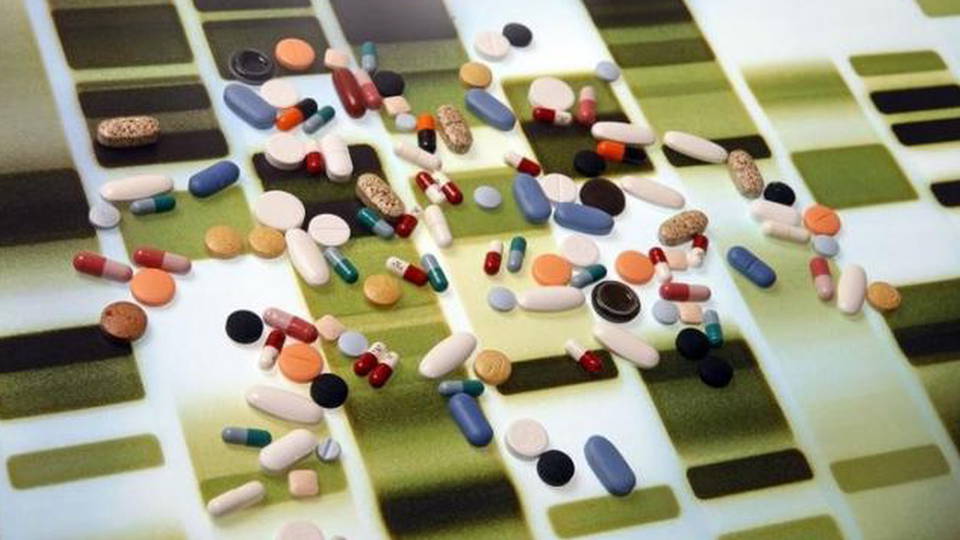 A new analysis by The New York Times finds drug overdoses are driving the death rate of young white adults in the United States to levels not seen since the end of the AIDS epidemic more than two decades ago. The increase makes young, white adults between the ages of 25 and 34 the first generation since the mid-1960s, during the Vietnam War, to experience higher death rates in early adulthood than the generation that came before it. The death rate rose much faster for those without a high school diploma.
Report: Richest 62 People Have as Much as Half the World
January 20, 2016
Headlines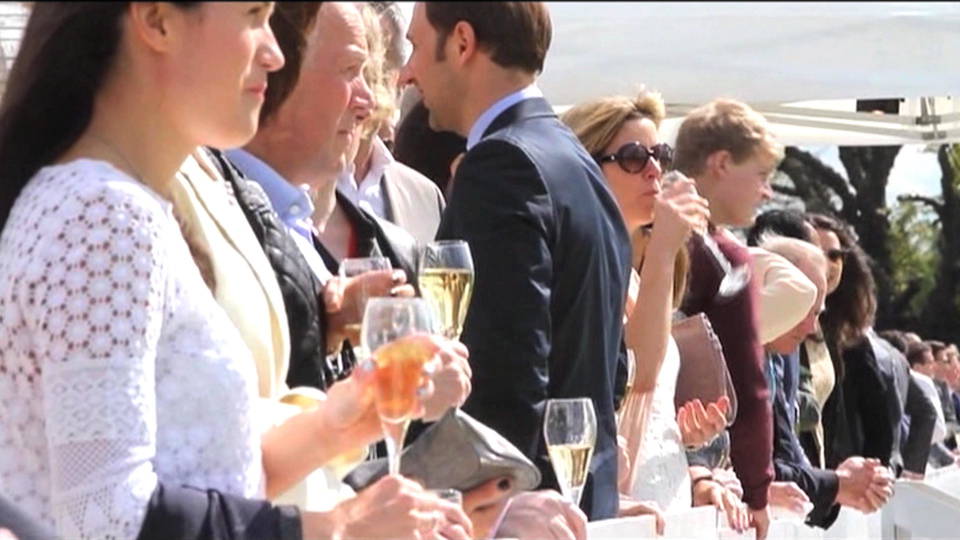 A new report shows the richest 62 billionaires now own as much wealth as half the world. The Oxfam report is timed to coincide with the meeting of global elites at the World Economic Forum in Davos, Switzerland. It shows the wealth of the poorest half of the world's population—that's 3.6 billion people—has fallen by $1 trillion since 2010. The wealth of the world's richest 62 people has increased by more than half a trillion dollars.
Photographer Leila Alaoui, 33, Killed in Burkina Faso Attack
January 20, 2016
Headlines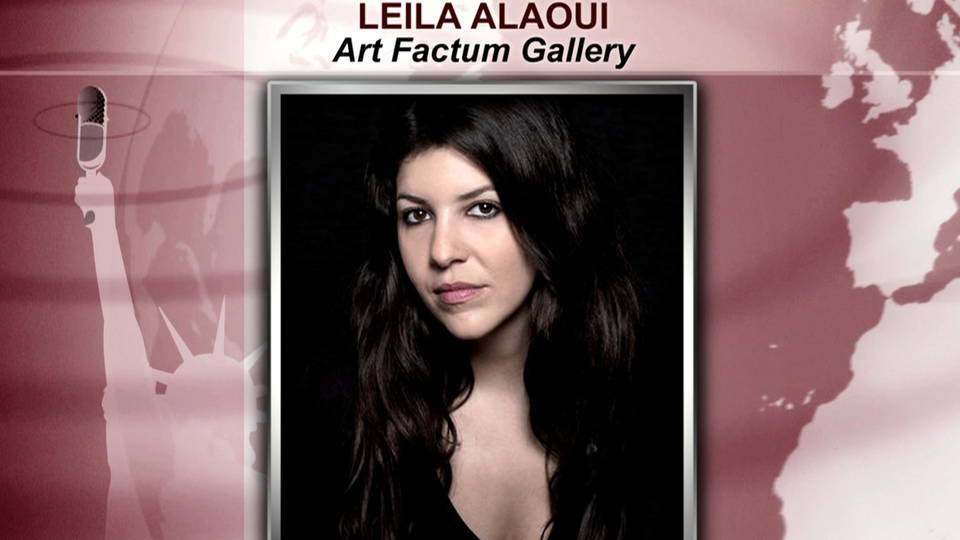 And a photographer on assignment for Amnesty International in Burkina Faso has died after she was wounded in Friday's attack in Ouagadougou. Leila Alaoui was a celebrated French-Moroccan photographer working on a project about women's rights. She was 33 years old.