Obama Addresses Flint Water Poisoning Crisis
January 21, 2016
Headlines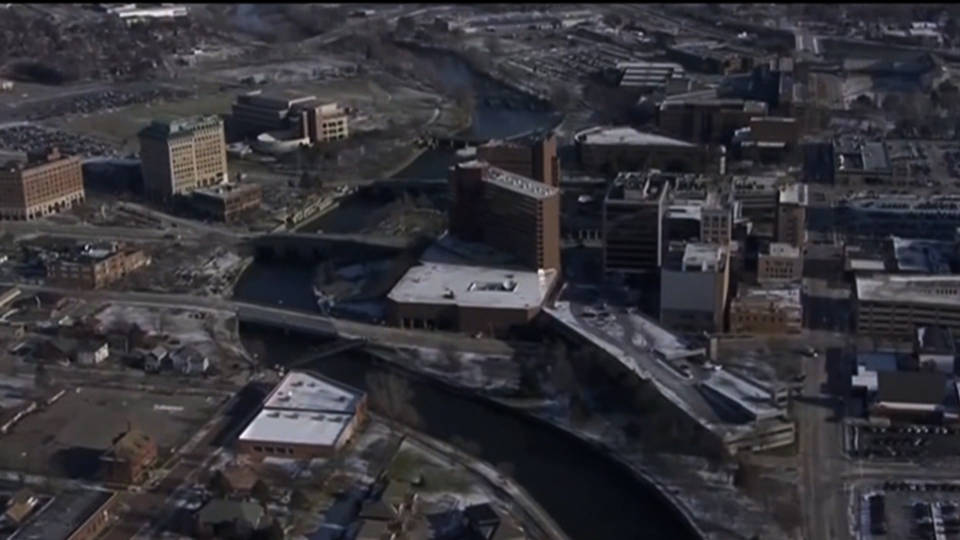 On Wednesday, President Obama visited Michigan, where he issued his first public statements about the Flint water crisis. The water contamination began after a state-appointed unelected emergency manager switched the city's drinking water to the corrosive Flint River in a bid to save money. Speaking Wednesday, Obama said he would be beside himself if he were a Flint parent.
President Barack Obama: "I am very proud of what I've done as president, but the only job that's more important to me is the job of father. And I know that if I was a parent up there, I would be beside myself that my kids' health could be at risk."
Obama met with newly elected Flint Mayor Karen Weaver in Washington on Tuesday.
Michigan Gov. Snyder Releases Redacted Emails Amid Flint Crisis
January 21, 2016
Headlines
This comes as Governor Rick Snyder has released copies of his emails that show he was made aware of the water contamination issues as early as February 1, 2015, but that his administration was dismissive of residents' concerns. Some pages of the emails are entirely redacted.
Detroit School System Files Injunction to Stop Teacher "Sickout" Protests
January 21, 2016
Headlines
Meanwhile, the Detroit public school system, which is run by the same emergency manager who switched Flint's drinking water, has filed an injunction to stop teachers from their "sickout" protests. Nearly all of Detroit's public schools were closed Wednesday amid teacher protests over black mold, rat infestations, crumbling buildings and overcrowded classrooms. We'll have more on the Detroit Public Schools later in the broadcast.
2015 was Hottest Year Ever on Record—By Far
January 21, 2016
Headlines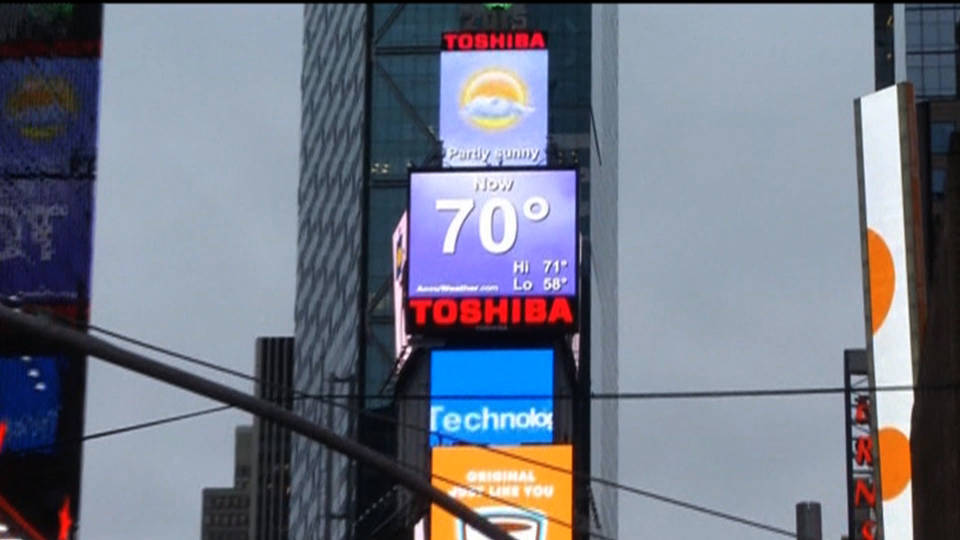 Scientists have reported 2015 was the hottest year on record by far. The experts pinned the record-breaking heat on long-term global warming caused by the emission of greenhouse gases. 2015's record breaks the previous record set the year before, in 2014. In response to the findings, Gerald Meehl, a scientist at the National Center for Atmospheric Research, said, "The whole system is warming up, relentlessly."
Afghanistan: Suicide Bomb Kills 6 Employees of Tolo TV
January 21, 2016
Headlines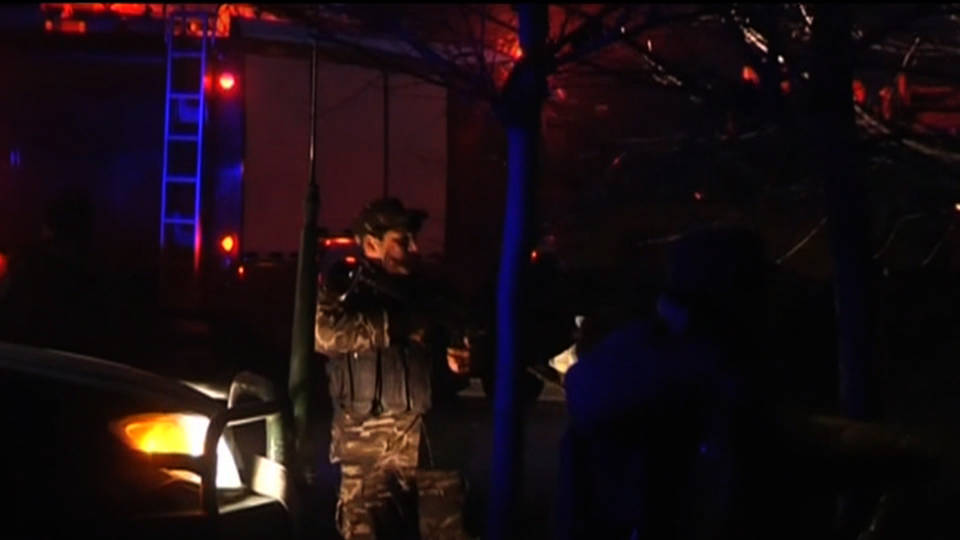 In Afghanistan, a suicide bomb has killed at least six employees of the Afghan station Tolo TV. Four of the victims are reported to be women. No one has claimed responsibility for the attack, but the Committee to Protect Journalists has documented a Taliban website threatening Tolo TV journalists with "elimination." Meanwhile, at least four people were killed in a separate suicide bomb attack near the Russian Embassy in Kabul.
Report: Western-Backed Kurdish Fighters May Be Committing War Crimes
January 21, 2016
Headlines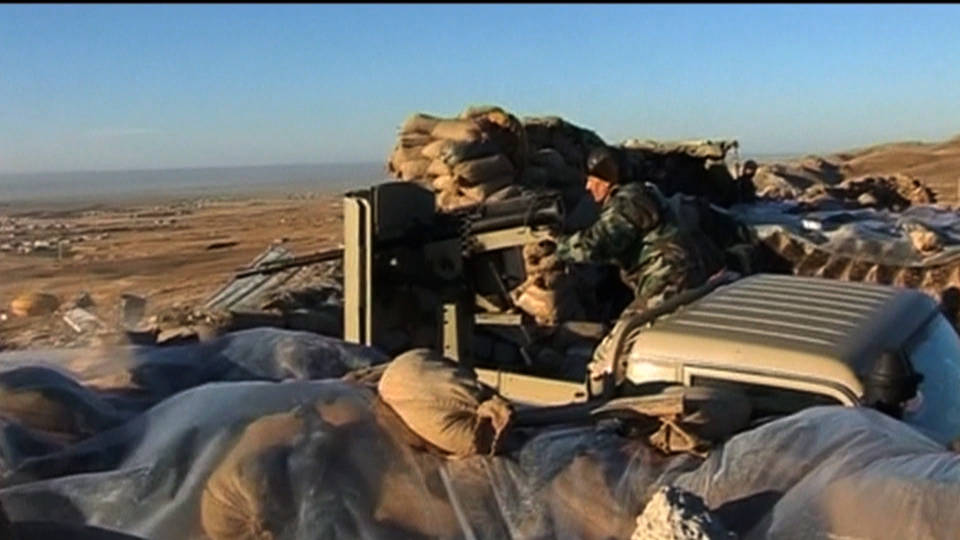 Amnesty International is accusing Western-backed Kurdish fighters of possible war crimes over the "large-scale destruction" of thousands of Arab homes in northern Iraq. Amnesty says Kurdish forces "appear to be spearheading a concerted campaign to forcibly displace Arab communities." Meanwhile, satellite photographs show the self-proclaimed Islamic State has destroyed one of the oldest Christian sites in Iraq. The 1,400-year-old monastery of St. Elijah stood south of Mosul. Photographs show the site was destroyed in late August or September 2014, a few months after ISIL fighters seized control of Mosul.
Egypt: Mubarak Begins Trial over Killing of Protesters in 2011
January 21, 2016
Headlines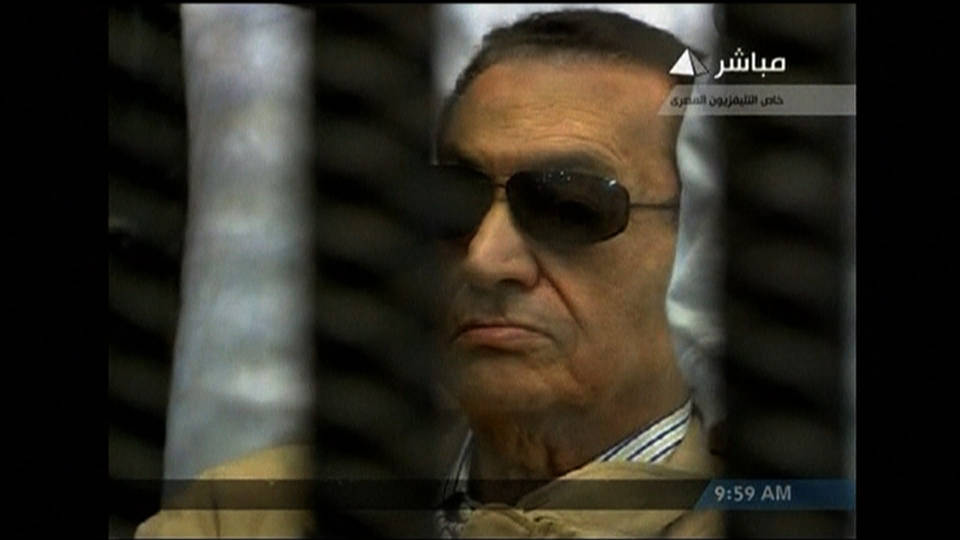 In Egypt, former President Hosni Mubarak begins his second trial today over the killing of protesters during the 2011 uprising against his rule. Mubarak was originally sentenced to life in prison for conspiring to murder demonstrators, but a retrial was ordered on appeal. This comes as CIA Director John Brennan has finished a two-day visit to Cairo after meeting with Egyptian President Abdel Fattah el-Sisi. It was Brennan's second visit to Cairo in less than a year. The U.S. has restored diplomatic and military ties with Egypt despite President Sisi's crackdown on human rights, including the increasing jailing of journalists.
Jailed Former Maldives President Allowed to Travel to U.K. for Surgery
January 21, 2016
Headlines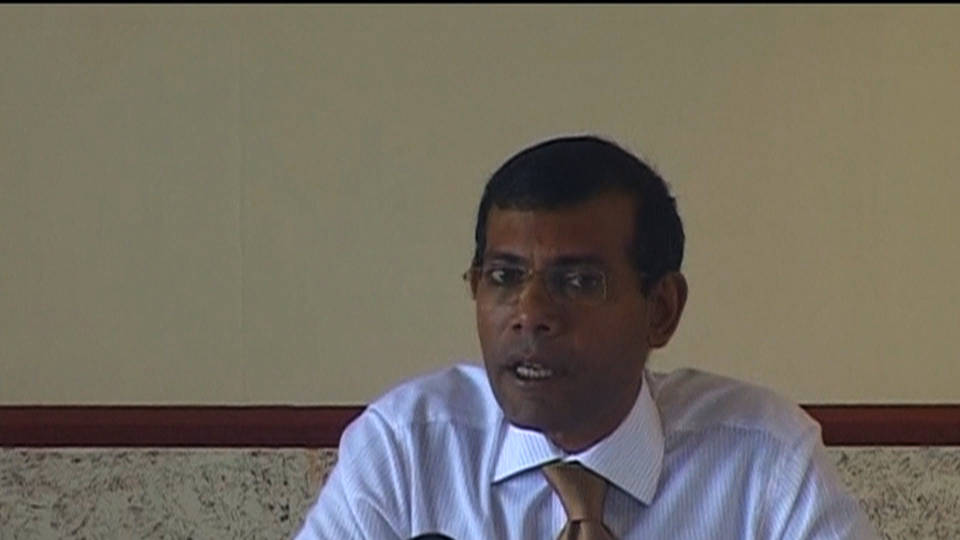 The former president of the Maldives, Mohamed Nasheed, has been temporarily released from prison and permitted to travel to Britain for back surgery. Nasheed was the Maldives' first democratically elected president, known internationally for his work on climate change. He was ousted in 2012 in what he called an armed coup by supporters of his predecessor, Maumoon Abdul Gayoom. Nasheed is serving a 13-year sentence under antiterrorism laws.
Report: Putin "Probably Approved" Murder of Former KGB Officer & Whistleblower
January 21, 2016
Headlines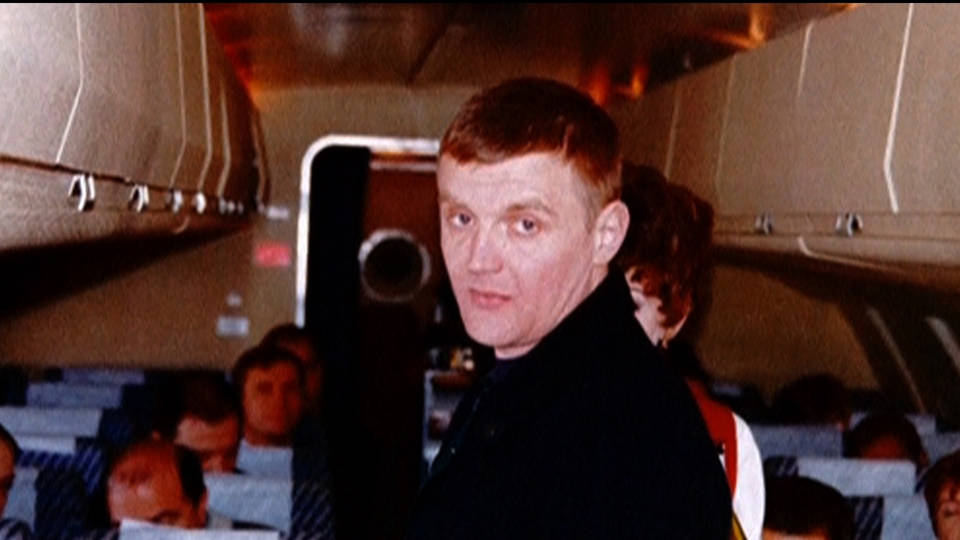 A British investigation says Russian President Vladimir Putin "probably approved" the 2006 murder of Alexander Litvinenko, a former KGB officer who blew the whistle on corruption inside Moscow's security services. Litvinenko died after ingesting green tea poisoned with a toxic, radioactive isotope. The 328-page report was issued by retired British High Court Judge Robert Owen. Russia's foreign minister has dismissed the report as "politically motivated."
#BlackLivesMatter Activists Disrupt U.S. Conference of Mayors
January 21, 2016
Headlines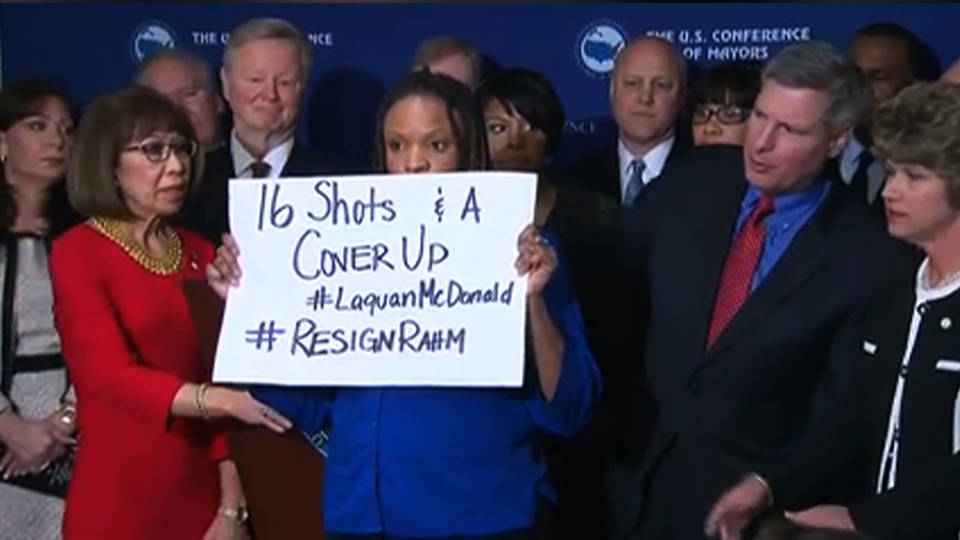 Back in the United States, Black Lives Matter activists have repeatedly disrupted the U.S. Conference of Mayors meeting in Washington, D.C., to protest police killings of unarmed African Americans across the country. Protesters held signs reading "16 Shots is a cover up. #LaquanMcDonald #ResignRahm"—a reference to Chicago Mayor Rahm Emanuel. He's facing increasing protests over a possible cover-up of the police killing of unarmed African-American teenager Laquan McDonald, who was shot 16 times by white police officer Jason Van Dyke more than one year ago. Activists also disrupted the speech of Baltimore Mayor Stephanie Rawlings-Blake by shouting, "You failed us!" This comes as the trial of three Baltimore police officers charged in the death of unarmed African American Freddie Gray is slated to resume Friday, after a judge denied a motion that would have compelled a fellow officer to testify in their cases, threatening to postpone the trials indefinitely.
Hundreds of Minneapolis Students Walk Out to Protest Deportations
January 21, 2016
Headlines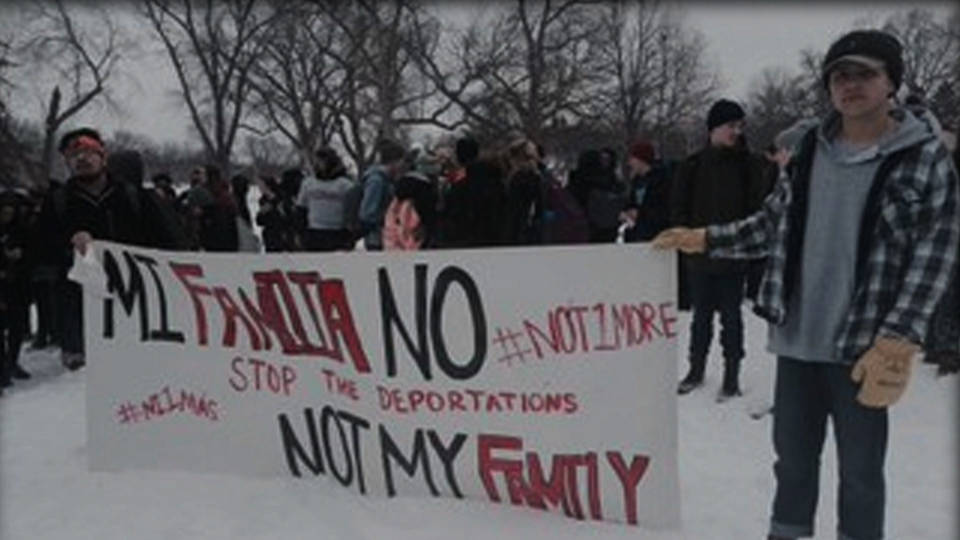 In Minneapolis, hundreds of students have walked out of class to protest the Obama administration's new round of raids against Central American families. The raids have targeted people who sought asylum in the United States after fleeing violence in their home countries. On Wednesday, students staged the walkout and then rallied at Martin Luther King Jr. Park to demand an end to deportations.
Arizona: John Legend Holds Concert Outside Eloy Detention Facility
January 21, 2016
Headlines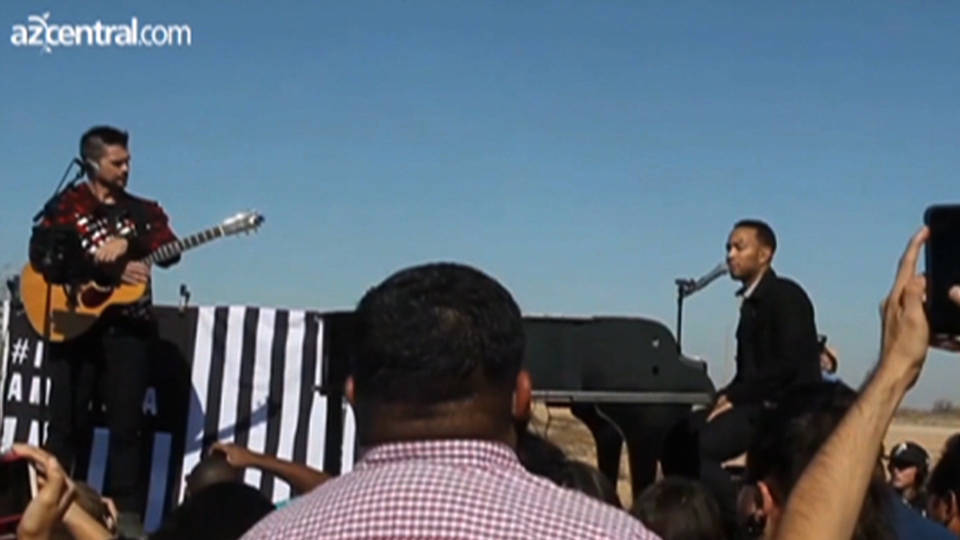 Meanwhile, in Arizona, Grammy-winning singer John Legend and Colombian musician Juanes held a concert outside the Eloy Detention Facility to draw attention to the long-term detention of immigrants. Eloy is run by the for-profit company Corrections Corporation of America. The facility has long drawn criticism for alleged mistreatment of detainees and inadequate medical care. John Legend spoke about the concert's purpose.
John Legend: "We want to affirm their humanity and their right to exist, their right to life, liberty and the pursuit of happiness, no matter where they're from, no matter where they were born."
During the concert, John Legend and Juanes sang Bob Marley's "Redemption Song."
Complaint: NYC's Charter School Chain Violates Rights of Special Needs Students
January 21, 2016
Headlines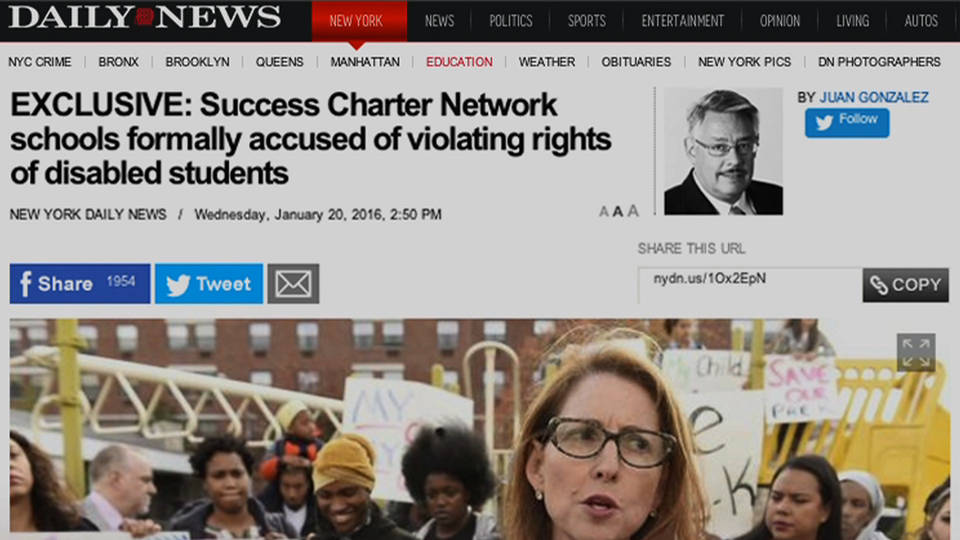 A group of parents have lodged a formal complaint against New York City's largest charter school chain, Success Charter Network, for violating the rights of students with disabilities. Democracy Now! co-host Juan González was the first to break the story in his column for the New York Daily News. The complaint alleges Success Charter Network has denied special education services to students and instead forced them to repeat grades; has suspended special needs students multiple times without keeping records; and has harassed parents to move their students back into regular public schools.
After 23 Years, David Koch Leaves Board of American Museum of Natural History
January 21, 2016
Headlines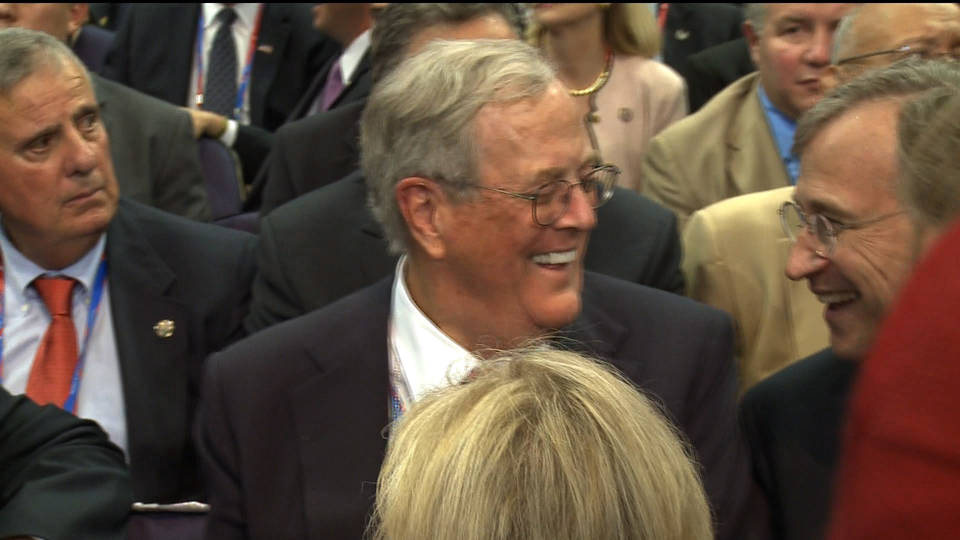 And billionaire Republican donor David Koch has left the board of the prestigious American Museum of Natural History after 23 years. This comes after a campaign called on the American Museum of Natural History and other top scientific institutions to divest from the fossil fuel industry and cut ties with David Koch, whose company, Koch Industries, has poured millions into climate denial. Earlier this week, we spoke with award-winning New Yorker writer Jane Mayer about the Koch brothers' interest in funding climate denial.
Jane Mayer: Their fortune is built on fossil fuels. I mean, they are refiners, and they have tremendous numbers of pipelines, and they own a huge amount of the tar sands that are up in Canada. And so, if America moved off fossil fuels, it would be catastrophic for their business. It's a direct interest that they've got in this. And so, one of the things I do is try to follow the money in the denial of climate change, and an awful lot of it goes back to the Kochs and their circle."
David Koch says the campaign did not influence his decision to leave the board of the American Museum of Natural History. He still sits on the advisory board of the Smithsonian National Museum of Natural History.