Grand Jury Probing Planned Parenthood Instead Indicts 2 Anti-Abortion Activists
January 26, 2016
Headlines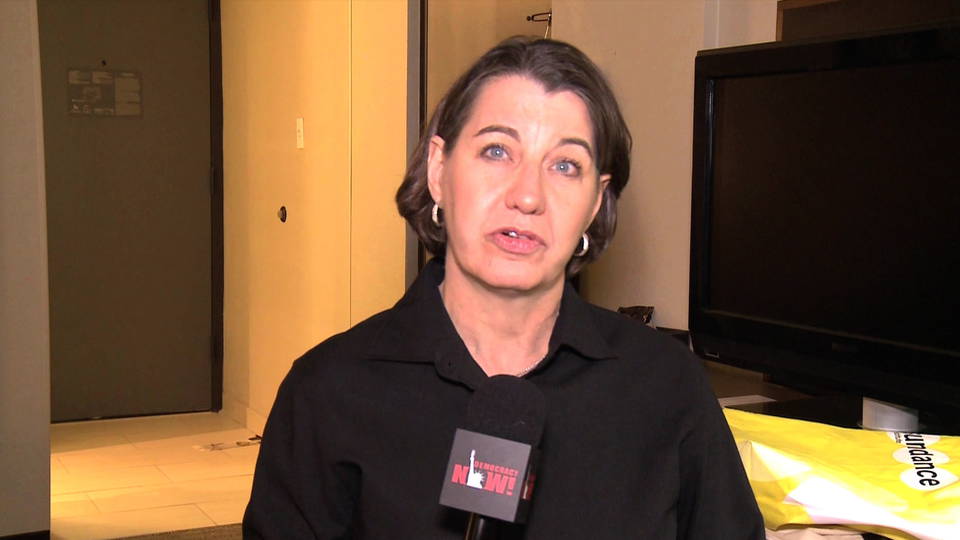 In a surprising reversal, a grand jury that was tasked with investigating Planned Parenthood has instead indicted two anti-abortion activists who filmed undercover and highly edited videos of Planned Parenthood officials. The grand jury had been set up to investigate allegations that Planned Parenthood sells fetal tissue, a claim the organization has repeatedly denied. But on Monday, Harris County District Attorney Devon Anderson instead announced anti-abortion activist David Daleiden had been indicted on a felony charge of tampering with a government record and a misdemeanor charge related to the purchase of human organs. David Daleiden is the director of the anti-abortion group the Center for Medical Progress. He pretended to be a biotechnology representative to record covertly the videos of Planned Parenthood officials explaining how they share fetal tissue with researchers. The videos were then highly edited to suggest falsely the tissue is sold for profit, not shared. Sandra Merritt, another employee of the Center for Medical Progress, was also indicted on a charge of tampering with a governmental record. Planned Parenthood Executive Vice President Dawn Laguens spoke about the indictments.
Dawn Laguens: "At Planned Parenthood, we were always very confident that the grand jury would find no wrongdoing by Planned Parenthood. But the indictment today begins to unravel the criminal lengths that David Daleiden and the so-called Center for Medical Progress went to to perpetrate this fraud. And I think there will be more charges to come in the future."
Obama Moves to Ban Solitary Confinement for Juveniles
January 26, 2016
Headlines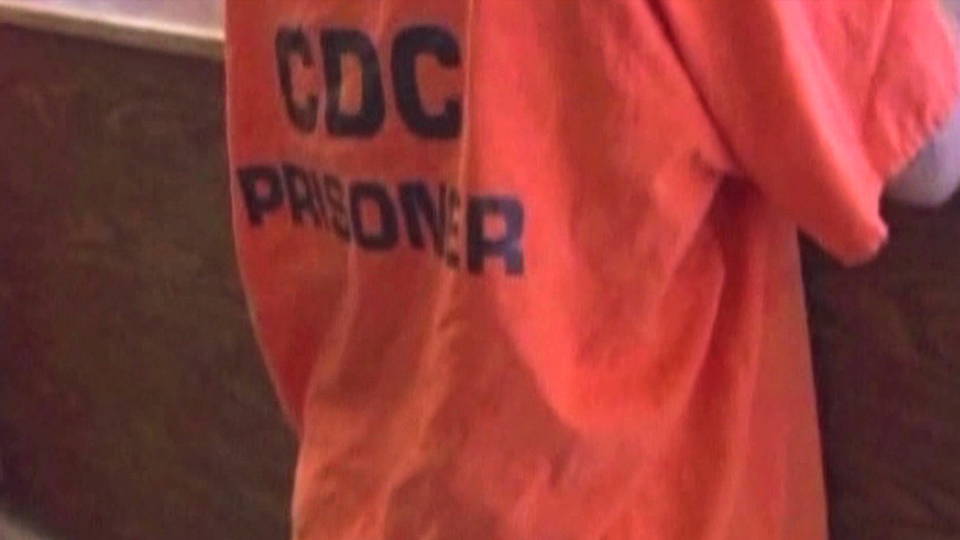 President Obama says he is banning the use of solitary confinement for juveniles and low-level offenders in federal prisons. He outlined the new measures in a Washington Post op-ed, writing: "How can we subject prisoners to unnecessary solitary confinement, knowing its effects, and then expect them to return to our communities as whole people? It doesn't make us safer. It's an affront to our common humanity." This comes as the Supreme Court has ruled that prisoners convicted of murder as juveniles will have a chance at parole. In 2012, the Supreme Court struck down mandatory life sentences for juveniles, but left open to interpretation whether this would be applied retroactively to people convicted of murder. In a 6-3 decision Monday, the Supreme Court ruled the new law does apply retroactively, offering more than 1,000 people currently serving such life sentences the opportunity for parole.
Report: Warming Seas Expanding Twice as Fast as Previously Thought
January 26, 2016
Headlines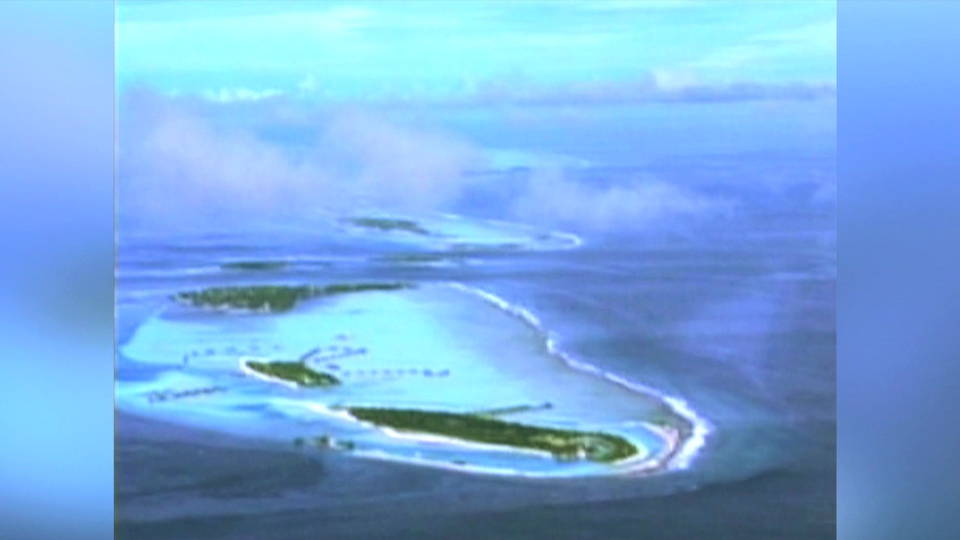 A new study suggests that warmer water temperatures are causing the seas to expand twice as fast as previously thought, leading to greater sea level rise. The study analyzed more than a decade of satellite data. It was published in the peer-reviewed Proceedings of the National Academy of Sciences. The study also found sea level rise varied by location, with the Philippines experiencing sea level rise at five times the average global rate.
Danish Parliament to Vote on Confiscating Refugees' Valuables
January 26, 2016
Headlines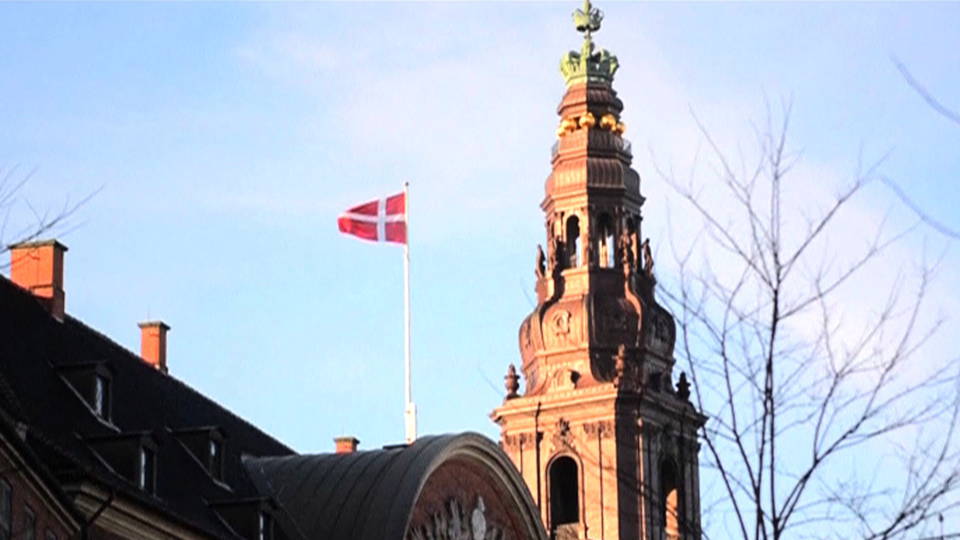 Denmark's Parliament is scheduled to vote Tuesday on a series of controversial measures curbing refugee rights, including a proposal to confiscate their money and valuables to pay for their stay in asylum centers. Many have compared the measure to the confiscation of property from Jews during the Holocaust. The plan also includes a proposal to delay family reunification for three years. The measures are expected to pass.
Survivor of President Obama's First Drone Strike Speaks Out
January 26, 2016
Headlines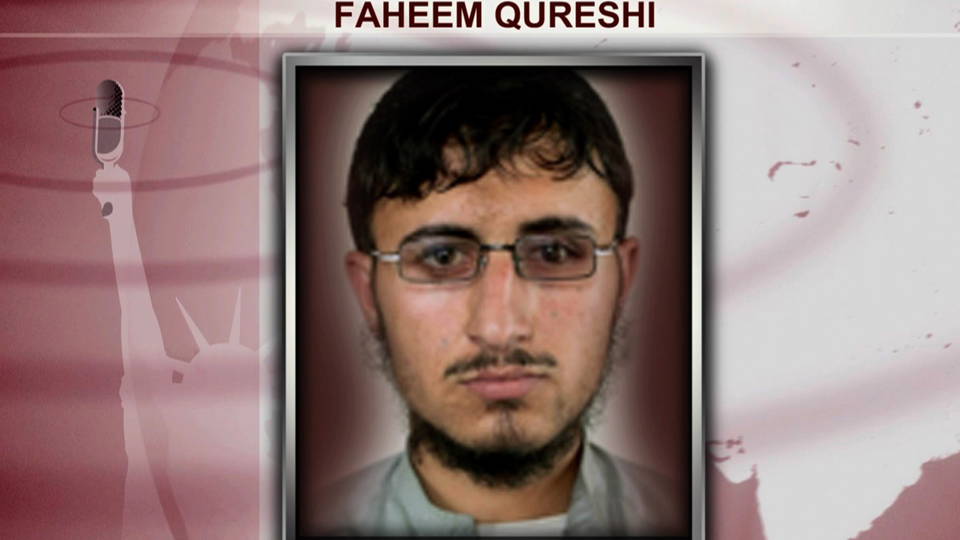 A survivor of the first drone strike ever launched by President Obama has spoken out in an interview with The Guardian, saying: "If there is a list of tyrants in the world, to me, Obama will be put on that list by his drone program." The strike hit the home of then 14-year-old Faheem Qureshi's family in North Waziristan on January 23, 2009. It was President Obama's third day in office. The strike permanently blinded Qureshi in his left eye. He spent 40 days in the hospital recovering from burns and lacerations from shrapnel. Two of his uncles and his 21-year-old cousin were killed in the strike. The strike was reportedly targeting top Taliban and al-Qaeda commanders, but available evidence suggests it instead hit the wrong target. Members of Qureshi's family were part of a pro-government peace committee.
Former President of Maldives Calls for Sanctions over Human Rights Abuses
January 26, 2016
Headlines
The former president of the Maldives, Mohamed Nasheed, has called on the United States and European nations to levy sanctions against Maldivian officials for human rights abuses in the Maldives. Nasheed was the Maldives' first democratically elected president, known internationally for his work on climate change. He was ousted in 2012 in what he called an armed coup by supporters of his predecessor, Maumoon Abdul Gayoom. He is now serving a 13-year sentence under antiterrorism laws. He has been permitted to travel to London for back surgery, where he spoke alongside his lawyer, Amal Clooney.
Mohamed Nasheed: "It's easy to topple a dictator, but not so easy to uproot a dictatorship. The lingering remains of dictatorships remain in the countries, in societies, for far longer than we think we know."
Undocumented in Flint Say They've Been Blocked from Receiving Water
January 26, 2016
Headlines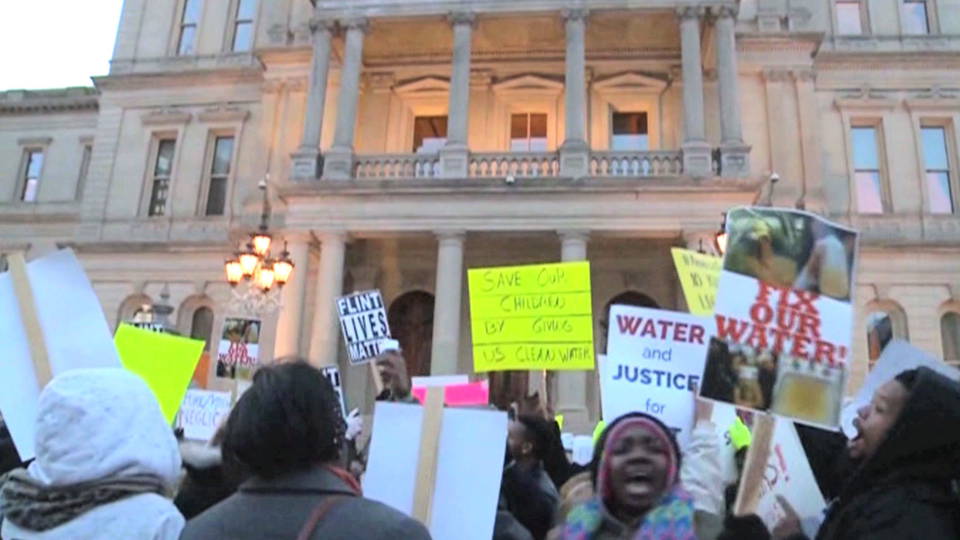 In Flint, Michigan, undocumented residents say they have been blocked from accessing free bottled water and filters as Flint's drinking water remains poisoned with lead. The water poisoning began when the unelected, state-appointed emergency manager of Flint switched the source of the city's drinking water to the highly corrosive Flint River. The National Guard has been mobilized to distribute water, but some officials have required residents to show identification. Undocumented people in Michigan are barred from receiving driver's licenses or state IDs. The National Guard has also been going door to door distributing water, but many undocumented immigrants are afraid to open the door, for fear of deportation.
Detroit: Students Stage Walkout in Solidarity with Teacher "Sickouts"
January 26, 2016
Headlines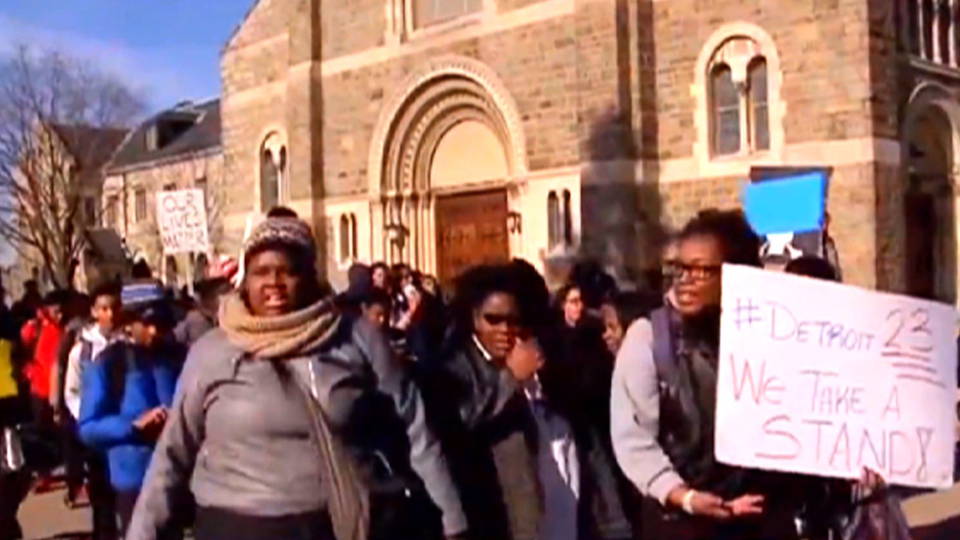 In Detroit, dozens of students have staged a walkout in solidarity with teachers who have been protesting underfunding, black mold, rat infestations, crumbling buildings and inadequate staffing. Detroit Public Schools are under the control of unelected emergency manager Darnell Earley—none other than the unelected emergency manager who presided over the water contamination in Flint. This comes as a judge has again denied the school district's request for a temporary restraining order to force the teachers to end their sickout protests.
North Carolina Hears Challenge to 2013 Voter ID Laws
January 26, 2016
Headlines
A North Carolina district court has begun hearing a challenge to North Carolina's voter ID laws, which are among the strictest in the nation. The NAACP and the Justice Department are arguing North Carolina's 2013 laws violate the Voting Rights Act and discriminate against people of color by requiring voters to show photo identification at the polls. The lawyers say the law was implemented to curb the increasing political power of voters of color in North Carolina. The case could have legal ramifications for voting rights laws across the country, headed into the 2016 presidential race.
Sanders and Clinton Face Off at Town Hall in Iowa
January 26, 2016
Headlines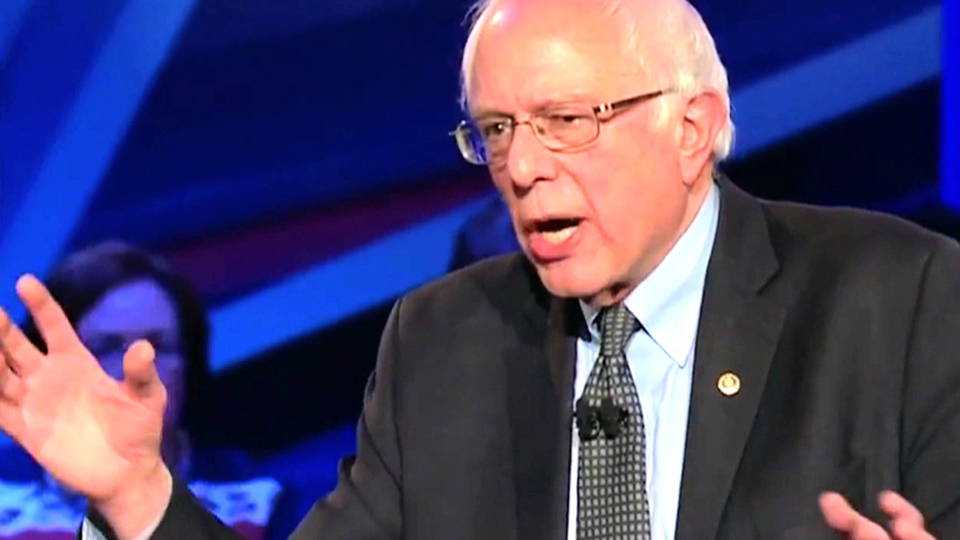 In Iowa, Democratic presidential candidates Bernie Sanders, Hillary Clinton and Martin O'Malley faced off at a CNN-hosted town hall Monday. The most recent poll by CNN shows Sanders leading Clinton by two points with the Iowa caucus less than a week away, although Clinton retains her lead in national polls. At the town hall, Sanders drew applause when he said he had been opposed to the Keystone XL pipeline since day one.
Sen. Bernie Sanders: "In terms of climate change, which everybody here knows, and apparently everybody in the world knows except Republican candidates for president, is one of the great environmental crises facing this nation, on day one I said the Keystone pipeline is a dumb idea. I think the Bakken pipeline and pipelines in Vermont and New Hampshire are a dumb ideas. We've got to break our dependence on fossil fuel. Why did it take—why did it take Hillary Clinton such a long time before she came into opposition to the Keystone pipeline?"
Sanders also criticized Clinton for voting for the Iraq War and for being absent on the fight against Wall Street deregulation.
Trial Begins for NYPD Officer in Fatal Shooting of Akai Gurley
January 26, 2016
Headlines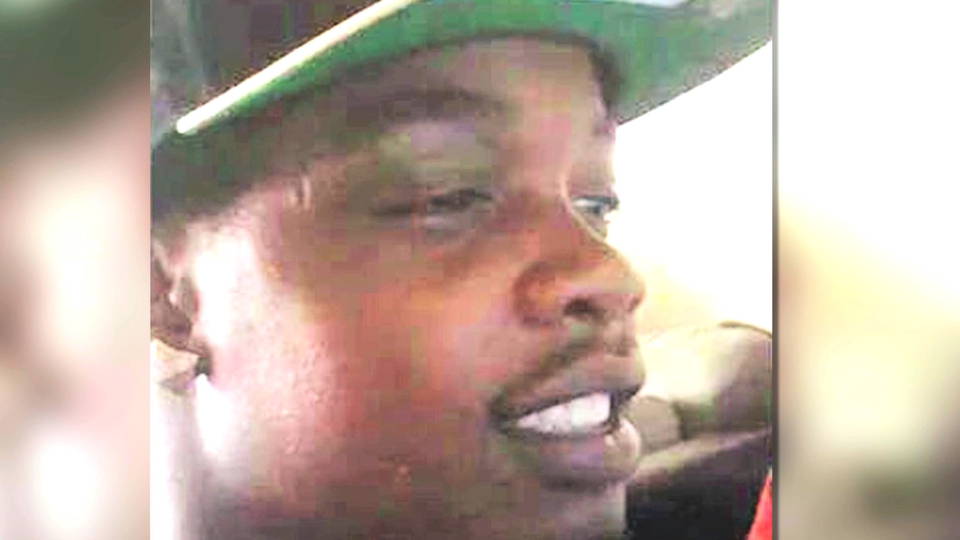 The criminal trial has begun for the New York City police officer accused in the November 2014 killing of unarmed African American Akai Gurley. Gurley was in the dimly lit stairwell of a Brooklyn housing project when Officer Peter Liang opened fire. Liang faces charges of manslaughter, criminally negligent homicide, assault and official misconduct. Defense attorneys say the shooting was accidental. At Monday's opening hearing, prosecutors said Liang was more concerned with protecting his job than he was with saving Gurley's life as he lay dying. Liang reportedly did not call for help or respond to police radio contact for several minutes after opening fire.
Peace Activist and Anti-Nuclear Protester Concepcion Picciotto Dies
January 26, 2016
Headlines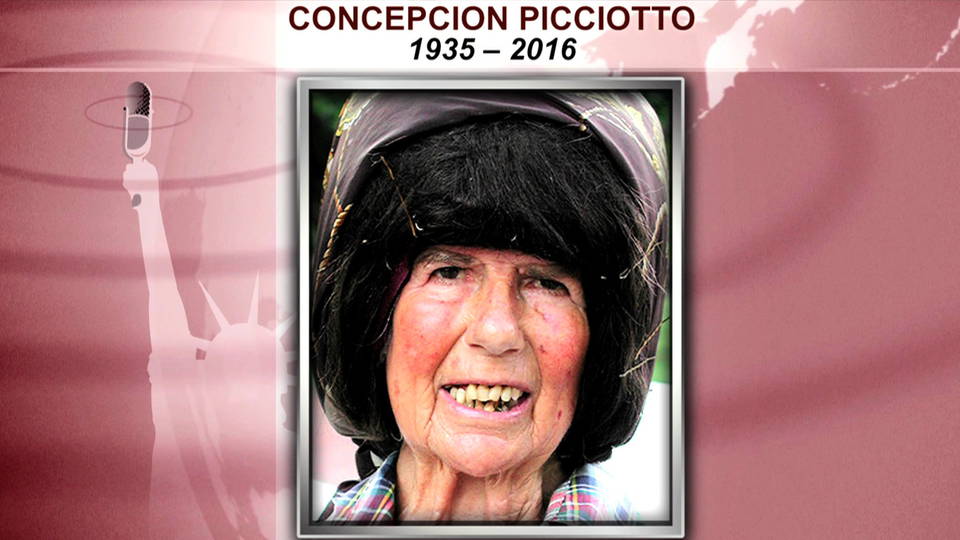 And peace activist and anti-nuclear protester Concepcion Picciotto has died. Picciotto is known for camping outside the White House continuously since 1981 to protest nuclear weapons and war. Her peace vigil is widely believed to have been the longest-running protest in U.S. history. This is Picciotto speaking in 2014.
Concepcion Picciotto: "I am in front of the White House maintaining anti-nuclear peace vigil since 1981, which makes it 31 or 32 years straight. We used to be two people, since 1981. We used to be right in front of the gates. It's on my website. But my colleague died, about four years now, my colleague Thomas, who was very committed. But we have been beaten up by marines, police, gassing, arrested many times, regulations, plus the elements, the snow and raining."
Peace activist Concepcion Picciotto died Monday at a housing facility for homeless women in Washington, D.C. She was believed to be 80 years old.