Bundys Arrested & 1 Dead, Amid Oregon Wildlife Refuge Occupation
January 27, 2016
Headlines
In Oregon, right-wing militia leaders Ammon and Ryan Bundy have been arrested, and group spokesperson Robert "LaVoy" Finicum has reportedly been killed following a traffic stop along Highway 395. The stop took place near the Malheur National Wildlife Refuge, where the Bundys and their followers had maintained an armed occupation for more than three weeks. On January 2, the militia took over the wildlife refuge in support of two ranchers sentenced to prison for setting fires that burned federal land. The ranchers later turned themselves in to authorities. But militia members continued their occupation, calling for the land to be "returned to them." For weeks, local residents and the Paiute Tribe—which has treaty rights to the land—have called on the militia to leave. On Tuesday afternoon, Oregon state troopers stopped the Bundy brothers en route to a community meeting in John Day, Oregon. Authorities say five people were arrested in the stop and that shots were fired. Officials did not identify the man who had been killed, but Nevada state Assemblymember Michele Fiore says it was LaVoy Finicum, the militia's de facto spokesperson. Authorities say an additional two people were arrested later in Burns, and another man turned himself in to the police in Arizona. All eight are facing federal felony charges of conspiracy to impede officers from discharging their official duties through the use of force, intimidation or threats.
Pentagon Seeks "Decisive Military Action" Against ISIL in Libya
January 27, 2016
Headlines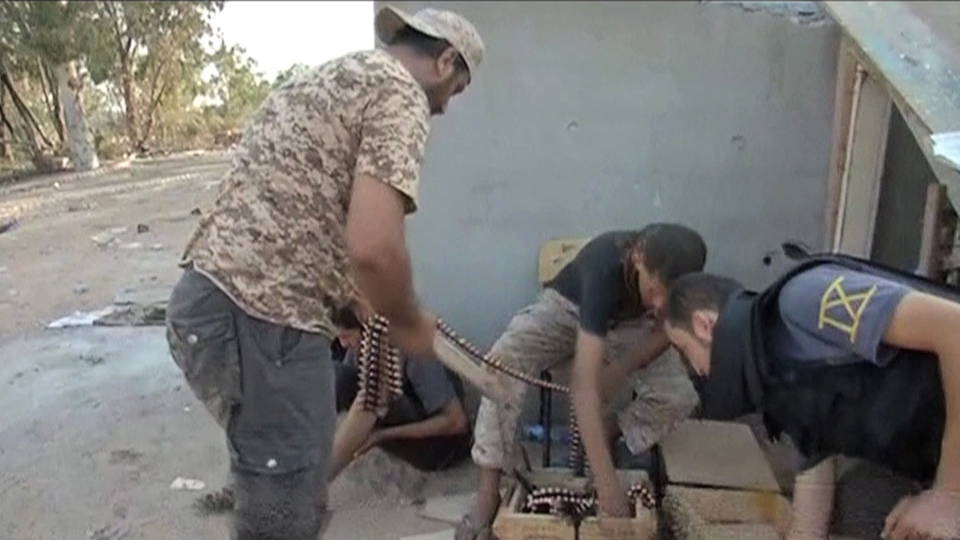 The chairman of the Joint Chiefs of Staff, General Joseph Dunford, says he wants to begin taking "decisive military action" against the self-proclaimed Islamic State in Libya. Libya is currently experiencing a political crisis, which began after a 2011 U.S. military intervention helped oust longtime dictator Muammar Gaddafi. The New York Times editorial board calls General Dunford's announcement of a new military campaign in Libya "deeply troubling," writing: "This significant escalation is being planned without a meaningful debate in Congress ... A new military intervention in Libya would represent a significant progression of a war that could easily spread to other countries on the continent." Meanwhile, Dunford says he is also preparing to ask for additional U.S. troops to be deployed to Iraq.
Egypt: Hundreds Subjected to "Enforced Disappearances"
January 27, 2016
Headlines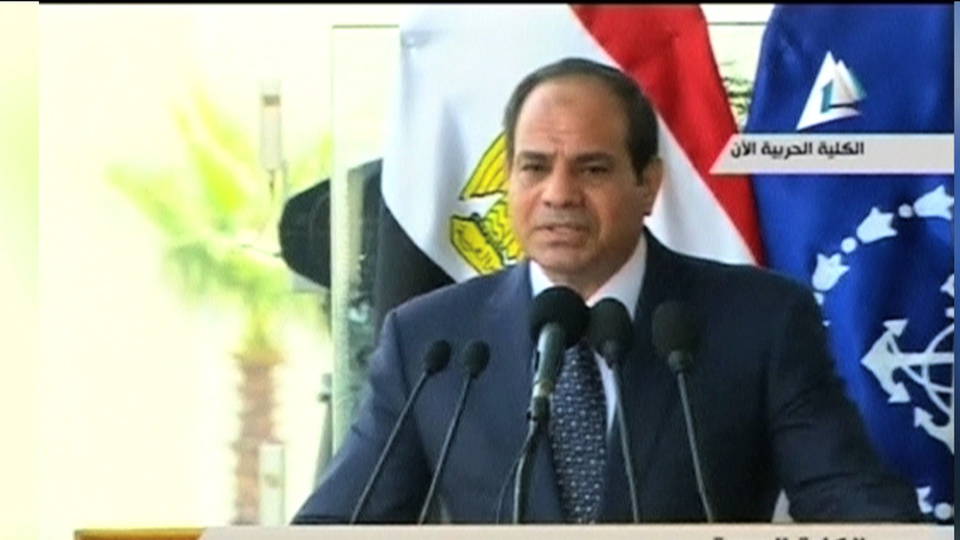 In Egypt, human rights activists say hundreds of people have been subjected to "enforced disappearances," as president and former military general Abdel Fattah el-Sisi widens his crackdown. Hundreds of people have been reportedly held for months without charges or access to a lawyer in secret prisons run by Sisi's security forces. Many say they have been tortured. Some have died in the secret prisons and their bodies later surfaced in morgues. National Council on Human Rights lawyer Nasser Amin said, "This is an unprecedented catastrophe for human rights and freedoms in Egypt."
Ruling: Canadian Gov't Discriminated Against First Nations Children
January 27, 2016
Headlines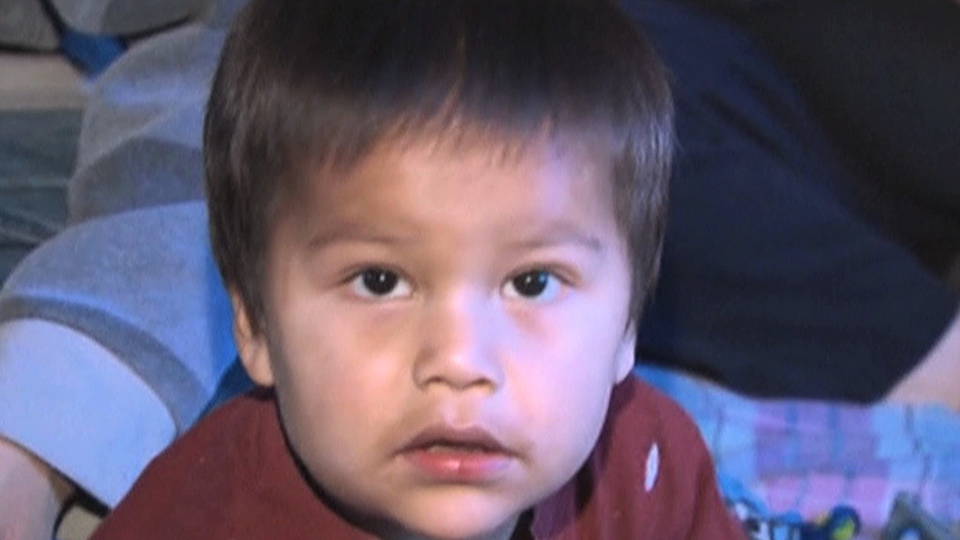 In Canada, a human rights tribunal has issued a major ruling on the rights of indigenous people, known as First Nations. The ruling says the government has discriminated against First Nations children by providing significantly less funding for child welfare services on reserves. The underfunding of services disproportionately pushed First Nations children into the custody of the government's child welfare system. For many, this recalls the century-long practice by the Canadian government of forcing First Nations children into boarding schools aimed at stripping them of their indigenous heritage. Cindy Blackstock of the First Nations Child and Family Caring Society spoke after Tuesday's ruling.
Cindy Blackstock: "Don't you think that the one thing we can get in reconciliation right is raising a generation of First Nations children that don't have to recover from their childhoods anymore?"
New Rules Lift Restrictions on U.S. Exports to Cuba
January 27, 2016
Headlines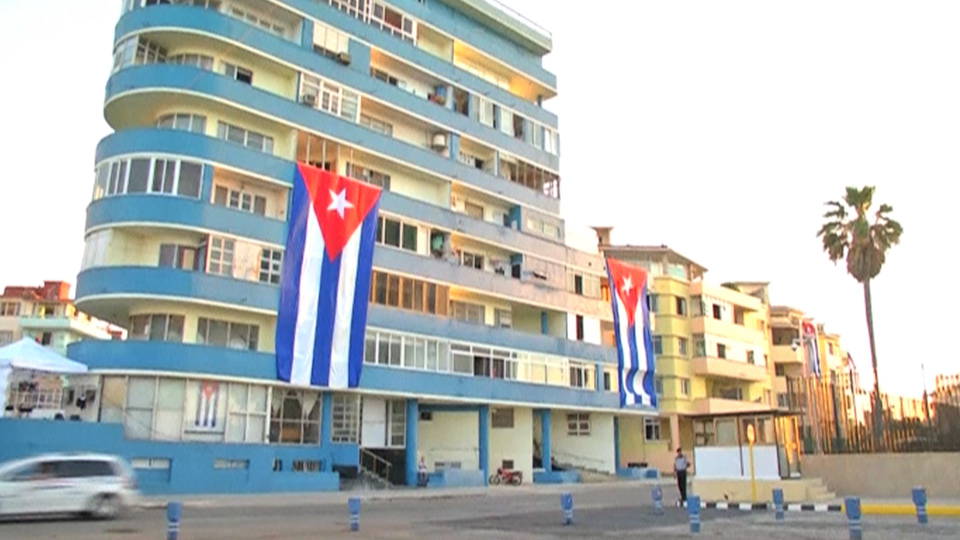 Washington has announced new rules to continue to normalize relations between the United States and Cuba. The measures will lifts restrictions on U.S. financing for exports to Cuba and allow the direct shipping of many products. Previously, U.S. exports had to be routed through a third country before reaching Cuba, and the shipments had to be paid for in advance with cash. The new measures, slated to take effect today, also extend rules allowing for increased travel. President Obama says he is looking to travel to Cuba before the end of his term next year.
U.N. Syria Envoy Sends Out Invitations for Geneva Peace Talks
January 27, 2016
Headlines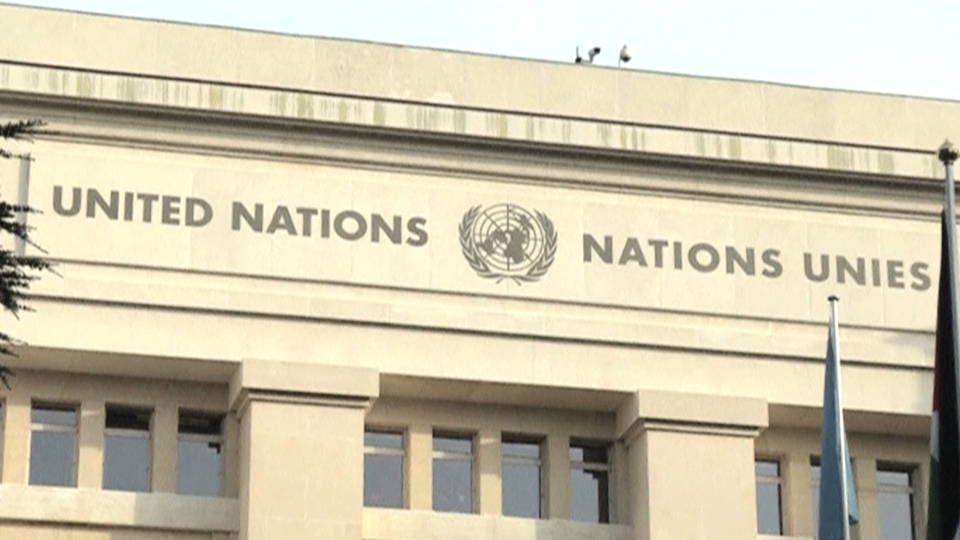 The United Nations Syria envoy has sent out invitations for Friday's scheduled peace talks aimed at easing the devastation of the ongoing war in Syria. It is not yet clear who will attend the talks and which factions will represent the opposition. This comes as two bomb blasts killed at least 19 people in Homs.
France: Justice Minister Resigns over Proposed Antiterrorism Laws
January 27, 2016
Headlines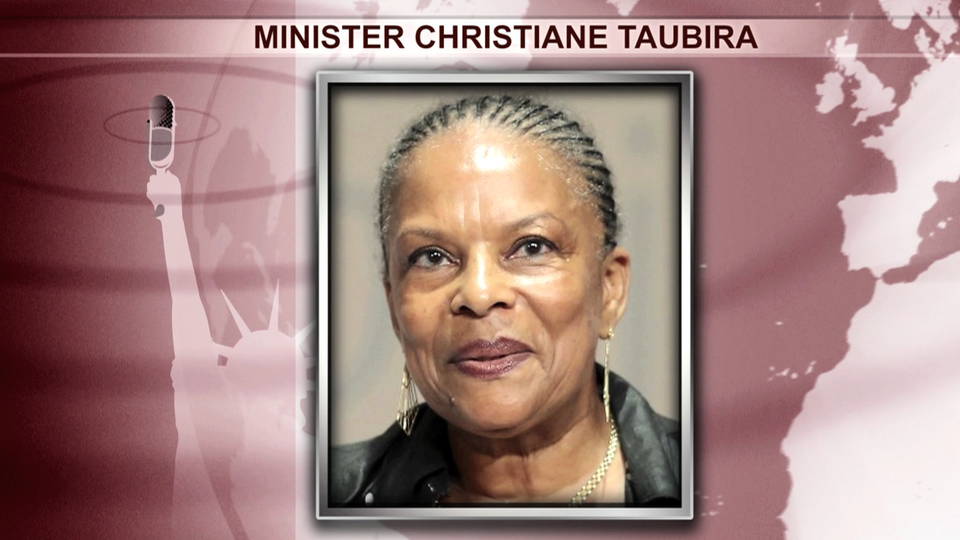 In France, Justice Minister Christiane Taubira has resigned in protest over plans to strip people convicted of terrorism of their citizenship. The steps, set to go before Parliament, were proposed in the wake of the November 13 attacks in Paris that killed 130 people. Taubira, one of France's few top black politicians, tweeted: "Sometimes staying on is resisting, sometimes resisting means leaving."
Trump Says He'll Skip GOP Debate Because Megyn Kelly Is Moderating
January 27, 2016
Headlines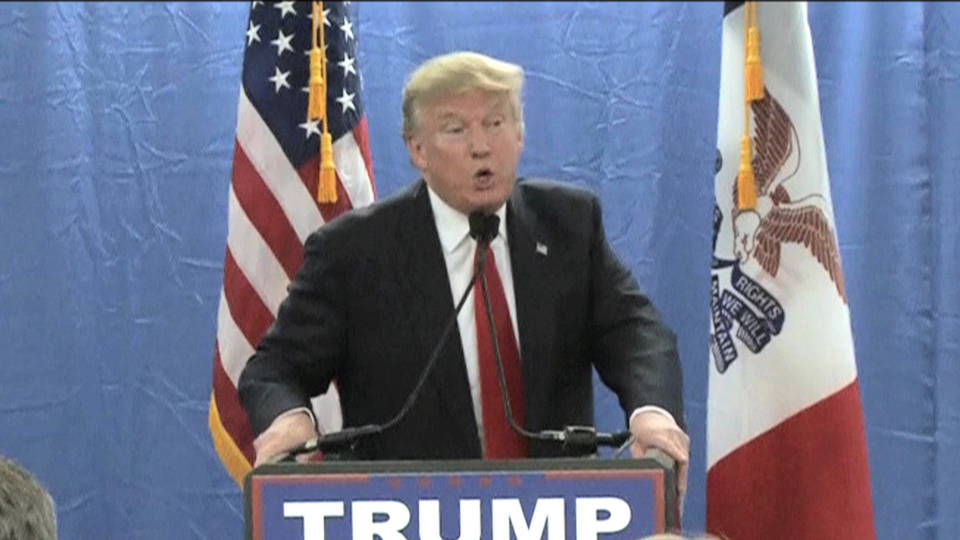 In news from the campaign trail, Republican presidential candidate Donald Trump says he will probably not participate in Thursday's Fox News-hosted debate. This comes after Trump spent days demanding Fox remove anchor Megyn Kelly as one of the debate moderators—a demand that Fox refused to meet. In August, during the first GOP debate, Kelly asked Trump about his history of calling women "fat pigs, dogs, slobs and disgusting animals." After the debate, Trump criticized Kelly, saying, "She starts asking me all sorts of ridiculous questions. And, you know, you could see there was blood coming out of her eyes, blood coming out of her, wherever."
Ohio: Schools Closed in Sebring Amid High Lead Levels in Water
January 27, 2016
Headlines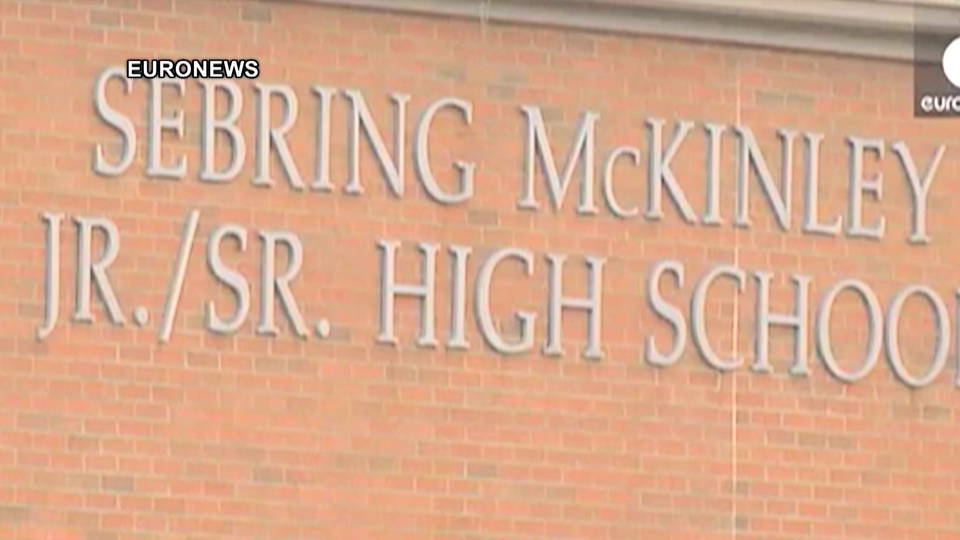 In Sebring, Ohio, schools were closed for the third day in a row after tests showed high levels of lead in the drinking water. Pregnant women and children have been told not to drink the water. State officials are sending bottled water and testing kits to the small village, which has about 4,300 residents. The state Environmental Protection Agency says the operator of the small water system submitted false reports to cover up the high levels of lead.
Flint Residents Protest Receiving Bills for Poisoned Water
January 27, 2016
Headlines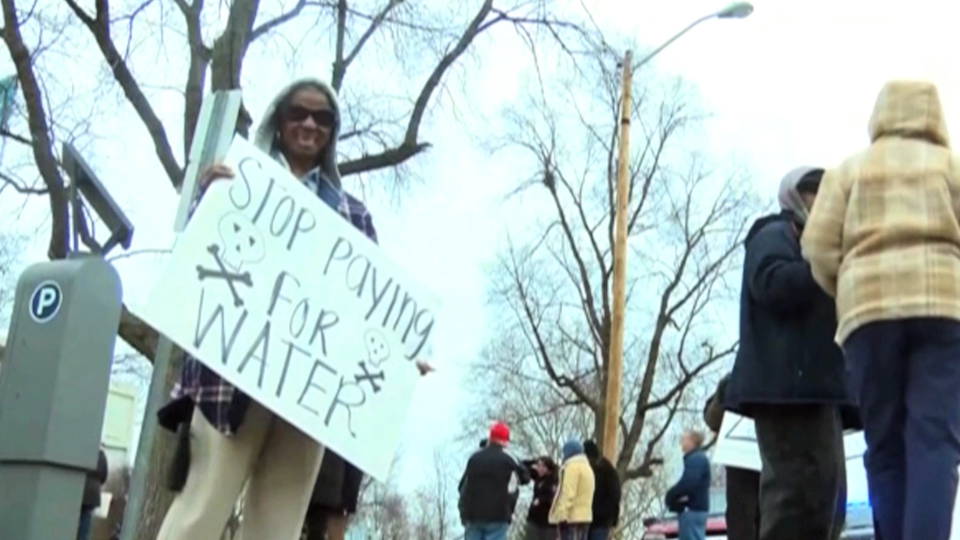 Meanwhile, in Flint, Michigan, residents are protesting the fact that they are still receiving water bills for the lead-poisoned water. The contamination crisis began after the state-appointed, unelected emergency manager of Flint switched the source of the city's drinking water to the corrosive Flint River in a bid to save money. On Tuesday, resident Melissa Mays spoke out.
Melissa Mays: "We're still receiving bills for tainted water. It's ridiculous. Not only are we receiving bills, our bills have gone up. The average now is around $200 a month for tainted water. And it needs to stop."
San Francisco: 16 People Arrested Protesting ICE Raids
January 27, 2016
Headlines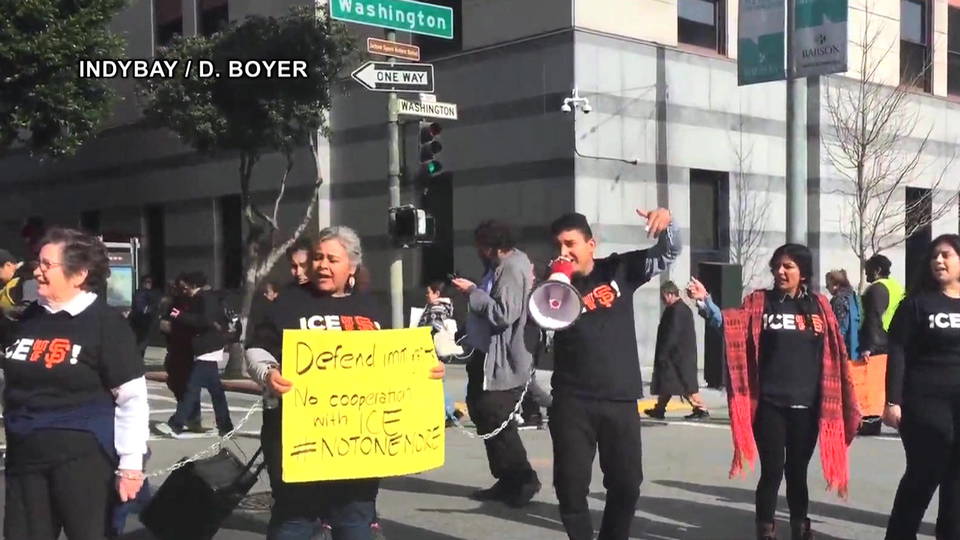 In San Francisco, 16 people were arrested after blocking the streets around the Immigration and Customs Enforcement building Tuesday. Ten of the protesters chained themselves together to block traffic. The action was held to protest the new round of raids against Central American families. The raids have targeted people who have sought asylum in the United States after fleeing violence in their home countries.
New York: 11 Veterans Arrested Protesting Gas Storage Facility
January 27, 2016
Headlines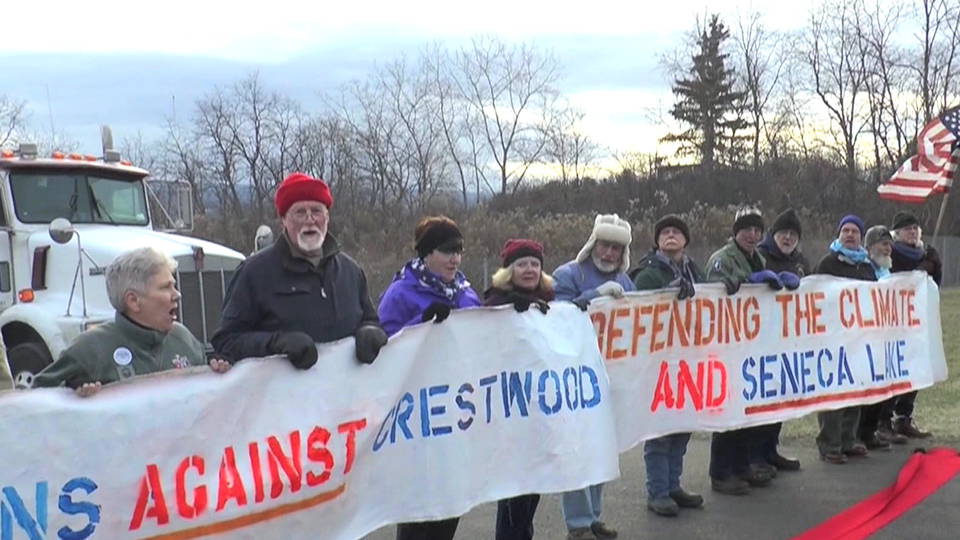 Meanwhile, in upstate New York, 11 U.S. military veterans have been arrested after forming a human barricade to block traffic at a natural gas storage facility. The protest was part of an ongoing campaign to stop Crestwood Midstream from expanding gas storage in abandoned salt caverns at Seneca Lake, a drinking water source for 100,000 people. Retired U.S. Air Force Sergeant Colleen Boland spoke out at Tuesday's protest.
Colleen Boland: "While on active duty, I traveled to over 20 countries, many of them places where drinking water was scarce, made children sick, fueled conflict and threatened security. I bring those experiences with me to the gates of Crestwood, where for 16 months now I've been peacefully protesting a plan to store highly pressurized and volatile fossil fuels below this beautiful lake, a source of drinking water for 100,000 people."
Peruvian Indigenous Activist Featured in New Doc Barred from Coming to U.S. for Sundance Premiere
January 27, 2016
Headlines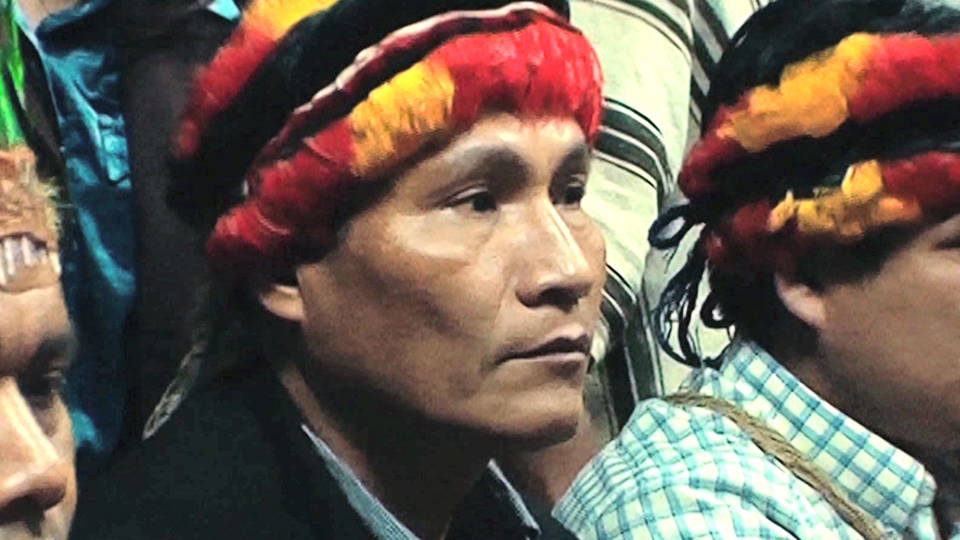 And a leading indigenous environmental activist in Peru has been barred from entering the United States. Alberto Pizango was supposed to come to Park City, Utah, for the Sundance Film Festival, where he is the subject of the new film "When Two Worlds Collide." It chronicles indigenous resistance to Peruvian laws aimed at opening Amazonian land to mining, logging and oil extraction. On June 5, 2009, a crackdown on the protests left dozens of people dead, including indigenous people and police. Pizango faces life in prison for the fatal clash—even though he wasn't there when it took place. Late last week, he was blocked from boarding his flight to come to Sundance. He went to the U.S. Embassy, where he was told his U.S. visa had been revoked. He has not been told why.