Explosions Rock Belgian Capital Brussels, Killing Dozens
In the Belgian capital Brussels, explosions have hit the international airport and a city metro station, reportedly killing more than two dozen people and wounding scores. Belgium's federal prosecutor said the two blasts at the airport were carried out by a suicide bomber. There were also reports of shots fired before the explosions at the airport, which occurred at about 8 a.m. this morning. About an hour later, another explosion hit the Maelbeek metro station. Early reports say 15 people died at the metro station and up to 13 at the airport, with more than 100 more wounded at both locations. The attacks come just four days after authorities in Brussels arrested Salah Abdeslam, a suspect in the November Paris attacks that killed 130 people. He had fled to Brussels after the Paris attacks. After Abdeslam's arrest in a raid on Friday, the Belgian interior minister had warned the country was on the highest level of alert for a possible revenge attack, telling public radio "stopping one cell can ... push others into action." Prime Minister Charles Michel condemned today's attacks as "blind, violent and cowardly" and called for "calmness and solidarity." We'll have more on the attacks after headlines.
Mali: Gunmen Attack Hotel Used by EU Military Officials
In Bamako, the capital of Mali, unidentified gunmen attacked a hotel used by European Union military officials. Authorities said one of the gunmen was killed and no EU personnel were hurt.
Castro Calls for Return of Guantánamo During Obama's Historic Visit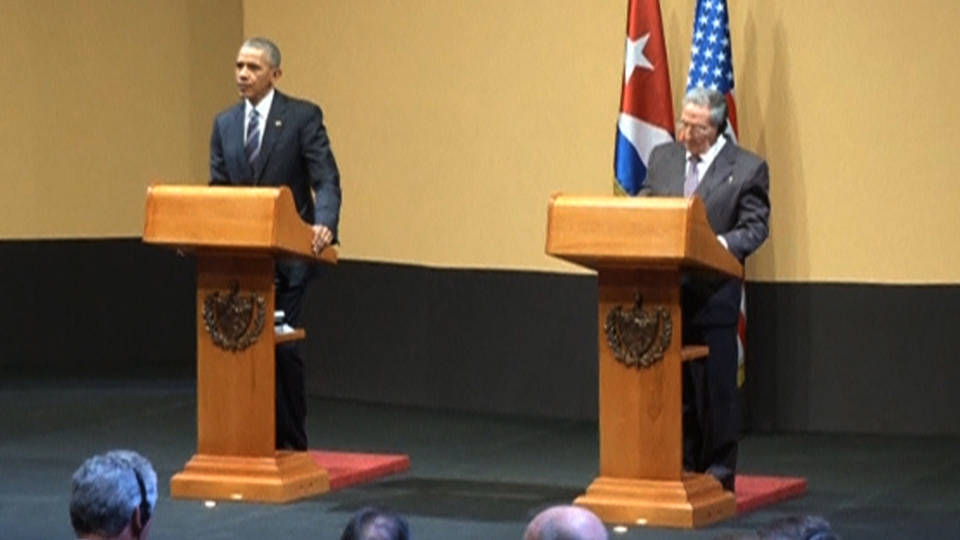 President Obama and Cuban President Raúl Castro met at the Revolutionary Palace in Havana Monday for the first such official contact between Cuba and the United States in more than half a century. In a joint news conference, Obama heralded a "new day" in relations with Cuba. Castro called for the United States to lift the trade embargo on Cuba and return the Guantánamo naval base.
Cuban President Raúl Castro: "The blockade is the most important obstacle for our economic development and the well-being of the Cuban people. That is why removing it is essential for us to normalize bilateral relations. It will also be beneficial for Cuban migrants, who want the best for their families and their countries. On advancing toward normalization, it will also be necessary that the illegally occupied territory at the Guantánamo naval base is returned."
Topics:
Castro Denies Holding Political Prisoners, Criticizes U.S. Human Rights Record
Castro also sought to defend himself against a reporter's question about political prisoners in Cuba, saying, "Give me a list of the political prisoners, and I will release them immediately." Castro criticized the U.S. record on human rights, saying Cuba found it "inconceivable that a government does not defend and secure the right to healthcare, equal pay and the rights of children." Obama said the U.S. should not be immune to such criticism.
President Barack Obama: "As you heard, President Castro has also addressed what he views as shortcomings in the United States around basic needs for people and poverty and inequality and race relations. And we welcome that constructive dialogue, as well, because we believe that when we share our deepest beliefs and ideas with an attitude of mutual respect, that we can both learn and make the lives of our people better."
Topics:
Obama to Declassify Records on Dictatorship During Argentina Visit
President Obama is expected to meet with Cuban dissidents today before he heads to Argentina tomorrow to meet with new right-wing President Mauricio Macri. Obama is expected to heed a call by human rights groups and begin declassifying U.S. military and intelligence records that could reveal more about the U.S. role in Argentina's military dictatorship in the 1970s and '80s.
Topics:
Clinton's AIPAC Speech Seen as Bid to Cast Herself to Trump's Right on Israel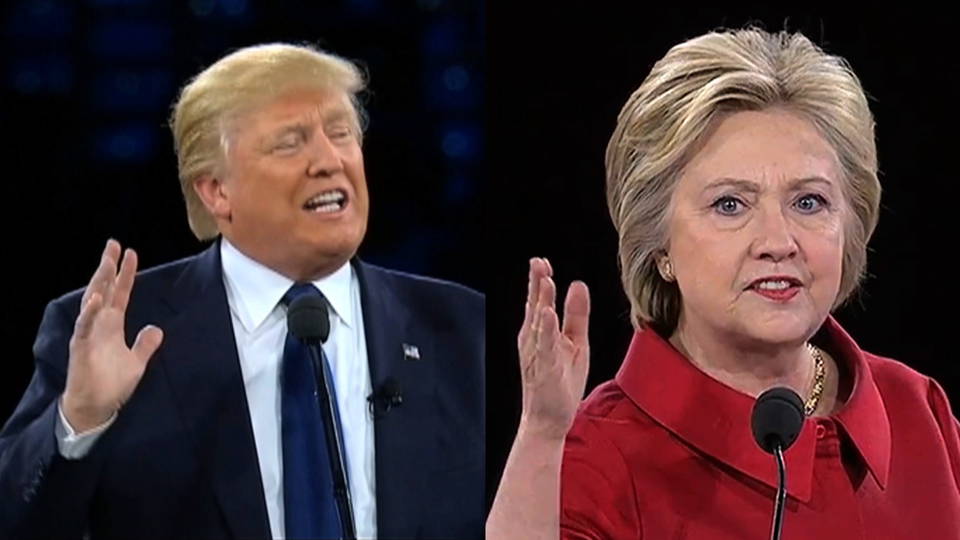 All three remaining Republican candidates and Democrat Hillary Clinton addressed the pro-Israel AIPAC conference Monday. Donald Trump faced a boycott by rabbis who said they were offended by Trump's remarks against Mexicans, Muslims and Jews and wanted to "shine a moral light on the darkness that has enveloped Mr. Trump's campaign." Hillary Clinton sought to cast herself as a stronger ally to Israel than Donald Trump, attacking Trump's recent declaration he would be "neutral" when negotiating a peace deal between Israelis and Palestinians. Many saw Clinton's address as an attempt to cast herself to Trump's right on Israel.
Hillary Clinton: "It's also why, as president, I will make a firm commitment to ensure Israel maintains its qualitative military edge. The United States should provide Israel with the most sophisticated defense technology so it can deter and stop any threats. That includes bolstering Israeli missile defenses with new systems like the Arrow 3 and David's Sling. And we should work together to develop better tunnel detection, technology to prevent armed smuggling, kidnapping and terrorist attacks."
We'll have more on the candidates' speeches later in the broadcast.
Sanders Skips AIPAC, Addresses Israel on the Campaign Trail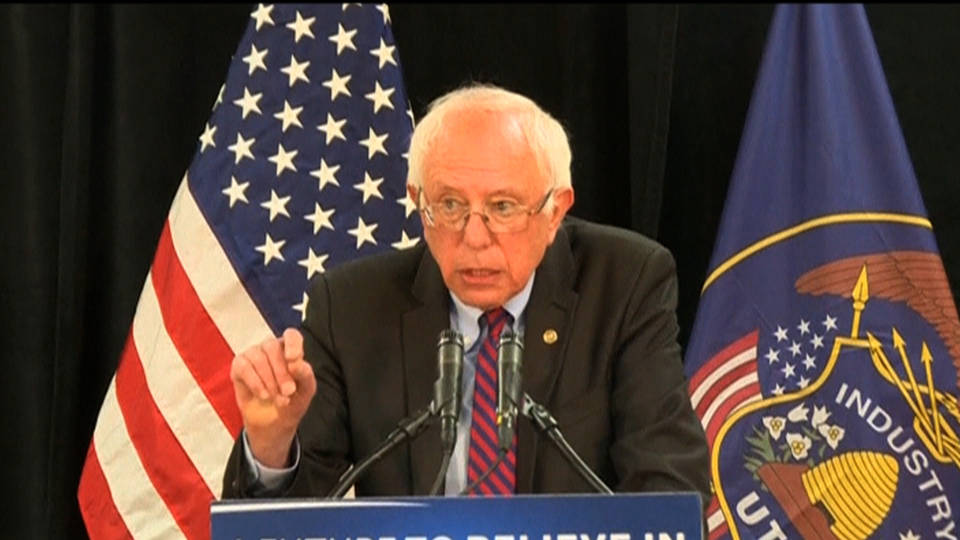 Clinton's Democratic rival, Vermont Senator Bernie Sanders, skipped the AIPAC conference, saying he needed to continue campaigning in Western states ahead of today's primary and caucuses. But he did address the issue on the campaign trail.
Sen. Bernie Sanders: "I am here to tell the American people that, if elected president, I will work tirelessly to advance the cause of peace as a partner and as a friend to Israel. But to be successful, we have also got to be a friend not only to Israel, but to the Palestinian people, where in Gaza unemployment today is 44 percent, and we have there a poverty rate which is almost as high."
Contests in Utah and Arizona Today; Democratic Caucus in Idaho
Voters are heading to the polls today for the primary in Arizona. Both parties will hold caucuses in Utah. Idaho will also hold its Democratic caucus while Republicans in American Samoa will choose their delegates.
Elizabeth Warren Calls Trump a "Loser"; He Calls Her "The Indian"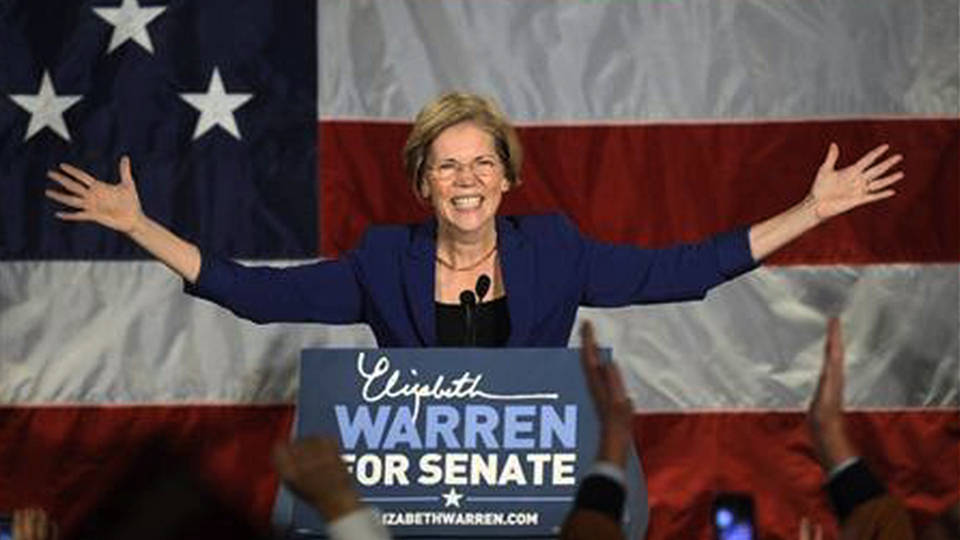 Massachusetts Senator Elizabeth Warren took aim at Donald Trump Monday, writing on social media, "Let's be honest—Donald Trump is a loser. ... Listen to the experts who've concluded he's so bad at business that he might have more money today if he'd put his entire inheritance into an index fund and just left it alone." Trump struck back by attacking Warren's past claims she has Native American heritage. In response to a reporter's question, Trump referred to Warren as "the Indian."
Reporter: "You heard a little bit about what Hillary Clinton said this morning in her comments to AIPAC. Also, Elizabeth Warren today on social media went after you, calling you a loser. How are you going to"—
Donald Trump: "Who's that? The Indian? You mean the Indian?"
Topics:
U.S. Says It May Not Need Apple's Help to Unlock iPhone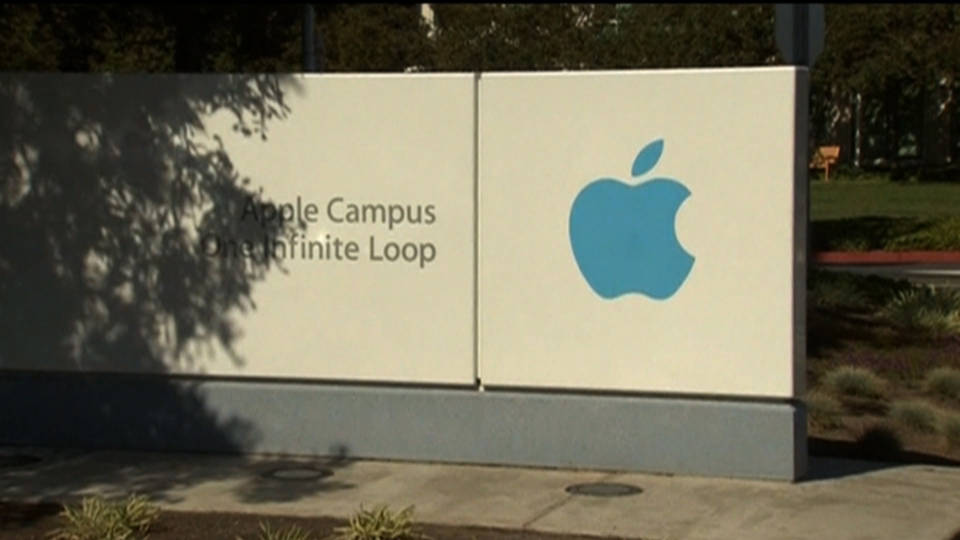 The Justice Department has said it may not need Apple's help to unlock an iPhone used by a suspect in the San Bernardino, California, shooting rampage. Apple has publicly refused to unlock the iPhone, saying it would create a backdoor the government could use against other phones. But a hearing in the case scheduled for today has been postponed after the government said it has been approached by an outside party with a possible means of unlocking the iPhone.
Topics:
Iraq: Previously Undisclosed U.S. Base Comes Under ISIL Attack Again
A newly disclosed U.S. base in northern Iraq has come under attack again from ISIL, two days after a U.S. marine was killed in a rocket attack at the base in the town of Makhmour. The death of Staff Sgt. Louis Cardin revealed the existence of the new base and took place during an unannounced deployment of U.S. troops to the area. While the deployment began about two weeks ago, it was not announced until Sunday, the day after Cardin's death. The deployment of U.S. troops to an area where ISIL is active marks the latest sign of deepening U.S. involvement in Iraq.
Topics:
U.S., Philippines Sign Deal Allowing Pentagon to Use Five Bases
The United States and the Philippines have signed an accord allowing the Pentagon to use sections of five military bases, deploying conventional forces to the Philippines for the first time in decades. The bases include one just a few dozen miles from the contested Spratly Islands in the South China Sea.
Topics:
Report: Sea Levels Could Rise Several Meters This Century, Drowning Cities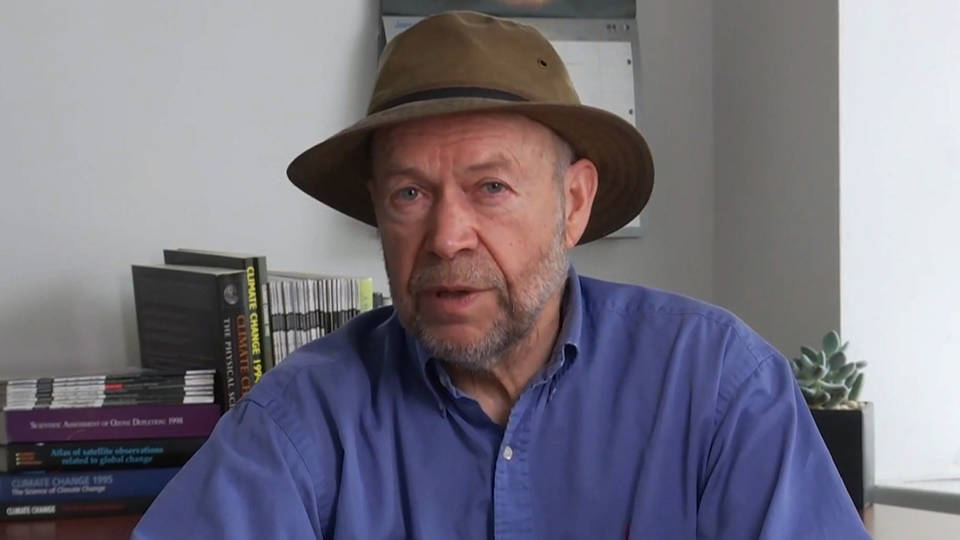 Scientists have published a major new paper warning climate change could cause catastrophic storms beyond any seen in modern times and the loss of swaths of the polar ice sheets. While countries around the world have agreed on 2 degrees Celsius of warming above pre-industrial levels as a limit for global warming, the paper warns such a rise would be "dangerous." The world is already halfway to the 2-degree mark. Former NASA scientist and leading climatologist James Hansen was one of 19 co-authors. He spoke in a video accompanying the report.
James Hansen: "These feedbacks raise questions about how soon we will pass points of no return in which we lock in consequences that cannot be reversed on any time scale that people care about. Consequences include sea level rise of several meters, which we estimate could occur this century or at latest next century if fossil fuel emissions continue at a high level. That would mean loss of all coastal cities, most of the world's large cities and all their history."
The report comes after last month shattered climate records, becoming the warmest month in recorded history, surpassing the previous record—set in December.
Topics:
Georgia Could Lose Super Bowl Bid over Anti-LGBT "Religious Liberty" Bill
Georgia could lose its bid to host the Super Bowl if Georgia Governor Nathan Deal signs a so-called religious liberty bill seen as allowing discrimination against LGBT people. The bill would let faith-based groups refuse to provide services that violate their religious beliefs; it specifies pastors can't be forced to perform same-sex weddings, and individuals can't be forced to attend them. Nearly 500 businesses, including Apple, have opposed the measure, and the NFL said Friday it could use its own anti-discrimination policies to "evaluate potential Super Bowl host sites."
40 Millionaires Ask New York State to Raise Their Taxes
And more than 40 millionaires have asked New York state to raise their taxes. The millionaires said wealthy people should pay more taxes to help struggling New Yorkers, address child poverty and homelessness, and repair crumbling infrastructure.
Topics: