Former Bosnian Serb Leader Radovan Karadzic Convicted of Genocide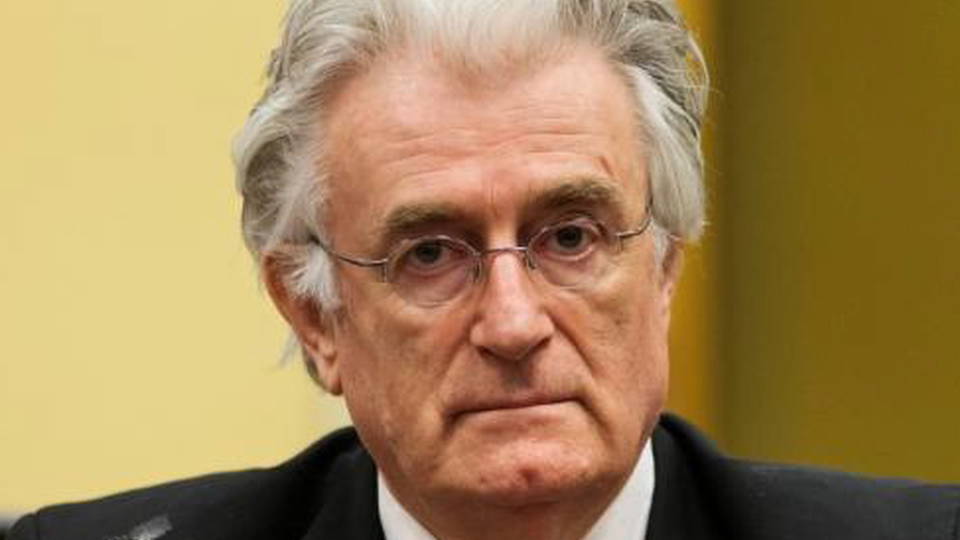 Former Bosnian Serb leader Radovan Karadzic has been convicted of genocide, war crimes and crimes against humanity by a United Nations tribunal. He is the highest-level figure to be convicted by the tribunal for crimes committed during the 1992-1995 Bosnian War, which left more than 100,000 dead. Karadzic was convicted of genocide for the 1995 Srebrenica massacre, in which 8,000 Bosnian Muslims were killed during a campaign to kill "every able-bodied male" in the town. He was also convicted of crimes associated with the four-year siege of Sarajevo. On Thursday, tribunal Judge O-Gon Kwon read the verdict.
Judge O-Gon Kwon: "Mr. Karadzic, could you please stand? For the reasons summarized during this hearing, the chamber, having heard all of the evidence presented by the prosecution and the defense, finds you, Radovan Karadzic, not guilty of count one, genocide; guilty of the following counts: count two, genocide; count three, persecution, a crime against humanity; count four, extermination, a crime against humanity; count five, murder, a crime against humanity."
The verdict from the International Criminal Tribunal for the former Yugoslavia comes 21 years after Karadzic was indicted and eight years after he was arrested on a public bus after evading authorities for more than a decade. He was sentenced to 40 years in prison, with credit for eight years of time served. Most convicted by the tribunal have served two-thirds of their sentences, meaning that it's possible 70-year-old Karadzic could walk out of prison.
2 Americans Killed During Brussels Attacks; 6 Detained in Raids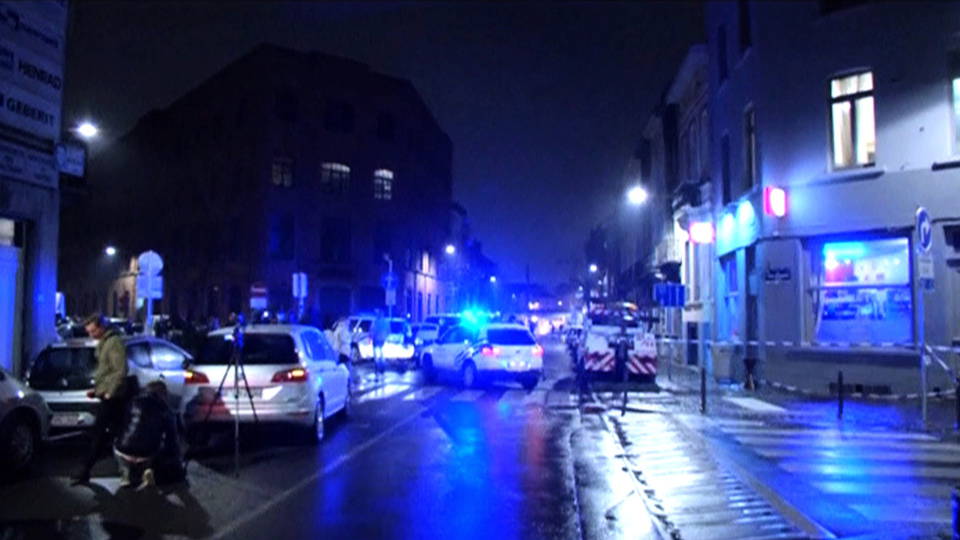 U.S. Secretary of State John Kerry has confirmed in a news conference in Belgium today that two Americans were among the 31 killed during Tuesday's bombing attack targeting the Brussels Airport and a crowded subway station near the headquarters of the European Union. This comes as Belgian authorities have detained at least six people suspected of being involved. Overnight and on Friday morning, authorities carried out sweeping raids as a search continues for at least one suspect, whom U.S. authorities say they've identified, although they haven't released a name. Both Belgium's interior minister and justice minister offered to resign after it surfaced that authorities failed to heed a warning from Turkey that one of the suicide bombing suspects was a militant. Belgium's prime minister declined to accept the resignations.
Pope Francis Points at Weapons Industry Behind Brussels Attack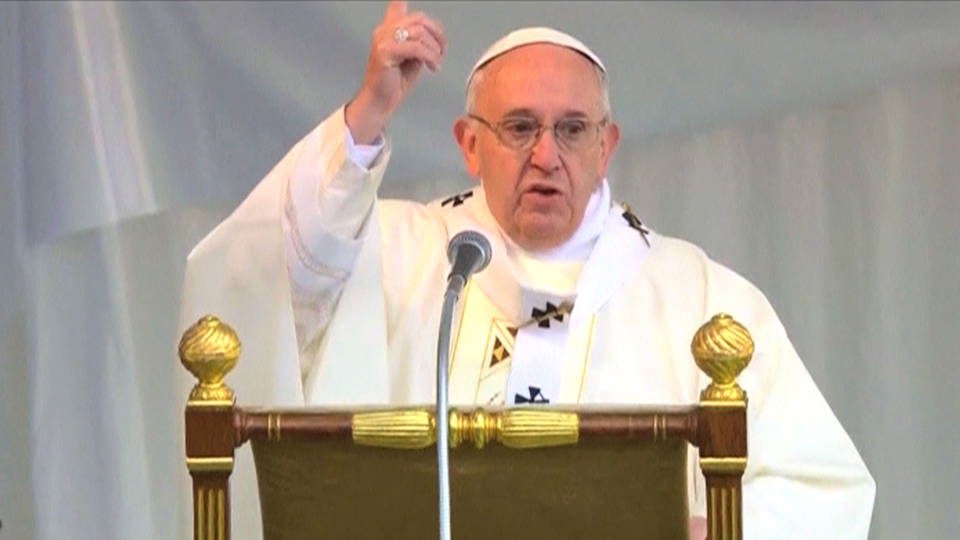 Meanwhile, Pope Francis has spoken out against the role of the weapons industry in Tuesday's deadly attack on Brussels. The pope spoke during pre-Easter rituals north of Rome on Thursday.
Pope Francis: "Muslims, Hindus, Catholics, Copts, Evangelists, but brothers, children of the same god, who want to live in peace, integrated. Three days ago, there was a gesture of war, of destruction, in a city of Europe from people who don't want to live in peace. Behind that gesture there were arms manufacturers, the arms traffickers who want blood, not peace, who want war, not brotherhood."
Topics:
Sanders Expected to Win Alaska, Hawaii & Washington Caucuses Saturday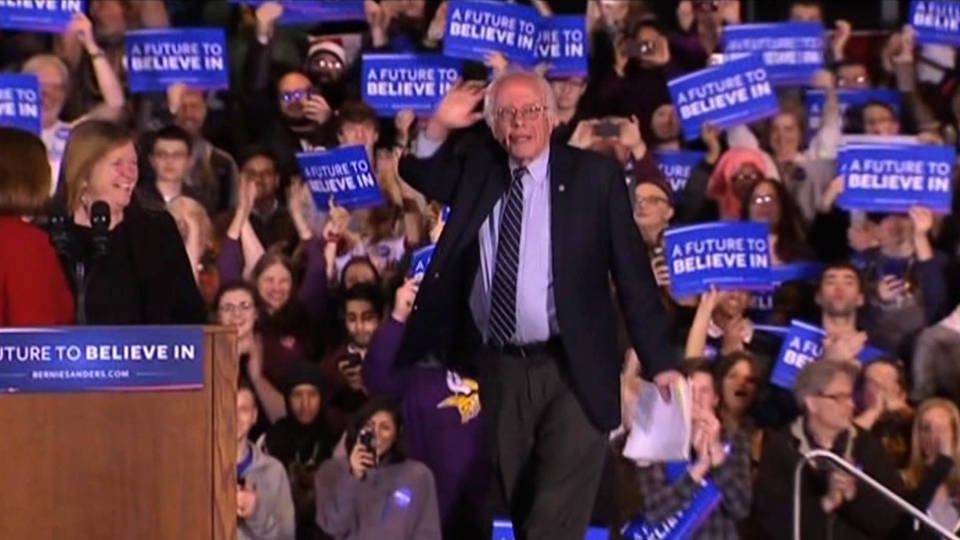 In news from the presidential campaign trail, Vermont Senator Bernie Sanders is expected to win the Alaska, Hawaii and Washington state caucuses on Saturday. This comes after Sanders won the Democratic contests in Utah and Idaho by a wide margin on Tuesday, while his contender, former Secretary of State Hillary Clinton, won the primary in Arizona. The Arizona contest was marked by massive five-hour lines and a shortage of ballots at many polling stations.
Topics:
Ted Cruz Criticizes Donald Trump for Attacks on Cruz's Wife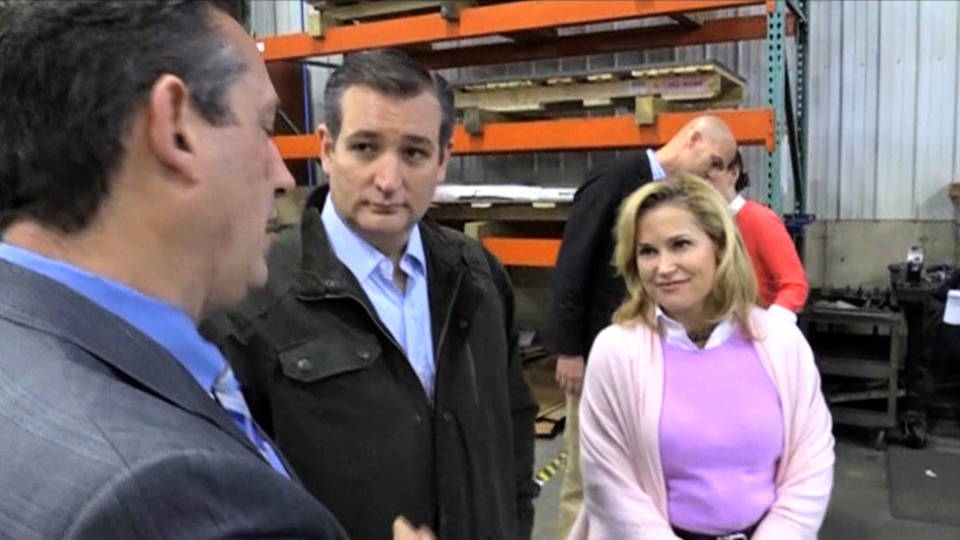 Meanwhile, Republican presidential candidate Ted Cruz has warned contender Donald Trump to cease his increasing insults of Cruz's wife, Heidi. Trump has been threatening to "spill the beans" about Heidi Cruz, an investment manager at Goldman Sachs. In response, Ted Cruz said at a news conference Wednesday that Trump has an "issue with women" and that he should stay away from his wife.
Sen. Ted Cruz: "Donald does seem to have an issue with women. Donald doesn't like strong women. Strong women scare Donald. ... It's not easy to tick me off. I don't get angry often. But you mess with my wife, you mess with my kids, that'll do it every time. Donald, you're a sniveling coward, and leave Heidi the hell alone."
Topics:
Iraq: Unnamed Officials Say U.S. Marines Playing Expanded Role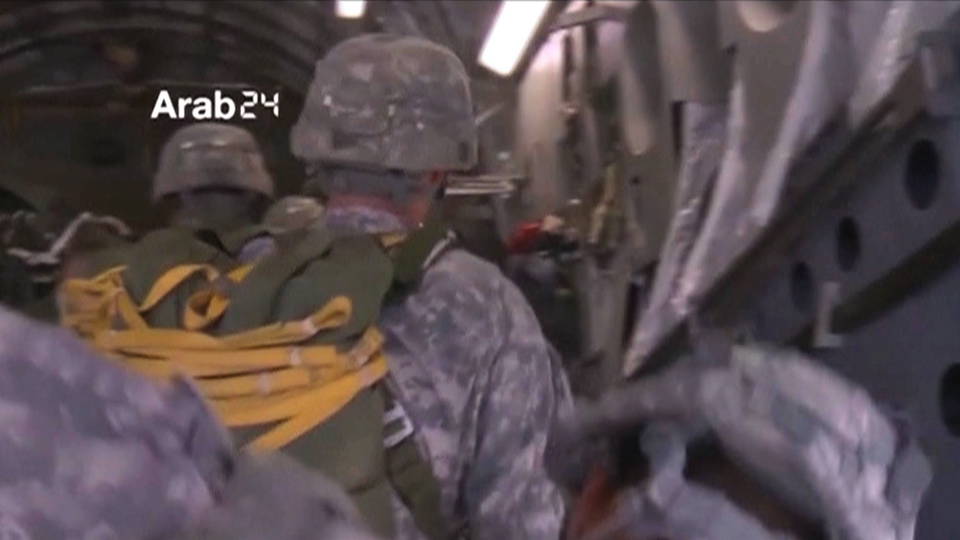 Unnamed Pentagon officials say U.S. troops are playing an expanded role in the Iraqi forces' new campaign to seize control of Mosul from the self-proclaimed Islamic State. Unnamed officials told the Associated Press that U.S. marines fired illumination rounds and artillery rounds as Iraqi troops fought for control of villages on the outskirts of the city. This comes after Pentagon officials confirmed the existence of a new Marine outpost. It also comes as the Pentagon is facing increasing questions about the U.S. troop presence in Iraq, after unnamed officials told The Washington Post that there are currently about 5,000 U.S. soldiers in Iraq—a far higher number than previously reported.
Topics:
IDF Soldier Arrested After Video Shows Execution of Palestinian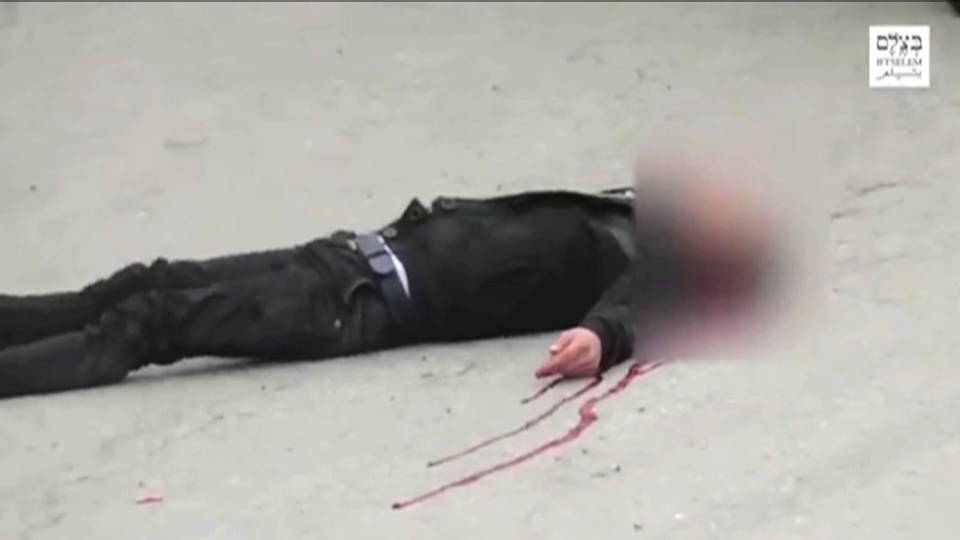 An Israeli soldier has been arrested after a video surfaced that appears to show the soldier executing a Palestinian man who was lying, immobilized, on the ground. The video shows 21-year-old Yusri al-Sharif, who was reportedly a suspect in a stabbing earlier in the day, lying sprawled on his back in the street, apparently wounded, surrounded by Israeli security forces. During the period of time captured on the video, the Israeli soldiers and medics do not appear to offer any medical aid or attention to al-Sharif. The video then appears to show an Israeli soldier stepping forward and firing a single shot into the man's head from a close distance. Blood is then shown streaming from the man's head. None of the Israeli security forces captured in the video appear to be startled by the soldier's actions. In response, Issa Amro with the Hebron-based group Youth Against Settlements said, "This is the first time we've had such a clear video of a Palestinian being executed. This monstrous picture shows how brutal the occupation is." The Israeli military said the soldier has been detained and that it has opened an investigation.
Topics:
Rockefeller Family Fund Divesting from Fossil Fuels, Slams Exxon
The Rockefeller Family Fund has announced it is divesting from fossil fuels, starting with its holdings of ExxonMobil. The fund said that given the realities of climate change, "There is no sane rationale for companies to continue to explore for new sources of hydrocarbons." The family fund singled out Exxon, criticizing the company of "morally reprehensible conduct" for lying to investors and the public about its knowledge of climate change.
SEC Ruling Deals Another Blow to ExxonMobil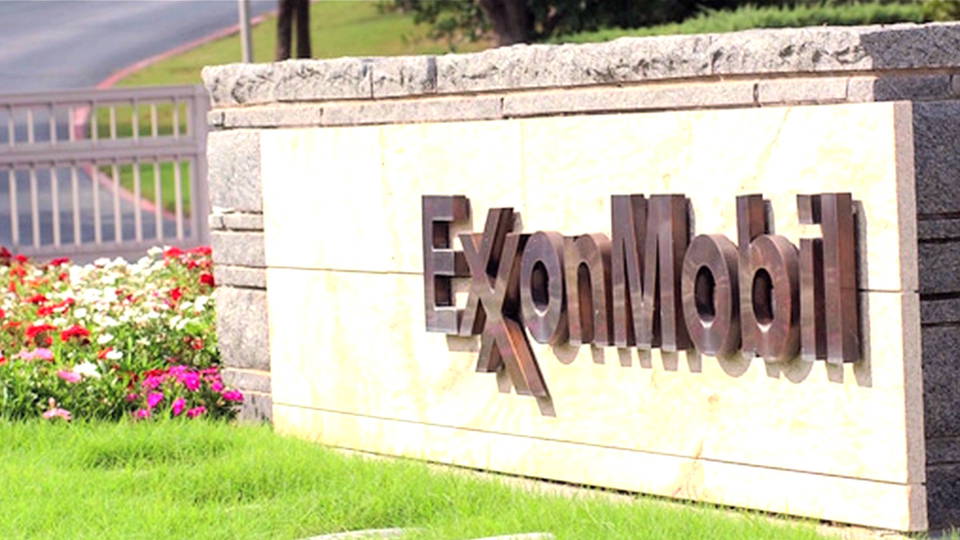 This comes as Exxon was dealt another blow Tuesday by the Securities and Exchange Commission, which rejected Exxon's attempts to block shareholders from demanding the oil giant disclose how its business would be impacted by the 2-degree target limit on global warming. Following the historic U.N. climate accord in December, in which 195 nations endorsed efforts to limit global warming to no more than a 2-degree Celsius rise above pre-industrial levels, a number of Exxon's shareholders have advanced a proposal that would force the oil giant to tell investors how its profits will be impacted by the global target.
NYT: NFL Covered Up Concussions, Pushed Flawed Health Studies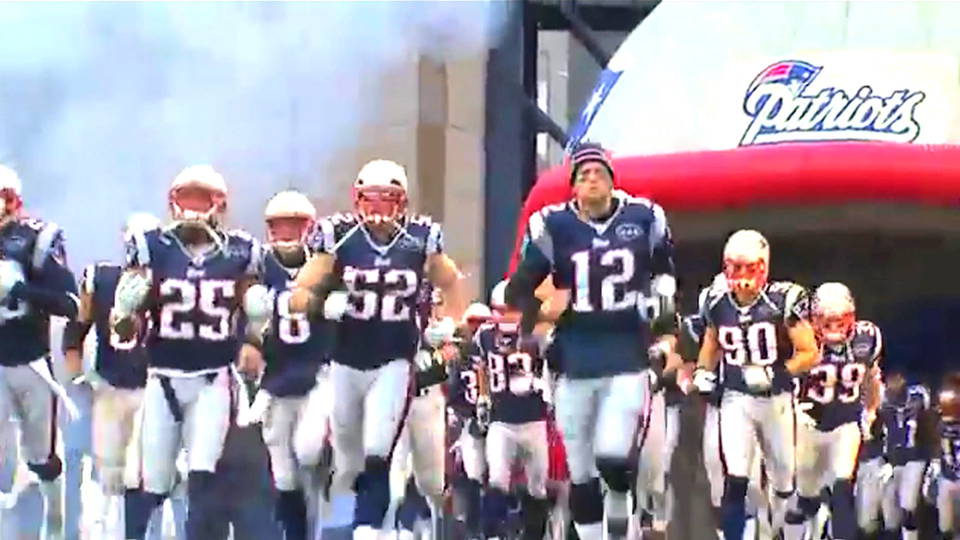 A new New York Times investigation has revealed the National Football League hid more than 100 diagnosed concussions and then published studies based on the flawed data. The Times exposé casts significant doubt about the validity of the NFL's studies. The investigation also exposes deep ties between the NFL and the tobacco industry, showing that the two industries shared lobbyists, lawyers and consultants. In a statement, the NFL accused The New York Times of publishing "pages of innuendo and speculation."
Topics:
Activists Warn Bangladeshi Asylum Seekers May Be Deported En Masse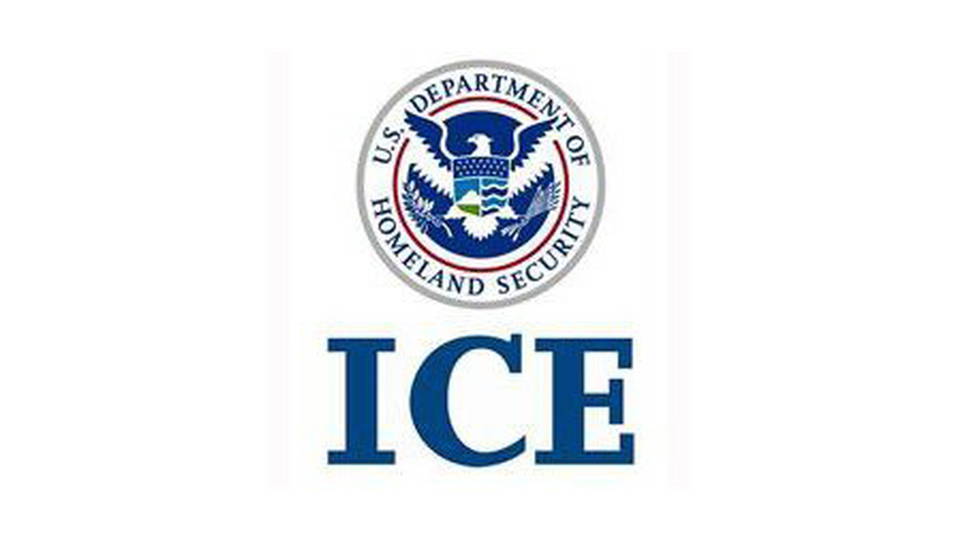 Immigrant rights activists say authorities have begun transporting a group of Bangladeshi Muslim asylum seekers to Arizona in advance of a mass deportation. Many of the detained men participated in a series of hunger strikes in 2015 to protest their ongoing detention by ICE, the Immigration Customs and Enforcement agency. Some of the men have been detained for years. The men came to the United States seeking asylum, saying they were escaping repressive conditions in Bangladesh. Linda Sarsour, the director of MPower Change, said, "While many have rightfully condemned the anti-Muslim rhetoric spewed during ongoing presidential campaigns, our current policies are just as terrifying."
Topics:
21 Arrested in L.A. Protesting Deportation of Asylum Seekers
This comes as 21 people were arrested outside the Metropolitan Detention Center in Los Angeles during a protest against the detention and deportation of Central American families who have fled to the United States seeking asylum amid deadly violence in their home countries. The majority of those arrested during the protest were faith leaders.
Topics:
Under Pressure, NY Gov. Cuomo Agrees to Fully Fund CUNY
And in New York, Governor Andrew Cuomo has said the state will fully fund CUNY, the City University of New York, for the next year. Cuomo had threatened to push nearly $500 million in state costs onto the city. This comes after protests in New York City Thursday, in which students staged a die-in to demand the state fully fund the university. CUNY graduate student Isa spoke out.
Isa: "My DC 37 contract has been expired for seven years. The PSC contract has been expired for six. And if the state and city don't pass this budget, the cost comes down to students. And that's me, as well. ... So, my tuition has been going up steadily every single year. How much more can we take? I mean, this university was established for working-class students, and it's no longer that. It's becoming privatized, and there's nothing left for us."