Democracy Now! is Sharper on Miro
Miro is a high-resolution way to get Democracy Now! on the internet. Learn more about Miro and subscribe to the Democracy Now! channel.
Miro is a non-profit organization started in 2005 in Worcester, Massachusetts. Miro shares Democracy Now's mission as a non-profit organization: stay commited to viewers and suporters. They also have a stated focus on opening up media to a larger, more diverse audience through online video.
Miro is dedicated to improving the quality of online video. They were able to improve the quality of Democracy Now's online video output. The video was suffering from a condition known as interlace, which causes motion in the image to reveal a bunch of tiny sawtooth lines. Interlacing was a way that television manufacturers in the 1940's could fake a high frame rate and avoid a visible flickering of the image. On high resolution displays (like computer monitors), the interlaced scan lines become visible and must be processed out (deinterlaced). The image below is an example.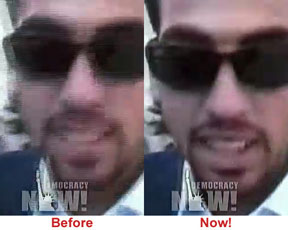 In short, Miro is a free application that turns your computer into an internet TV video player but with higher quality images. Once you download Miro you can use it to watch free internet video channels and play any video file. Don't forget to subscribe to the Democracy Now! channel!
Columns
By Amy Goodman with Denis Moynihan
Marshall "Eddie" Conway walked free from prison this week, just one month shy of 44 years behind bars. He was convicted of the April 1970 killing of a Baltimore police officer. Conway has always maintained his innocence.
Daily News Digest