CV/CM Tour–packed house in Tucson
KXCI and Access Tucson organize a packed benefit on Sunday night in Tucson
The Community Voices, Community Media Tour made it to Tucson, Arizona, on Sunday night, Apr 26th 2009, for a speaking event with Amy Goodman to benefit community media: KXCI 91.3 FM and Access Tucson public access television.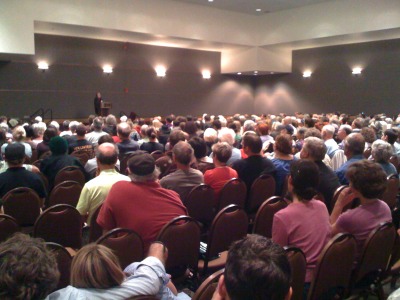 The event was chosen as the "Pick of the Week" by the independent Tucson Weekly, in this article written by local journalism prof Hank Stephenson:
The article highlights ongoing struggles of Access Tucson to maintain its share of the cable franchise fees that are intended for public access TV, and also that KXCI had its best fund drive ever.
Democracy Now! will be broadcast from the studios of KUAT/Arizona Public Media Ch. 6, a PBS affiliate, on Monday Apr 27th.
DN! producer Nicole Salazar has joined the tour.
Sunset over Tucson: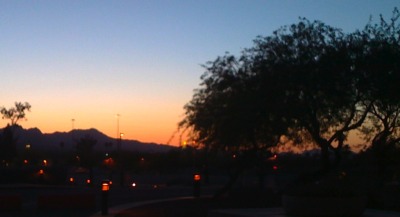 Daily News Digest
Columns
By Amy Goodman and Denis Moynihan
Former Guatemalan President Efraín Ríos Montt was hauled off to prison last Friday. It was a historic moment, the first time in history that a former leader of a country was tried for genocide in a national court. More than three decades after he seized power in a coup in Guatemala, unleashing a U.S.-backed campaign of slaughter against his own people, the 86-year-old stood trial, charged with genocide and crimes against humanity. He was given an 80-year prison sentence. The case was inspired and pursued by three brave Guatemalan women: the judge, the attorney general and the Nobel Peace Prize laureate.