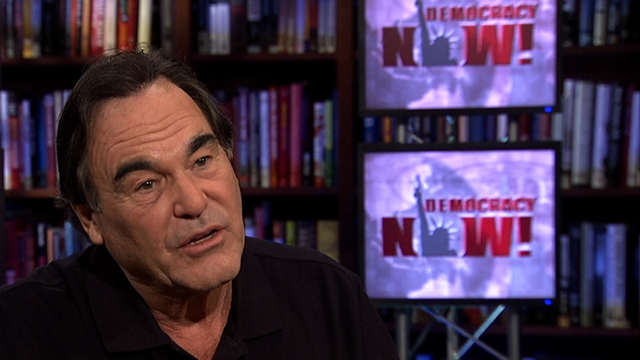 This is viewer supported news. Please do your part today.
Donate
Tune into Tuesday's show when we will spend the hour with Academy Award-winning film director Oliver Stone. We'll discuss his work that examines the assassination of President John F. Kennedy 50 years ago this month, including his 1991 film, "JFK," and his series, "The Untold History of the United States." The ten-part series draws on archival findings and recently declassified documents to critically examine U.S. history, from the atomic bombing of Japan to the Cold War, to the fall of communism, and continuing all the way through to the Obama administration. See our previous interviews with Stone in 2012 and 2010.
Got a question for Oliver Stone? We're taking question suggestions from our audience ahead of time. Post your question on our Facebook page, tweet us at #DNlive or email us at stories@democracynow.org (subject line: Oliver Stone). And tune in on Tuesday to see if Amy Goodman asks your question live on air! Stream 8-9am ET at democracynow.org.
---