Chicago Police Kill 2 African Americans, Reigniting Calls for Mayor to Resign
December 28, 2015
Headlines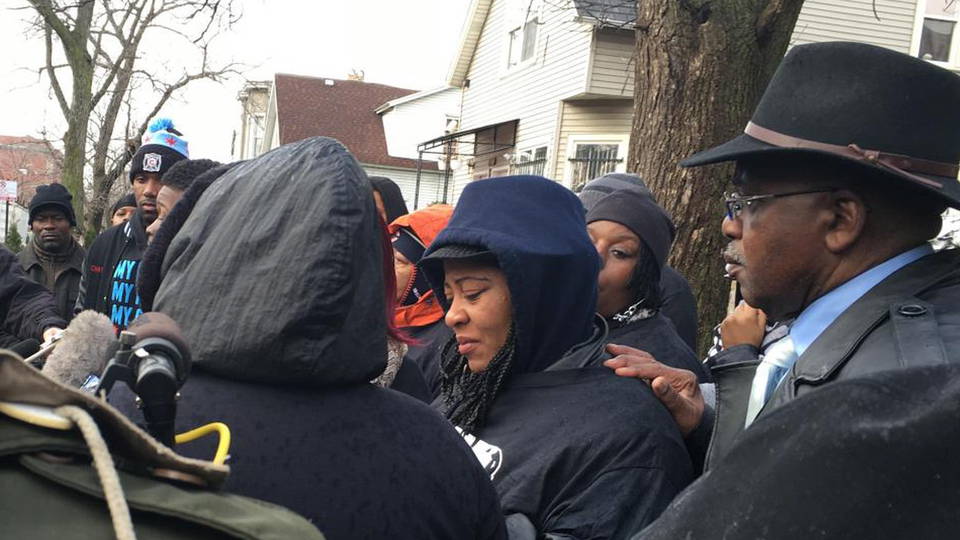 A police shooting in Chicago has killed two unarmed African Americans, sparking new calls for change at a police department already under heavy scrutiny. Early Saturday morning, the father of a 19-year-old college student, Quintonio LeGrier, called police to report his son was behaving oddly and carrying a metal bat. The father also called the downstairs tenant, 55-year-old Bettie Jones, to alert her that police would need to enter through her door. When police arrived, Quintonio LeGrier allegedly confronted them in the foyer. Both LeGrier and Bettie Jones were killed when police opened fire. On Sunday, LeGrier's mother, Janet Cooksey, spoke as family and friends gathered outside the home.
Janet Cooksey: "No mother should have to bury her child, and especially under these circumstances. You call for help, the police are supposed to serve us and protect us, and yet they take the lives. What's wrong with that picture? It's a badge to kill? I mean, where do we get our help?"
The other victim, Bettie Jones, was the mother of five grown children, with whom she had celebrated Christmas just hours before. Police have acknowledged they shot her by accident. The killings have renewed calls for Chicago Mayor Rahm Emanuel to resign. Evelyn Glover, the cousin of Bettie Jones, spoke out with a message for the mayor.
Evelyn Glover Jennings: "You meet me at City Hall. I want my cousin's death avenged. You killed her in cold blood. Emanuel, Emanuel, call your boys. Chicago police belong to you. Now you vigilante, you've been sending the Chicago police out to kill, to do nothing but kill. Get 'serve and protect' off of them cars and write, 'We kill,' 'cause that's your mission, you lying demon."
Mayor Emanuel was already under pressure to resign over the more than year-old police killing of 17-year-old Laquan McDonald and a potential police cover-up. McDonald, who was African-American, was shot 16 times by white police officer Jason Van Dyke. Dash cam video, only recently released by court order, clearly contradicts police claims about the shooting. We'll go to Chicago for more on this story later in the broadcast.
Storms Kill At Least 43 Across U.S. over Christmas Weekend
December 28, 2015
Headlines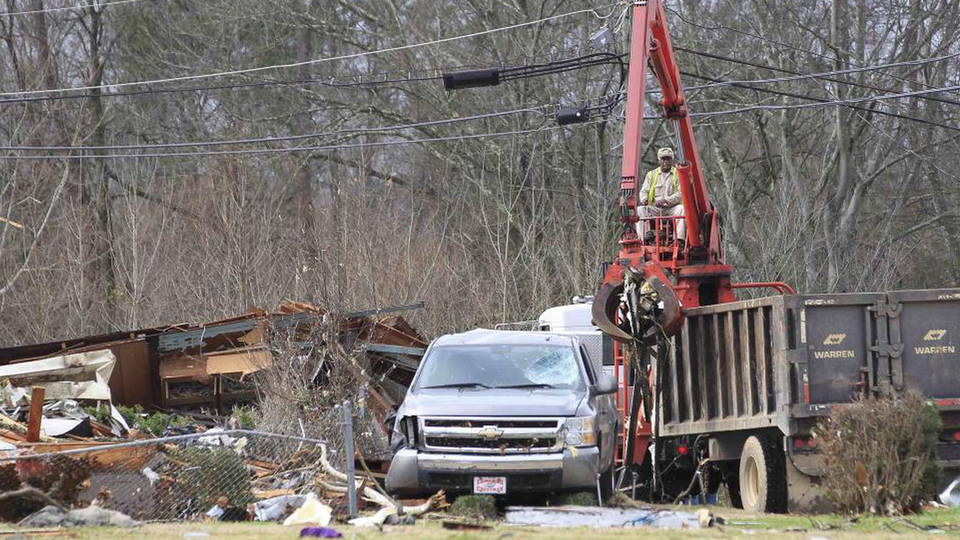 At least 43 people died over the Christmas holiday weekend in a series of storms that hit the South, Southwest and Midwest United States. Missouri and New Mexico have declared a state of emergency. Tornadoes were reported in 10 states, including Michigan, which recorded its first-ever tornado in December. The deadliest storms were in Texas, where at least 11 people died when tornadoes hit areas near Dallas. Now a historic snowstorm is heading toward Dallas after causing blizzard-like conditions in New Mexico, Oklahoma and western Texas. Another 10 people died in tornadoes in Mississippi, six more in Tennessee. Flash floods also killed at least 13 people in Missouri, Illinois and Arkansas, where as much as nine inches of rain fell on some areas. A Birmingham, Alabama, resident described the destruction after a tornado touched down.
Loretta Scott: "I feel grateful. I'm just thankful to be alive. I'm just thankful to be alive. It was so horrible. It was like clawing at the roof, and the windows just broke through, and the rain was so thick, and it was just like—it was a nightmare. And when the people said take cover, if I had not moved one inch back into taking cover, the whole glass would have been on my bed where I was laying. It blew out the windows."
Christmas Heat Shatters Records Across East Coast
December 28, 2015
Headlines
Meanwhile, heat records were broken on Christmas Day across the East Coast from Maine to Florida. On Christmas Eve, the thermometer topped a record-breaking 70 degrees in New York City, Philadelphia and Washington, D.C.
More Than 100,000 Evacuated amid Floods in South America
December 28, 2015
Headlines
Extreme weather also continues around the world. More than 100,000 people have had to evacuate their homes in areas of Paraguay, Uruguay, Brazil and Argentina amid severe flooding.
England: 500 Soldiers Sent to Address "Unprecedented" Flooding
December 28, 2015
Headlines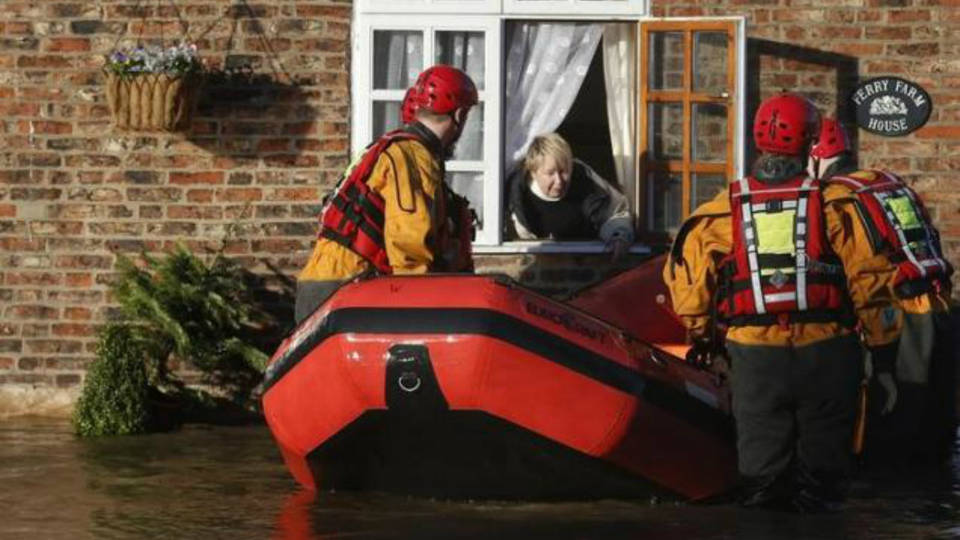 British Prime Minister David Cameron has deployed 500 soldiers to address "unprecedented" flooding in northern England. Scores of flood warnings have been issued across England, Wales and Scotland. We'll have more on the links between record-breaking heat, tornadoes and climate change after headlines with a leading climate scientist.
Mosques in Texas, California Hit by Arson Attacks over Christmas Weekend
December 28, 2015
Headlines
Two U.S. mosques have been attacked in separate incidents over the Christmas weekend. On Christmas Day, just after hundreds of people finished Friday prayers, a two-alarm fire erupted at the Islamic Society of Greater Houston in Texas. Authorities say it was intentionally set. Meanwhile, officials in California's Central Valley are investigating a Molotov cocktail attack on the Tracy Islamic Center as a possible hate crime. A study earlier this month found hate crimes against Muslim Americans and U.S. mosques have tripled since the attacks in Paris and San Bernardino. The Council on American-Islamic Relations has reported more incidents targeting mosques this year than in any other year on record.
Report: White House Mulling Plan to Keep At Least 1 Base in Afghanistan
December 28, 2015
Headlines
The White House is reportedly considering a Pentagon plan to maintain at least one base in Afghanistan, despite President Obama's initial pledge to withdraw most U.S. troops by the time he leaves office. In October, Obama reversed that plan, saying 5,500 troops would remain in Afghanistan through the end of his term. As the Obama administration expands its use of Special Operations forces around the world, The New York Times reports a proposal now under consideration would use a base in Afghanistan as a hub for Special Operations troops and intelligence operatives throughout Central and South Asia.
Iraqi Military Says It Has "Liberated" Ramadi
December 28, 2015
Headlines
The Iraqi military says it has "liberated" the city of Ramadi from the self-proclaimed Islamic State. ISIS seized Ramadi in May, marking a humiliating defeat for the Iraqi army. For weeks, Iraqi forces backed by U.S.-led airstrikes have sought to retake Ramadi.
Nigeria: At Least 29 Killed in Boko Haram Attacks
December 28, 2015
Headlines
In Nigeria, the militant group Boko Haram has attacked the northeastern city of Maiduguri, killing at least 15 people amid fears the toll may be much higher. It's the second assault in days after Boko Haram invaded a village on Christmas, killing at least 14 people. The attack came just after Nigerian President Muhammadu Buhari said Nigeria has "technically won the war" against Boko Haram.
Israel: Video Shows Jewish Extremists Celebrating Death of Palestinian Toddler
December 28, 2015
Headlines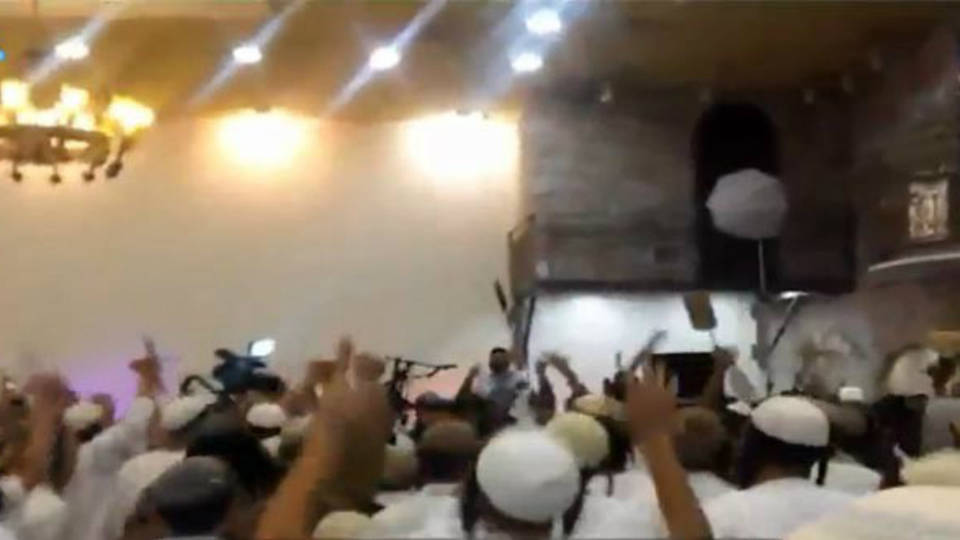 Israeli authorities say they are investigating newly released video which appears to show Jewish extremists celebrating the death of a Palestinian toddler in an arson attack last summer. The footage, which aired on Israel's Channel 10 news, was filmed at a wedding. It shows two men apparently stabbing pictures of 18-month-old Ali Dawabsheh, who was killed in an arson attack, allegedly by Jewish settlers. The fire also killed his parents.
Israeli Ministers Back Bill to Crack Down on Human Rights Groups
December 28, 2015
Headlines
Israeli government ministers have backed a bill to crack down on human rights groups by requiring them to disclose details about funding they receive from foreign governments. Critics say the bill unfairly targets groups critical of the Israeli military, like Breaking the Silence, which receives more than half its funding from European governments, while shielding right-wing groups that rely on private donors, who are exempt. European officials have reportedly slammed the proposal, calling it "reminiscent of totalitarian regimes."
Japan, South Korea Reach Deal on "Comfort Women" Enslaved During WWII
December 28, 2015
Headlines
Japan and South Korea have reached a deal aimed at addressing the demands of so-called comfort women forced into sexual slavery by the Japanese military during World War II. The deal includes an apology from Japanese Prime Minister Shinzo Abe and a more than $8 million fund for survivors. In exchange, South Korea has agreed not to criticize Japan publicly over the issue. Survivors have said the deal falls far short of their call for Japan to admit legal responsibility and pay formal reparations.
Okinawa Officials Sue Japanese Gov't to Block U.S. Military Base
December 28, 2015
Headlines
In other news from Japan, officials on the island of Okinawa have sued the Japanese government in the latest bid to block construction of a new U.S. military base. Okinawa authorities say the Japanese government illegally overrode Governor Takeshi Onaga's order halting construction earlier this year. Okinawa is home to more than half of the 50,000 U.S. troops stationed in Japan. For decades, residents have demanded the expulsion of U.S. troops, citing environmental concerns and sexual assaults.
Bernie Sanders Says He Can Win Over Trump Supporters
December 28, 2015
Headlines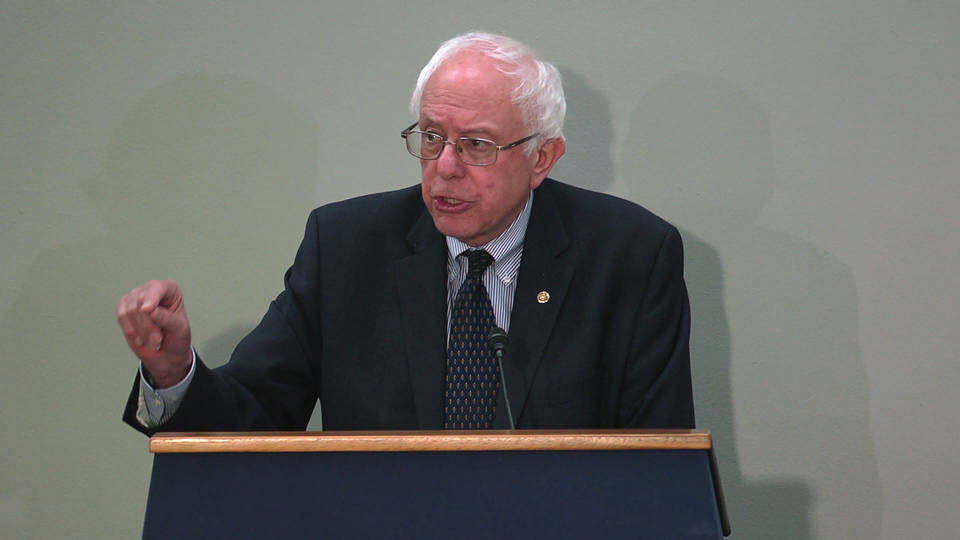 On the U.S. campaign trail, Democratic presidential contender and Vermont Senator Bernie Sanders says he thinks he can win over the supporters of Republican front-runner Donald Trump. Speaking on CBS's Face the Nation, Sanders said Trump is misdirecting anger over income inequality and stagnant wages.
Sen. Bernie Sanders: "Many of Trump's supporters are working-class people, and they're angry. And they're angry because they're working longer hours for lower wages. They're angry because their jobs have left this country and gone to China or other low-wage countries. They're angry because they can't afford to send their kids to college, so they can't retire with dignity. What Trump has done, with some success, is taken that anger, taken those fears, which are legitimate, and converted them to be—into anger against Mexicans, anger against Muslims. And in my view, that is not the way we're going to address the major problems facing our country."
Report: U.S. Arms Sales Increased 35% Last Year
December 28, 2015
Headlines
A new report finds the United States increased its sale of weapons around the world by about 35 percent last year, even as the overall arms market stayed relatively flat. The congressional study found U.S. weapons sales increased to more than $36 billion, nearly $10 billion higher than the previous year. The surge was fueled by massive U.S. arms deals with Qatar, Saudi Arabia and South Korea.
Legendary Cinematographer, Director Haskell Wexler Dies at 93
December 28, 2015
Headlines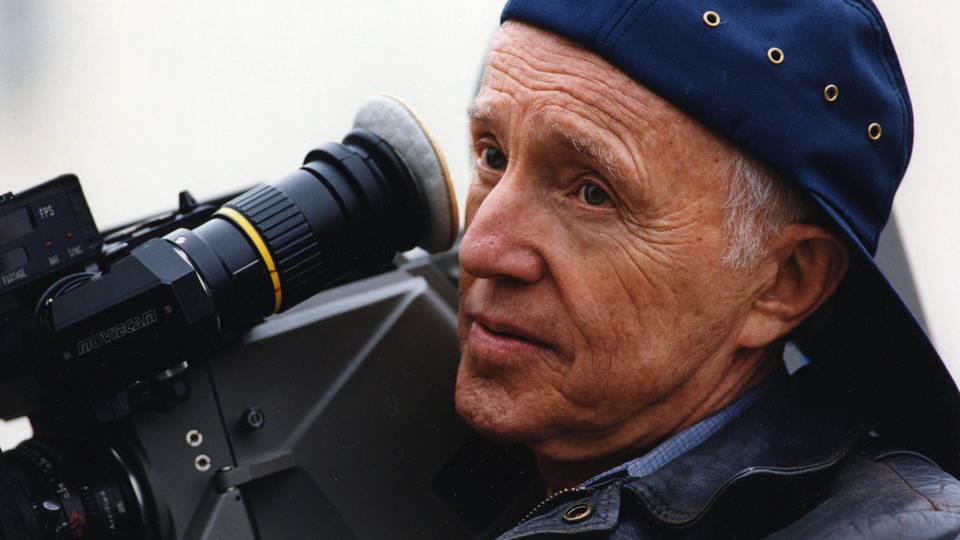 And the legendary cinematographer and director Haskell Wexler has died at the age of 93. Perhaps best known for his 1969 film, "Medium Cool," which captures the upheaval surrounding the 1968 Democratic National Convention in Chicago, Wexler won two Academy Awards for cinematography in "Who's Afraid of Virginia Woolf?" and "Bound for Glory," about folk singer Woody Guthrie. His documentaries tackled political issues including the Southern Freedom Riders of the 1960s, the U.S. government's destabilization of Nicaragua, U.S. atrocities in Vietnam, and torture under the U.S.-backed junta in Brazil. In October, Haskell Wexler visited the Democracy Now! studio, and I asked him about his advice for young filmmakers.
Haskell Wexler: "I shot a film in L.A. called 'Bus Rider's Union.' And on and off for four years, I rode with people on buses, and I got to know what's important in their life. I realized that there's a whole world right there in my own city that was going on. And fortunately, the film was very well received, the 'Bus Rider's Union,' not in a conventional meaning. But I can't give any advice to young people, except just don't arbitrarily take the system to be—to realize that if you want to be an artist, you to learn, you have to be in touch. You can't measure success on just how much money you make or how famous you are."
Haskell Wexler died on Sunday at the age of 93. We'll have more on Haskell Wexler's legacy later in the broadcast.