New York Times: Rich Have Built Their Own "Private Tax System"
December 30, 2015
Headlines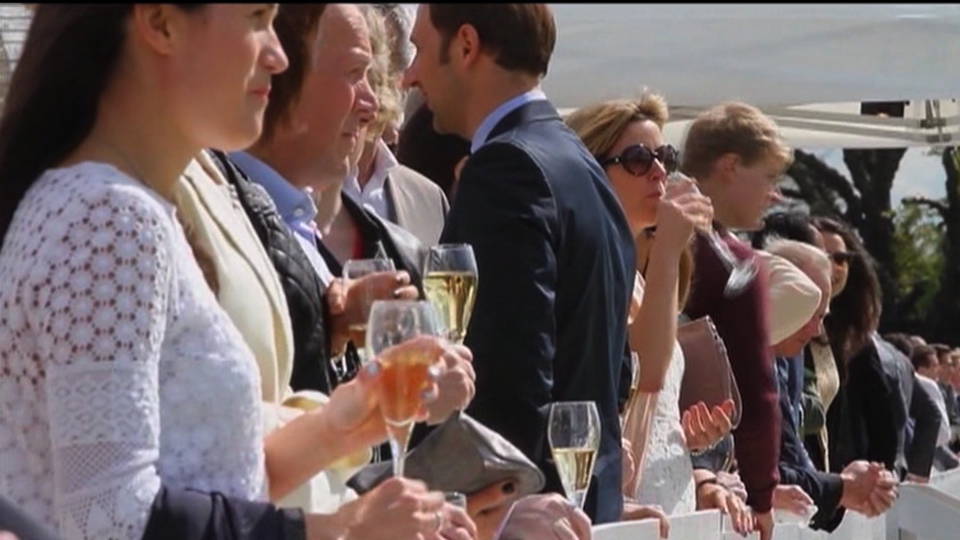 A new investigation by The New York Times shows how the richest U.S.families have avoided paying billions of dollars in taxes by quietly building a "private tax system." The rich have reportedly exploited esoteric loopholes in the current tax system while pouring millions into lobbying for policies to pay even lower taxes, such as repealing the inheritance tax. The result has been billions of dollars in lost taxes. Twenty years ago, the 400 richest families paid 27 percent of their income to federal taxes. In 2012, the 400 richest families paid only 17 percent. Many of these same families who have exploited tax loopholes have poured large sums of money into the 2016 presidential campaign.
Chicago: Officer Van Dyke Pleads Not Guilty to Murdering Laquan McDonald
December 30, 2015
Headlines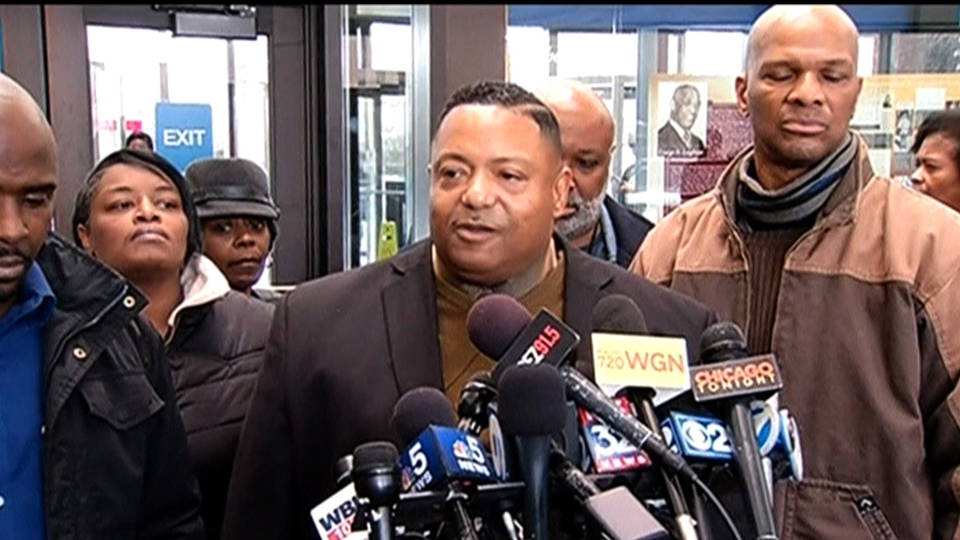 In Chicago, white police officer Jason Van Dyke pleaded not guilty to six counts of first-degree murder for the 2014 shooting of African-American teenager Laquan McDonald. Officer Van Dyke shot 17-year-old Laquan McDonald 16 times while the teenager was at a distance and walking away, posing no threat. On Tuesday, Laquan McDonald's great-uncle Marvin Hunter called for a fully televised trial.
Marvin Hunter: "We're not asking for a change of venue, as has been mentioned in the media before, as much as we're asking for federal oversight. We now believe that it would be in the best interests of fairness and justice for this case if it was televised, from gavel to gavel, because we really believe that there is a culture in the County of Cook, with the police department and the criminal justice system, where police feel comfortable with murdering African-American people."
This comes as family members held a vigil to honor Quintonio LeGrier. Chicago police killed the 19-year-old college student Saturday after his father called 911 to help respond to a mental health episode in which his son was behaving oddly and carrying a baseball bat. Friends and family remembered Quintonio LeGrier as a straight-A student who ran the Chicago Marathon in 2013. The other victim of Saturday's shooting was Bettie Jones, the mother of five grown children, who lived downstairs. Police have acknowledged they shot Bettie Jones by accident. Chicago Mayor Rahm Emanuel has cut short his vacation and returned to Chicago amid increasing calls to resign.
Missouri: Death Toll of Devastating Flooding Rises to 13
December 30, 2015
Headlines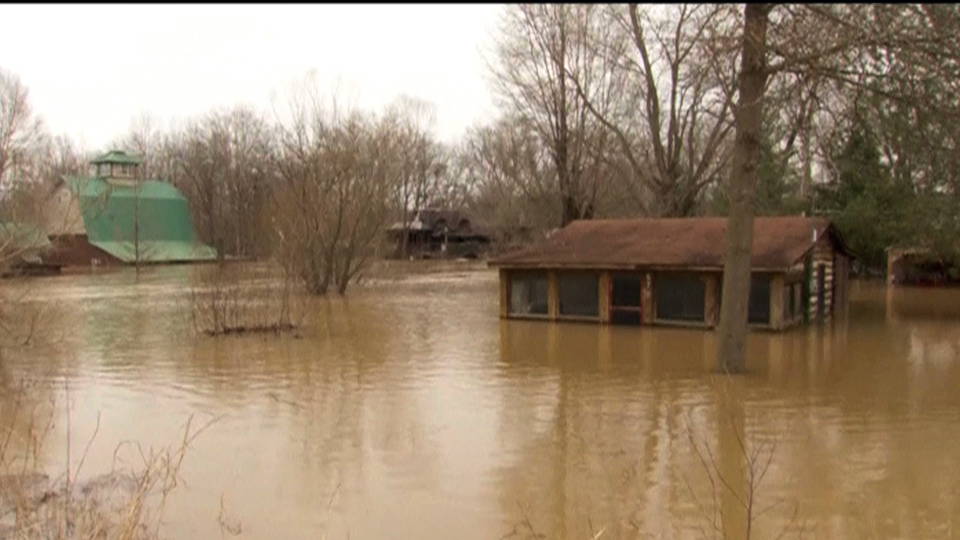 Devastating flooding continues in Missouri, forcing hundreds of families to evacuate and dozens of businesses to shut down. Parts of Interstate 44 have also been closed. It's Missouri's worst flooding in more than two decades. Thirteen people have died so far. The National Weather Service is warning of "record crests" of rivers in the coming days. Missouri Governor Jay Nixon has activated the National Guard. The National Weather Service says 17 million people nationwide currently live in flood warning areas.
Storm Hurtling Toward North Pole Could Raise Temps 50 Degrees
December 30, 2015
Headlines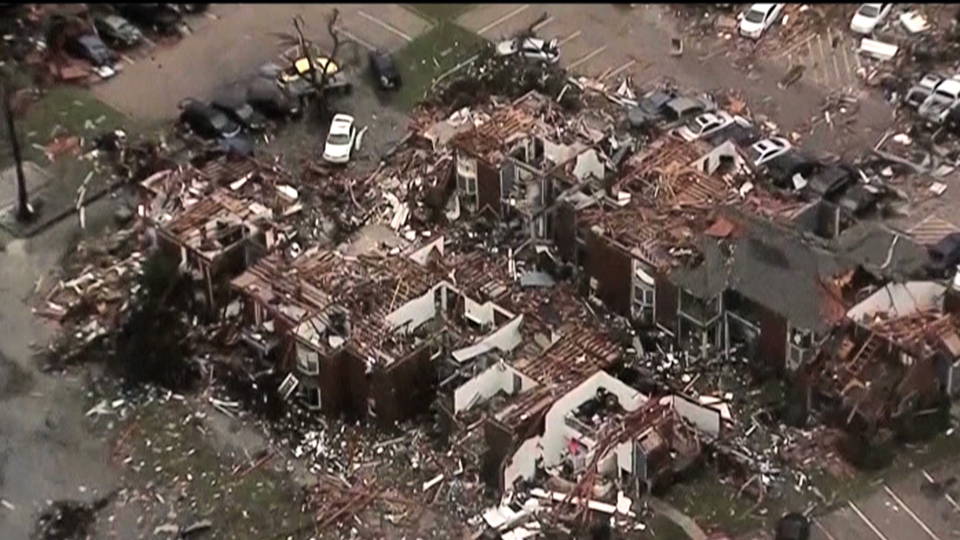 Meanwhile, scientists predict the storms that brought devastating tornadoes to Texas over the weekend will grow in size as they hurtle toward Iceland, unleashing a surge of warm air that could push temperatures at the North Pole to 50 degrees above normal. There is only one other time on record when air temperatures at the North Pole have risen above freezing. Computer model simulations predict the storm could become one of the most powerful to hit the North Atlantic. It is also expected to drop more rain on Britain, which has already experienced devastating flooding.
Colombia Issues Red Alert over Drought-Fueled Forest Fires
December 30, 2015
Headlines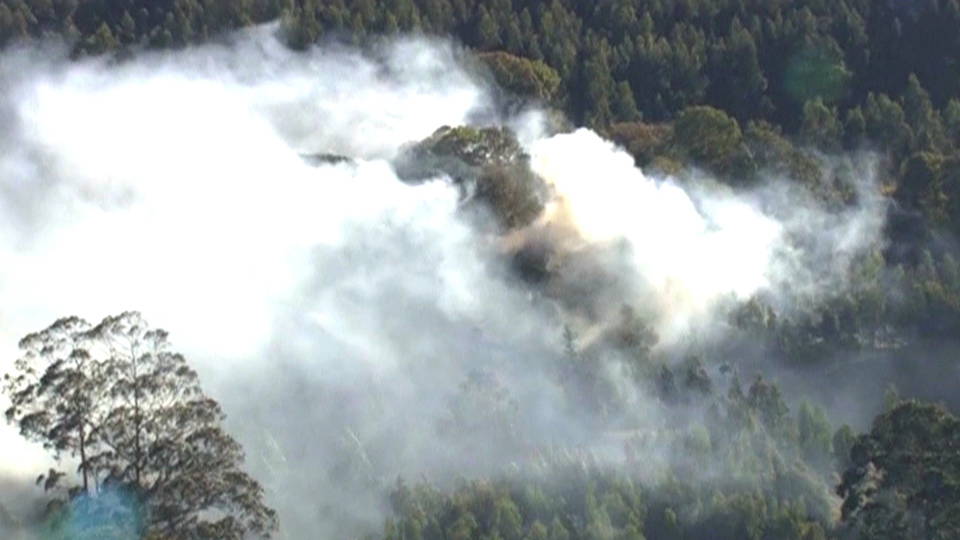 Meanwhile, in South America, Colombia has declared a red alert for the forest fires burning across the Andes mountains. The Colombian Environmental Ministry says the forest fires are a consequence of drought and rising temperatures across Colombia. The red alert applies to 80 percent of the country.
Pakistan: Suicide Bomb Kills 26
December 30, 2015
Headlines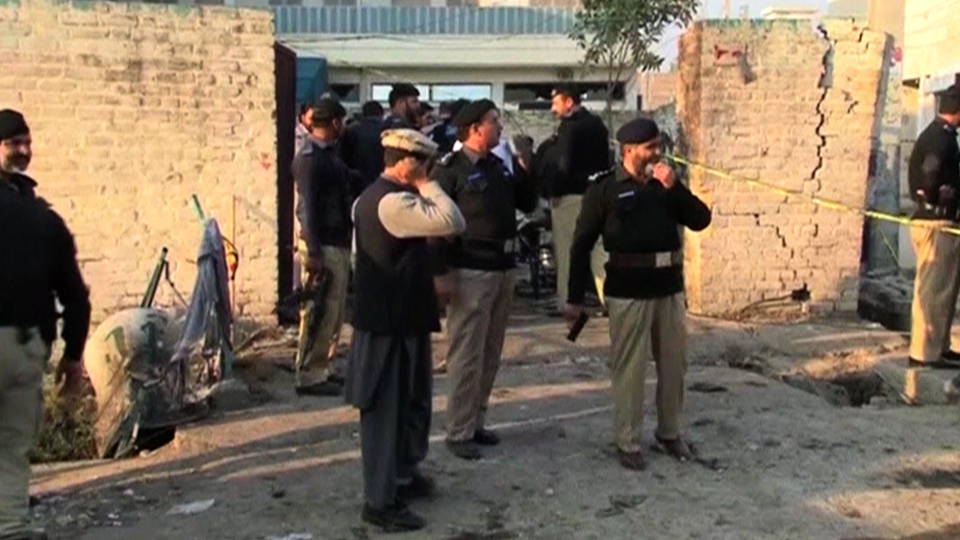 In Pakistan, a suicide bomb attack has killed at least 26 people in the northwestern city of Mardan. The bomb exploded Tuesday outside a branch of the National Database and Registration Authority, which issues government ID cards. The Taliban has claimed responsibility.
Pentagon May Seek More Troops for Afghanistan
December 30, 2015
Headlines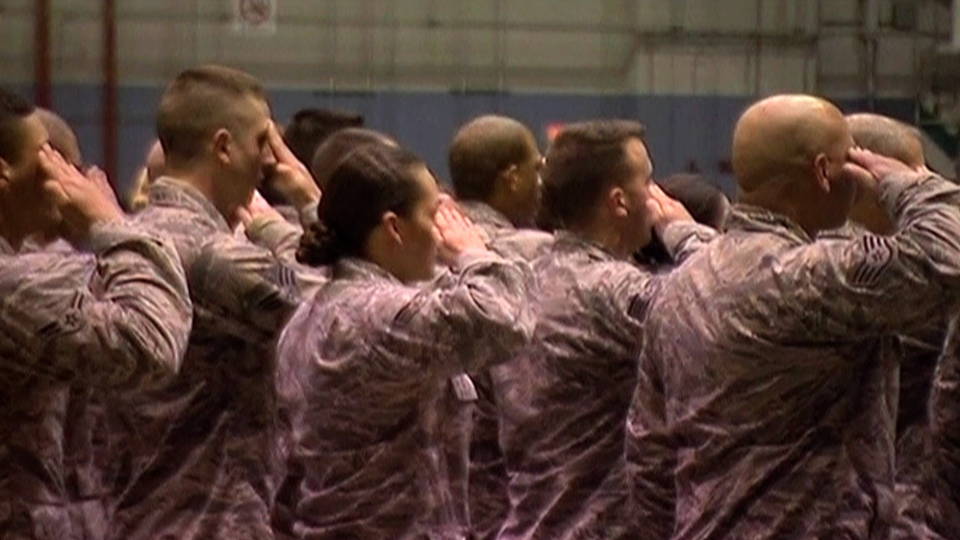 The U.S. commander in Afghanistan, General John Campbell, has said he may seek additional U.S. troops amid what he calls a deteriorating security situation. Speaking to USA Today, Campbell called for the current number of 9,800 U.S. troops stationed in Afghanistan to be maintained for as long as possible, and said he may ask for even more troops. President Obama had pledged to withdraw the majority of the thousands of U.S. troops deployed to Afghanistan by the end of 2015. But in October, he reversed course, saying nearly 10,000 troops would remain through 2016.
Pentagon Says U.S.-Led Airstrikes Have Killed 10 ISIL Leaders
December 30, 2015
Headlines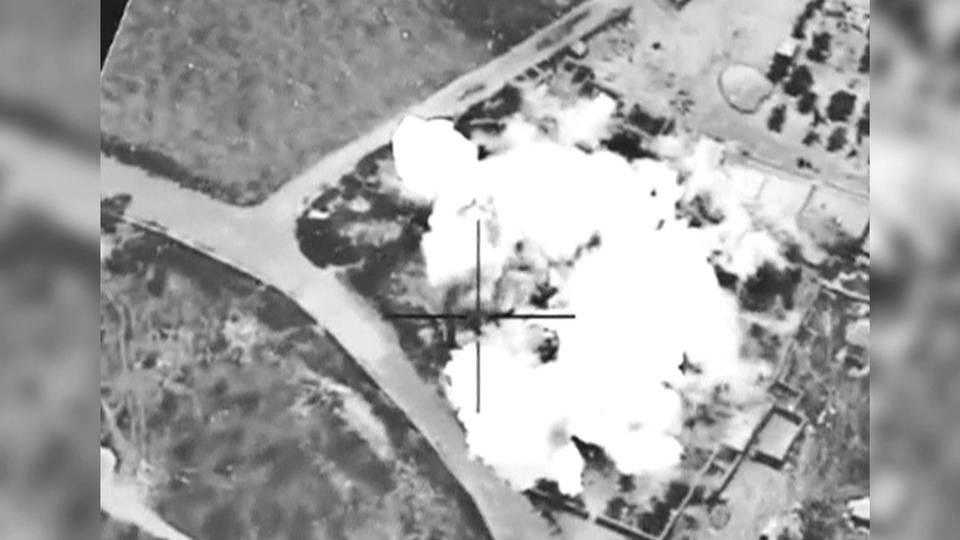 Pentagon officials say U.S.-led coalition airstrikes in Iraq and Syria have killed 10 ISIL leaders over the past month. U.S. Army Colonel Steve Warren claims some were linked to the November 13 Paris attacks, which killed 130 people.
World Health Organization Declares Guinea Free of Ebola
December 30, 2015
Headlines
The World Health Organization has declared Guinea free of Ebola, 42 days after the last person confirmed with the virus tested negative for the second time. Ebola has killed more than 2,500 people in Guinea and left more than 6,000 children orphaned.
New Details Show How Israel Tried to Undermine Iran Nuclear Deal
December 30, 2015
Headlines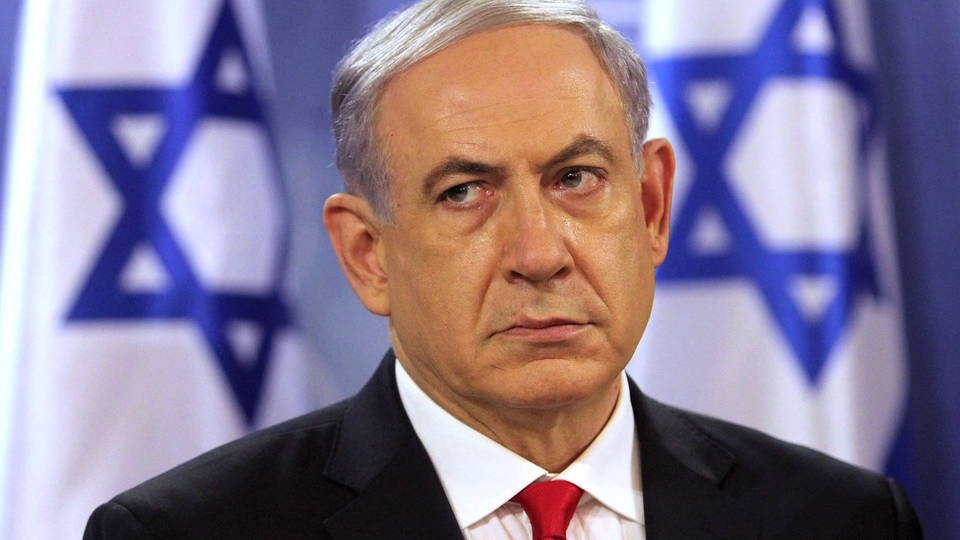 New details have emerged about how Israel sought to undermine the Iran nuclear deal—and how the United States sought to stay ahead of the Israeli efforts through intense NSA spying. The Wall Street Journal reports the NSA increased its surveillance of Israeli Prime Minister Benjamin Netanyahu in the months leading up to the talks. The NSA spying showed how Netanyahu leaked details of the U.S.-Iran negotiations, coordinated talking points with Jewish-American groups, and lobbied U.S. lawmakers to oppose the deal. The NSA monitoring of Netanyahu also swept up the contents of U.S. lawmakers' private conversations, sparking fears in the administration that it would be accused of spying on Congress.
94 Professional & Citizen Journalists Killed in 2015
December 30, 2015
Headlines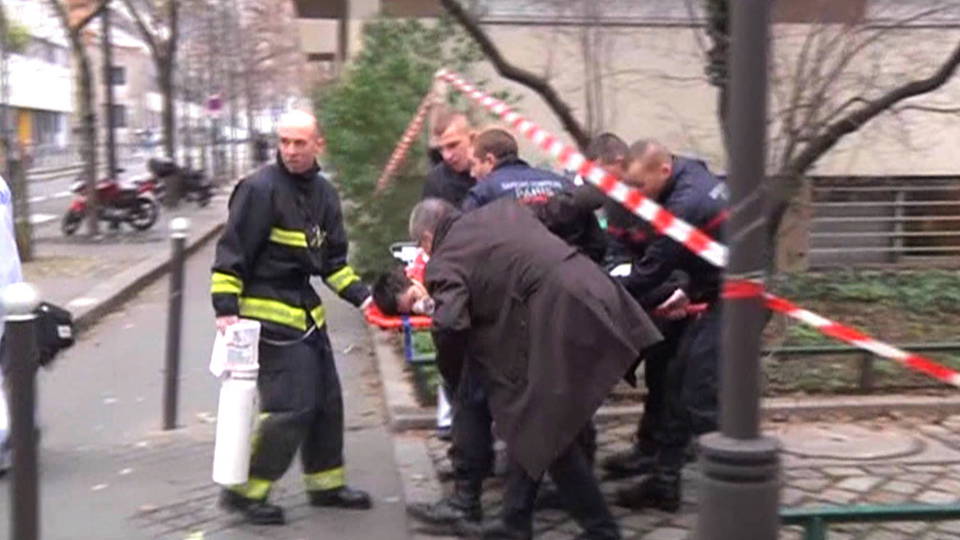 Reporters Without Borders says 67 professional journalists and 27 citizen journalists have been killed in 2015 worldwide. The deadliest countries for journalists were Iraq and Syria. The third most deadly country for journalists was France due to the January 7 attack on the newspaper Charlie Hebdo, where eight journalists were killed. Yemen, South Sudan, India, Mexico, the Philippines and Honduras all ranked among the top 10 deadliest countries for journalists. Reporters Without Borders Secretary-General Christophe Deloire spoke about how the majority of journalists killed in 2015 were deliberately targeted for their work.
Christophe Deloire: "This year, two-thirds were killed in countries at peace, countries where there is no war, where journalists are deliberately targeted—and the numbers prove it. The majority aren't journalists in the wrong place at the wrong time during a bombing raid; they're journalists who are murdered to stop them from doing their job."
Meanwhile, the Committee to Protect Journalists reports China and Egypt are among the worst jailers of journalists in 2015. The committee identified 199 journalists who are imprisoned because of their work worldwide. Twenty-three journalists are currently imprisoned in Egypt.
Former New York Gov. George Pataki Suspends Presidential Bid
December 30, 2015
Headlines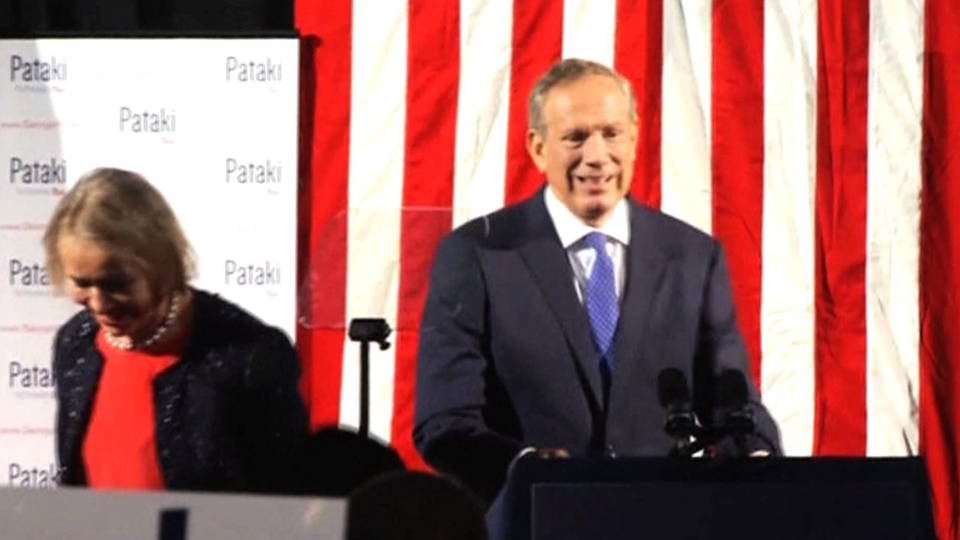 In news from the campaign trail, former New York Governor George Pataki has suspended his bid for the 2016 Republican presidential nomination. With his withdrawal, 12 Republican candidates remain in the field. Pataki was one of the first candidates to criticize front-runner Donald Trump. In announcing his withdrawal, Pataki urged the party to choose a candidate who could unite people.
Four Facing Felony Charges for Protest at Military Giant Northrop Grumman
December 30, 2015
Headlines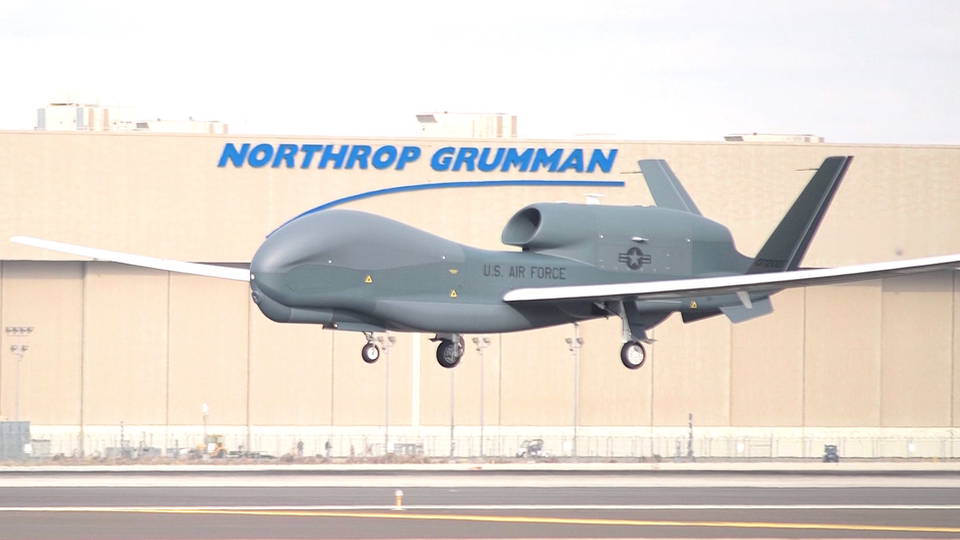 And in Nebraska, four people are facing felony charges for a protest at the office of the military contractor Northrop Grumman, the sixth-largest military contractor in the world. Jessica Reznicek, one of the four protesters, says she smashed the windows of Northrop Grumman's building with a sledgehammer in order to call attention to the billions of dollars of taxpayer money funneled to the military contractor. She spoke to local ABC station from jail.
Jessica Reznicek: "My intention was to be on the property and to do property destruction. I mean, that's what I wanted to do—I didn't want to hurt anybody, didn't want to scare anybody—to bring public awareness to the fact that we really don't know what our billions of taxpayers' dollars are really going towards when we're handing them over to Northrop Grumman. So I'll sit in jail for as long as I need to, if it gets people talking."
In 2015, Northrop Grumman received $6.9 billion in government contracts—making it second only to rival military contractor Lockheed Martin, which received $11.7 billion in U.S. government contracts in 2015.