First U.S. Case of Zika Reported as Virus Is "Spreading Explosively"
January 28, 2016
Headlines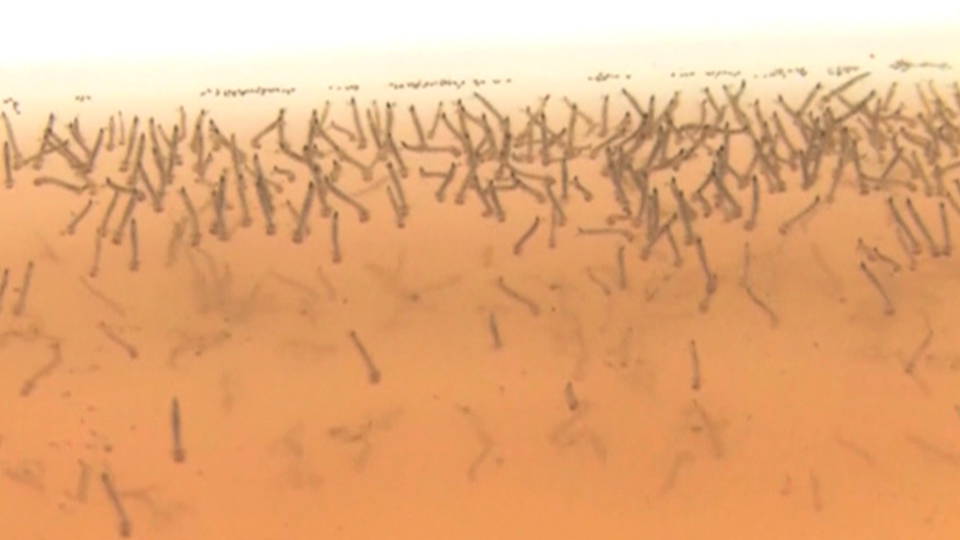 In Virginia, the Health Department has confirmed its first Zika virus infection in an adult, sparking concern the mosquito-borne infection could soon sweep the United States as it has dozens of other countries. The Zika virus itself is usually not life-threatening, but it appears to be linked to a condition called microcephaly, a rare and dangerous birth defect that causes babies to be born with abnormally small heads. The Centers for Disease Control and Prevention says microcephaly also causes a host of other health problems, including seizures, developmental delays, hearing loss and vision problems. A recent study estimates the Zika virus could reach regions where 60 percent of the U.S. population lives. At least 22 countries and territories in the Americas have recorded confirmed cases of the Zika virus. World Health Organization Director-General Margaret Chan says the virus is "spreading explosively." One of the hardest-hit countries is Brazil, where more than 4,000 babies have been born with microcephaly since October. Brazil has mobilized the military and health workers to combat the virus. Another hard-hit country, El Salvador, has taken the extreme step of recommending women not get pregnant before 2018. Scientists have linked rising temperatures from global warming to the increased incidence of mosquito-borne infections such as Zika. Australia's Climate and Health Alliance executive director Fiona Armstrong said, "Zika is the latest example of the many mosquito-borne viruses which pose an increasing threat to humans due to warmer and wetter conditions associated with climate change."
Oregon: Ammon Bundy Calls for Final Militia Members to End Occupation
January 28, 2016
Headlines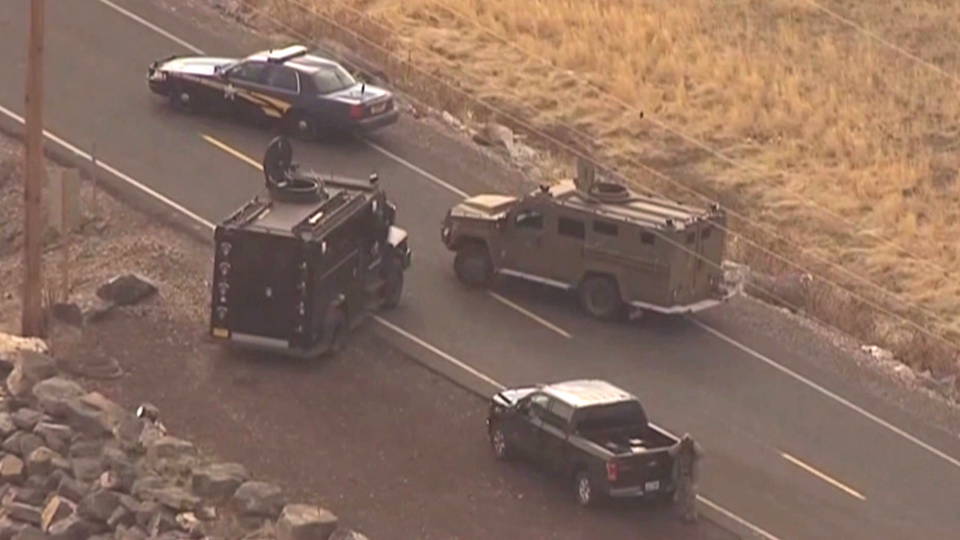 In Oregon, Ammon Bundy has called for the remaining armed militia members occupying a federal wildlife reserve to "please go home." Ammon and his brother Ryan Bundy were arrested following a traffic stop Tuesday afternoon that left militia spokesperson Robert "LaVoy" Finicum dead. In federal court Wednesday, Ammon Bundy's lawyer read Bundy's statement urging the protesters to end the armed occupation. This comes as law enforcement officers set up checkpoints in and out of the wildlife refuge. Officers arrested three more militia members at one of the checkpoints. In total, 11 militia members have been arrested, including the Bundy brothers. They all face federal felony charges of conspiracy to impede officers of the United States from discharging their duties through the use of force, intimidation or threats.
Sweden to Expel Up to 80,000 Refugees in Coming Years
January 28, 2016
Headlines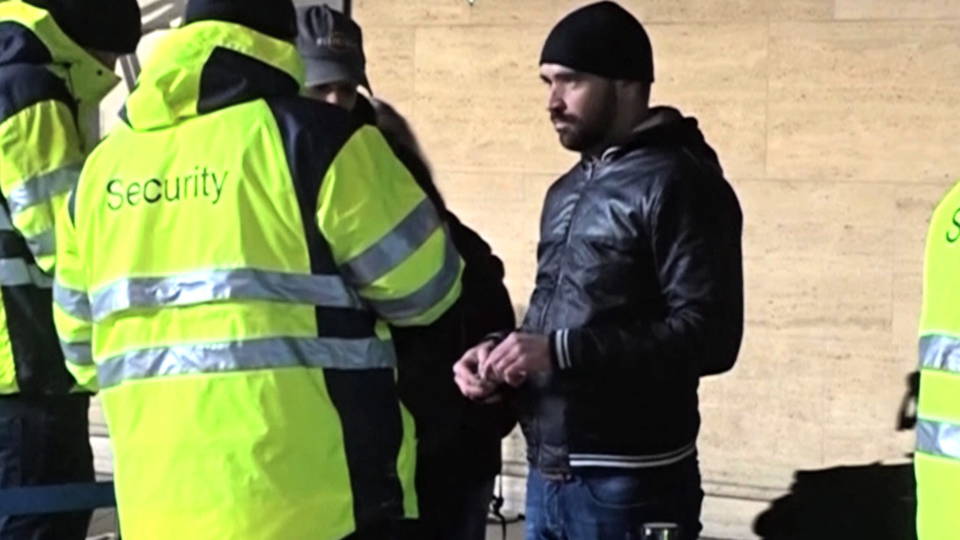 In news from Europe, the Swedish interior minister says Sweden plans to expel up to 80,000 refugees who arrived in 2015 seeking asylum. The minister said the expulsions would require specially chartered aircrafts and could take several years.
Denmark: Refugees Protest New Laws Permitting Confiscation of Their Valuables
January 28, 2016
Headlines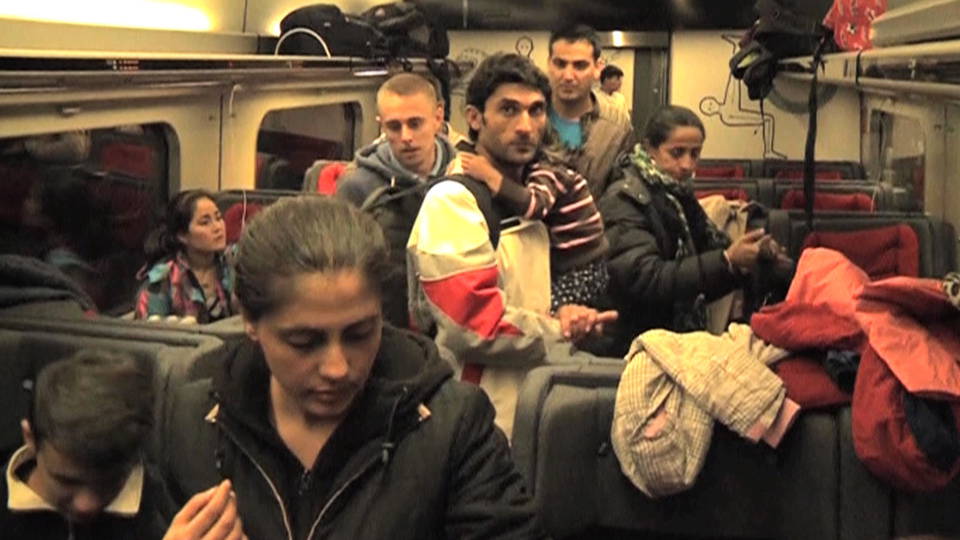 This comes as refugees in Copenhagen are protesting newly passed Danish laws that permit Denmark to confiscate refugees' money and valuables to pay for their stay in asylum centers. Many have compared the so-called "jewelry bill" to the confiscation of property from Jews during the Holocaust. The new laws also delay family reunification for one to three years. An Iraqi refugee named Hiwa spoke out during a protest in Copenhagen Tuesday.
Hiwa: "I think it's a wrong law, and we don't accept this. We condemn it, and we protested today, and we are going to keep going protest against this new law, because this doesn't work. And we want the Danish Parliament to think again about this new law, because this is dehumanizing us."
South Carolina: Proposed Bill Would Require Police to Track Refugees
January 28, 2016
Headlines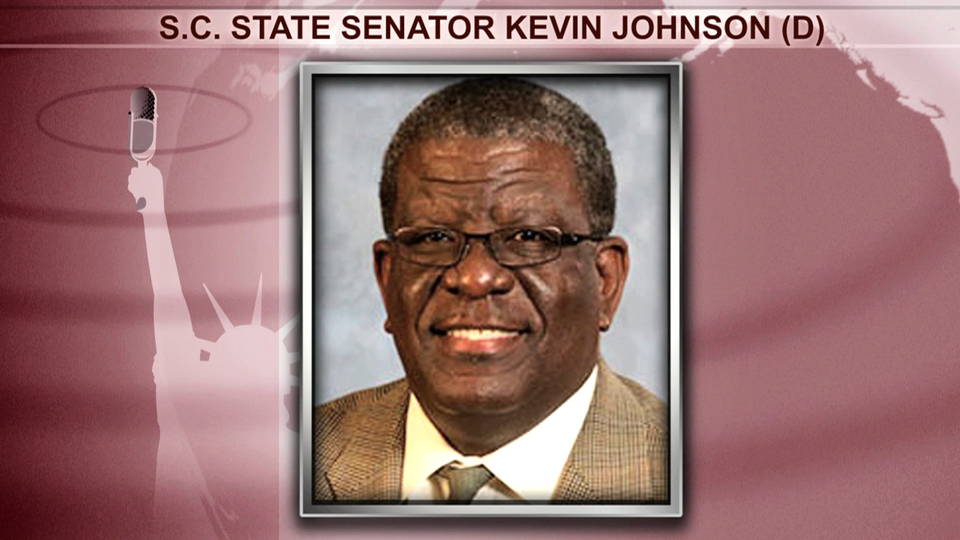 Meanwhile, in South Carolina, a new bill that would require state police to track refugees is headed to the Senate floor, after a Senate committee approved the measure Wednesday. If passed, the bill could mean refugees' home addresses would be placed on an Internet registry, similar to the ones used for registered sex offenders. Democratic state Senator Kevin Johnson, who is African-American, compared the bill to the treatment his ancestors received under Jim Crow, saying, "They were told the same thing: 'We don't want you in our state. We don't want you in our neighborhood. We don't want you in our schools.'"
Afghanistan: 3 Former Bagram Prisoners Hunger-Strike over Continued Imprisonment
January 28, 2016
Headlines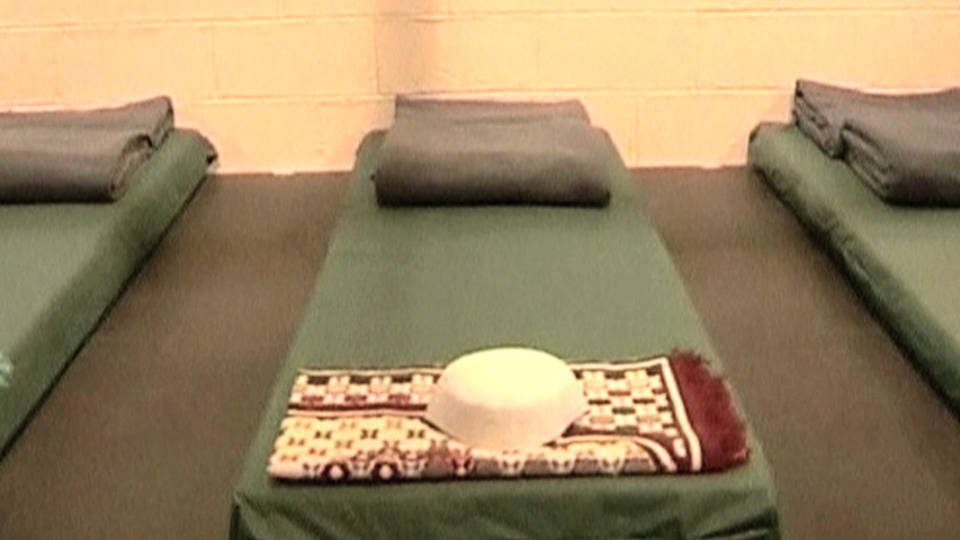 In Afghanistan, three prisoners who were formerly held at the secretive U.S. Bagram military prison and are now being held in Afghan custody have launched a hunger strike to protest their continued imprisonment. Two of the three prisoners, brothers Sa'id Jamaluddin and Abdul Fatah, were captured by U.S. forces during a military raid in 2008 and were sent to the Bagram prison. In 2010, the U.S. military found the brothers posed no risk to the U.S. The brothers were transferred to Afghan custody in December 2014, as the U.S. moved to close its military prisons in Afghanistan. Two months later, an Afghan court ruled that they were entitled to release, but they remain in custody to this day. An Afghan court has also ruled that the third hunger-striking prisoner, Musa Akhmadjanov, is not guilty of any crime under Afghan law and is also entitled to release, yet he too remains imprisoned.
Trump and Cruz Feud as Trump Plans to Skip Tonight's GOP Debate
January 28, 2016
Headlines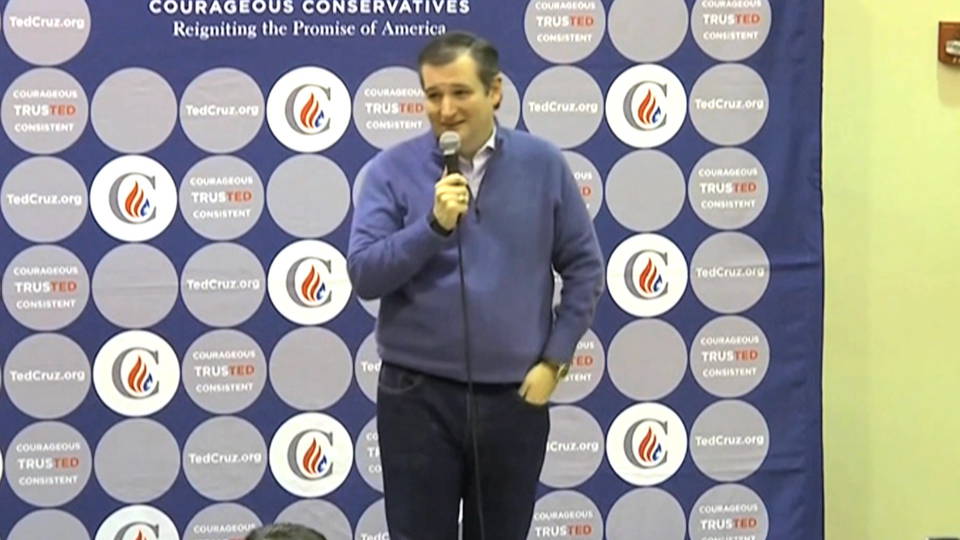 In news from the campaign trail, Republican presidential candidate Donald Trump has announced he will be holding a separate event at Drake University in Iowa tonight at the same time as the Fox News-hosted GOP debate. This comes after Trump said he wouldn't participate in the debate after Fox refused to remove anchor Megyn Kelly as one of the debate's moderators. In August, during the first GOP debate, Kelly asked Trump about his history of calling women "fat pigs, dogs, slobs and disgusting animals." After that debate, Trump criticized Kelly, saying, "She starts asking me all sorts of ridiculous questions. And, you know, you could see there was blood coming out of her eyes, blood coming out of her, wherever." Instead of participating in tonight's debate, Trump says he's holding a special event to benefit veteran organizations, although it's unclear how the scheduled free event will in fact raise money for these groups. Ted Cruz, meanwhile, has booked another venue in Sioux City, Iowa, for his proposed "mano a mano" debate between him and Trump on Saturday. Trump has dismissed Cruz's calls for the one-on-one debate, derisively suggesting it be held in Canada, a reference to Cruz's birthplace. Cruz's campaign website has also begun selling a version of Trump's "Make America Great Again" baseball cap—except this version of the hat reads "Make Trump Debate Again." Nate Silver's FiveThirtyEight blog predicts Cruz and Trump are currently neck and neck in Iowa.
Sanders Campaign Calls for 3 More DNC-Sanctioned Debates
January 28, 2016
Headlines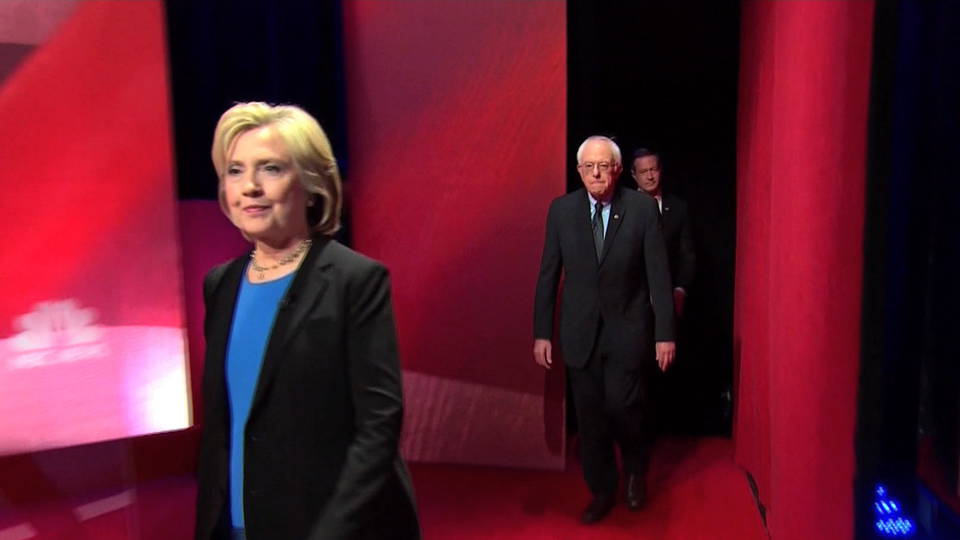 Meanwhile, Democratic presidential candidate Bernie Sanders' campaign has called for three more official debates sanctioned by the Democratic National Committee. This comes as his rival, former Secretary of State Hillary Clinton, is calling on Sanders to join her proposed debate in New Hampshire next week, which has not been sanctioned by the DNC. Sanders has said he doesn't want to participate in Clinton's debate for fear of being barred from future official DNC events. On Wednesday, Sanders' campaign manager Jeff Weaver said in a statement, "From the beginning of this campaign Sen. Sanders has called for more debates. Secretary Clinton has not. Now she is asking to change the rules to schedule a debate next week that is not sanctioned by the DNC. Why is that? The answer is obvious. The dynamics of the race have changed and Senator Sanders has significant momentum."
Flint: Rachel Maddow Hosts Live Town Hall on Poisoned Water
January 28, 2016
Headlines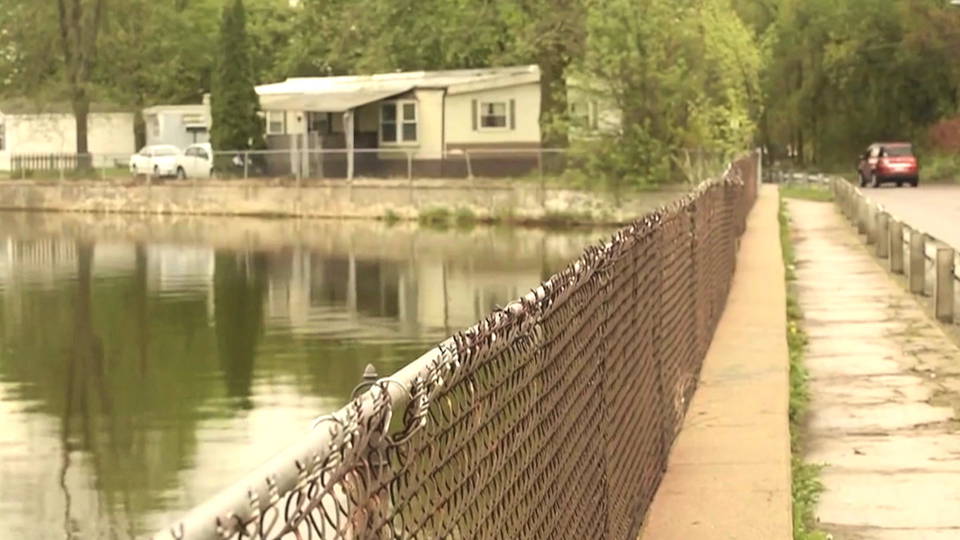 MSNBC anchor Rachel Maddow hosted a live town hall in Flint, Michigan, Wednesday to examine the ongoing crisis over lead poisoning in the drinking water. The contamination crisis began after Flint's unelected emergency manager appointed by Michigan Governor Rick Snyder switched the source of the city's drinking water to the corrosive Flint River in a bid to save money. At the town hall, Reverend Charles Williams, the president of National Action Network's Michigan chapter, spoke out against the state's emergency management laws and called attention to the fact that Governor Snyder has used state-imposed emergency management almost exclusively against majority black cities.
Rev. Charles Williams: "Took over every black city in Michigan. Took over every black city in Michigan—Flint, Detroit, Ecorse, Detroit Public Schools, Benton Harbor—and has failed at every city he has taken over. 'I'm putting in emergency management to keep Detroit from going bankrupt.' What happened? Detroit goes bankrupt. I mean, it's ludicrous, and anybody who fails at the rate that Governor Snyder has failed, I would have been fired a long time ago. All I got to say is Governor Snyder's got to go."
Civil Rights Lawyer Michael John Kennedy Dies at 78
January 28, 2016
Headlines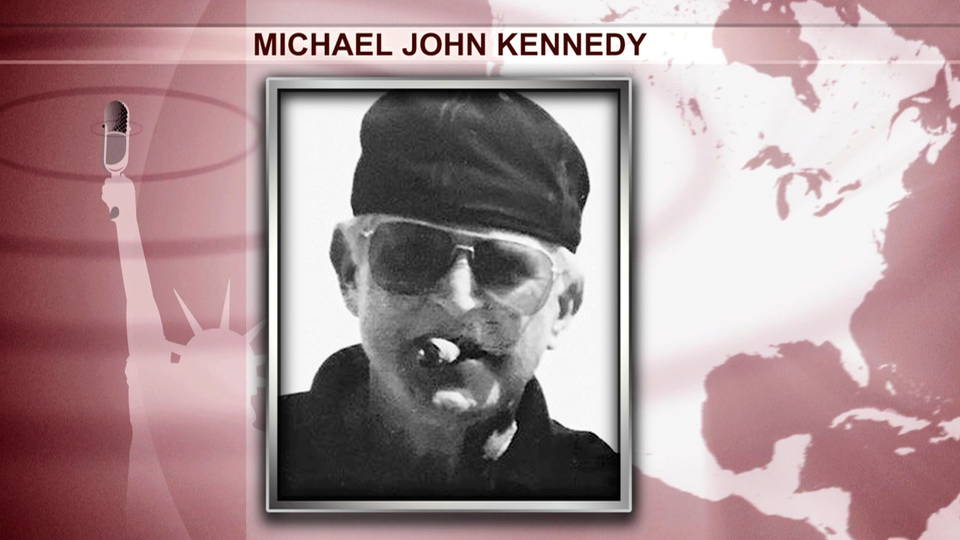 And civil rights lawyer Michael John Kennedy has died. Throughout his career, Kennedy represented a number of activists from some of the United States' most significant radical movements, including the Black Panther Party, the American Indian Movement and the Weather Underground. Kennedy successfully defended Black Panther Party co-founder Huey Newton. He also won acquittals for six Americans charged with raising money to fund the Irish Republican Army, known as the IRA. He was arrested and jailed briefly after staging a silent protest during a House Un-American Activities Committee investigation, and he served as a legal aid to the Sandinista movement in Nicaragua. In his one and only divorce case, Kennedy also represented Ivana Trump in her divorce from Donald Trump. Kennedy was the general counsel for High Times magazine for 42 years, during which he provided a legal shield for the magazine's effort to expose the U.S. government's war on drugs. He died on Monday at the age of 78 after a battle with cancer.