Justice Dept. Sues Ferguson to Force Criminal Justice Reform
February 11, 2016
Headlines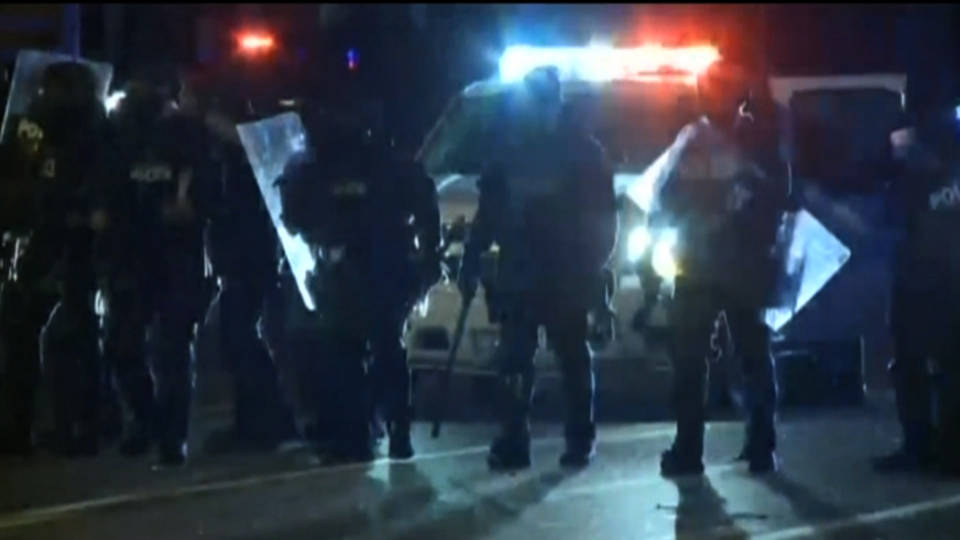 The Department of Justice has sued Ferguson, Missouri, to force an overhaul of the beleaguered city's criminal justice system. U.S. Attorney General Loretta Lynch filed a civil rights lawsuit Wednesday following a decision by Ferguson's City Council on Tuesday to challenge several measures in a draft reform agreement that the city had negotiated with federal officials. Speaking at a press conference in Washington, D.C., on Wednesday, Loretta Lynch said, "We intend to aggressively prosecute this case, and we intend to prevail." The lawsuit says Ferguson is guilty of a "pattern or practice" of law enforcement actions violating the First, Fourth and 14th Amendments of the U.S. Constitution and federal civil rights laws.
Topics:
Cleveland Bills Family of Tamir Rice $500 for His Ambulance Ride
February 11, 2016
Headlines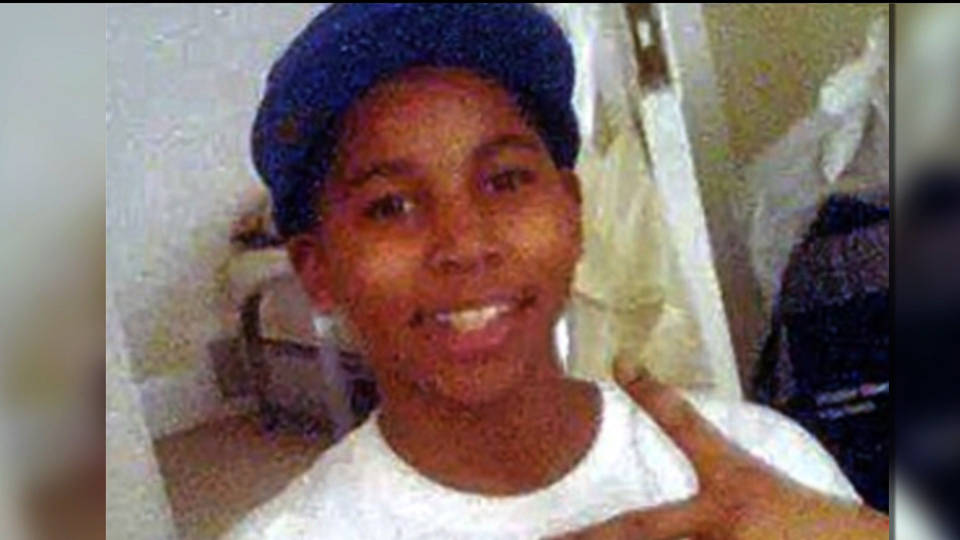 The city of Cleveland has billed the family of Tamir Rice $500 for the ambulance ride to the hospital after the 12-year-old boy was fatally shot by a Cleveland police officer in November 2014. This comes less than two months after a grand jury decided not to indict Officer Timothy Loehmann in Rice's death. The claim filed Wednesday is "against the estate of Tamir Rice in the amount of Five Hundred Dollars, which is past due and owing for emergency medical services rendered as the decedent's last dying expense." In response, Rice family attorney Subodh Chandra said, "That the city would submit a bill and call itself a creditor after having had its own police officers slay 12-year-old Tamir displays a new pinnacle of callousness and insensitivity."
Topics:
Federal Grand Jury Examines Death of Eric Garner
February 11, 2016
Headlines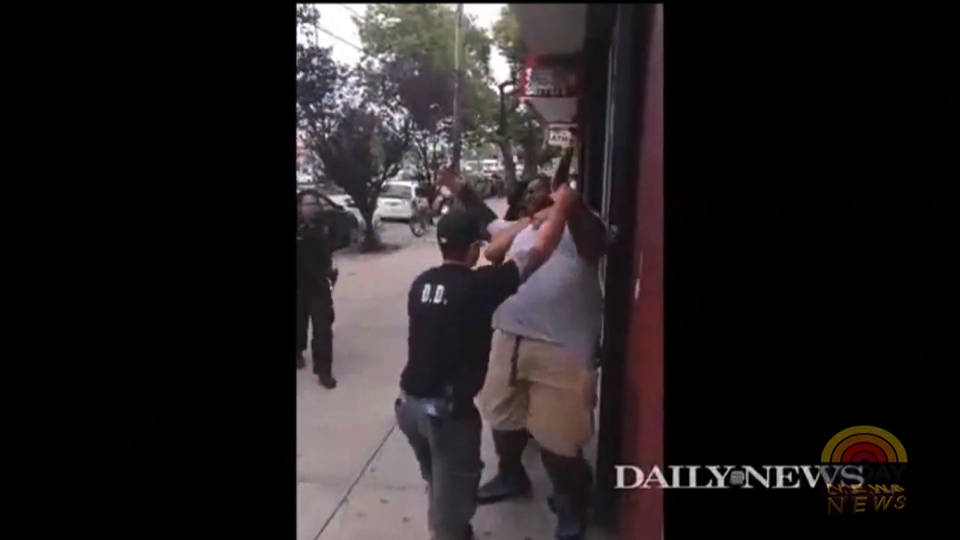 This comes as prosecutors begin introducing evidence to a federal grand jury in Brooklyn impaneled to examine the death of Eric Garner, who died after being placed in an illegal chokehold by white police officer Daniel Pantaleo in July 2014. A Staten Island grand jury failed to indict Officer Pantaleo in December 2014, sparking national protests.
Oregon: FBI Agents Encircle Remaining Occupying Militia Members
February 11, 2016
Headlines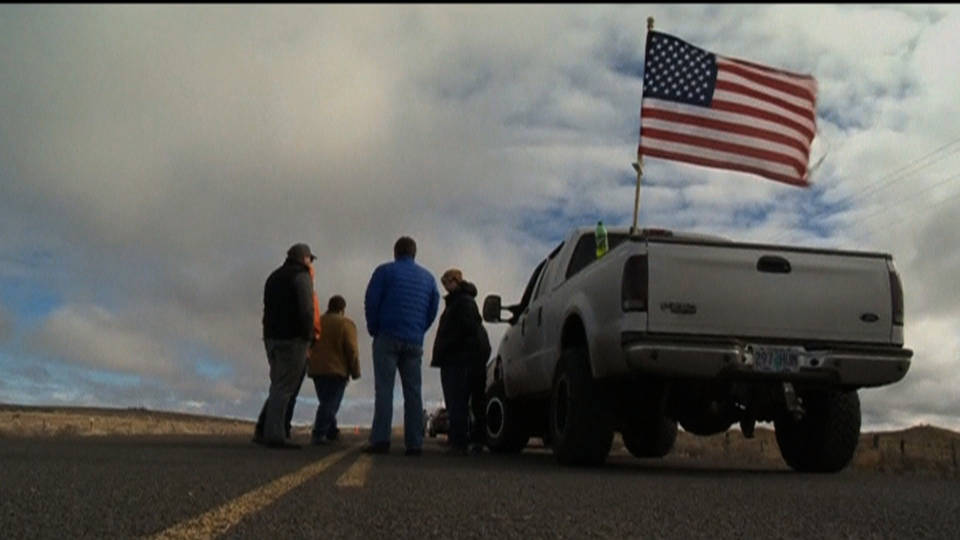 In Oregon, FBI agents have encircled the remaining right-wing militia members occupying the federal wildlife refuge. This comes as Nevada rancher Cliven Bundy was arrested Wednesday night at the Portland International Airport on charges related to his armed showdown with federal authorities in Nevada in 2014. His sons, Ryan and Ammon Bundy, helped start the takeover of the federal wildlife refuge in Oregon and are also in custody facing charges related to this takeover. Meanwhile, the Oregon ACLU has issued a carefully worded defense of right-wing Internet radio show host Pete Santilli, who is also facing a felony charge related to the wildlife refuge occupation. The ACLU says Santilli embedded with the militia members as a journalist. Mat dos Santos, the legal director of the ACLU of Oregon, writes: "We can all agree that we should not hold members of the media or protesters in jail without bail simply because they have shocking or abhorrent views. These are principles that we must stand by, even when we disagree with the message of the speaker."
Carly Fiorina and Chris Christie Drop Out of 2016 Presidential Race
February 11, 2016
Headlines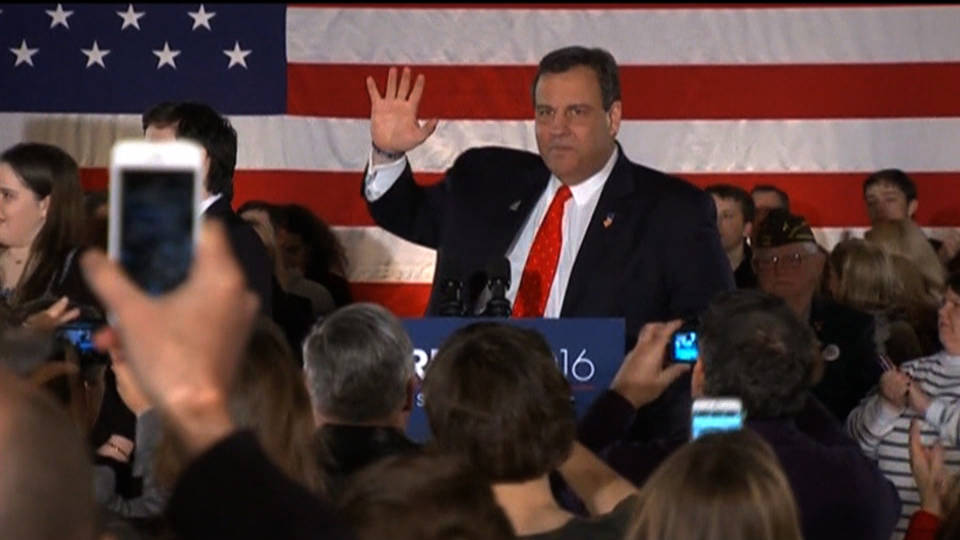 In news from the 2016 presidential race, Republican candidates former Hewlett-Packard CEO Carly Fiorina and New Jersey Governor Chris Christie have dropped out of the race, following poor performances in the New Hampshire primary.
Sanders and Clinton to Face Off in Wisconsin Debate Tonight
February 11, 2016
Headlines
PBS is hosting a Democratic presidential debate in Wisconsin tonight. This comes as Clinton is expected to pick up a key endorsement from the political action committee, or PAC, of the Congressional Black Caucus today. Hillary Clinton is also expected to campaign next week with Geneva Reed-Veal, the mother of Sandra Bland, the 28-year-old African-American woman who was found hanged in her jail cell three days after a white Texas state trooper arrested her in July for allegedly failing to signal a lane change. Meanwhile, Michelle Alexander has written a seething critique of Hillary Clinton, published yesterday by The Nation magazine. Alexander, the author of "The New Jim Crow," argues Clinton does not deserve the black vote, pointing to her role in advocating for the passage of the 1994 crime bill, as well as the 1996 Welfare Reform Act. Alexander writes: "It is difficult to overstate the damage that's been done. Generations have been lost to the prison system; countless families have been torn apart or rendered homeless; and a school-to-prison pipeline has been born that shuttles young people from their decrepit, underfunded schools to brand-new high-tech prisons. ... Hillary believes that she can win this game in 2016 because this time she's got us, the black vote, in her back pocket—her lucky card. She may be surprised to discover that the younger generation no longer wants to play her game."
30,000 Stranded at Syria-Turkey Border as Aleppo Under Assault
February 11, 2016
Headlines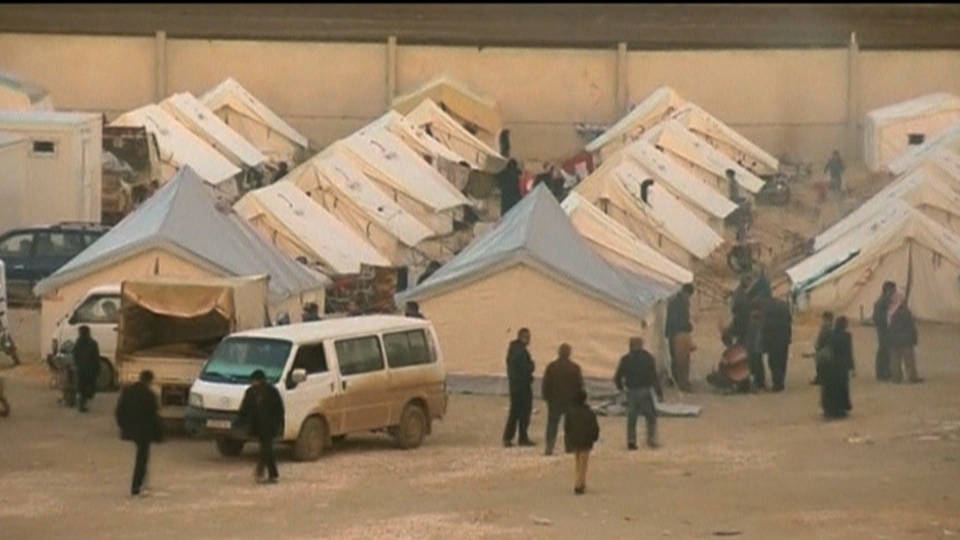 In news from the Middle East, tens of thousands of Syrians fleeing an Assad offensive on the city of Aleppo are massed at the Syria-Turkey border. Turkey has closed this section of the border, leaving tens of thousands of Syrians stranded. There are already 2.5 million Syrian refugees living in Turkey. The Assad offensive on Aleppo is backed by Russian airstrikes. Russia says its airstrikes have hit about 1,900 targets in Syria—including in Aleppo—within the last week alone. On Wednesday, Turkish Prime Minister Ahmet Davutoglu accused the Assad government and Russian military of carrying out a campaign of "ethnic cleansing" in Aleppo.
Prime Minister Ahmet Davutoglu: "We should all accept refugees, but these attacks are also intended to bring about a kind of ethnic cleansing in Syria, so that all people who don't support the Syrian regime, they are driven out of the country. It's a systematic ethnic cleansing."
11.5% of Syrians Killed or Injured Since 2011
February 11, 2016
Headlines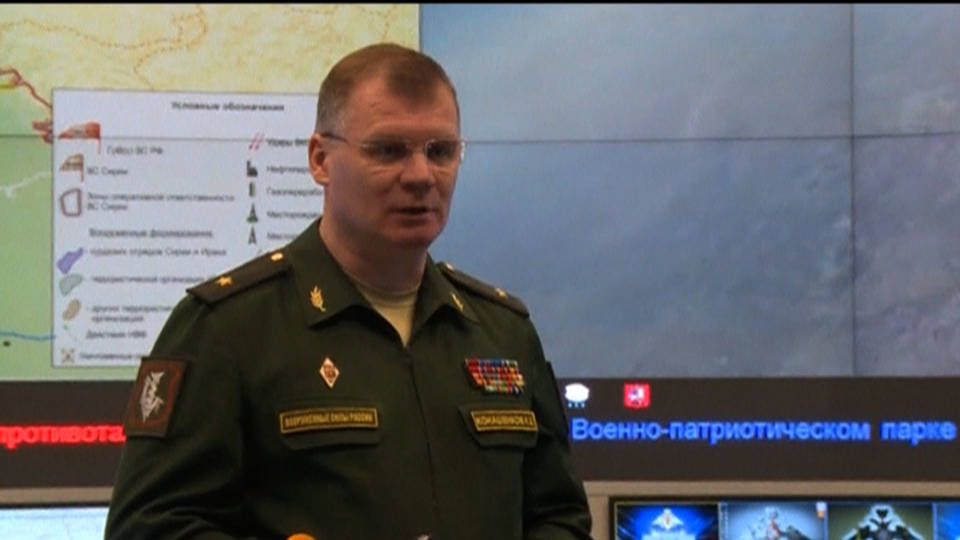 This comes as a new report by the Syrian Center for Policy Research says 11.5 percent of Syria's population has either been killed or injured since 2011. About 470,000 Syrians have been killed in the ongoing conflict. Nearly 2 million people have been wounded. Over the last five years, Syria's life expectancy has dropped from an average of 70 years to only 55 years. Speaking Tuesday, Secretary of State John Kerry condemned the Assad government and the Russian military's use of cluster bombs in Syria.
Secretary of State John Kerry: "It is urgent, the crisis of humanitarian catastrophe unfolding before the eyes of the world, the pressures on the region of displaced people, of refugees, the dumb bombs, cluster bombs that are being used, that are killing innocent women and children."
That was Secretary of State John Kerry speaking alongside the Egyptian foreign minister at the U.S. Department of State on Tuesday, condemning Russia's use of cluster bombs in Syria. Yet Kerry did not speak out against the use of U.S.-manufactured cluster bombs in another conflict—the U.S.-backed, Saudi-led offensive in Yemen. Amnesty International says it has new evidence that the U.S.-backed, Saudi-led coalition dropped cluster bombs during an air attack on Sana'a on January 6, which killed a 16-year-old boy and injured at least a half-dozen other civilians. U.N. Secretary-General Ban Ki-moon says the January 6 attack may amount to a war crime.
Two Yemeni Journalists and Three Children Killed in Saudi Airstrikes
February 11, 2016
Headlines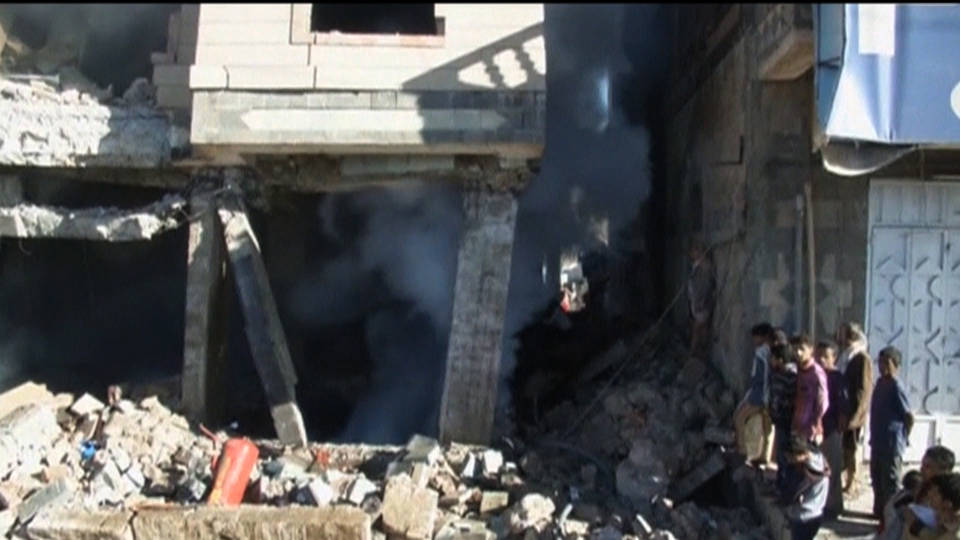 Meanwhile, two Yemeni television journalists have died after a U.S.-backed, Saudi-led coalition airstrike hit their home in Sana'a on Tuesday, killing both the journalists and their three children. Thirty-year-old Suaad Hujaira and her husband, 37-year-old Muneer Alhakami, both worked for Yemen TV. This comes as UNICEF is warning of massive food shortages in Yemen as a result of the ongoing conflict. UNICEF spokesperson Mohammed al-Saadi said as many as 1.3 million Yemeni children are suffering from severe and acute malnutrition.
Mohammed al-Saadi: "Since the start of the armed clashes on the 26th of March last year, the number of cases of malnutrition has doubled. We are talking about more than 1.3 million children suffering from severe and acute malnutrition, and this is very dangerous and could lead to death or physical or mental deformities in children."
Nigeria: 58 Killed in Suicide Bomb Attacks in Dikwa Refugee Camp
February 11, 2016
Headlines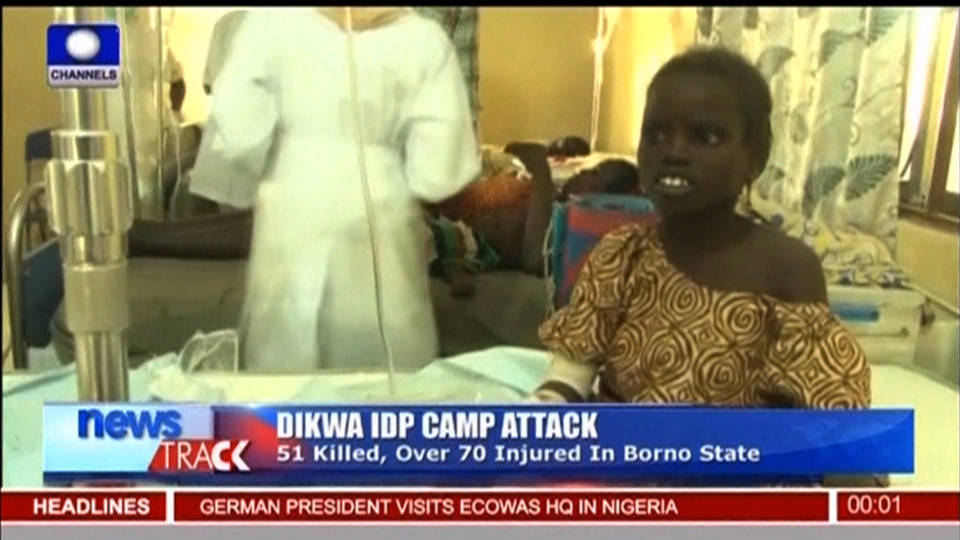 In Nigeria, 58 people have been killed after attacks by two female suicide bombers at the Dikwa refugee camp Tuesday morning. The attack is being blamed on the militant group Boko Haram. The refugee camp is home to more than 50,000 people who have been forced from their homes by the militant group. Reports say a third would-be suicide bomber who had traveled with the other two girls decided not to detonate her device after she recognized her parents and siblings at the camp.
London: Thousands of Taxi Drivers Stall Traffic in Uber Protest
February 11, 2016
Headlines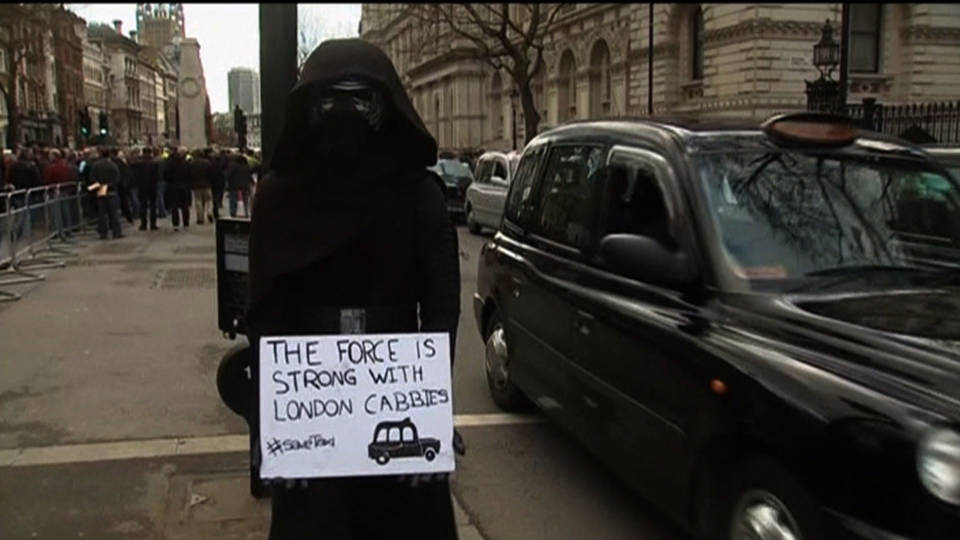 In Britain, thousands of taxi drivers brought downtown London to a standstill during a protest against Uber Wednesday. Thousands of taxi drivers shut down the city's main streets and the area around Prime Minister David Cameron's house for 90 minutes. The taxi unions say they are protesting new government regulations they say favor Uber and compromise driver safety. Wednesday's protest is the latest in a series of demonstrations against Uber. Taxi drivers in Paris, Hong Kong, Miami and other major cities have all protested the Wall Street-backed company, saying Uber threatens their union rights and livelihood.
Mexico: Dozens Dead in Clash, Fire at Monterrey Prison
February 11, 2016
Headlines
In breaking news from Mexico, as many as 50 people have died in a prison riot in Monterrey this morning. Both prisoners and prison guards have died. Local reports say that a fire broke out inside the prison.
Mexican Journalist Survives Attack, 1 Day After Another Journalist Found Dead
February 11, 2016
Headlines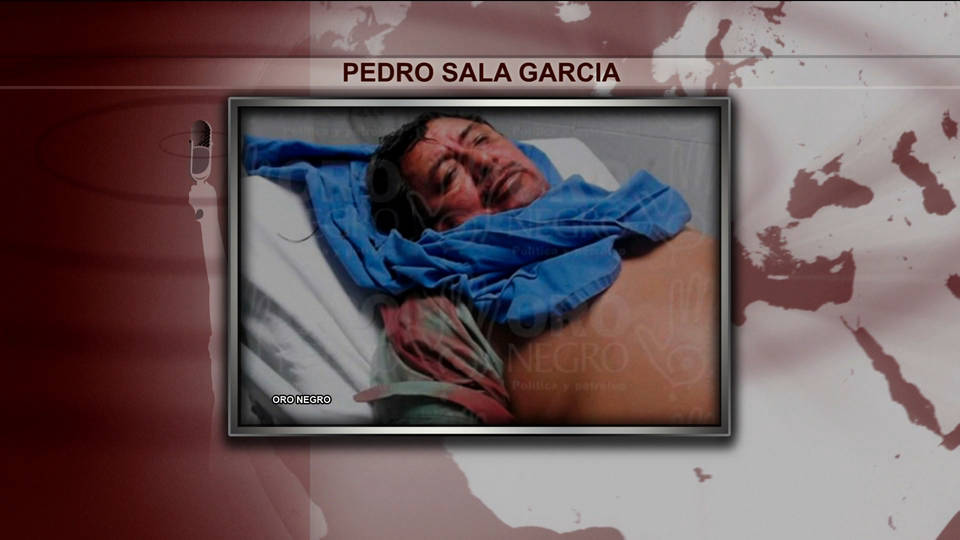 Meanwhile, journalist Pedro Sala García survived an attack by armed gunmen in his home Wednesday. Sala García is a correspondent for Tabasco Hoy, a daily newspaper in the southern Mexican state of Tabasco. The gunmen beat Sala García unconscious during the attack, but they fled after his wife called for help from their neighbors. Speaking to local reporters from the hospital, Sala García said this is the second attack on his life that he's suffered during his journalistic career. In 2007, another journalist from his newspaper, Rodolfo Rincón, was kidnapped. His body has never been found. The attack Wednesday comes only one day after journalist Anabel Flores Salazar was found dead. Anabel Flores Salazar covered crime for the newspaper El Sol de Orizaba. She had a baby and a four-year-old son.