More Republicans Join Vow to Block Supreme Court Justice Nominee
February 16, 2016
Headlines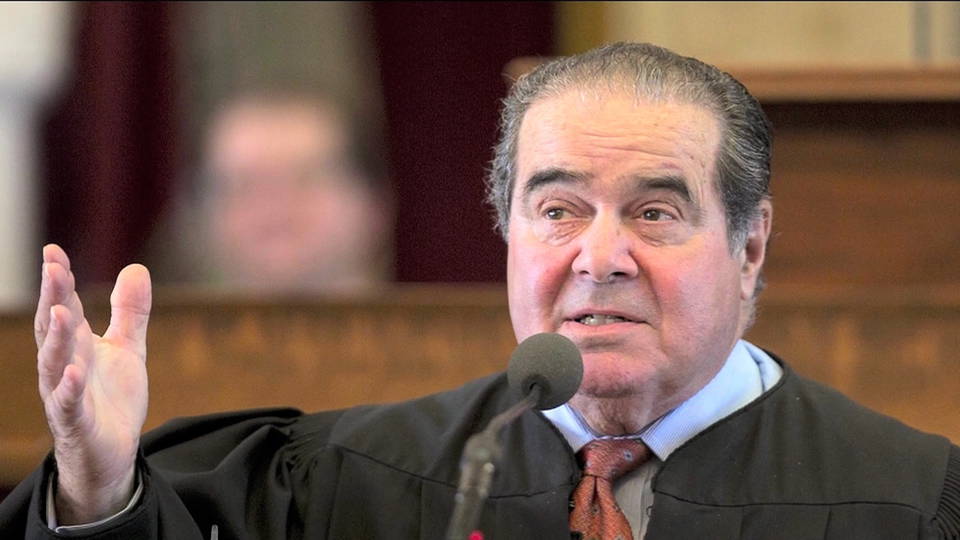 More Senate Republicans have backed Majority Leader Mitch McConnell's pledge to block any nominee President Obama chooses to replace Justice Antonin Scalia. Scalia died Saturday at a hunting resort near Marfa, Texas, at the age of 79. Republicans are threatening to stall his replacement until a new president is in place 11 months from now. The White House has noted none of the last 12 Supreme Court justices to be confirmed had to wait more than 100 days for a vote.
Topics:
4 U.S. Journalists Released from Detention in Bahrain
February 16, 2016
Headlines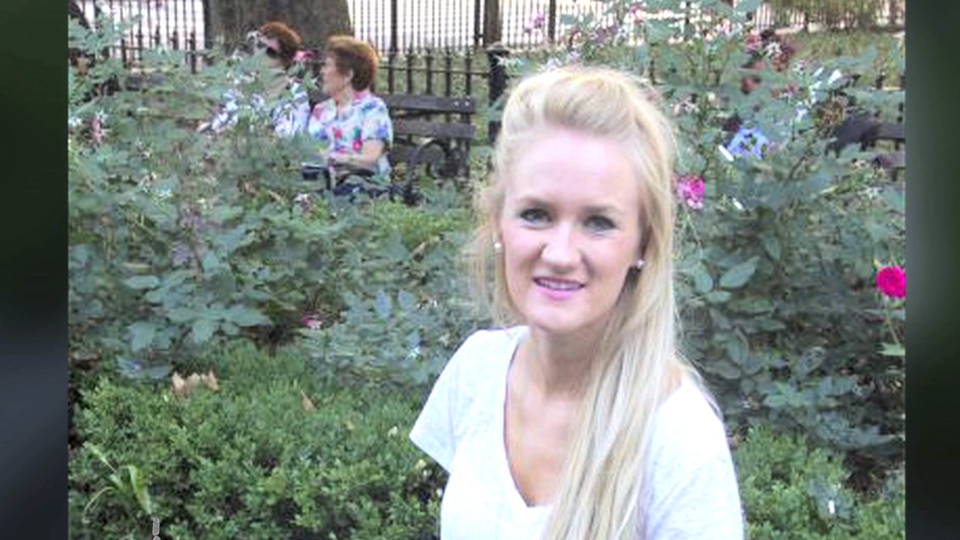 Four U.S. journalists detained in Bahrain on Sunday have been released following an international outcry. Anna Therese Day and her camera crew have reportedly been charged with illegally assembling with the intent to commit a crime. Bahraini authorities accused them of falsely representing themselves as tourists, and claimed one of the journalists participated in an attack on police. Bahrain is a close ally of the United States, home to the Navy's Fifth Fleet.
Topics:
Egypt: Investigator in Italian Student's Death Previously Tied to Torture, Killing
February 16, 2016
Headlines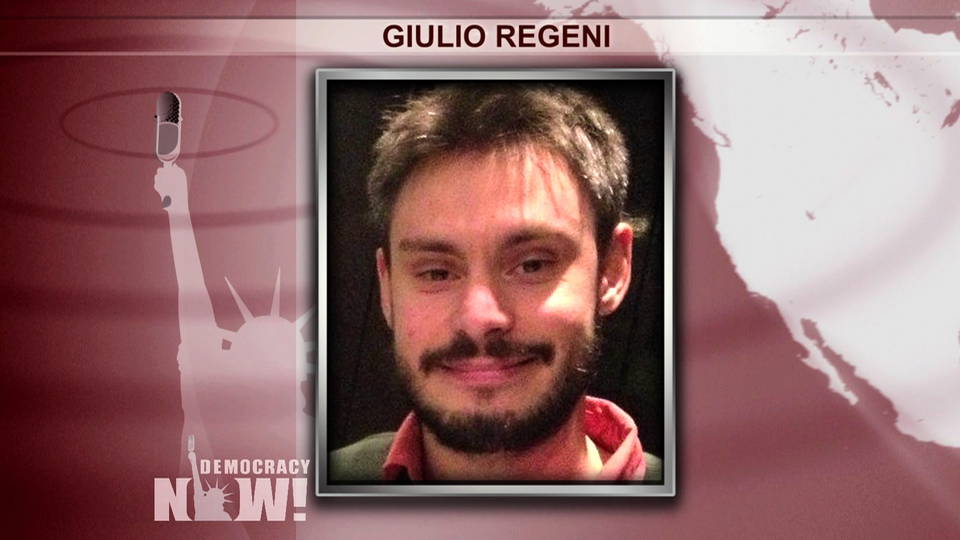 In Egypt, newly released documents show the senior police officer investigating the death of Italian student Giulio Regeni has a prior conviction related to the torture and killing of a detainee. Regeni, who wrote about Egyptian labor unions for an Italian newspaper, was found by the side of the highway, naked from the waist down, his body showing signs of horrific torture. Reuters reports Khaled Shalaby, who is investigating Regeni's death, was one of four people charged in 2000 over the torture and killing of another person at an Alexandria police station.
Bernie Sanders Protests DNC's Lifting of Ban on Lobbyist Donations
February 16, 2016
Headlines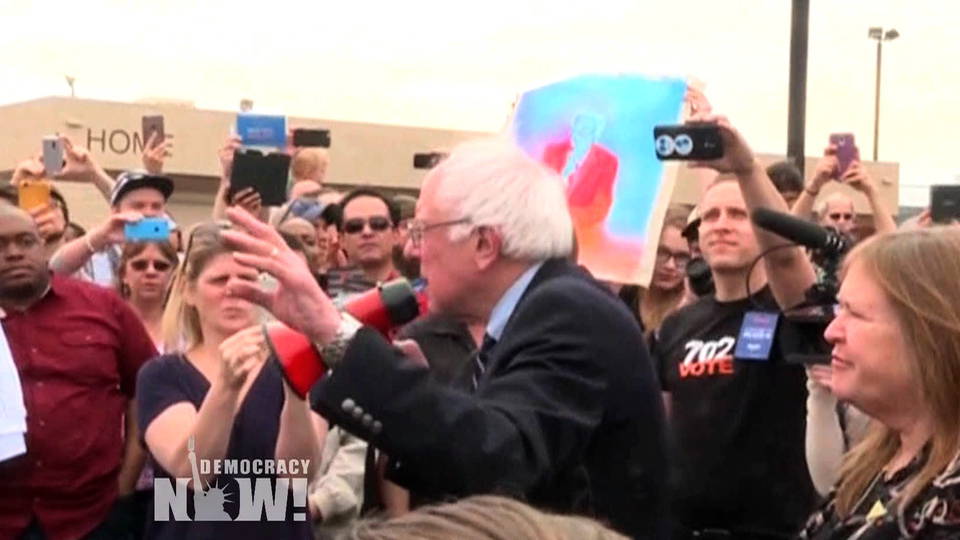 On the campaign trail, Democratic presidential candidate Bernie Sanders has launched a petition against the Democratic National Committee's quiet lifting of a ban on donations from federal lobbyists and political action committees. The rules were introduced by then-candidate Barack Obama in 2008. But The Washington Post reveals the DNC quietly lifted the rules at some point during the past few months. Critics say the change could boost Sanders' rival Hillary Clinton, whose joint fundraising committee with the DNC has raised about $27 million.
Sanders Questioned over Reparations Stance at Minneapolis Forum
February 16, 2016
Headlines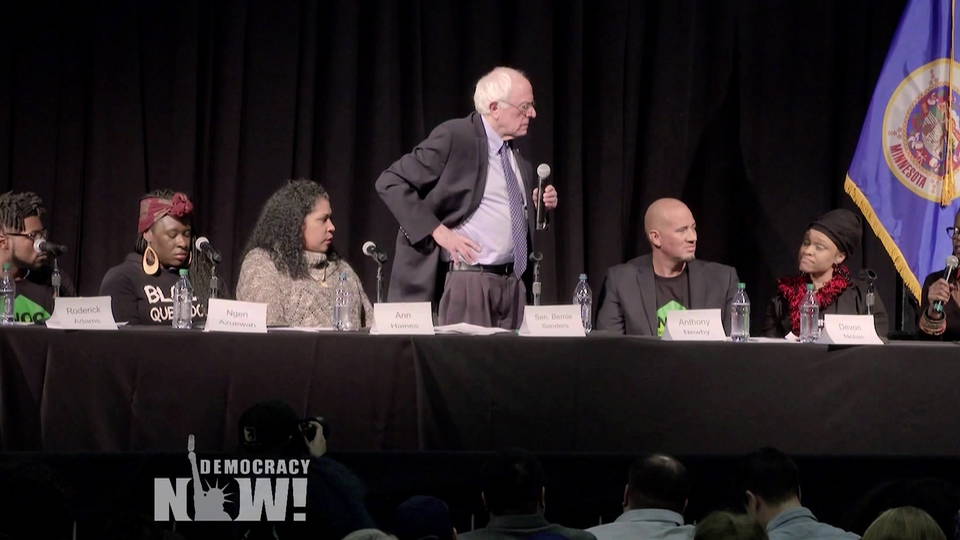 Bernie Sanders continues to face questions over his dismissal of the possibility of reparations for slavery. On Friday, at a Black America Forum organized by Neighborhoods Organizing for Change, Sanders was questioned by Felicia Perry.
Felicia Perry: "I know you're scared to say 'black,' I know you're scared to say 'reparations,' because it seems like every time—"
Sen. Bernie Sanders: "No, hold it. Hold it. Ma'am, I don't think that's a fair statement."
Felicia Perry: "Hold on. I let you finish, as well. But it seems like every time we talk about black people and us getting something for the systematic oppression and exploitation of our people, we have to include every other person of color."
Sen. Bernie Sanders: "When you have—and you and I may have a disagreement on this, because it's not just black. It is Latino. There are areas in America, in poor, rural areas, where it's whites. ... So what I have—"
Audience member: "Say 'black!'"
Sen. Bernie Sanders: "I've said 'black' 50 times. All right? That's the 51st time. All right? But it is—but this is a national issue."
That's Bernie Sanders responding to an audience member who yelled, "Say 'black!'" at the Black America Forum in Minneapolis. Sanders went on to say he would invest in African-American communities.
Topics:
Bill Clinton: "We are All Mixed-Race People"
February 16, 2016
Headlines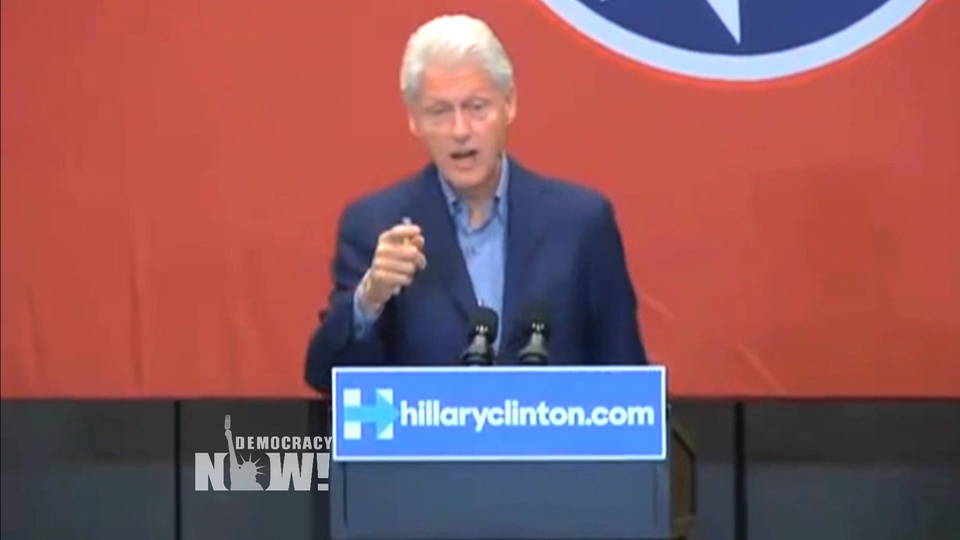 Former President Bill Clinton drew attention for his comments on race while campaigning for his wife Hillary in Tennessee Friday. After he was introduced by Democratic Tennessee Congressmember Steve Cohen as a "heck of a stand-in" for the first black president, Clinton told the crowd in Memphis, "We are all mixed-race."
Bill Clinton: "We learned that unless your ancestors, every one of you, are 100 percent, 100 percent from sub-Saharan Africa, we are all mixed-race people."
Rep. John Lewis: I Didn't Mean to "Disparage" Sanders' Civil Rights Role
February 16, 2016
Headlines
Another Hillary Clinton supporter, civil rights icon and Georgia Congressmember John Lewis, has walked back his comments on Democratic rival Bernie Sanders' involvement in the civil rights movement. Last week Lewis said of Sanders, "I never saw him. I never met him." Lewis later said he did not mean to "disparage [Sanders'] activism," noting "the fact that I did not meet him in the movement does not mean I doubted that Senator Sanders participated."
Topics:
Former President George W. Bush Hits Campaign Trail for Brother Jeb
February 16, 2016
Headlines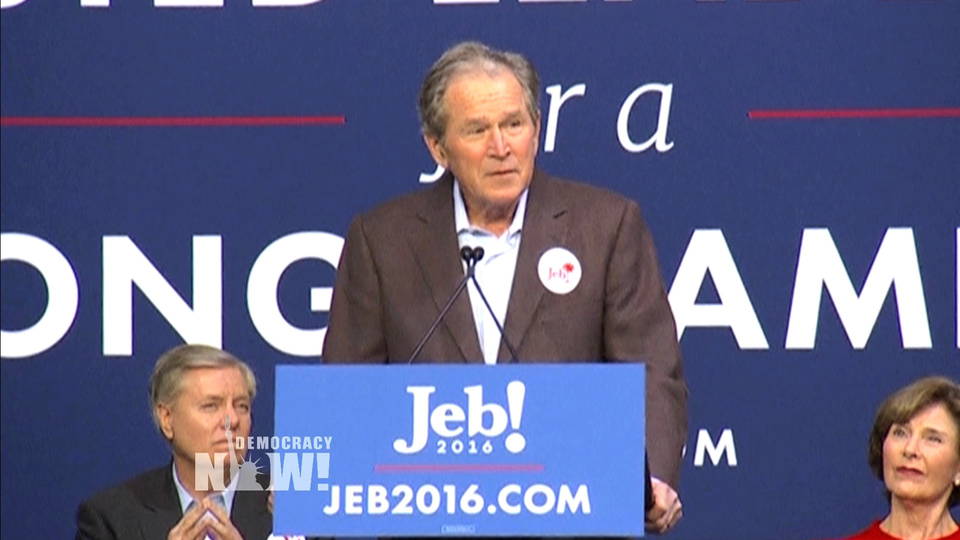 Bill Clinton is not the only former president to hit the campaign trail. Former President George W. Bush returned to the spotlight Monday to campaign for his brother Jeb in South Carolina.
George W. Bush: "This is a serious election for a serious job. So please welcome a serious and thoughtful candidate, a good man, a man I am proud to call my big little brother: Jeb Bush."
George W. Bush's appearance came after Donald Trump slammed the former president for invading Iraq, calling the war a "big, fat mistake" and saying Bush lied about it.
Topics:
Brazilian State Suspends Larvicide Use After Reports Point to Microcephaly Link
February 16, 2016
Headlines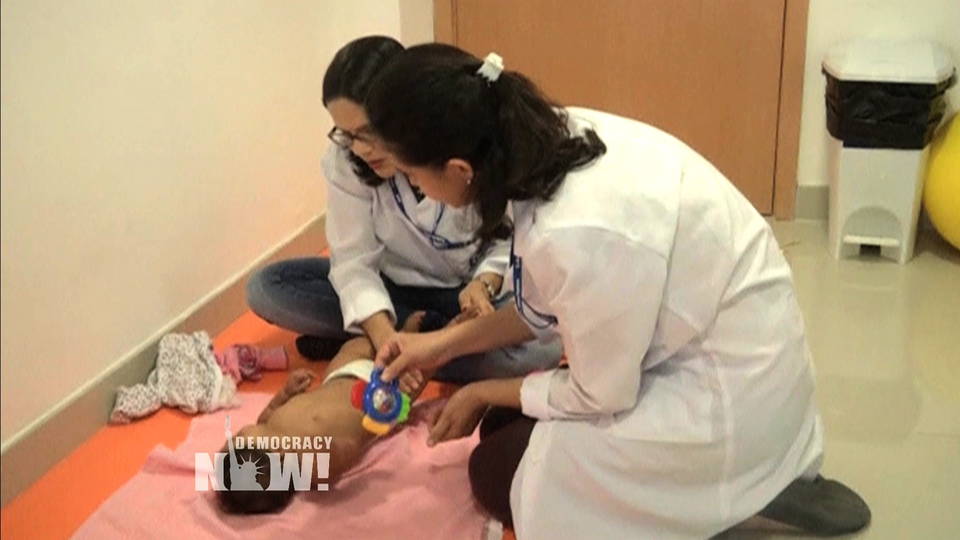 The Brazilian state of Rio Grande do Sul has suspended the use of a larvicide after reports pointed to a potential link between the chemical and the devastating birth defect microcephaly. Brazil has seen a spike in microcephaly cases thought to be linked to the mosquito-borne Zika virus. But two health advocacy groups say the spike may actually be linked to a larvicide made by a Japanese subsidiary of Monsanto that has been used to stop the development of mosquito larvae in drinking water.
Topics:
Mexico: Pope Francis Asks for Forgiveness from Indigenous People in Chiapas
February 16, 2016
Headlines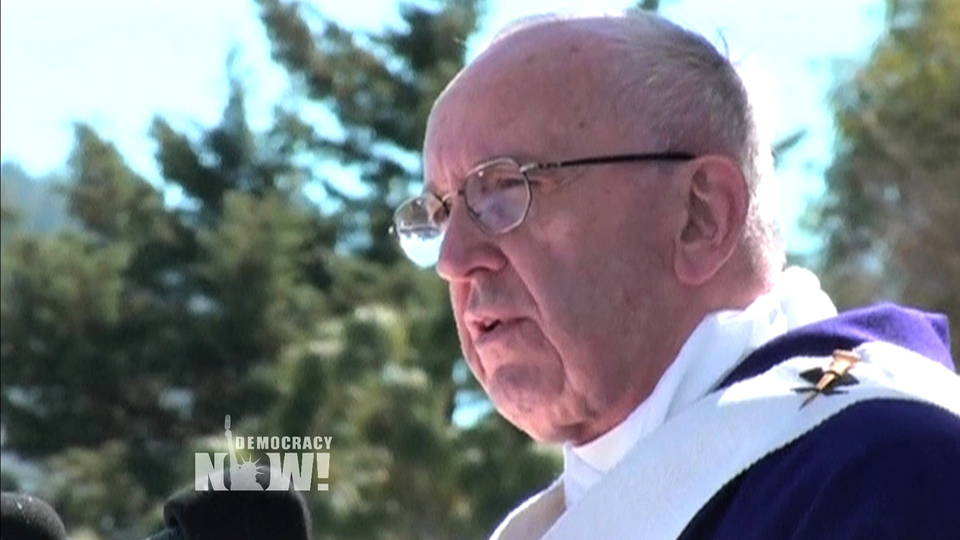 Pope Francis addressed indigenous people in the southern Mexican state of Chiapas, asking for forgiveness over what he called their systematic exclusion from society.
Pope Francis: "Many times, in a systematic and structural way, your people have been misunderstood and excluded from society. Some have even considered you inferior, as well your values, cultures, your traditions. Others, dizzy with power, money and market laws, have robbed you of your lands or have taken part in actions that contaminate the land."
Pope Francis is expected to end his trip to Mexico Wednesday with a visit to Juárez along the U.S.-Mexico border. Ahead of his visit, families separated by U.S. immigration policies lined up to reunite with each other through the border fence.
Topics:
U.K. to Ban Boycotts by Public Institutions in "Attack on Local Democracy"
February 16, 2016
Headlines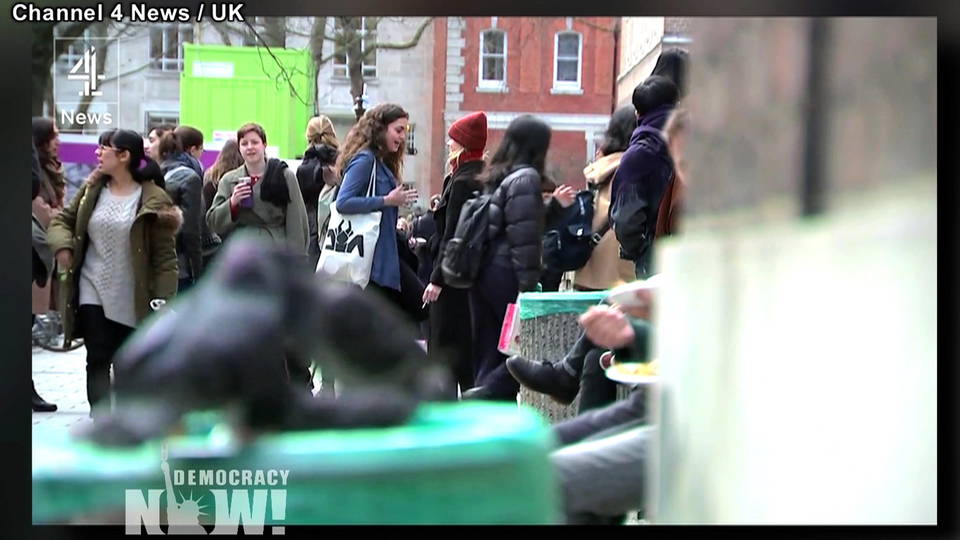 The British government is planning to ban public institutions from engaging in boycotts, including those aimed at pressuring Israel over its occupation of Palestinian lands. Amid the growing Boycott, Divestment and Sanctions movement, and the global campaign to divest from fossil fuel companies over climate change, Britain plans to ban publicly funded institutions from refusing to buy goods from companies. Labour leader Jeremy Corbyn is among those to criticize the plans, calling them "an attack on local democracy."
Colorado Springs Planned Parenthood Reopens After Deadly Attack
February 16, 2016
Headlines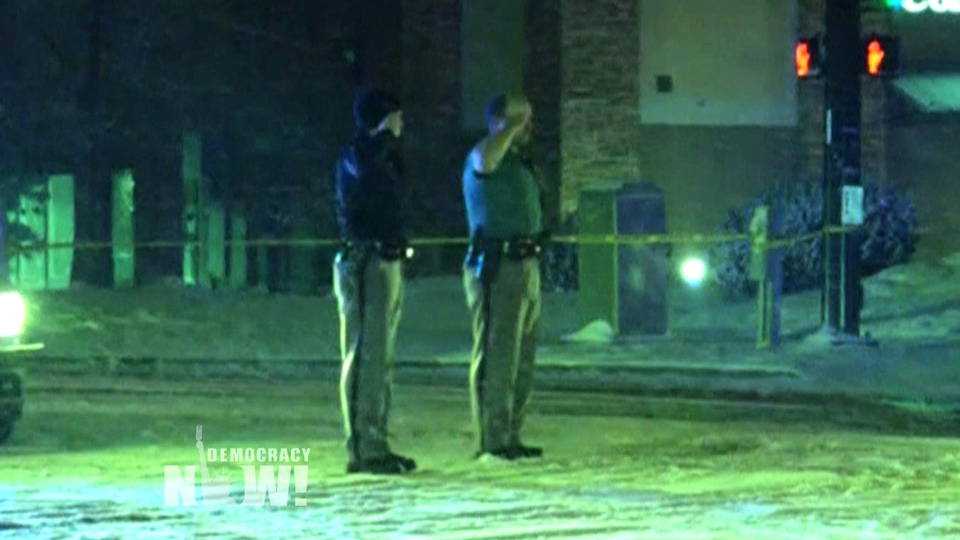 A Planned Parenthood clinic in Colorado Springs, Colorado, where an anti-choice gunman killed three people and wounded nine others, has reopened, nearly three months after the attack. The alleged gunman, Robert Lewis Dear, has said he targeted Planned Parenthood "because it's murdering little babies."
Topics:
Kendrick Lamar Performs in Prison Garb and Chains, Wins 5 Grammys
February 16, 2016
Headlines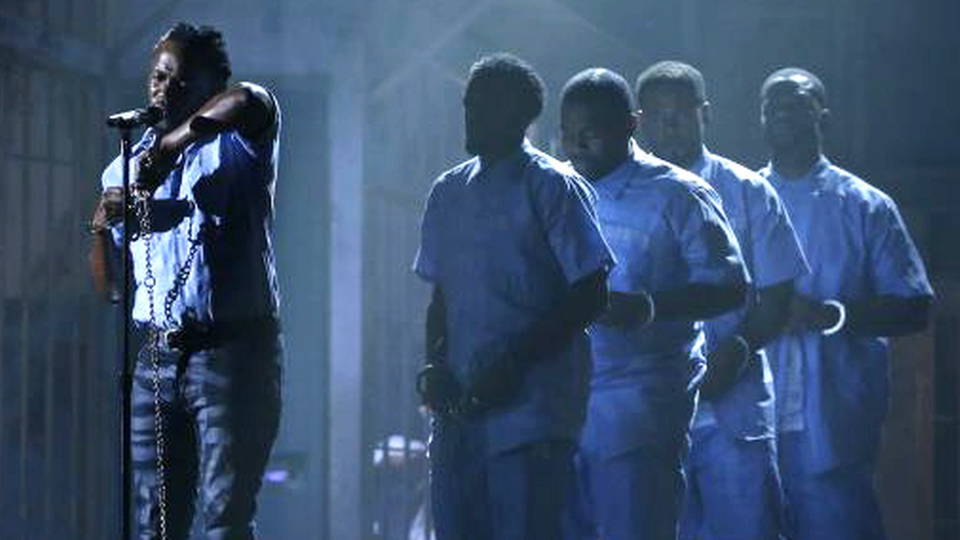 And at the Grammy Awards Monday night, hip-hop artist Kendrick Lamar drew a standing ovation after appearing in prison garb and chains during a medley performance of his songs "Blacker the Berry" and "Alright." At the end of the performance, the word "Compton," Lamar's hometown, appeared inside a map of Africa. Lamar took home five Grammys, including best rap album. Taylor Swift won best album, becoming the first woman to win the top award twice. Frequent Democracy Now! guest Angélique Kidjo won her third Grammy, for best world music album. And the hit Broadway musical "Hamilton" won best musical theater album. The legendary blind musician Stevie Wonder called for greater accessibility for people with disabilities. He delivered the award for song of the year, reading the name off the card in braille.
Stevie Wonder: "We need to make every single thing accessible to every single person with a disability."