Pakistan: Attack on Park Kills At Least 70, Many of Them Children
In Pakistan, a Taliban splinter group has claimed responsibility for an attack on a crowded amusement park in Lahore that killed at least 70 people, many of them children, and wounded at least 300. The attack in Pakistan's second largest city came as members of the minority Christian community gathered to celebrate Easter Sunday. A spokesperson for the attackers said they targeted Christians, but most of those killed were actually Muslim. Pakistani Prime Minister Nawaz Sharif has vowed to ramp up efforts to "wipe [terrorists] from this country." The Pakistani army has arrested a number of people in multiple raids.
Topics:
Iraq: Bombing at Soccer Stadium Kills At Least 41
In Iraq, a suicide bombing at a soccer stadium near Baghdad killed at least 41 people and injured 105. ISIS took responsibility for the attack, which came as a local mayor handed out trophies to players after a tournament; the mayor is reportedly among the dead. Many of those killed were young boys between the ages of 10 and 16.
Topics:
Syrian Forces Retake Ancient City of Palmyra from ISIS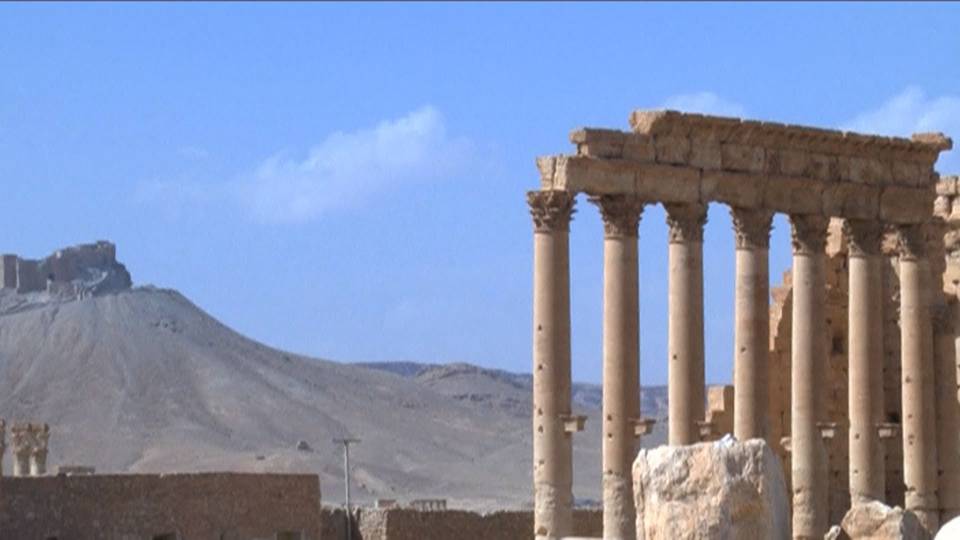 Syrian government forces backed by heavy Russian airstrikes have reportedly retaken the ancient city of Palmyra, dealing a major blowing to ISIS forces that seized the city last year and blew up its temples. U.N. Secretary-General Ban Ki-moon hailed the news.
U.N. Secretary-General Ban Ki-moon: "We are encouraged and fortunate that Syrian government forces have been able to retrieve—or defeat ISIS from Palmyra and is now able to preserve and protect these human common asset—cultural asset. And I'm also encouraged by the announcement that they (Syria's government) will try to not only preserve and protect, they will try to restore."
Topics:
Pentagon: U.S. Special Forces Killed Top ISIS Commander in Syria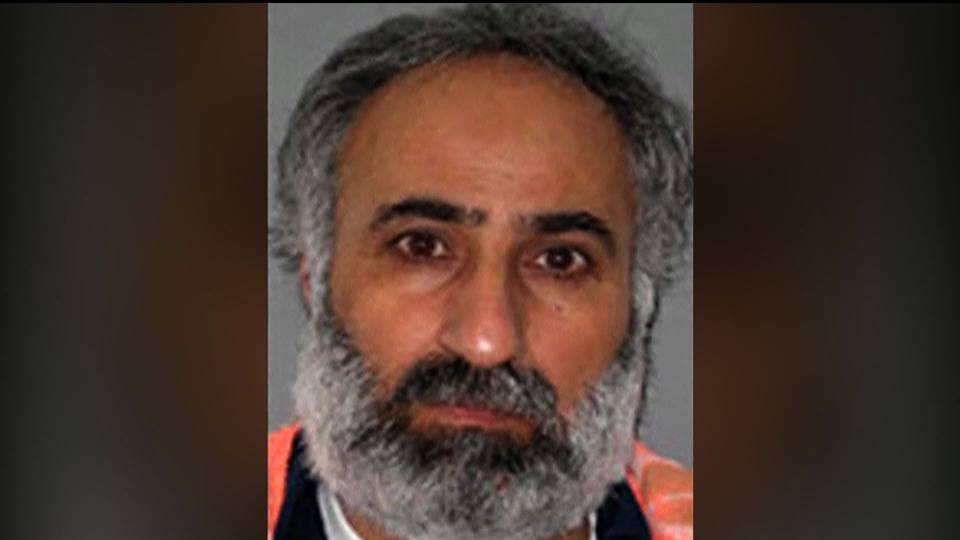 The Pentagon says U.S. special operations forces in eastern Syria have killed a top ISIS commander. Defense Secretary Ashton Carter described the commander, known as Hajji Imam, as ISIS's top financier, but released few details about his killing. The New York Times, citing an unnamed official, said U.S. forces were following the commander's vehicle in helicopters, planning to capture him, but changed their plan for unknown reasons and killed him instead.
Topics:
Brussels Attacks: Far-Right Protesters Storm Memorial; Arrests Made in 4 Countries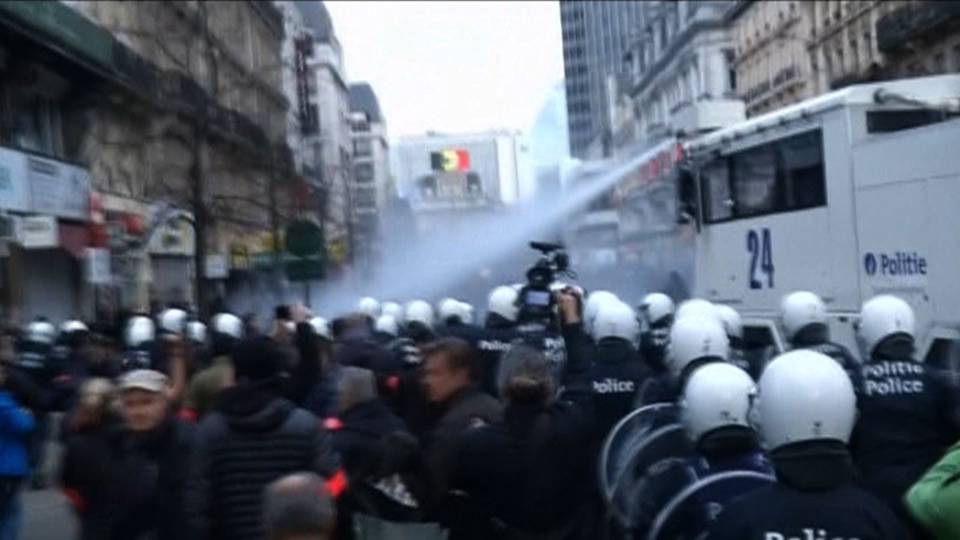 In Brussels, Belgium, police fired water cannons at far-right demonstrators who stormed a memorial for victims of last week's deadly attacks, chanting nationalist slogans and making Nazi salutes. The tensions came as Belgian authorities carried out new raids Sunday following Tuesday's attacks on the Brussels Airport and subway that killed at least 31 people, including four Americans. Three men arrested in the raids have been charged with terrorism-related offenses after a number were charged over the weekend, including Faisal Cheffou, who unconfirmed reports say is suspected of being the third man shown in footage from the Brussels Airport, next to two men who blew themselves up. Over the weekend, authorities in Italy, Germany and the Netherlands also arrested suspects in the attacks in Brussels and the November attacks in Paris that killed 130 people.
Topics:
Yemen: Tens of Thousands Protest U.S.-Backed, Saudi-Led Offensive on 1st Anniversary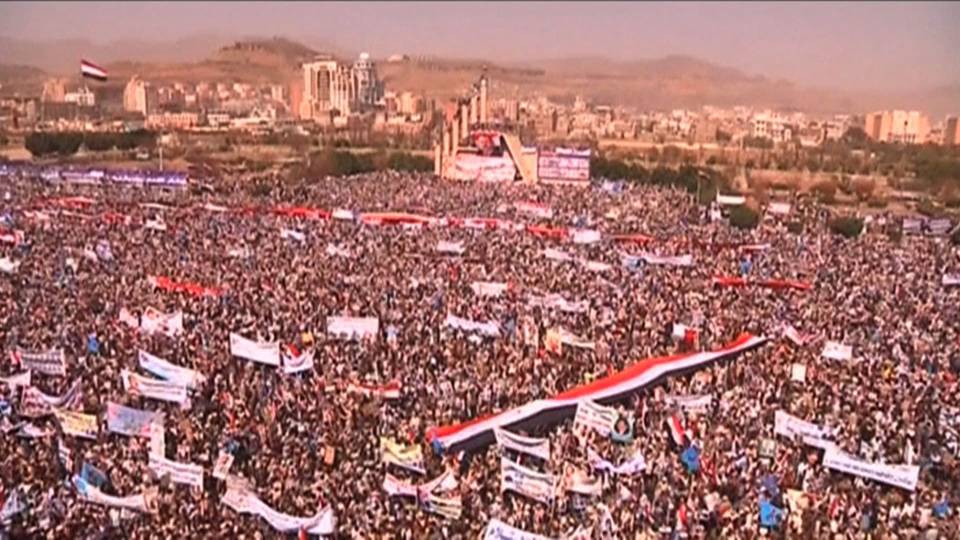 In Yemen, tens of thousands took to the streets to protest the U.S.-backed, Saudi-led offensive against Houthi rebels on the first anniversary of the campaign. The protests were said to be the largest in Yemen since the 2011 demonstrations forced the resignation of President Ali Abdullah Saleh. Since the U.S.-backed, Saudi-led intervention began last March, more than 6,200 people have been killed in Yemen, about half of them civilians.
Topics:
Yemen: U.S. Airstrikes Kill 14 Accused al-Qaeda Militants
Meanwhile, the U.S. launched air attacks on al-Qaeda in southern Yemen, killing 14 people described by local sources as suspected militants.
Topics:
Sanders Sweeps Alaska, Hawaii and Washington in Landslide Victories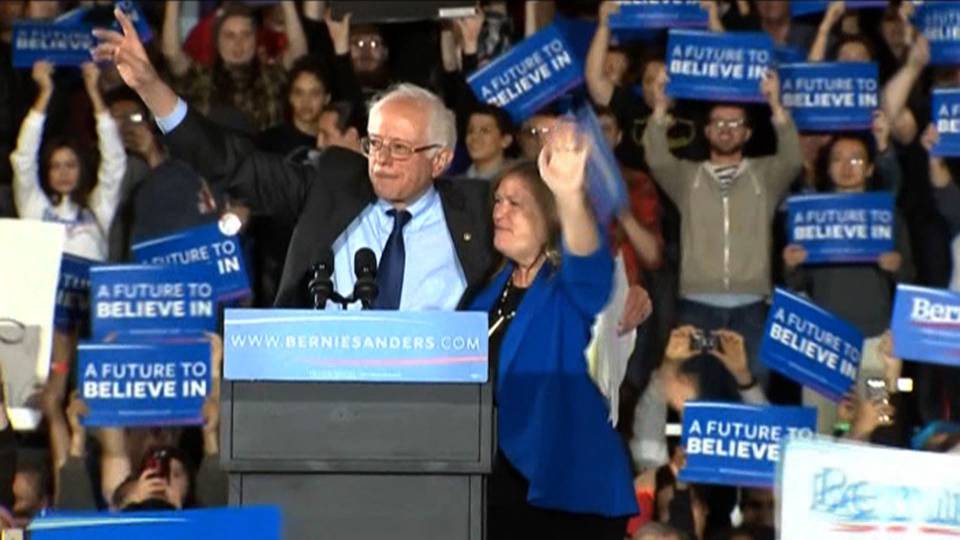 Back in the United States, Vermont Senator Bernie Sanders won overwhelming victories in Alaska, Washington and Hawaii Saturday, chipping away at front-runner Hillary Clinton's lead in the race to win the Democratic Party's nomination for the White House. Sanders won 73 percent of the vote in Washington, 71 percent in Hawaii and 82 percent in Alaska. He spoke in Madison, Wisconsin.
Sen. Bernie Sanders: "Let me begin by thanking the people of Alaska for giving us a resounding victory tonight. ... I believe that our campaign is the campaign of energy, of momentum, which will lead to a large voter turnout in November and victory. ... All right, are you ready for a news alert? We just won the state of Washington!"
We'll have more on Sanders' victories after headlines.
Cruz Accuses Trump's "Henchmen" of Fabricating Tabloid Story on His "Affairs"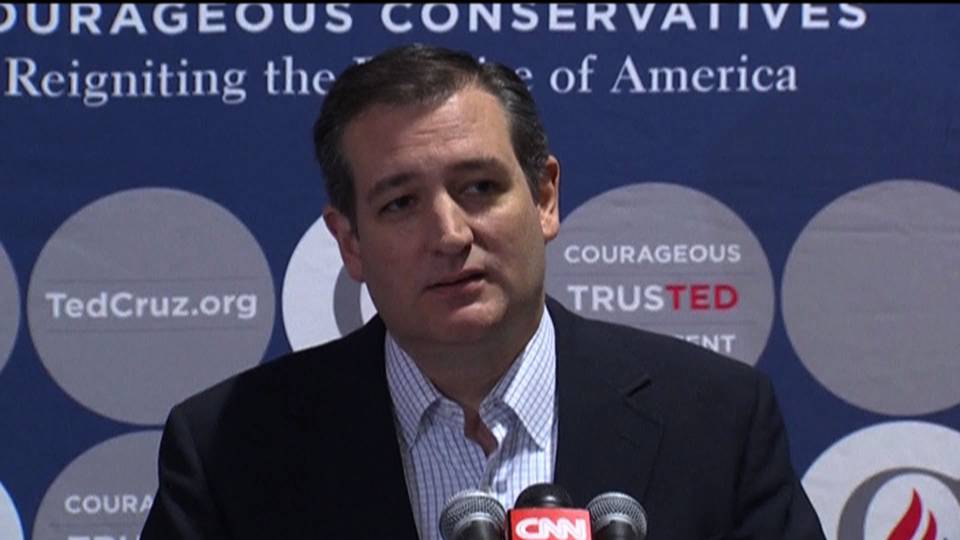 Meanwhile, on the Republican side, Texas Senator Ted Cruz has accused Republican presidential front-runner Donald Trump and his "henchmen" of fabricating a story in the National Enquirer tabloid that claimed Cruz had a series of extramarital affairs. Cruz singled out Trump's friend and former adviser Roger Stone, the only person quoted by name in the National Enquirer story.
Sen. Ted Cruz: "And I would note that Mr. Stone is a man who has 50 years of dirty tricks behind him. He's a man for whom a term was coined for copulating with a rodent. Well, let me be clear: Donald Trump may be a rat, but I have no desire to copulate with him. And this garbage does not belong in politics."
The accusations came after Trump and Cruz hurled barbs over each other's wives. The spat began when an anti-Trump super PAC ran an ad featuring a photo of Melania Trump during a nude photo shoot with the text "Meet Melania Trump. Your next first lady. Or, you could support Ted Cruz." Trump fired back on Twitter threatening to "spill the beans" on Cruz's wife and retweeting a photo of Melania next to an unflattering picture of Heidi Cruz. Cruz called Trump a "sniveling coward."
Topics:
Mexico: Easter Revelers Burn Effigies of Donald Trump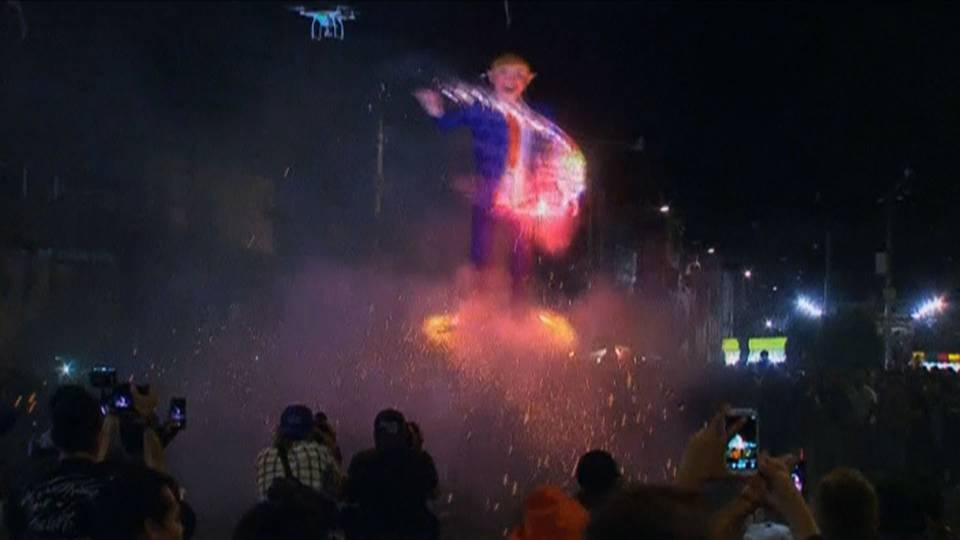 In Mexico, people burned effigies of Donald Trump as part of an Easter ritual. Hundreds gathered in Mexico City to cheer on the incineration, which comes as part of a Holy Week tradition where effigies are burned representing Judas, who, according to the Bible, betrayed Jesus Christ. Artist Leonardo Felipe Linares, who made the Trump effigy, explained its significance.
Leonardo Felipe Linares: "If we talk strictly about Holy Week and the burning of Judas, we're burning the traitor, Judas, the traitor. And Donald Trump is practically the same, right? A traitor, who knows very well that the working force of the United States is the Latino people. And that's why he is burned, as well."
Topics:
Vermont: Brick Thrown Through Window of Activist Building with "Black Lives Matter" Sign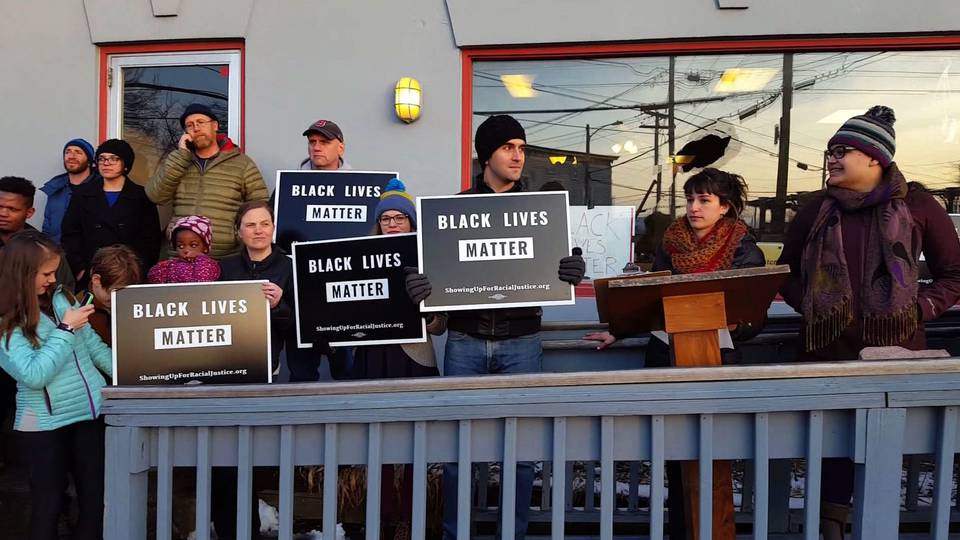 In what activists say is a growing trend of racist hate fueled by the 2016 presidential campaign, unknown attackers in Burlington, Vermont, threw a brick through a window of a community center with a "Black Lives Matter" sign displayed in the window. The building houses organizations that work for migrant and workers' rights. Racial justice organizer Senowa Mize-Fox condemned the attack late last week.
Senowa Mize-Fox: "It's sad to me that I've gotten to the point where I'm not surprised that these acts of hate continue to happen, that racially motivated attacks, in a community that prides itself on being progressive and liberal, continue to happen."
Topics:
Florida, Indiana Governors Sign Sweeping Anti-Choice Bills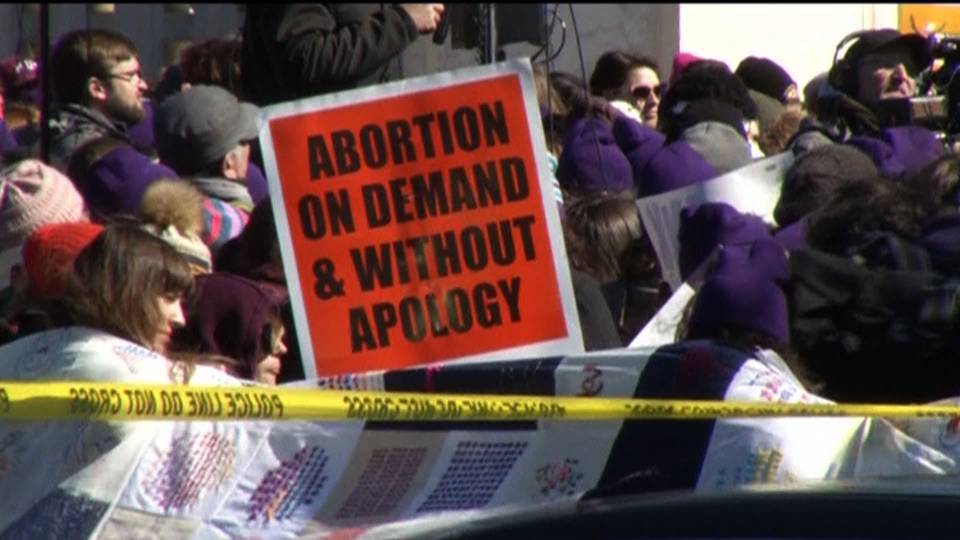 Florida Governor Rick Scott has signed a sweeping anti-choice bill that, among other measures, prohibits Medicaid and other public funds from going to clinics that also perform abortions. Planned Parenthood has warned the bill could end birth control, cancer screenings and other services for thousands of low-income Floridians. Nearly half of states have attempted to cut money for Planned Parenthood since last summer, when an anti-choice group released deceptively edited videos to falsely accuse Planned Parenthood of profiting off fetal tissue. The new Florida law also requires abortion providers to obtain admitting privileges at a nearby hospital or clinics to have a transfer agreement there. Governor Scott signed it the same day a federal judge struck down an admitting privileges law in Alabama, saying it would have a "enormous" impact, closing the only clinics in Alabama's three largest cities. Meanwhile, a day earlier, Indiana Governor Mike Pence signed a measure that, beyond requiring admitting privileges for abortion providers, also mandates burial or cremation for fetuses and makes Indiana the second state to ban abortions due to fetal disability.
California Lawmakers Reach Deal to Raise Minimum Wage to $15 an Hour by 2022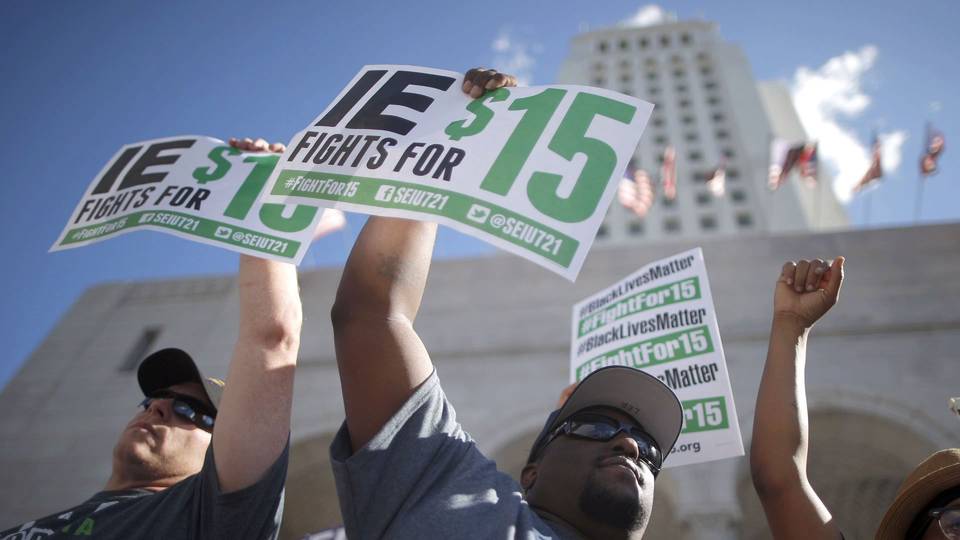 In California, lawmakers have reached a tentative deal to raise the statewide minimum wage to $15 an hour by 2022. The hike would come gradually over the next six years, beginning with an increase to $10.50 next year. If approved, it would make California the first state to adopt a $15-an-hour minimum wage.
Topics:
Honduras: Suspect Arrested in Killing of COPINH Activist Nelson García
And Honduran authorities say they have arrested a suspect in the killing of Nelson García, an activist and colleague of assassinated environmentalist Berta Cáceres. Earlier this month, less than two weeks after Cáceres was gunned down at her home, García was shot to death after returning home from helping indigenous people displaced in a mass eviction by Honduran security forces. He was a member of COPINH, the indigenous organization co-founded by Berta Cáceres. The suspect in García's murder has been identified as Didier Enrique "Electric" Ramírez.
Topics: