Pentagon: U.S. Strikes in Somalia Kill 150 People
The Pentagon says U.S. airstrikes in Somalia killed more than 150 people it identified as militants at an al-Shabab training camp, marking one of the deadliest U.S. attacks to date in the so-called war on terror. The strikes hit what officials said they believed was a graduation ceremony. Officials said they were unaware of any civilian casualties but were unable to independently verify that. The strikes, carried out by drones and manned aircraft, marked the deadliest attack on the militant group al-Shabab during the more than decade-long U.S. campaign against it. White House spokesperson Josh Earnest emphasized the targets posed an "imminent threat" to U.S. and African Union forces.
Josh Earnest: "The fighters, who were scheduled to depart the camp, pose an imminent threat to U.S. and African Union mission forces in Somalia. Their removal, the removal of those terrorist fighters, degrades al-Shabab's ability to meet the group's objectives in Somalia, including recruiting new members, establishing bases and planning attacks on U.S. and AMISOM (African Union Mission in Somalia) forces."
Topics:
Obama Admin Vows to Release Data on Drone Killings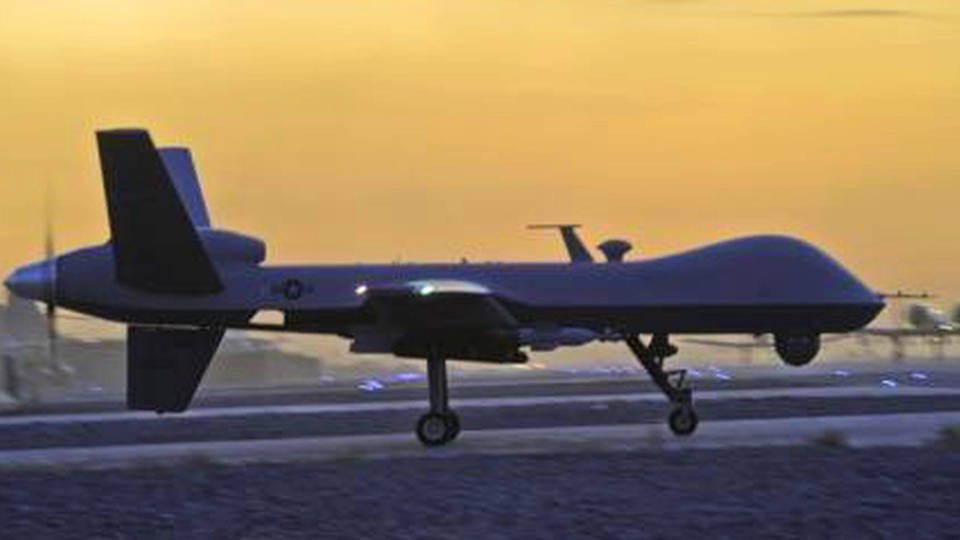 The Obama administration announced Monday it would for the first time release tallies of the number of people it believes it has killed in drone strikes in countries that lie outside of conventional war zones. Lisa Monaco, President Obama's assistant for homeland security and counterterrorism, said the report would be released in the coming weeks.
Lisa Monaco: "I can announce today that in the coming weeks the administration will publicly release an assessment of combatant and noncombatant casualties resulting from strikes taken outside areas of active hostilities since 2009."
Topics:
Tunisia: 54 Killed in "Unprecedented" Attack Near Libyan Border
In Tunisia, more than 50 people have been killed in a militant attack, sparking fears the violence engulfing neighboring Libya is now spreading across the border. Dozens of attackers descended on a Tunisian town, attacking police and military stations. Tunisian President Beji Caid Essebsi called the attack "unprecedented" and blamed it on ISIL. Officials said at least 54 people were killed, including militants, security forces and civilians.
Voters Head to Polls in 4 States, Michigan Seen as Key Prize
Voters head to the polls for caucuses and primaries in four states today, with Michigan seen as the top prize. Republicans are also voting in Hawaii, Idaho and Mississippi; Democrats vote only in Mississippi and Michigan.
Topics:
Bloomberg Says He Won't Run for President, Fearing Trump Could Win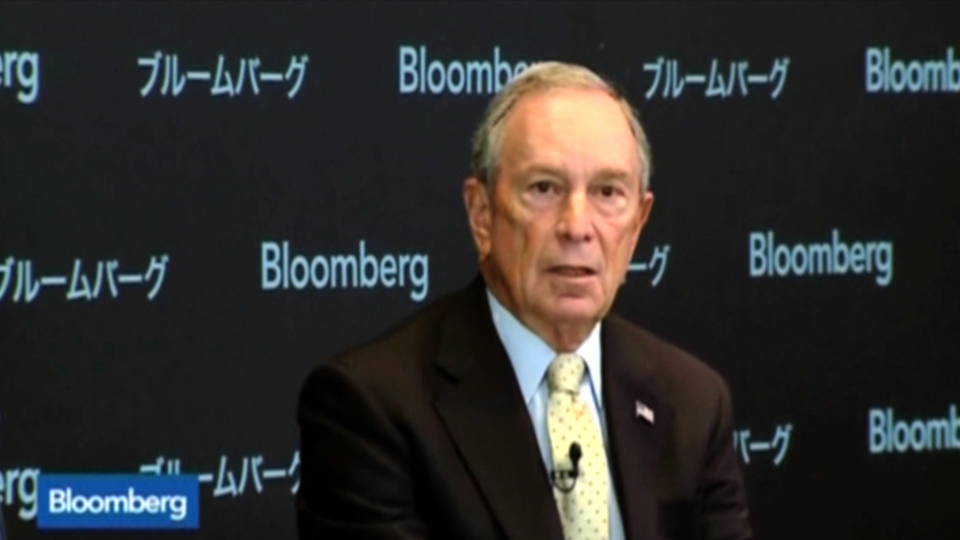 Ahead of today's contests, former New York City mayor and billionaire Michael Bloomberg announced he would not run for president as an independent, saying he feared his entry into the race could help lead to the election of Donald Trump as president. Bloomberg said Trump is running "the most divisive and demagogic presidential campaign I can remember."
Mexican President Compares Trump's Rhetoric to Hitler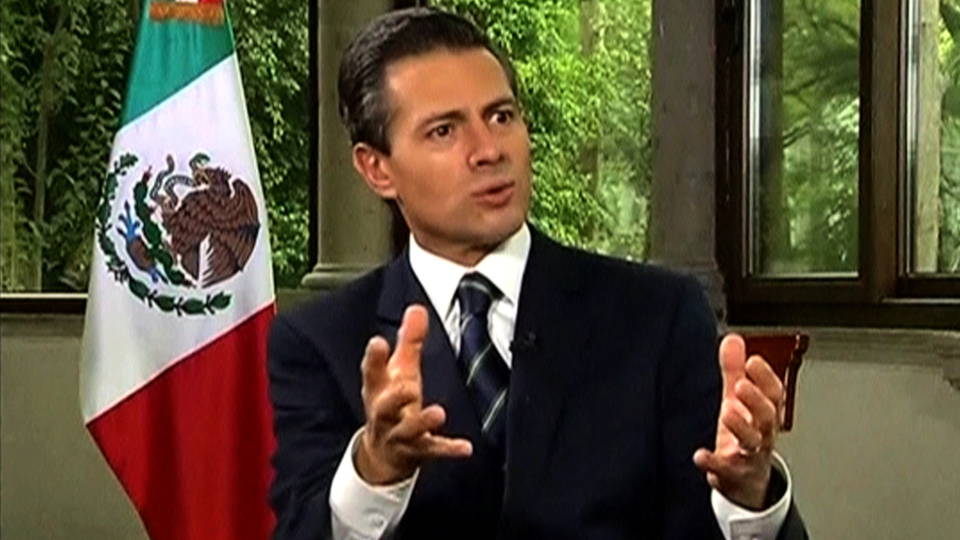 Meanwhile, Mexican President Enrique Peña Nieto has refused to pay for the wall Donald Trump has vowed to build between the United States and Mexico. Peña Nieto criticized Trump, invoking the fascist leaders Adolf Hitler and Benito Mussolini.
President Enrique Peña Nieto: "And there have been episodes in human history, unfortunately, where these expressions of this strident rhetoric have only led to very ominous situations in the history of humanity. That's how Mussolini got in. That's how Hitler got in. They took advantage of a situation, a problem perhaps, which humanity was going through at the time, after an economic crisis. And I think what (they) put forward ended up, at what we know today from history, in global conflagration."
Sanders, Clinton Discuss Abortion at Fox News Town Hall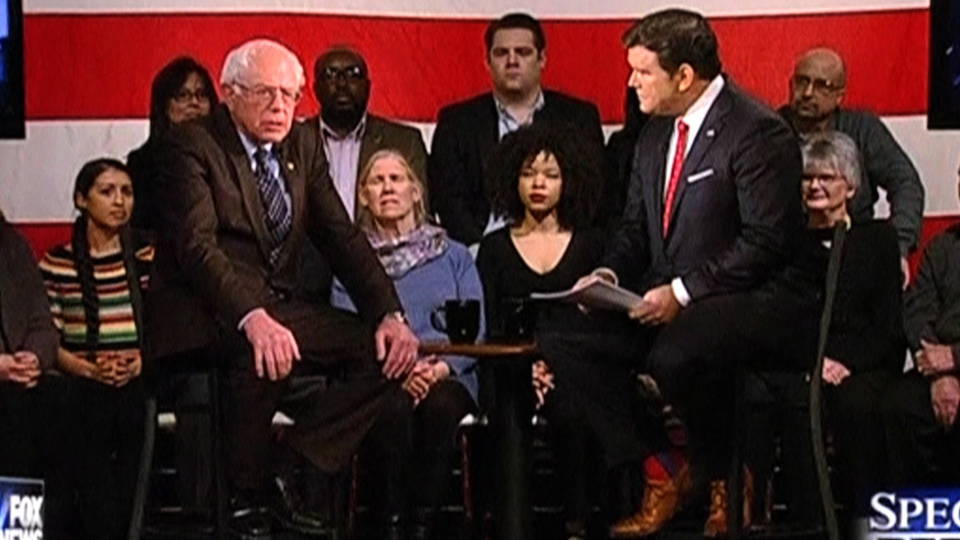 Vermont Senator Bernie Sanders and former Secretary of State Hillary Clinton were both asked about abortion rights at a Fox News town hall in Detroit, Michigan, Monday. There have been no questions about abortion in the seven Democratic debates so far. Both candidates strongly defended abortion rights. Clinton noted that she has supported some "late-pregnancy regulation that would have exceptions for the life and health of the mother."
Topics:
Flint Families File Class Action Lawsuit over Poisoning of Water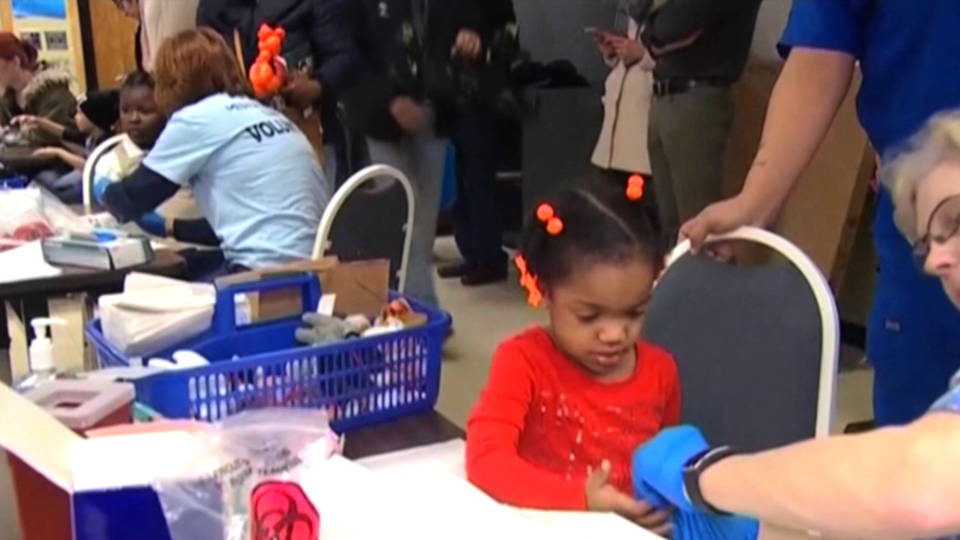 As Michigan is in the spotlight over the primary, seven families in Flint have filed a class action lawsuit accusing Michigan Governor Rick Snyder of gross negligence after the city's water was contaminated by lead. The poisoning began when an unelected emergency manager appointed by Governor Snyder switched the city's water to the corrosive Flint River, causing lead from the pipes to leach into water. Many are calling for Snyder's resignation and even his arrest. We'll have more on Flint after headlines.
Topics:
Honduras: Activist Who Witnessed Assassination of Berta Cáceres Barred from Returning to Mexico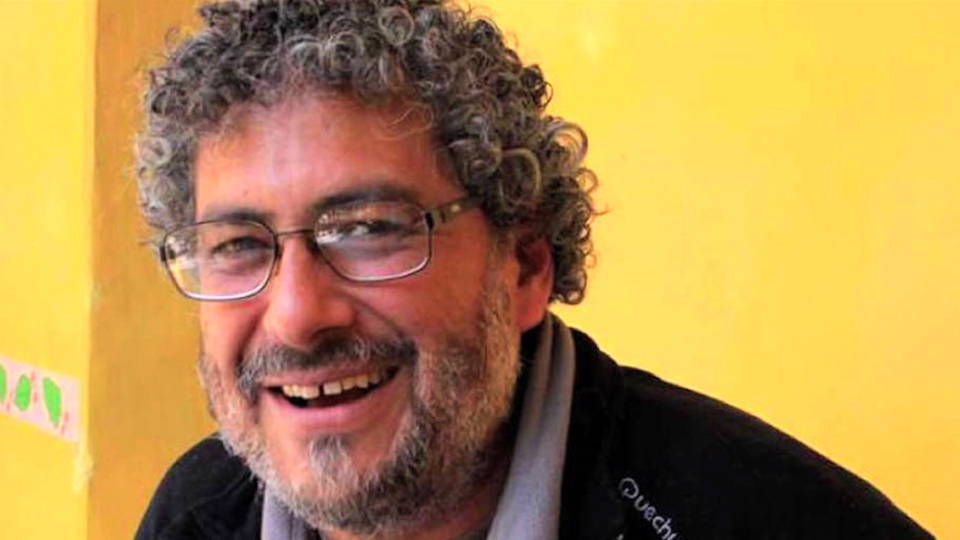 In Honduras, activists say the well-known environmental campaigner Gustavo Castro Soto, coordinator of Friends of the Earth Mexico, has been detained and denied permission to return to his native Mexico. Castro witnessed the fatal shooting of environmental leader Berta Cáceres in Honduras last Thursday, sustaining two bullet wounds. We'll have more on his case later in the broadcast.
Topics:
Thousands of Boston Public School Students Walk Out over Budget Cuts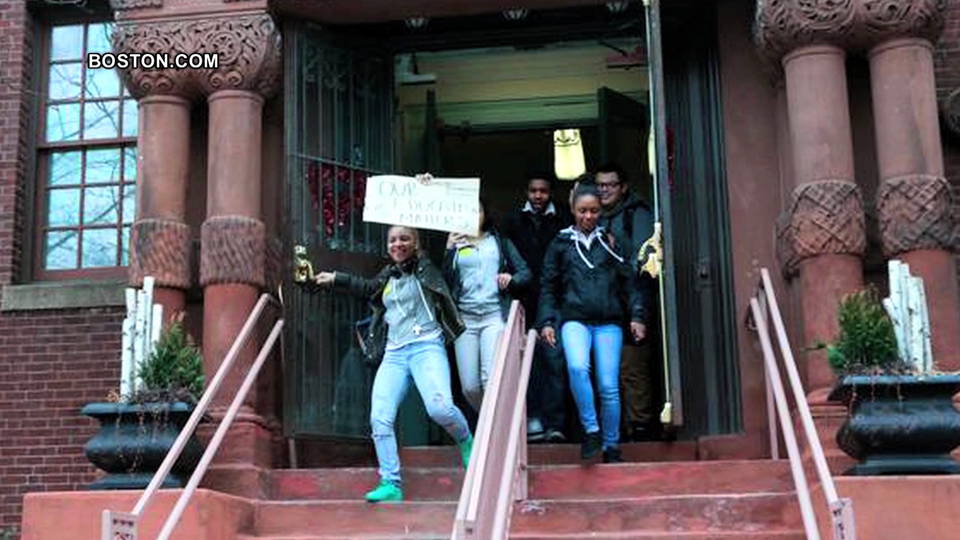 In Boston, Massachusetts, more than 2,000 public school students walked out of class Monday to protest planned budget cuts. Despite threats that they would be marked absent for leaving, the students rallied on Boston Common, at the State House and at Faneuil Hall, chanting, "They say cut back, we say fight back."
Topics:
Oklahoma Limits Oil and Gas Waste Disposal After Surge in Earthquakes
Oklahoma authorities have set new limits for oil and gas companies after a vast increase in the number of earthquakes, including more than 6,000 last year alone. In 2010, Oklahoma saw just three earthquakes at or above magnitude three, but last year that number rose to more than 900. The quakes have been linked to the injection of oil and gas waste deep underground. On Monday, Oklahoma regulators asked companies in central Oklahoma to reduce the amount of waste they're injecting by 40 percent. This follows a similar request last month for a northwest region.
Topics:
New York: Bill McKibben Among 57 Arrested over Gas Storage at Seneca Lake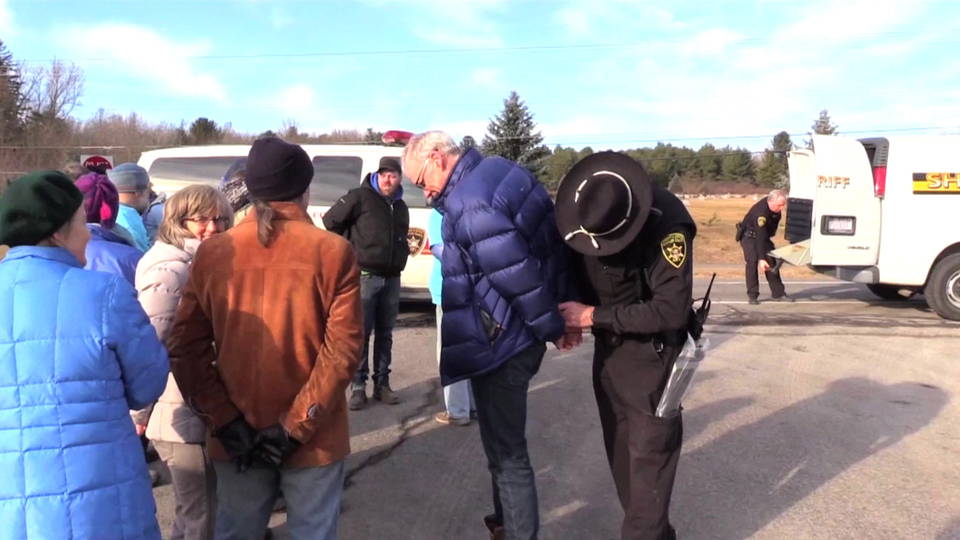 In upstate New York, environmentalist Bill McKibben and 56 other people have been arrested after blockading the driveway of the gas storage company Crestwood Midstream. In total, activists say more than 500 arrests have been carried out as part of a 17-month-long civil disobedience campaign against plans by the firm to expand storage of the potent greenhouse gas methane in abandoned salt caverns at Seneca Lake, a drinking water source for 100,000 people. McKibben spoke about the action.
Bill McKibben: "Today, now and every day, there are, someplace around the world, 10, 15, 20 places like this where people are standing up. After a hundred years of a free ride, the fossil fuel industry is now met at every turn by people saying, 'It's a new world, the science is clear, we understand what has to happen.'"
Topics:
Peace Activist Mary Anne Grady Flores Released from Jail After 49 Days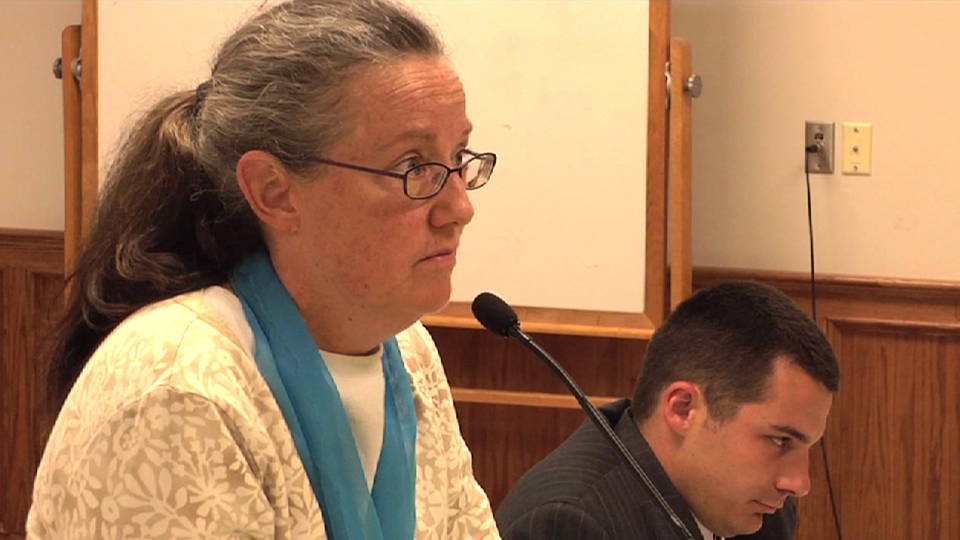 In other news from upstate New York, a peace activist and grandmother has been released on $5,000 bail after 49 days in jail for photographing a protest at Hancock air base, where drones are piloted remotely. Mary Anne Grady Flores began a six-month sentence in January but has been released pending an appeals court decision on whether to consider her case. Flores was accused of violating an order of protection aimed at keeping her away from the base after she participated in civil disobedience there. Click here to see our interview with Mary Anne Grady Flores.
Topics:
International Women's Day Marked Around the World
And events are taking place around the world today for International Women's Day. This year's theme is "Pledge for Parity."
Topics: