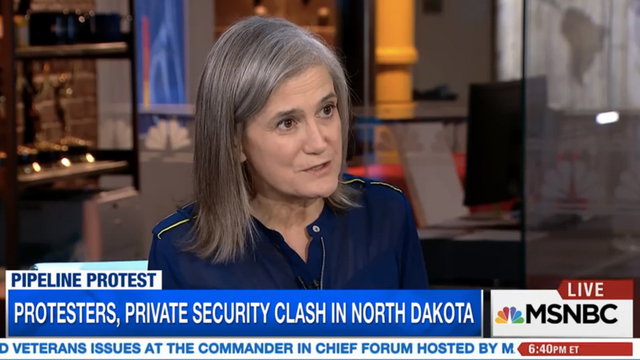 This is viewer supported news
Donate
Democracy Now! host Amy Goodman appeared on MSNBC Sunday with Joy-Ann Reid to discuss Saturday's action in North Dakota against the Dakota Access pipeline.
The pipeline has faced months of resistance from the Standing Rock Sioux Tribe and members of nearly 100 more tribes from across the U.S. and Canada. Goodman and Democracy Now! producers were on the ground Saturday when the pipeline company attacked Native American protesters with dogs and pepper spray.
In the interview, Goodman describes how lawyers for the Standing Rock Sioux Tribe filed evidence Friday that the proposed Dakota Access pipeline route falls directly on sacred Sioux sites. Hours later, Goodman and Democracy Now! producers witnessed unexpected construction at one of the sites.
"This was a Labor Day weekend. The bulldozers don't work on the weekend," Goodman tells Joy-Ann Reid. "But this weekend, the day after they gave over that information, they're there bulldozing over those sites."
Goodman also responded to the Morton County Sheriff's statement on the standoff, which echoed the pipeline company's account of events. "You had the county sheriff making allegations. The police, the sheriffs weren't even there," Goodman says. "Instead it was the dogs unleashed by [the pipeline company's] security that attacked the protesters."
Watch:
Amy Goodman of @democracynow shares her shocking account of #DakotaAccessPipeline protests https://t.co/O1QFb0OXhT #PMJoy

— AM Joy w/Joy Reid (@amjoyshow) September 5, 2016
---