Metro Justice creates one of a kind DN! Float for Labor Day
Make a DN! Float for Your Town's Parade!
After a successful campaign to get DN! on the air in Rochester, Metro Justice decided to start spreading the word about when the show airs in their town. On labor Day they created a float with air times and a Lady Liberty impersonator. You to can find unique and eye-catching ways to spread the word about DN!
Check out more photos here!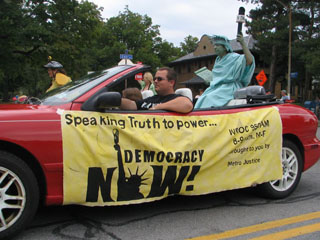 Columns
By Amy Goodman with Denis Moynihan
One of the greatest challenges in understanding the situation in Israel and the occupied Palestinian territories is getting reliable information. This latest assault on Gaza reaffirms the key role played by the U.S. media in maintaining the information blockade. It also highlights the increasing importance of pressure applied by social networks.
Daily News Digest