Metro Justice creates one of a kind DN! Float for Labor Day
Make a DN! Float for Your Town's Parade!
After a successful campaign to get DN! on the air in Rochester, Metro Justice decided to start spreading the word about when the show airs in their town. On labor Day they created a float with air times and a Lady Liberty impersonator. You to can find unique and eye-catching ways to spread the word about DN!
Check out more photos here!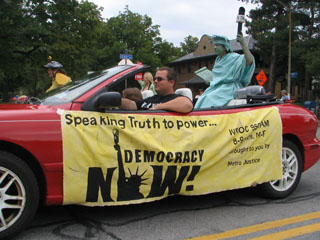 Columns
By Amy Goodman with Denis Moynihan
Hours after 400,000 people joined the largest climate march in history, the U.S. began bombing Syria. President Obama is again leading the way to war, while simultaneously failing to address climate change. The world is beset with twin crises, inextricably linked: global warming and global warring.
Daily News Digest