Studs Terkel, 1912-2008


The legendary radio broadcaster, writer and oral historian Studs Terkel has died at the age of 96 in Chicago. Over the years Terkel has been a regular guest on Democracy Now!
In 2005, Studs Terkel appeared on Democracy Now! shortly after undergoing open heart surgery. He told Amy Goodman, "My curiosity is what saw me through. What would the world be like, or will there be a world? And so, that's my epitaph. I have it all set. Curiosity did not kill this cat. And it's curiosity, I think, that has saved me thus far."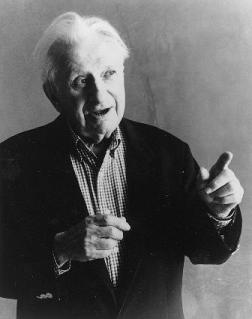 The legendary radio broadcaster, writer and oral historian Studs Terkel has died at the age of 96 in Chicago.
Studs Terkel worked as an activist, a civil servant, a labor organizer, an ad writer, a television actor, and a radio DJ, among many other occupations. But since the 1960s, he was particularly well-known as a world-class interviewer, a writer and radio personality who drew celebrities and, far more often, average citizens into sharing their oral histories.
For 45 years, Studs Terkel spent an hour each weekday on his nationally syndicated radio show, conversing with famous and not-so-famous guests and with a loyal audience of Chicago listeners.
With his unique style of oral history on subjects such as race, war and employment, Terkel spent decades interviewing Americans across the country, creating intimate portraits of everyday life and chronicling changing times through this century.
He was also a regular guest on Democracy Now. Below are links to watch or listen to our archive of interviews with Studs Terkel.
November 04, 2003
'Hope Dies Last'–An Hour with Legendary Broadcaster and Author Studs Terkel
October 05, 2005
Legendary Broadcaster and Author Studs Terkel on President Bush, Mahalia Jackson, James Baldwin, Louis Armstrong, the Rebuilding of New Orleans and What Gives Him Hope
May 16, 2007
Studs Terkel At 95: 'Ordinary People Are Capable of Doing Extraordinary Things, and That's What It's All About. They Must Count!'
November 13, 2007
Legendary Radio Broadcaster and Oral Historian Studs Terkel on the Iraq War, NSA Domestic Spy Program, the Labor Movement and His New Memoir 'Touch and Go'
DN! in the News

Democracy Now! host Amy Goodman was a guest last Saturday on MSNBC's "Melissa Harris-Perry," where she joined the discussion on remembering the complexities of Mandela, the anti-apartheid movement's influence on a generation, and more.
Columns
By Amy Goodman & Denis Moynihan
The holiday season is upon us. Sadly, the big retailers are Scrooges when it comes to paying their staffs. Undergirding the sale prices is an army of workers earning the minimum wage or a fraction above it, living check to check on their meager pay and benefits. The dark secret that the retail giants like Wal-Mart don't want you to know is that many of these workers subsist below the poverty line, and rely on programs like food stamps and Medicaid just to get by. This holiday season, though, low-wage workers from Wal-Mart to fast-food restaurants are standing up and fighting back.
Web Exclusive

Watch our interviews with three of the filmmakers who made the shortlist of 15 films that will compete for the Documentary Feature Oscar.
Daily News Digest