Teaching Democracy Now!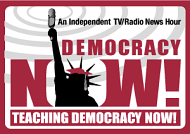 Airing on over 1,200 stations, Democracy Now! is pioneering the largest public media collaboration in North America, and working to extend that collaboration into classrooms all over the world. We are launching an innovative, interactive program called Teaching Democracy Now! — to provide a variety of teaching tools for educators to encourage independent journalism, freedom of expression, and critical inquiry.
DISCOUNTED DVDS FOR TEACHERS
We offer a 50% discount on all DVDs/CDs and VHS copies of Democracy Now! from our online store to any educator who would like to use a DN! program in their classroom. When you place your order in our store and are ready to checkout, please specify in the "Additional Instructions" field that you are an educator and should receive a 50% discount on your DVD/CD or VHS order. Also include the name of your teaching institution and the class that it will be used in. Your card will be credited with the 50% discount.
CLASS VISITS TO DEMOCRACY NOW!
Visiting the Democracy Now! studio is an exciting opportunity for high school, college, or continuing education students to learn about a rapidly growing independent media organization. Students will be introduced to the inner-workings of Democracy Now! and have the rare chance to go behind-the-scenes and engage directly with Democracy Now! staff. By taking a tour of the Democracy Now! studio, students will also learn to use Democracy Now! as a research tool in their school work.
Teachers interested in bringing their class to visit Democracy Now! should email education@democracynow.org with the following information:
Full name and contact information
School name
Class subject
Class year
Number of students
Date(s) and time(s) available
Would you like to view a live broadcast? (students must arrive at 7:30am)
In order for your students to get the most out of their experience please write a few sentences about the topics they are currently studying.
SUBSCRIPTIONS FOR SCHOOL LIBRARIES
You can have it all. Ask your school library sign up for our subscription service. For a nominal fee, each month they will receive a binder with 20 DVDs of the last month's programs. For more information email us at orders@democracynow.org.
WHAT TEACHERS ARE SAYING ABOUT DEMOCRACY NOW!
Check out what teachers all across the world have to say about Democracy Now! You can email us at education@democracynow.org to have your comments included in our blog.