DONATE!
Democracy Now! is a tax-exempt, non-profit organization funded entirely through individual donations and grants from foundations. We receive no corporate underwriting or government support. Without YOUR support, the program couldn't survive and grow.
There are a number of ways to contribute: from donating money, to equipment, used or new computers, and your time.
Every contribution makes a difference.

Democracy Now! is a 501(c)3 non-profit organization. You can make a tax-deductible donation:
Donate Equipment & Computers
Donate a Computer or Monitor
Your computer or monitor could go a long way to support Democracy Now! — and your donation of new or used computers and monitors to Democracy Now! is tax-deductible. Democracy Now! is looking for mid-2010 or later model Mac computers for workstations for our producers, interns, and staff.

In order to put your donation to work right away, we're only able to accept computers in good working condition that are compatible with other computers on our network.

Right now, we're looking for mid-2010 or newer Mac computers, including Mac Minis, MacBook Pro, MacBook Airs, MacBooks and iMacs.

We're also looking for widescreen (19" or larger) LCD Monitors.

If your computer or monitor meets these specifications and you'd like to donate it to Democracy Now!, please send an email to equipment (at) democracynow (dot) org. If you're not sure what model your Mac computer is, follow these instructions to find out:
Choose About This Mac from the Apple menu in the upper-left of your screen.

Click "More Info..."

Find the model identifier listed in the Hardware Overview under the Hardware section.
Donate Equipment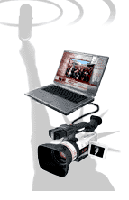 Democracy Now! is pioneering the largest public media collaboration in the country – and we are always in need of donated equipment! Every new camera or monitor helps us to produce the program. Send us an email describing the piece of equipment you'd like to donate. Here are some examples of items we are always looking for:
Flat-Panel LCD Monitor
Hard Drives (500 GB and up)
Digital Video Camera
Multiple CD/DVD Burner
Software (e.g. Final Cut Pro)
Plasma Flat Screen TV
Other Ways to Donate
Donate Services and Products from your Business

Let us know what you can offer, either for free or at an amazing discount.
Donate Time
Volunteer either at our studio/office or from your home. We are in constant need of help with our administrative, outreach, and even production efforts.
Donate Stocks and Bonds
Contact us to make a tax-exempt stock donation.
Does your Employer have a Charitable Gift Matching Program?
Many companies offer a matching gift programs for their employees. If your company does have such a program, please register your donation to us with them so they can match it.
Donate in Honor of a Special Occasion or in Memory of a Beloved
We can send a notice to the recipient of your choice to let them know that you have chosen to honor them with a donation to Democracy Now! Visit our online donation page and check the box to donate in honor or in memory of someone else. Include their email address and we'll make sure to let them know.
Ask your Friends to Donate to
Democracy Now!

in Lieu of Receiving Gifts for your Special Occasion

Ask friends and family to donate to Democracy Now! using our online donation page and check the box to donate in honor of or memory of someone. When they include your email address, you'll get a notification of their gift, and we will thank them on your behalf.
Thinking of Estate & Planned Gift Giving?
You might consider leaving assets to Democracy Now! in your will. If so, let us know.
Donate Your Old Car and Receive a Tax Deduction
Support Democracy Now! with a vehicle donation! It's easy. Just call 1-877-308-2408 or go to vehiclesforcharity.org. Vehicles for Charity will pick your vehicle up, process the title, sell it at auction, and give the proceeds to Democracy Now!. Vehicles for Charity processes vehicle donations for many organizations, so please make sure that Democracy Now! is listed as your selected charity.