Iowa Caucuses Begin Tonight with Tight Polls on Both Sides
February 01, 2016
Headlines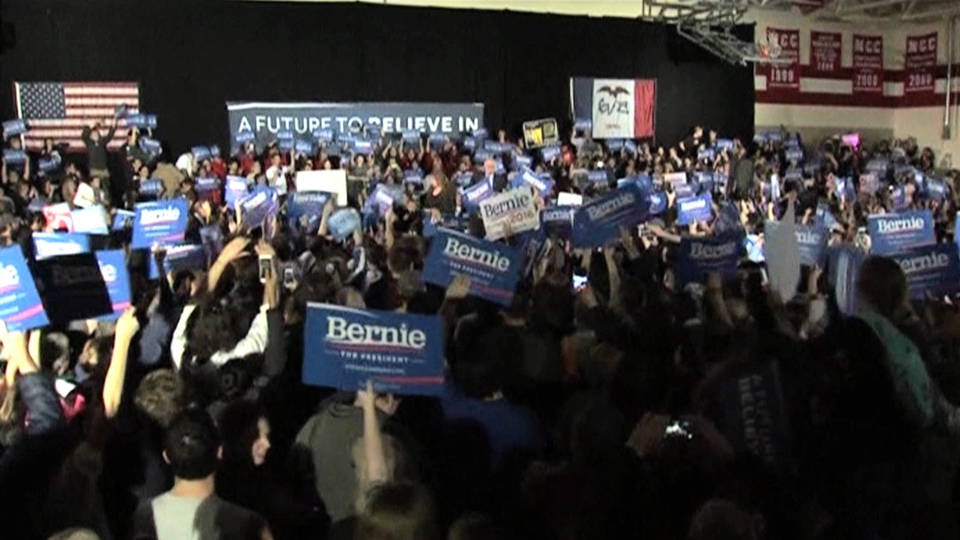 The road to the White House begins in Iowa tonight—one of the whitest states in the country. Voters will gather at 8 p.m. Eastern time to select their picks for the Democratic and Republican nominations. Polls show tight races on both sides. Republican front-runner Donald Trump holds a small lead over Texas Senator Ted Cruz. In the Democratic race, Vermont Senator Bernie Sanders has rallied to close what was once a 40-point deficit behind Hillary Clinton. On Sunday, more than a thousand people gathered to hear Sanders' final speech before voting begins.
Sen. Bernie Sanders: "And what this campaign is about, of course I'm here to try to win tomorrow night, try to win the Democratic nomination, try to win the general election. But more important and part of that process are millions of people coming together, black and white and Latino, gay and straight, male and female, people born in this country, people who have immigrated into this country. We will not allow Donald Trumps and the other people—we will not allow them to divide us up. We will stand together."
The campaigns are watching an approaching winter storm that could impact voter turnout. As the first in the nation to vote on presidential hopefuls, the Iowa caucus plays an outsize role in the election cycle. Voters have been treated to months of visits from candidates and more than $150 million in political advertising. We'll have more from Iowa after headlines.
Former Staffer Accuses Trump's Campaign of Sex Discrimination
February 01, 2016
Headlines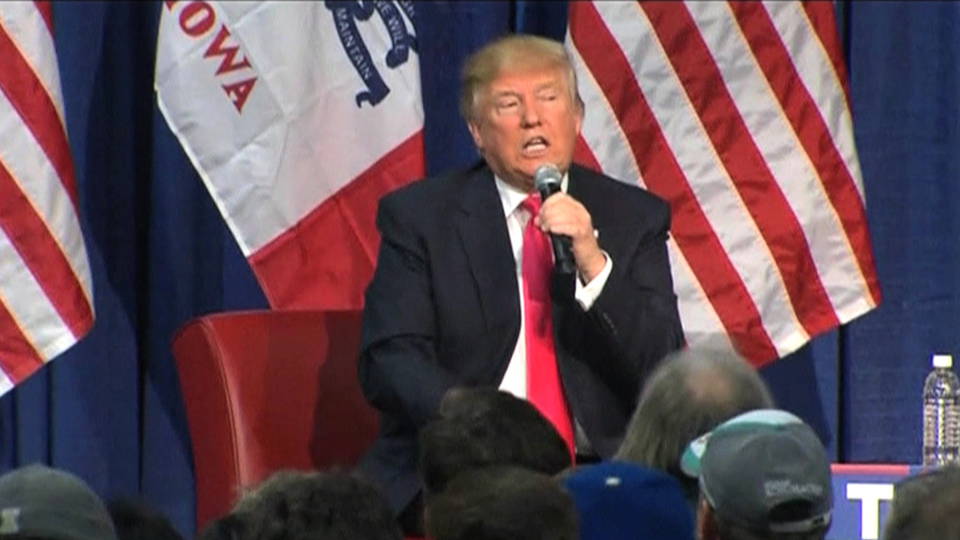 In more news from the campaign trail, a former paid staffer has accused Donald Trump's campaign of sex discrimination. Twenty-six-year-old Elizabeth Mae Davidson has filed a complaint alleging Trump's campaign paid male organizers more than female organizers doing the same jobs. Davidson worked for Trump's campaign as a district representative in Davenport, Iowa. She says she was paid $2,000 a month, while her male counterparts were paid as much as $4,000 a month. The complaint also alleges that Trump told her and another young female volunteer at a rally in 2015, "You guys could do a lot of damage"—a reference to her looks. Trump denied making this remark by telling The New York Times: "That is not the worst thing that could be said. But I never said it."
State Dept. Will Not Release 22 Clinton Emails, Citing "Top Secret" Material
February 01, 2016
Headlines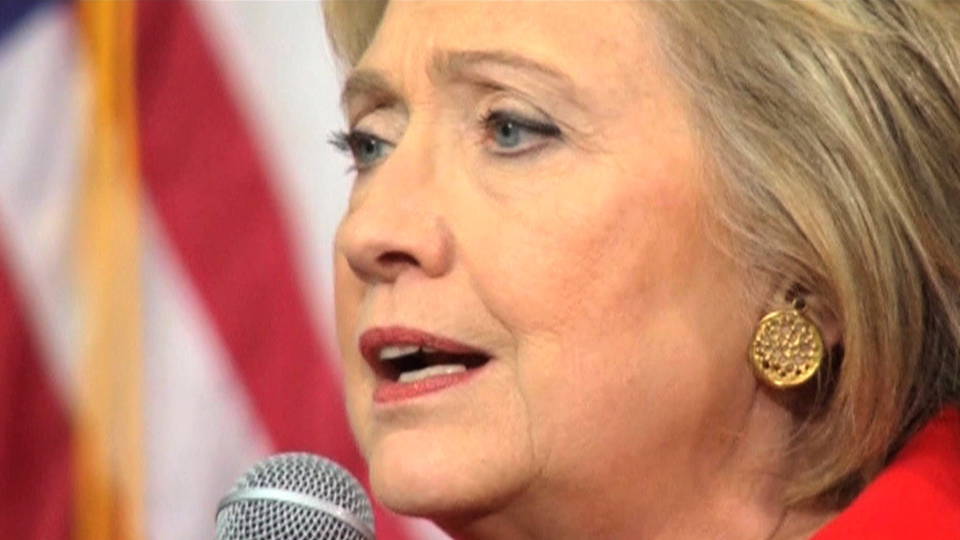 The State Department has determined at least 22 of Hillary Clinton's emails sent over her private server contained highly classified information. This comes amid a months-long inquiry into Clinton's use of a private email server while she was secretary of state. Clinton has previously said none of the emails she sent or received were marked classified at the time. The State Department says while they were not deemed classified when they were sent, they will not make public at least 22 emails now because they contained material that was "top secret."
Syria: ISIL Attacks Dozens at Revered Shia Mosque
February 01, 2016
Headlines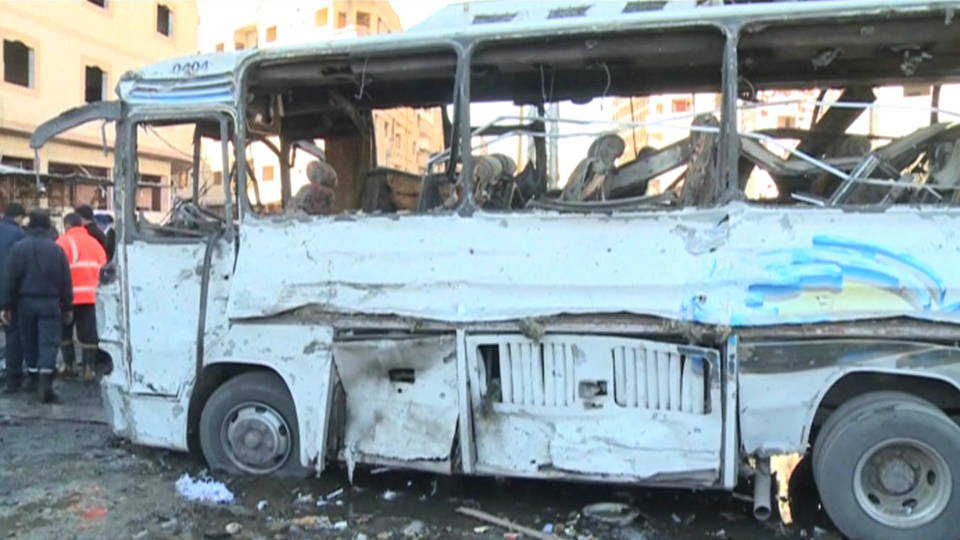 In Syria, at least 70 people have been killed in an attack by the self-proclaimed Islamic State near the revered Sayyida Zeinab Mosque south of Damascus. The Sayyida Zeinab Mosque is one of the most important Shia holy sites in the world. Sunday's attack came as the United Nations attempts to mediate peace talks between Syrian President Bashar al-Assad's regime and various opposition groups.
Nigeria: More Than 80 Killed in Boko Haram Attack in Borno State
February 01, 2016
Headlines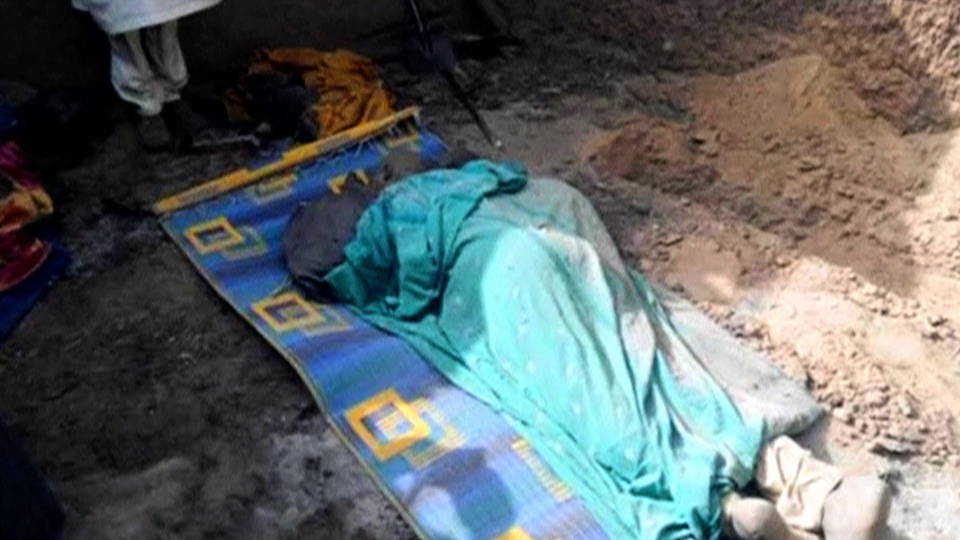 In Nigeria, as many as 86 people have been killed after Boko Haram militants attacked a village in the northeast Borno state. Witnesses say the attack included three female suicide bombers, as well as men firing on residents and lighting fire to their homes. The attack comes about a month after Nigerian President Muhammadu Buhari said Nigeria has "technically won the war" against Boko Haram.
U.S. Stepping Up Airstrikes and House Raids in Afghanistan
February 01, 2016
Headlines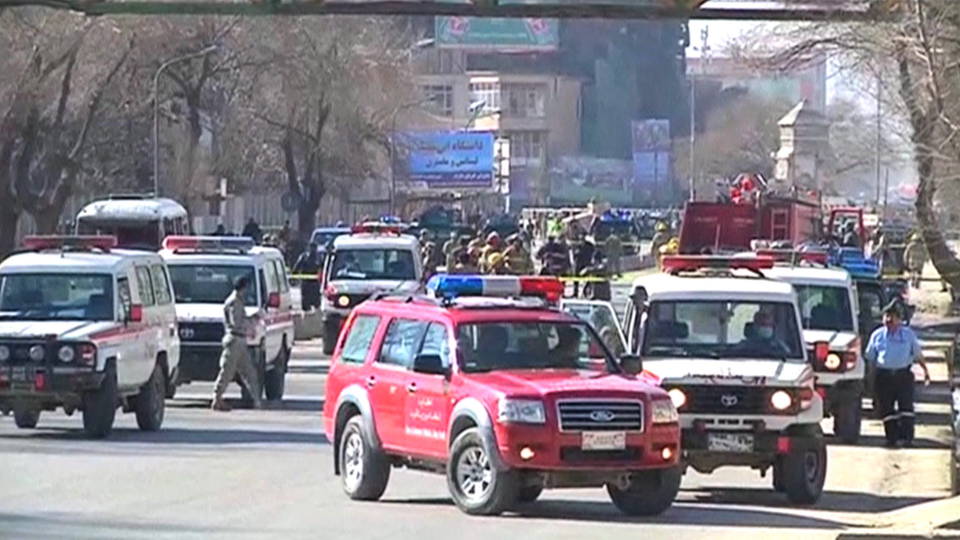 In news from Afghanistan, Pentagon officials report carrying out at least a dozen airstrikes and house raids against militants with the self-proclaimed Islamic State over the last few weeks. This comes after the White House broadened the scope of U.S. military actions against ISIL last month. President Obama officially declared an end to the U.S. combat mission in Afghanistan in 2014. Yet there are currently nearly 10,000 U.S. troops serving in Afghanistan. Pentagon officials told The New York Times they estimate that U.S. airstrikes and home raids have killed as many as a 100 ISIL militants within the last few weeks. Meanwhile, in Kabul, at least 10 people have died in a suicide bomb attack near the Afghan Parliament this morning.
Ban Ki-moon: "History Proves People Will Always Resist Occupation"
February 01, 2016
Headlines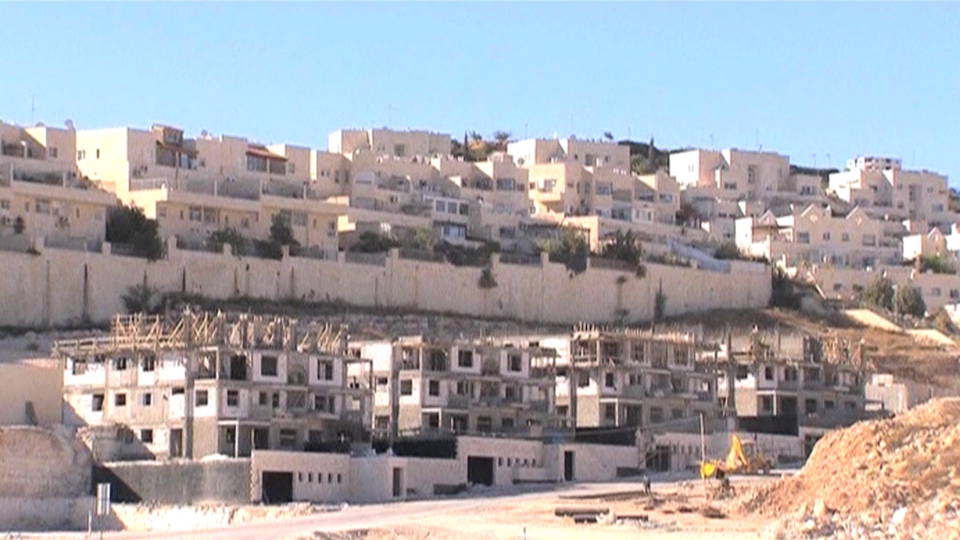 U.N. Secretary-General Ban Ki-moon has written a strongly worded New York Times op-ed criticizing Israel's continued occupation of the West Bank and Gaza. This comes amid an increasing public dispute between Ban Ki-moon and Israeli Prime Minister Benjamin Netanyahu. Last week, Ban called Israeli settlements "an affront to the Palestinian people and to the international community." In response, Israeli Prime Minister Benjamin Netanyahu said Ban Ki-moon's criticism gives "a tailwind to terrorism" and that the "U.N. lost its neutrality and moral force a long time ago." In Ban's editorial, entitled "Don't Shoot the Messenger," he accused Netanyahu of twisting his words and wrote: "History proves that people will always resist occupation."
Ethiopia: Climate-Fueled Drought Causing Critical Food Shortages
February 01, 2016
Headlines
Meanwhile, Ban Ki-moon visited Ethiopia over the weekend amid the country's worst drought in decades. The drought has caused critical food shortages for more than 10 million people. A local resident spoke out.
Ezkeil Gebremedhin: "It is really going to be life-threatening if this continues as it is now, because we have nothing to eat. We are in the hands of the government now."
New research shows climate change is accelerating drought conditions in the Horn of Africa.
African Union Not to Send Peacekeeping Forces to Burundi
February 01, 2016
Headlines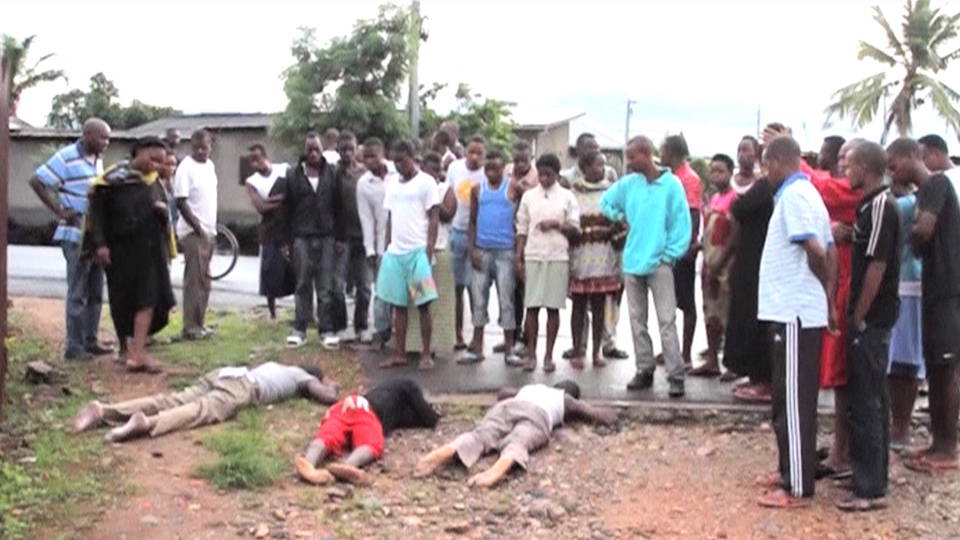 The African Union has abandoned its plans to send peacekeeping forces to Burundi amid ongoing violence sparked by Burundi President Pierre Nkurunziza's decision last year to seek a third term. More than 400 people have been killed and nearly a quarter of a million have fled abroad since April. The violence is the worst Burundi has seen since the end of its 12-year civil war, which ended in 2005.
Europol: Thousands of Refugee Children Missing in Europe
February 01, 2016
Headlines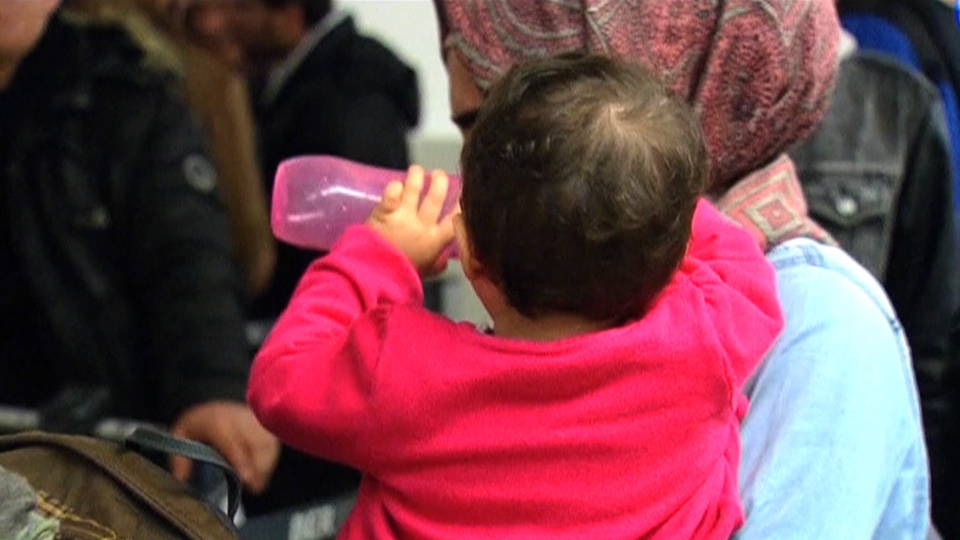 In news from Europe, Europol says at least 10,000 child refugees have disappeared after arriving on European soil, sparking concern that many have fallen victim to human and sex trafficking. Europol says thousands of children have registered with European authorities yet are now are unaccounted for. The agency estimates some may be with family members but that others have fallen into hands of a pan-European "criminal infrastructure."
Sweden: Police Arrest Suspects in Attempted Attack on Refugees
February 01, 2016
Headlines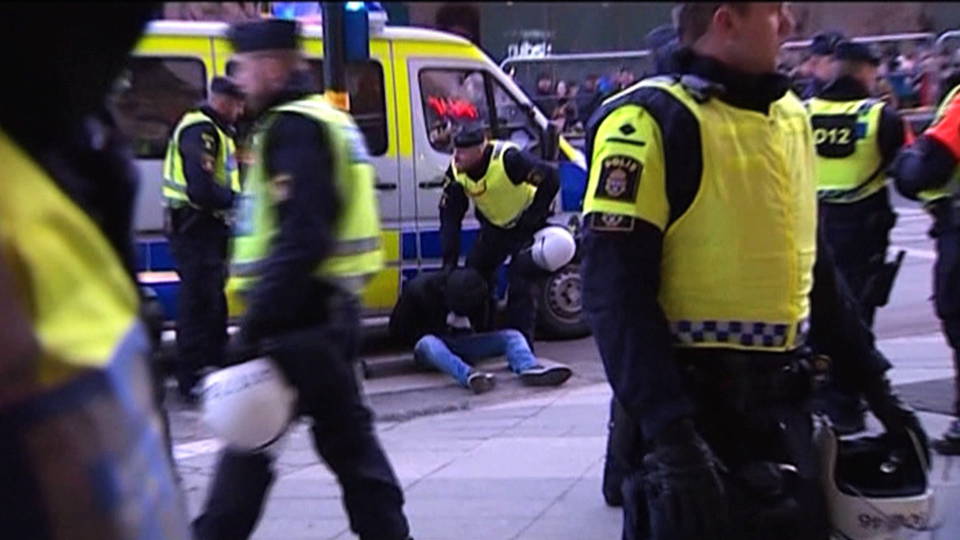 Meanwhile, in Sweden, a group of suspects have been arrested after more than 100 men, some wearing masks and carrying wooden sticks, descended on central Stockholm Friday night with the intention of beating up refugee children. A flier distributed before the planned attack threatened to give refugee children the "punishment they deserve." Police say they arrested some of the men before the attack could occur. It appears the planned attack may have been in reaction to the recent death of Swedish asylum worker Alexandra Mezher, who was killed last week at a center for unaccompanied minors.
Texas: Transgender Woman Monica Loera Murdered
February 01, 2016
Headlines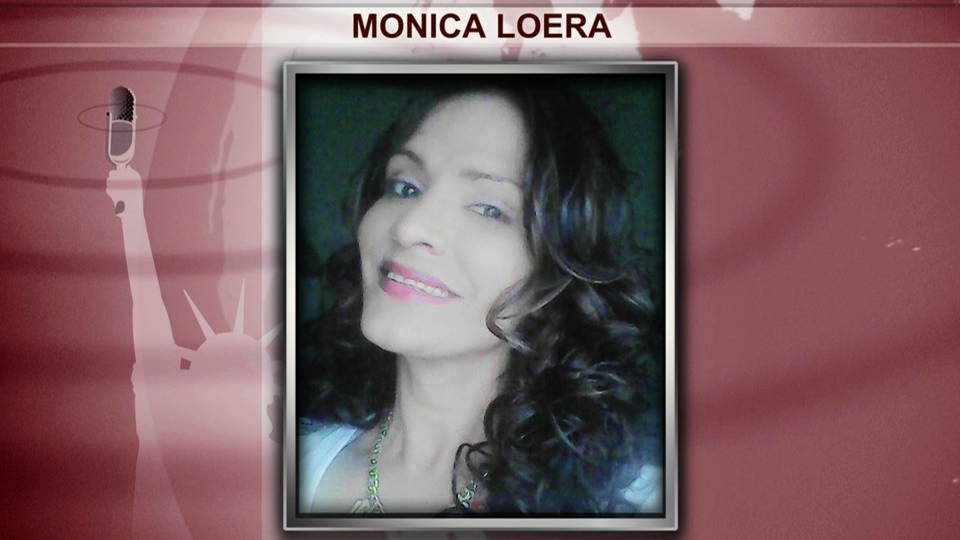 In Austin, Texas, transgender woman Monica Loera has been murdered. Police say a man arrived at Loera's house on Friday night saying he'd forgotten his jacket. He pounded on the door until Loera opened it, at which point the man shot her. Police have arrested the man in connection with the shooting. But the police reports and the subsequent local media reports misgendered Loera for days, referring to her as male and calling her by her previous name, David. Last year, more than 20 transgender women were murdered in the U.S., more than any other year on record.
Michigan State Board Rejects Petition to Recall Gov. Snyder
February 01, 2016
Headlines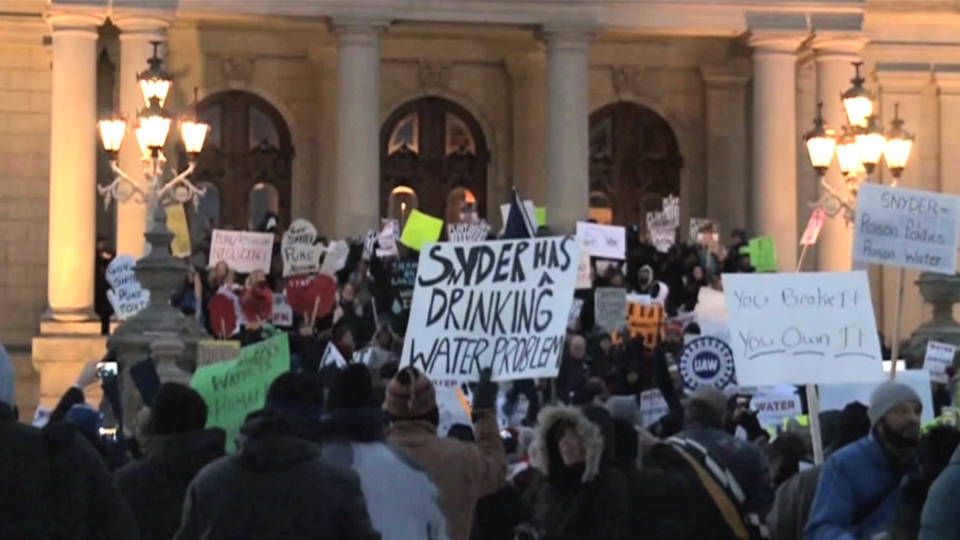 In news from Michigan, the Board of State Canvassers has rejected a petition to recall Michigan Governor Rick Snyder over his handling of Flint's lead-poisoned water. The crisis began after a Snyder-appointed, unelected emergency manager switched the source of Flint's drinking water to the corrosive Flint River. Flint resident Quincy Murphy had filed the petition to begin a recall effort against Snyder for "failing to protect the health and safety" of Flint residents. Flint residents have been calling for Snyder's resignation and arrest over the ongoing water contamination crisis.
New York City: B&H Store Workers Join Unionization Campaign
February 01, 2016
Headlines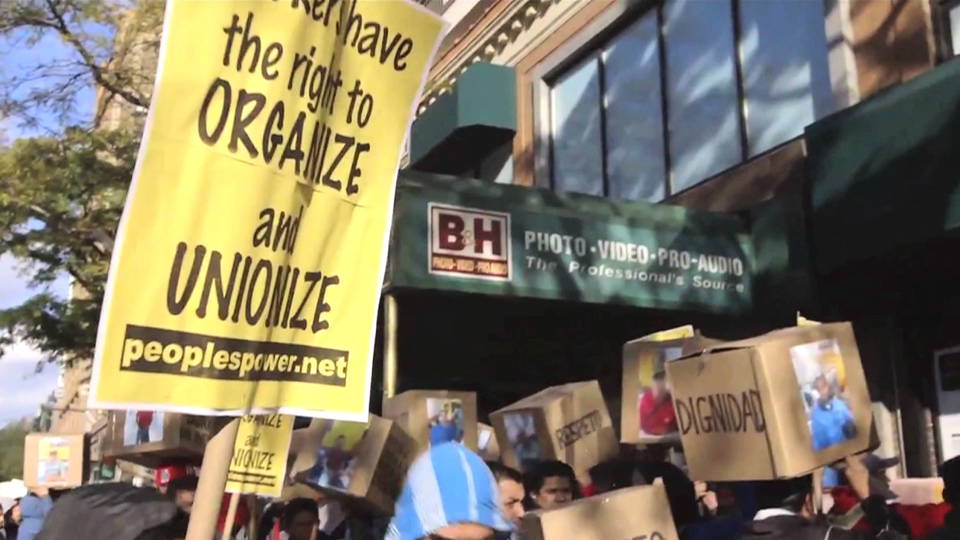 In New York City, dozens of store workers from the flagship B&H Photo Video store in Manhattan held a protest and a rally Sunday to demand better working conditions and the right to unionize. This comes after more than 200 B&H warehouse workers launched a public unionization campaign last year, with leadership training from the Laundry Workers Center. The warehouse workers successfully voted to unionize with the United Steelworkers last fall and are about to begin contract negotiations.
"Birth of a Nation" Wins Top Prizes at 2016 Sundance Film Festival
February 01, 2016
Headlines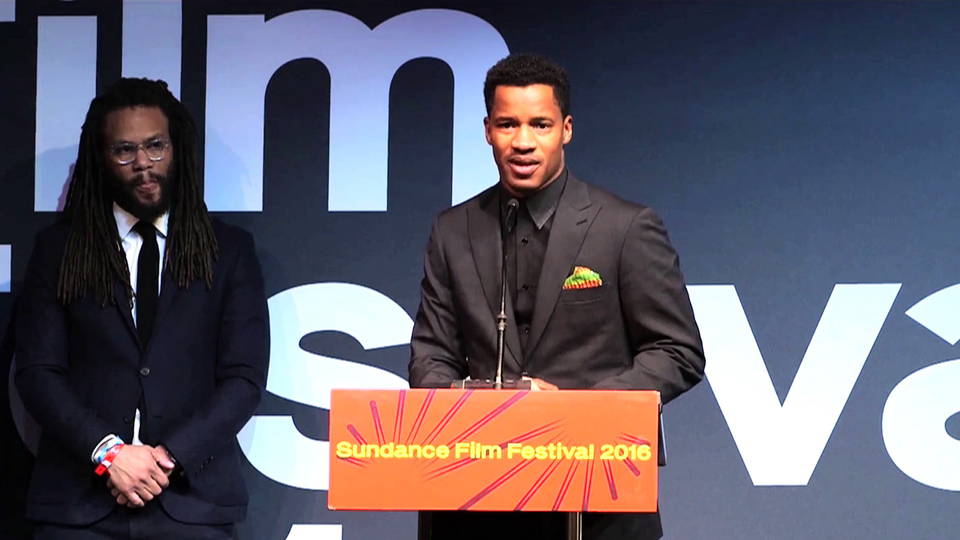 And in news from Park City, Utah, Nate Parker's "The Birth of a Nation" won top prizes at the 2016 Sundance Film Festival. Parker produced, directed and starred in the feature film about the 1831 slave rebellion in Southampton County, Virginia, organized by enslaved man and preacher Nat Turner. On Saturday night, Parker accepted both the grand jury prize for a narrative film and the audience award for drama.
Nate Parker: "This means so much to me, because a film like this, being a film that some would call an issue film, it succeeds when it touches people, when it affects people. And I've seen firsthand that people are open to the idea of change, and the fact that it's happening through this film means everything to me. So I just want to thank you all so much. Thank you, Sundance, for creating a platform for us to grow, in spite of what the rest of Hollywood is doing sometimes. So thank you for being the leader in what you do."
In the documentary category, Roger Ross Williams won best director for "Life, Animated," the story of autistic man Owen Suskind. Williams, who is also the first African-American director to win an Academy Award, spoke out about the #OscarsSoWhite controversy in his acceptance speech.
Roger Ross Williams: "In the age of #OscarsSoWhite and a lack of diversity in Hollywood, I want to thank the Institute for supporting artists like me, who never get—who never have a voice. Owen Suskind is an amazing, an amazing individual, because what he taught me is that people living with autism have so much to offer the world, and if we leave them behind, we're losing out as a society. And I really wanted to tell this story from his point of view. So thank you so much."
And the documentary "Trapped" won the Special Jury Award for Social Impact Filmmaking. The film addresses so-called TRAP laws, which stands for Targeted Regulation of Abortion Providers, and their impact on abortion providers in the South. During her acceptance speech, director Dawn Porter spoke about the challenges abortion providers face.
Dawn Porter: "This film is really for all the people who are risking their lives and their health and safety and keeping clinics open, and all the abortion providers and people. We see you. We hear you. Your story is important. And this will go so much—so far to tell that story. So thank you so much."
To see our full interviews with directors Dawn Porter and Roger Ross Williams during the Sundance Film Festival, go to our website democracynow.org. Another one of the films that won top prize was "Jim," about the slain journalist James Foley. To see our interview with James Foley's family, go to our website, democracynow.org.