Clinton Defeats Sanders in South Carolina Democratic Primary
February 29, 2016
Headlines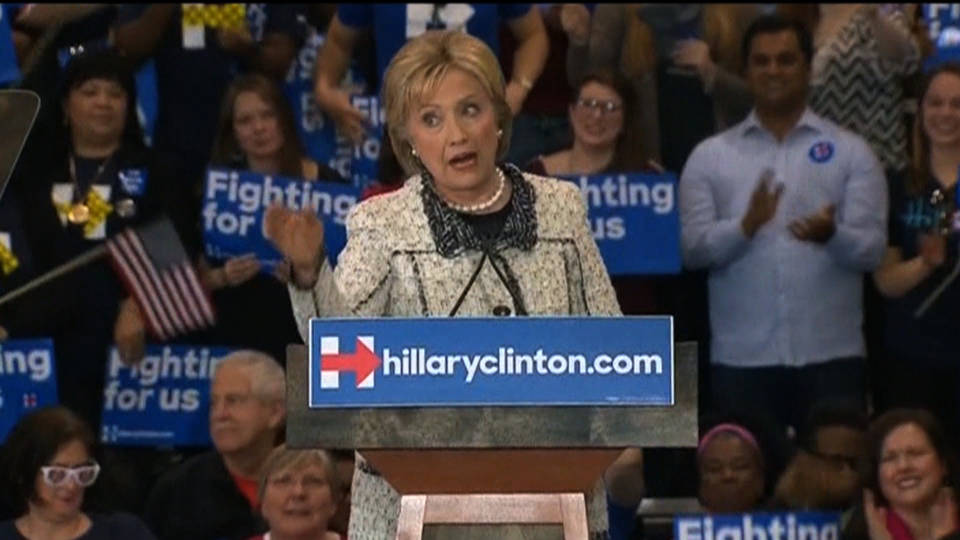 In South Carolina, Democratic presidential candidate Hillary Clinton scored a decisive victory over rival Bernie Sanders in the primary, winning 73.5 percent of the vote and picking up 39 additional delegates. African Americans in South Carolina favored Clinton over Sanders by more than six to one, while white voters narrowly preferred her, as well. In her victory speech, Clinton responded to Republican presidential front-runner Donald Trump's vow to "make America great again."
Hillary Clinton: "Despite what you hear, we don't need to make America great again. America has never stopped being great. But we do need to make America whole again. Instead of building walls, we need to be tearing down barriers."
Clinton's victory propels her into this week's critical Super Tuesday voting, where a dozen states go to the polls and about 880 delegates are at stake.
Sanders' Supporters Rally in NYC, Say They're "Not Here for Boys"
February 29, 2016
Headlines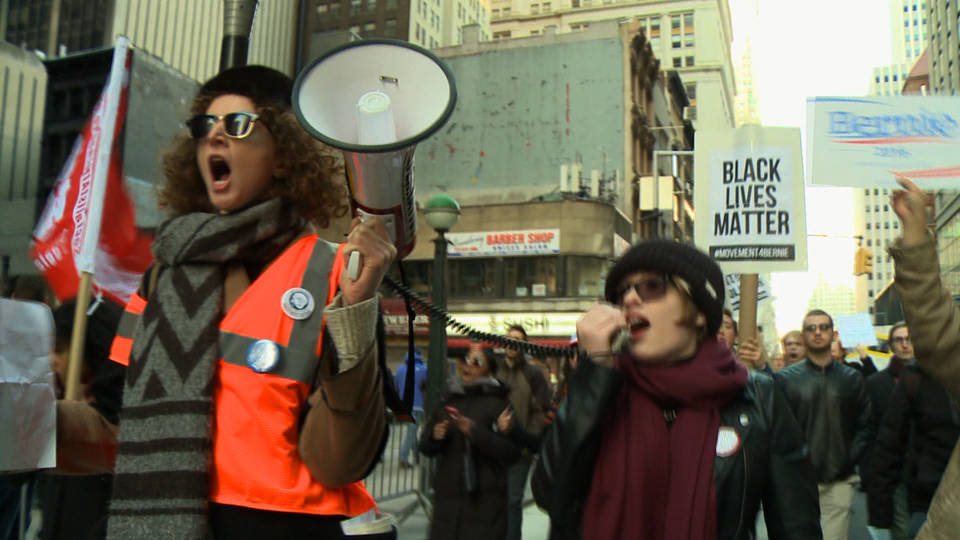 Meanwhile, here in New York, hundreds of supporters of Clinton's rival, Vermont Senator Bernie Sanders, gathered in Union Square and marched to Zuccotti Park, where Occupy Wall Street began. Participants said they were responding to Clinton supporter Gloria Steinem, who was forced to apologize after suggesting young women support Sanders because "that's where the boys are."
Elma Relihan: "Today's march is 'Not Here for Boys,' so it responds to comments made by Gloria Steinem that were very insulting comments, saying that women were just here for boys. In fact, women—Bernie's campaign and Bernie's program is addressing a lot of fundamental needs that working-class women have. The single-payer system, the $15-an-hour minimum wage, free tuition are things that really resonate with young people, young women. And that's why women are out here today to show that we are supporting Bernie, that we are wanting to build a movement that goes beyond the presidential campaign, that builds a fighting movement, an independent force that can fight for women's rights and also for workers' rights, for labor rights."
DNC Vice Chair Resigns to Back Sanders; Bill Clinton's Labor Secretary Endorses Sanders
February 29, 2016
Headlines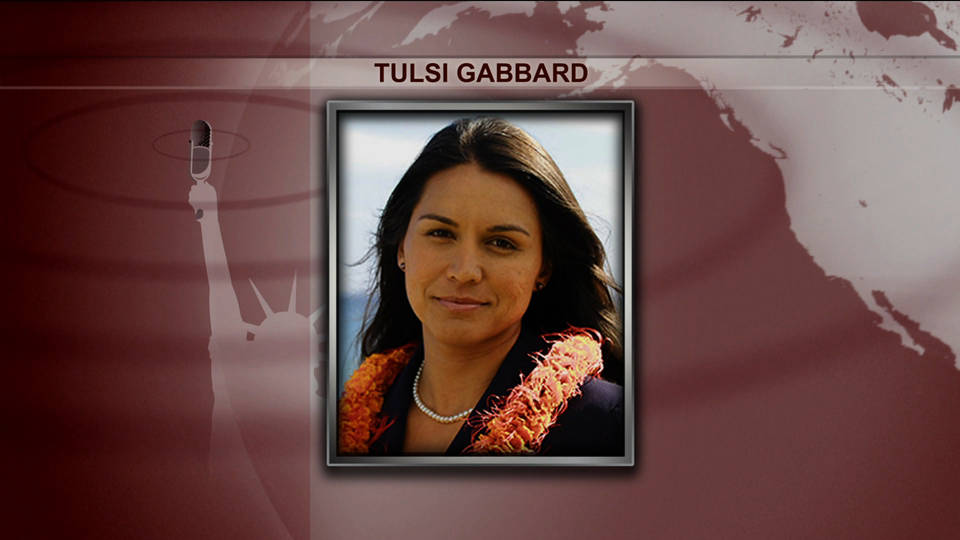 On Sunday, Democratic Representative Tulsi Gabbard of Hawaii resigned as a vice chair of the Democratic National Committee in order to endorse Senator Bernie Sanders for president. Gabbard had clashed with DNC Chair Debbie Wasserman Schultz—who co-chaired Hillary Clinton's 2008 presidential bid—over the number of debates, which is seen as favoring Clinton over Sanders. Meanwhile, Robert Reich, who was labor secretary under President Bill Clinton, also endorsed Sanders, saying he believes "Bernie Sanders is the agent of change this nation so desperately needs." We'll have more on the latest primary news after headlines.
New Jersey Gov. Chris Christie, Alabama Sen. Jeff Sessions Back Trump
February 29, 2016
Headlines
Alabama Senator Jeff Sessions has become the first sitting senator to endorse Republican presidential front-runner Donald Trump. The endorsement came two days after New Jersey Governor Chris Christie backed Trump, despite excoriating him on the campaign trail before Christie himself backed out of the race.
Trump Refuses to Condemn Endorsements from Former KKK Leader
February 29, 2016
Headlines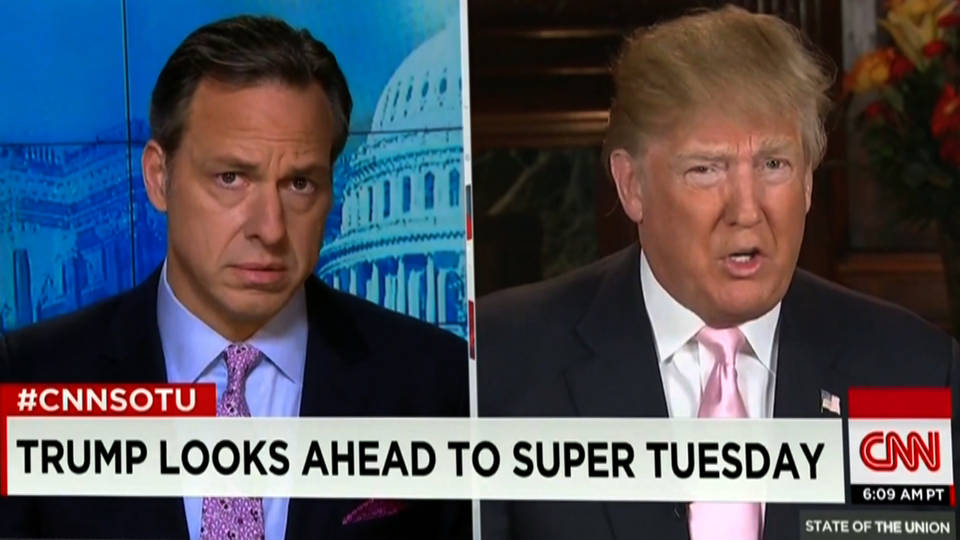 Meanwhile, in an appearance on CNN, Trump refused to condemn endorsements from David Duke, a prominent white supremacist and former KKK leader. In an interview with Jake Tapper, Trump said he didn't know David Duke.
Donald Trump: "I'd have to look. If you would send me a list of the groups, I will do research on them, and certainly I would disavow if I thought there was something wrong."
Jake Tapper: "The Ku Klux Klan?"
Donald Trump: "But you may have groups in there that are totally fine, and it would be very unfair. So give me a list of the groups, and I'll let you know."
Jake Tapper: "OK, I mean, I'm just talking about David Duke and the Ku Klux Klan here, but..."
Donald Trump: "I don't know any—honestly, I don't know David Duke. I don't believe I've ever met him."
Despite what he said, Trump has actually disavowed David Duke in the past: In 2000, Trump opted not to launch a presidential bid for the Reform Party, saying in part that the party "now includes a Klansman, Mr. Duke. ... This is not company I wish to keep." Later Sunday, Trump posted a video on Twitter of himself disavowing David Duke.
Iraq: Double Suicide Bombing Kills At Least 70 in Baghdad
February 29, 2016
Headlines
In news from Iraq, a double suicide bombing claimed by ISIL has killed at least 70 people in a Shiite section of the capital Baghdad, marking the deadliest attack inside the city this year. The attackers blew themselves up inside a crowded cellphone market in the neighborhood of Sadr City. Outside the capital Baghdad, in the suburb of Abu Ghraib, ISIL militants attacked Iraqi security forces, killing at least 17 of them and seizing a grain silo and cemetery, before they were mostly pushed back. Abu Ghraib is known as the site of a prison of the same name where U.S. troops abused Iraqi prisoners following the U.S. invasion of Iraq in 2003.
Topics:
Syria: Both Sides Accused of Violating Fragile Ceasefire
February 29, 2016
Headlines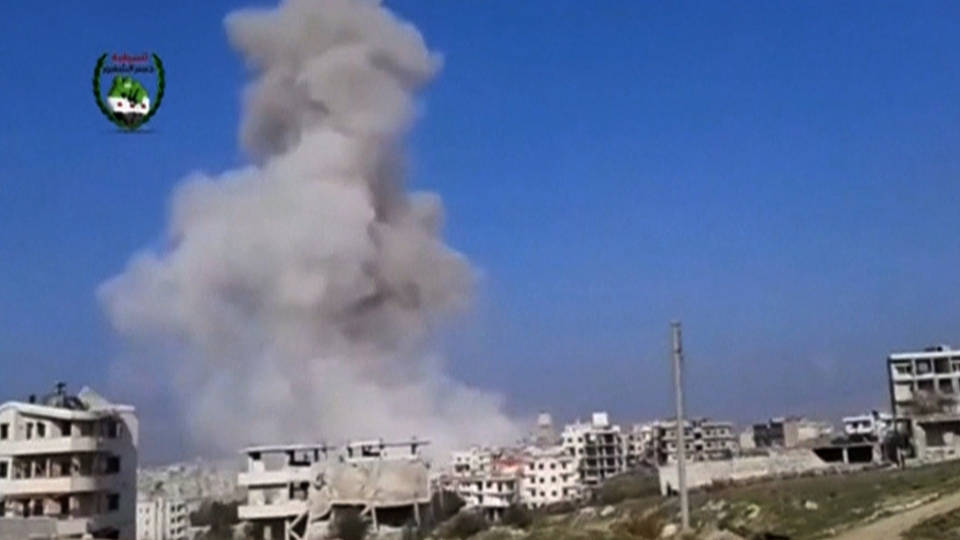 In Syria, a partial ceasefire brokered by the United States and Russia has entered its third day, amid accusations of violations from both sides. Airstrikes by either Syria or Russian warplanes hit a number of rebel-held villages in what the Syrian opposition called a violation of the truce. Meanwhile, Russian officials accused rebel groups of violations. However, overall, the ceasefire, which is the first to be attempted in years, appears to have calmed the violence.
Topics:
Yemen: U.S.-Backed Coalition Bombs Market, Killing 40
February 29, 2016
Headlines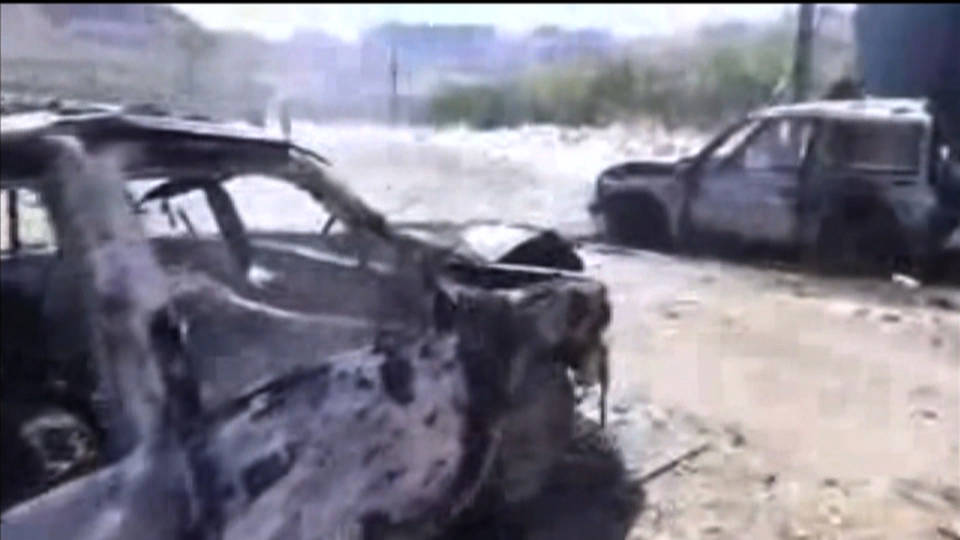 In Yemen, the U.S.-backed, Saudi-led coalition fighting Houthi rebels has struck a bustling market northeast of the capital Sana'a, killing 40 people. About 30 more people were injured. Residents said most of the casualties were civilians. The United Nations says about 6,000 people have been killed since the U.S.-backed coalition began bombing the rebels in March, about half of them civilians.
Topics:
Japan: Three Executives Indicted for Fukushima Nuclear Disaster
February 29, 2016
Headlines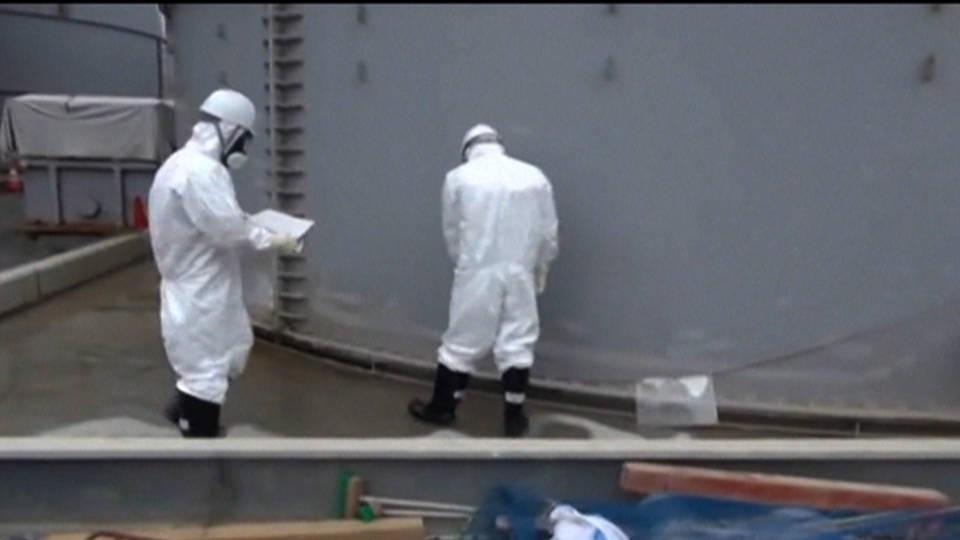 In news from Japan, the former CEO and two other former executives of nuclear giant TEPCO have been indicted for negligence over the disaster at the Fukushima nuclear plant nearly five years ago. In March 2011, a massive earthquake and tsunami triggered a nuclear meltdown, exposing workers and residents to radiation and forcing a mass evacuation. Nearly 15,000 Fukushima residents filed a complaint, but prosecutors twice refused to bring charges against the executives. Then last year, a citizens' panel ruled the executives should face trial, forcing the first criminal action over the disaster to move forward.
London: Tens of Thousands Rally Against British Nuclear Program
February 29, 2016
Headlines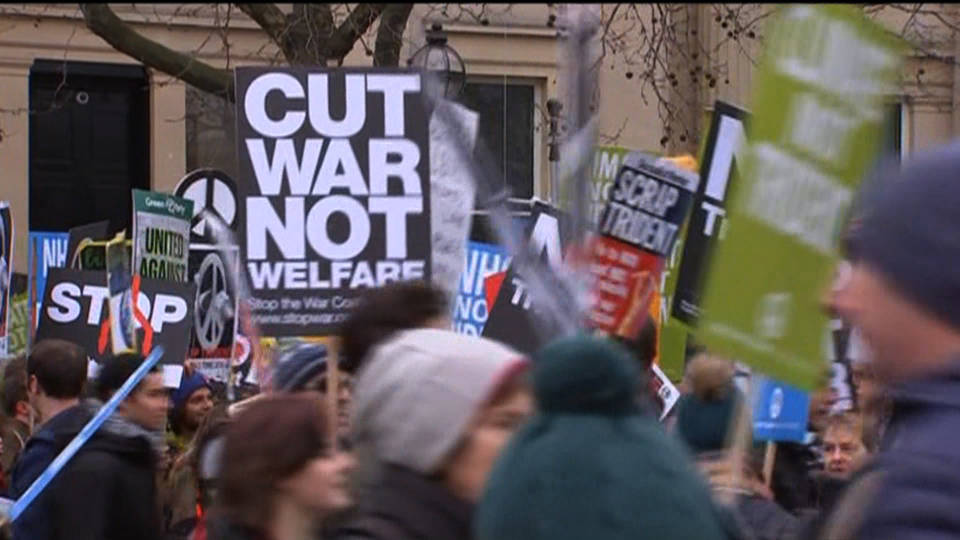 Meanwhile in London, tens of thousands of people rallied against Britain's nuclear weapons program, marking what The Guardian called "Britain's biggest anti-nuclear weapons rally in a generation." Protesters traveled from as far away as Australia to join the protest, which comes as Parliament considers whether to spend billions replacing Britain's Trident nuclear system despite austerity cuts in other areas.
Topics:
Iran Election: Reformists Win in Tehran in Victory for Nuclear Deal
February 29, 2016
Headlines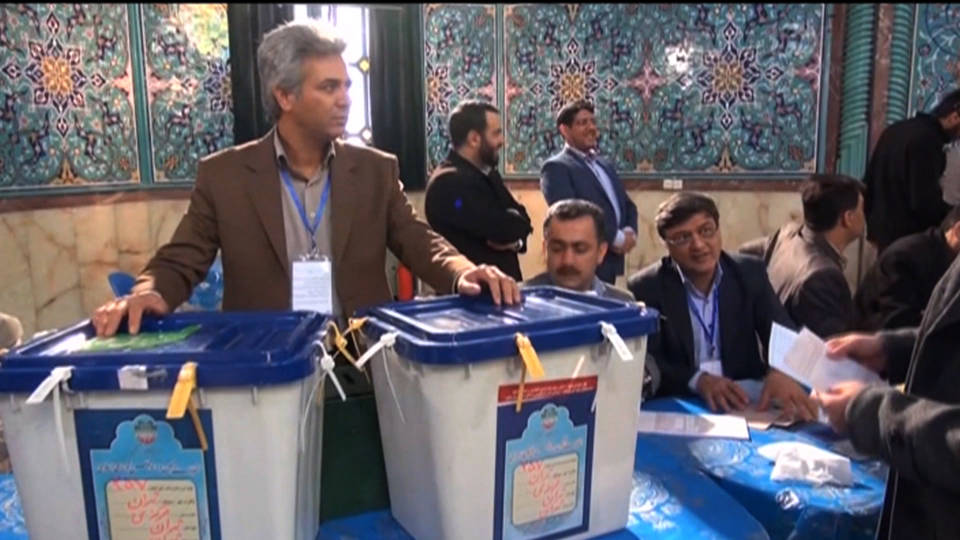 In Iran, the first elections since the landmark nuclear deal appear to have dealt a victory to reformist allies of President Hassan Rouhani. While final nationwide results appear unclear, in the capital Tehran, pro-government parties won all 30 parliamentary seats. Rouhani's allies also appear to have blocked a number of key hardline clerics from taking posts on an influential clerical council. The early results are seen as a victory for the nuclear deal after hardliners opposed it.
California: 4 Stabbed During Clash Between KKK and Counterprotesters
February 29, 2016
Headlines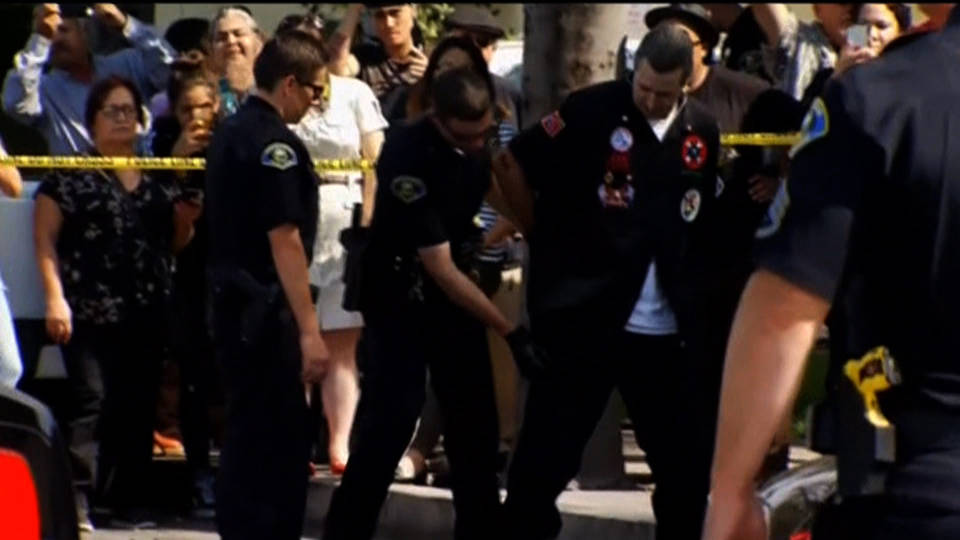 In Anaheim, California, violence erupted between members of the Ku Klux Klan and counterprotesters who disrupted a KKK rally. One person was critically wounded, and four were stabbed. Thirteen people were arrested, including a Klan member accused of stabbing a counterprotester with a flagpole.
Topics:
Michigan: Emails Show Gov. Snyder Aides Warned About Flint Water 1 Year Before It Was Switched Back
February 29, 2016
Headlines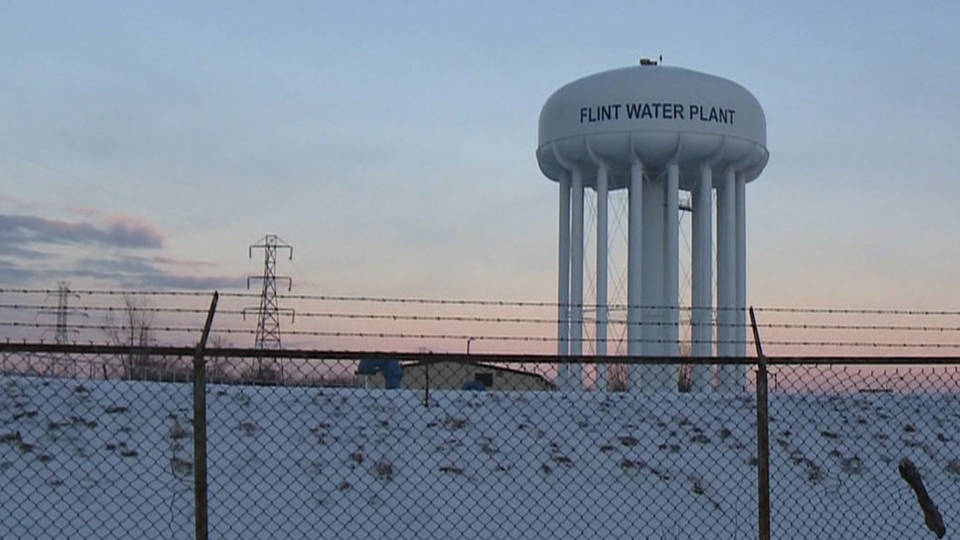 In the latest on the water crisis in Flint, Michigan, newly released emails show top aides of Michigan Governor Rick Snyder advocated changing the city's water back to the Detroit system just months after it was switched to the corrosive Flint River. The switch, made by an unelected emergency manager, poisoned the city's water supply with lead after the river water corroded the pipes. The emails show Snyder's deputy legal counsel raised objections to the river water as early as October 2014, citing bacterial contamination and calling it an "urgent matter to fix." Governor Snyder's legal counsel also backed those concerns, saying Flint should "try to get back on the Detroit system as a stopgap ASAP before this thing gets too far out of control." But it wasn't until a year later that the water was finally switched back, after 18 months of using the Flint River water. By then, residents had complained of a raft of cognitive and physical impairments from the poisoned water. To see our report from Flint go to democracynow.org.
African-American Stars Attend Benefit for Flint Instead of Oscars
February 29, 2016
Headlines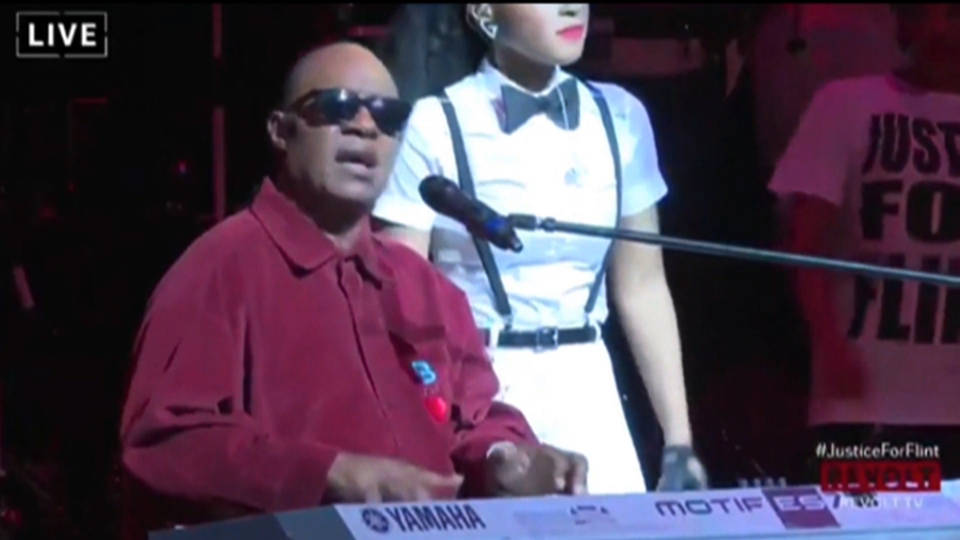 A group of African-American filmmakers, musicians and other stars held a benefit for Flint residents Sunday, the night of the Oscars. "Creed" director and co-writer Ryan Coogler, who was passed over for a nomination while white actor Sylvester Stallone was nominated for his role in the film, joined "Selma" director Ava DuVernay and many more at the #JusticeForFlint event, as did musicians Janelle Monáe and Stevie Wonder.
Topics:
Host Chris Rock Blasts White Oscars; "The Big Short" Director Criticizes Money in Politics
February 29, 2016
Headlines
Meanwhile at the Oscars, host Chris Rock made repeated references to the whiteness of the nominees. We'll play excerpts of his remarks later in the broadcast. In another political moment, director and screenwriter Adam McKay warned against big money in politics as he accepted an Oscar for best adapted screenplay for "The Big Short," about the financial crisis.
Adam McKay: "Most of all, if you don't want big money to control government, don't vote for candidates that take money from big banks, oil or weirdo billionaires. Stop!"
The Oscar for best picture went to "Spotlight," about The Boston Globe's coverage of sexual abuse by priests. We'll have more on the Oscars later in the broadcast.
Topics:
Washington: Man Kills Wife and Her Children in Latest U.S. Mass Shooting
February 29, 2016
Headlines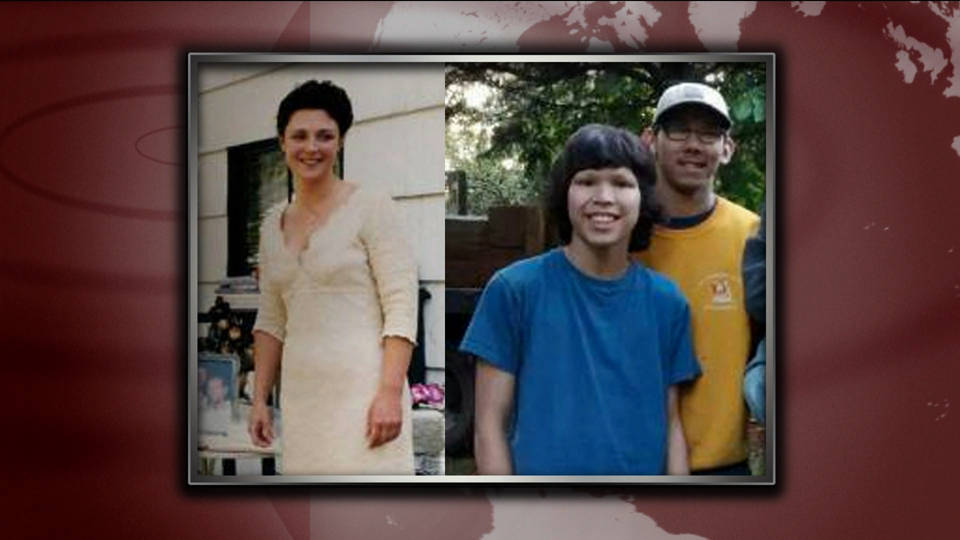 And in the latest mass shooting in the United States, a man in Washington state killed his wife and her two teenage children, then shot and killed himself. The identity of a fourth victim has not been released yet. Police tried for hours to get David Wayne Campbell to surrender after he killed his family. On average, three women are killed by their partners every day in the United States.
Topics: