Trump, Sanders Ahead as Primary Voting Begins in New Hampshire
February 09, 2016
Headlines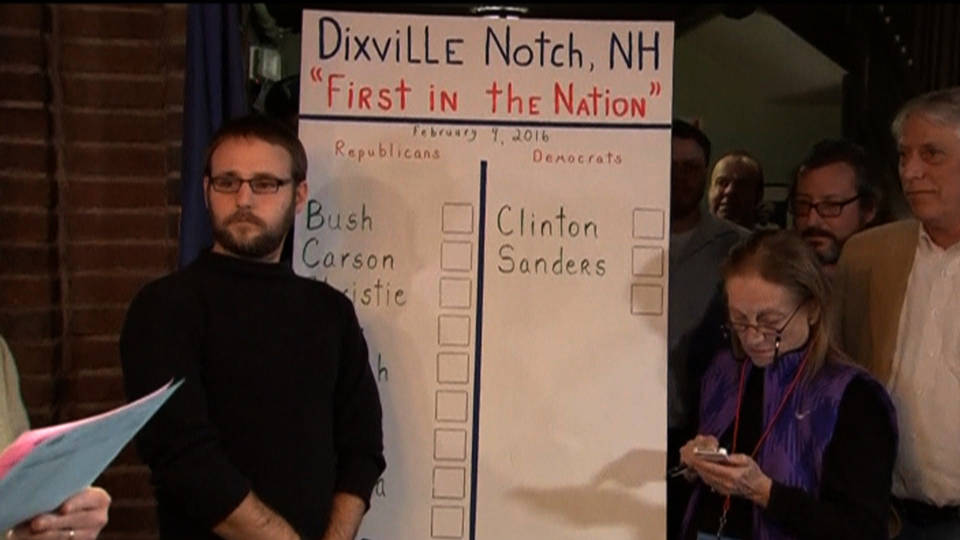 Voting has begun across New Hampshire for the first primary in the country. A half-million voters are expected to cast ballots. Just after midnight, voting took place in three small towns. In the Democratic race, Vermont Senator Bernie Sanders got a total of 17 votes to former Secretary of State Hillary Clinton's nine. In the Republican race, Donald Trump, Texas Senator Ted Cruz and Ohio Governor John Kasich each received nine votes. Trump and Sanders have been leading in almost every poll taken leading up to today's vote. On Monday, Sanders said he's no longer a fringe candidate.
Sen. Bernie Sanders: "When we began this campaign about nine months ago, we were at 3 percent in the national polls. And despite my neat hairdo and my GQ type of outfit, the media and the pundits didn't quite consider us a serious candidacy. In fact, the word 'fringe' was used a couple of times. We have come a long way in the last nine months."
Report: Top 100 Donors in 2016 Race Have Spent More Than Bottom 2 Million
February 09, 2016
Headlines
Meanwhile, a new analysis by Politico finds the top 100 biggest donors of the 2016 campaign have spent a total of $195 million—that's more than the $155 million spent by the 2 million smallest donors combined. The leading beneficiaries of the top 100 donors were Jeb Bush, Hillary Clinton and Ted Cruz.
U.N. Panel Finds "Extermination" of Prisoners in Syria
February 09, 2016
Headlines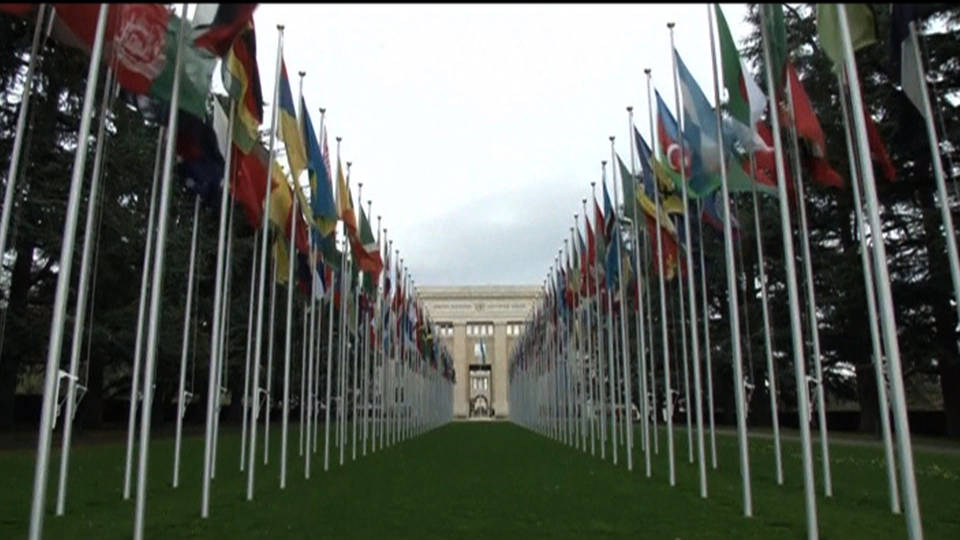 The United Nations has accused the Syrian government of torturing and killing prisoners on a massive scale that amounts to "extermination," a crime against humanity. Paulo Pinheiro, chair of the Independent International Commission of Inquiry on Syria, said investigators also found systematic killing, rape and torture by armed anti-government groups as well as ISIS and the al-Nusra Front.
Paulo Pinheiro: "Detainees are subjected to violations on a mass scale in governmental detention centers. Prisoners are routinely tortured and beaten. Forced to live in unsanitary and overcrowded cells, with little food and no medical care, many perish in detention. ... Anti-government armed groups have also committed violations against detainees. They have held government soldiers and members of rival armed groups in makeshift detention centers, where they are ill-treated and executed, or die after being tortured."
The report comes as tens of thousands of Syrians have massed near the Turkish border, fleeing Russian airstrikes and advancing Syrian government forces north of Aleppo. Turkey has kept the border closed, reportedly in a bid to pressure the United States to help create a buffer zone for civilians inside Syria.
U.S. Charges Widow of ISIS Leader in Death of Kayla Mueller
February 09, 2016
Headlines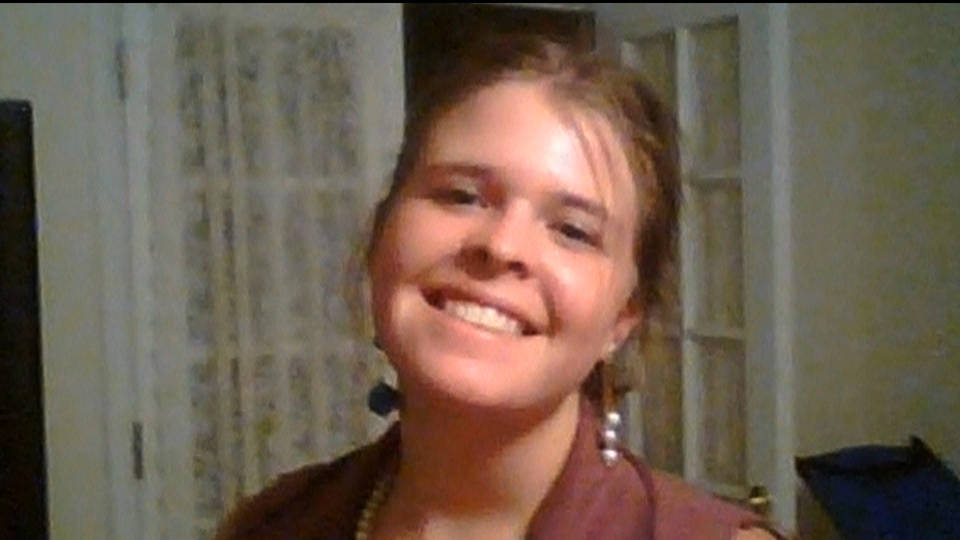 The Justice Department has charged the Iraqi widow of an ISIS leader with a role in the death of U.S. aid worker Kayla Mueller. Nisreen Assad Ibrahim Bahar, who is currently in Iraqi custody, is accused of helping hold Mueller hostage at a home where Mueller was repeatedly raped by ISIS leader Abu Bakr al-Baghdadi. Mueller was confirmed killed last year in what ISIS said was a coalition airstrike in Syria.
Canada to End ISIS Bombing by February 22
February 09, 2016
Headlines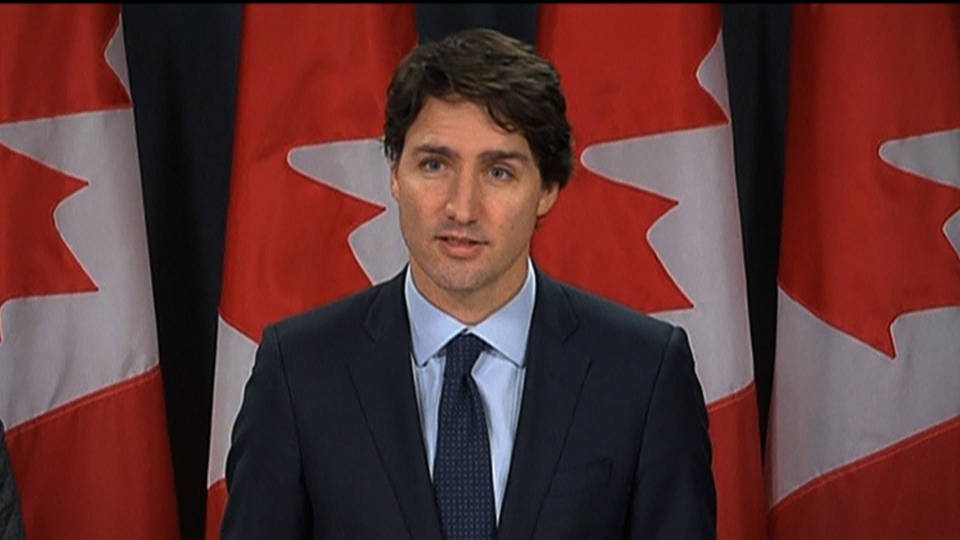 Canadian Prime Minister Justin Trudeau says Canada will end its bombing mission against the self-proclaimed Islamic State in Iraq and Syria by February 22, fulfilling his campaign pledge. Canada will withdraw six fighter jets but keep two surveillance planes in the region and triple the number of soldiers training Iraqi Kurdish forces. Trudeau spoke at a news conference in Ottawa Monday.
Prime Minister Justin Trudeau: "The lethal enemy of barbarism isn't hatred, it's reason. And the people terrorized by ISIL every day don't need our vengeance, they need our help."
Mexico: Crime Reporter Kidnapped from Home in Veracruz
February 09, 2016
Headlines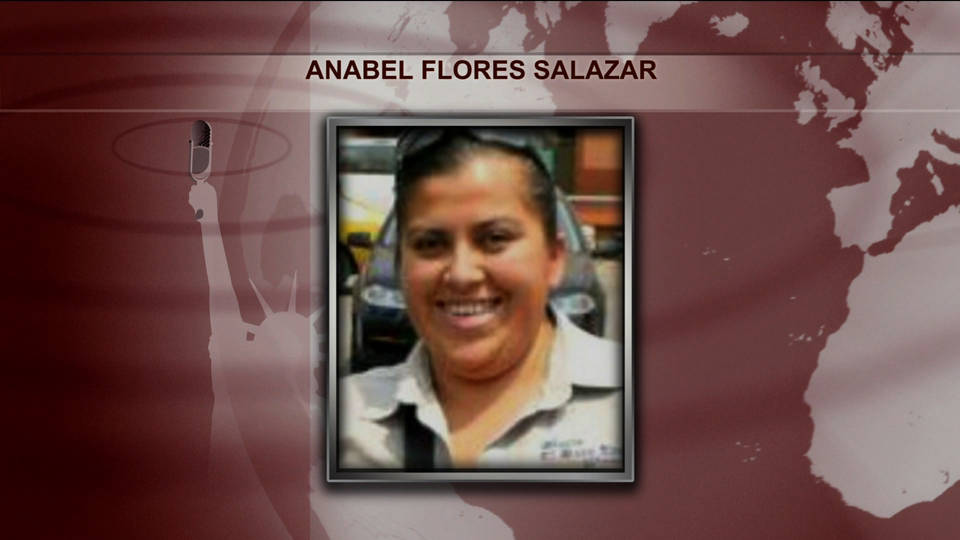 In Mexico, a crime reporter has been abducted from her home by armed men in the eastern state of Veracruz. Anabel Flores Salazar, who works for the newspaper El Sol de Orizaba, was kidnapped early Monday. The Committee to Project Journalists says Veracruz is among the most dangerous areas in the world for journalists.
London: Hundreds Mourn Prison Death of Sarah Reed
February 09, 2016
Headlines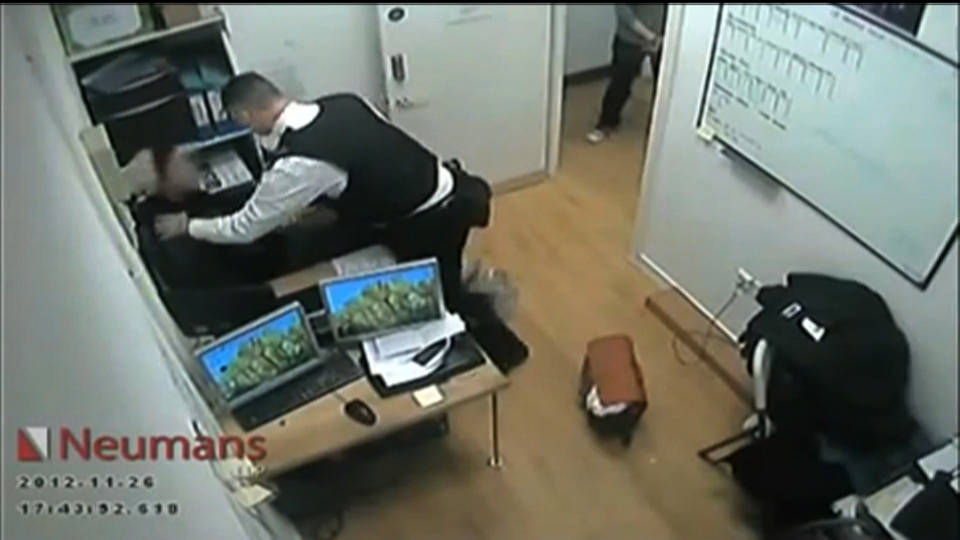 In London, hundreds of people gathered for a candlelit vigil outside Holloway Prison, where a black woman with mental health problems died last month. The Guardian reports Sarah Reed wrote to her family to say she was sexually assaulted while receiving treatment at a secure mental health unit. She was charged with grievous bodily harm for fighting back against her alleged assailant and taken to prison, where she was later found dead. Prison staff said she strangled herself. Years ago, Reed had previously been beaten by a police constable in an attack shown on security camera footage. She was buried in a private ceremony.
Hong Kong Police Fire Live Rounds in Clashes with Protesters
February 09, 2016
Headlines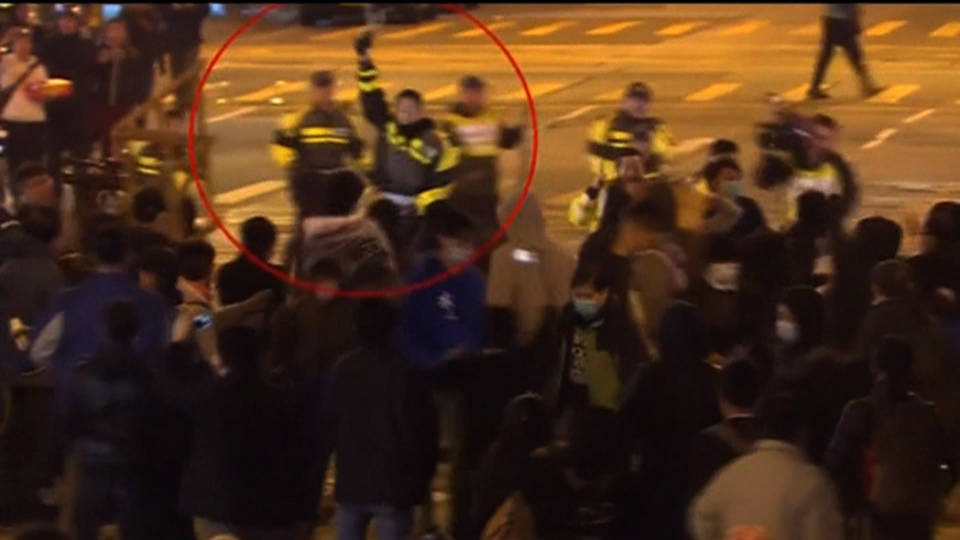 In Hong Kong, police fired warning shots and pepper spray at protesters during clashes which began with a crackdown on street vendors set up for the Lunar New Year. Police said nearly 90 officers were injured, while more than 50 people were arrested. The clashes were the most intense since pro-democracy protests demanding free elections in 2014.
NYC Schools Close to Honor Lunar New Year for the 1st Time
February 09, 2016
Headlines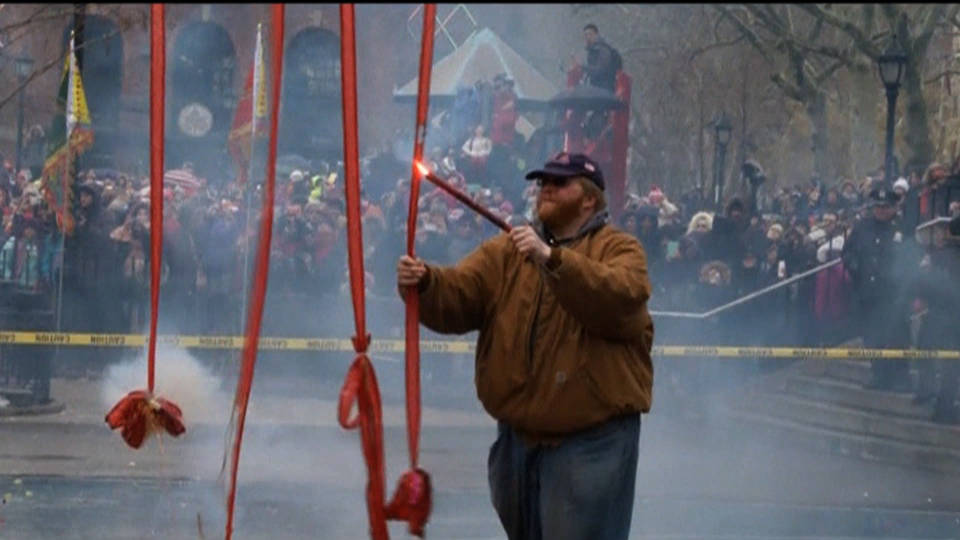 Here in New York City, public schools closed Monday to honor the Lunar New Year. It's the first time the city's schools have closed to celebrate the holiday.
Plotter Says Pakistani Spy Agency Played Role in 2008 Mumbai Attacks
February 09, 2016
Headlines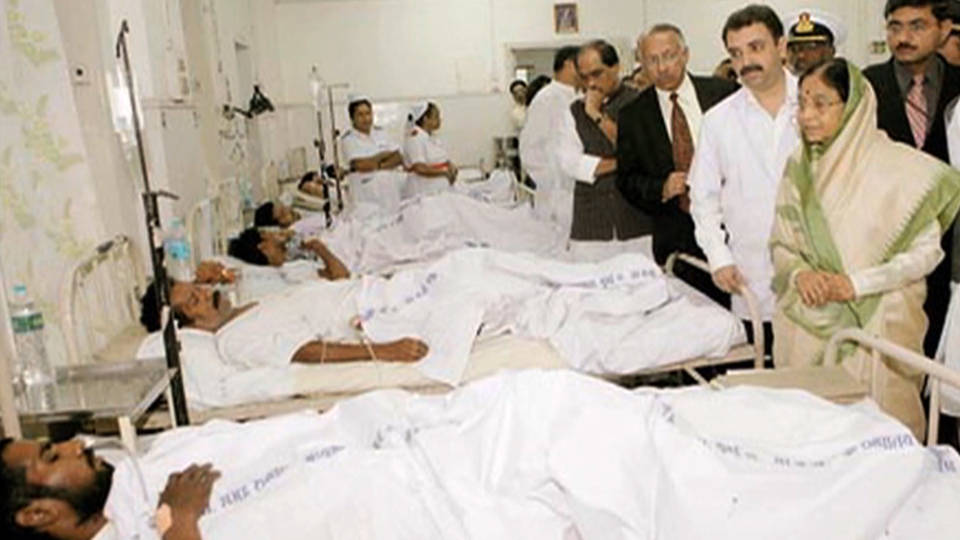 A Pakistani American who helped plan the 2008 attacks that killed more than 163 people in Mumbai, India, says he met with two handlers from Pakistan's military intelligence agency while plotting the attack. India has long sought to establish a link between the attacks and the Pakistani government. David Headley, who is serving a 35-year sentence in the United States, spoke to an Indian court by teleconference. Headley went to Pakistan in 2002 as a U.S. drug informant; U.S. officials ignored repeated warnings about his suspected terrorist activity.
Ex-Treasury Secretary Timothy Geithner Gets JPMorgan Credit Line for Private Equity Fund
February 09, 2016
Headlines
In the latest sign of the revolving door between the U.S. government and Wall Street, former Treasury Secretary Timothy Geithner has secured a personal line of credit from JPMorgan Chase—one of the banks he was previously charged with overseeing—in order to help fund his new endeavors in private equity. Geithner is reportedly borrowing the money to invest in a $12 billion fund being raised by his current employer, the private equity firm Warburg Pincus.
Sikh Actor Prevented from Boarding Plane After Refusing to Remove Turban
February 09, 2016
Headlines
And an American actor and designer who follows the Sikh religion says he was barred from boarding a flight in Mexico City after refusing to remove his turban. Waris Ahluwalia said an Aeroméxico security official told him he could not board any of the airline's flights unless he removed his turban for a security check. The Sikh Coalition has demanded an apology and awareness training.