About Democracy Now!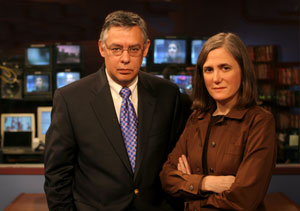 © Steve J. Sherman
Democracy Now! is a national, daily, independent, award-winning news program hosted by journalists Amy Goodman and Juan Gonzalez. Pioneering the largest public media collaboration in the U.S., Democracy Now! is broadcast on Pacifica, NPR, community, and college radio stations; on public access, PBS, satellite television (DISH network: Free Speech TV ch. 9415 and Link TV ch. 9410; DIRECTV: Free Speech TV ch. 348 and Link TV ch. 375); and on the internet. DN!'s podcast is one of the most popular on the web.
Democracy Now!'s War and Peace Report provides our audience with access to people and perspectives rarely heard in the U.S.corporate-sponsored media, including independent and international journalists, ordinary people from around the world who are directly affected by U.S. foreign policy, grassroots leaders and peace activists, artists, academics and independent analysts. In addition, Democracy Now! hosts real debates–debates between people who substantially disagree, such as between the White House or the Pentagon spokespeople on the one hand, and grassroots activists on the other.
New stations are adding Democracy Now! to their programming schedules all the time, and there are several movements going on around the country right now to bring Democracy Now! to new communities. To find out more about these efforts, and how to get involved, click here.
WHY INDEPENDENT MEDIA ?
For true democracy to work, people need easy access to independent, diverse sources of news and information.
But the last two decades have seen unprecedented corporate media consolidation. The U.S. media was already fairly homogeneous in the early 1980s: some fifty media conglomerates dominated all media outlets, including television, radio, newspapers, magazines, music, publishing and film. In the year 2000, just six corporations dominated the U.S. media.
In addition, corporate media outlets in the U.S. are legally responsible to their shareholders to maximize profits.
Democracy Now! is funded entirely through contributions from listeners, viewers, and foundations. We do not accept advertisers, corporate underwriting, or government funding. This allows us to maintain our independence.
Daily News Digest
Columns
By Amy Goodman and Denis Moynihan
Former Guatemalan President Efraín Ríos Montt was hauled off to prison last Friday. It was a historic moment, the first time in history that a former leader of a country was tried for genocide in a national court. More than three decades after he seized power in a coup in Guatemala, unleashing a U.S.-backed campaign of slaughter against his own people, the 86-year-old stood trial, charged with genocide and crimes against humanity. He was given an 80-year prison sentence. The case was inspired and pursued by three brave Guatemalan women: the judge, the attorney general and the Nobel Peace Prize laureate.