Spread the Word about Democracy Now!
We need YOUR help to spread the word about Democracy Now! Unlike the corporate media, Democracy Now! does not have millions of dollars to advertise our news program. We rely on YOU to tell others about the independent, unembedded journalism that Democracy Now! provides its audience daily.
Below are a number of ways to spread the word about Democracy Now! If you have any questions or wish to share stories about your efforts to get the word out, email our outreach team at: outreach@democracynow.org or call 212-431-9090 x802
What You Can Do To Publicize Democracy Now!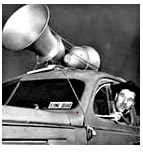 Wear DN! Gear — Become a walking billboard. Wear a DN! shirt, hat, tote a DN! bag, or outfit your car or bike with a DN! bumper sticker.
Flyering — Whether promoting a station that already airs DN! or trying to rally support to start a campaign to bring DN! to your community, flyering is a great way to introduce DN! to a large number and variety of people. Hand out flyers at events, rallies, schools, meetings or other gatherings and public spaces in your community.
Take Out Ads or Make Banners and Signs — The corporate media is all over our public spaces, you can help Democracy Now! occupy some of them by placing ads in your local newspapers, on city buses, billboards, or by printing banners and making lawn signs.
Table at Events — Get the word out by tabling at concerts, street fairs, festivals, lectures, conferences, and anywhere else you can think of.
Reprint DN! Transcripts — Our creative commons copyright allows you to reprint our transcripts as long as you credit Democracy Now! You can put them in your college or local newspapers, club's newsletters, or on a web site. You can also email them to friends.
DN! in Spanish — Let people and stations know that an audio and text file of Democracy Now!'s informative headlines are produced each day and are available free of charge to non-commercial radio stations and podcast daily for individuals. You and your friends can also sign-up for our Spanish electronic daily Boletin to have the text of Spanish headlines emailed to you each day.
DN! in the Classroom — Show Democracy Now! programs to your classes. We offer a 50% discount on DVDs to educators. Use DN! as a new and exciting tool in the classroom. Find out how!
Link to DN! on your Web Site — Do you administer or have access to a website? You can download one of our web banners and put it on your site to link to ours.
Let Us Know About
YOUR

Efforts to Get Involved
Send us stories and photos of things you have done for us to put on our blog and inspire others.
Send us your ideas, thoughts, and success stories of effective ways you spread the word.
Every little thing you do brings new listeners and makes a tremendous difference.
Thank you.
Email: outreach@democracynow.org or call 212-431-9090 x802