ORGANIZE

AN

EVENT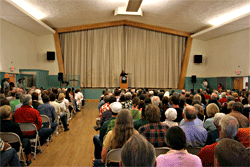 Events serve various functions:
To introduce people, who don't already know about Democracy Now!, to the show.
To gain support to help bring DN! to a station in your area or to organize a group to help publicize DN! where it is already on.
To raise funds to support your local public media outlet, purchase a Satellite Dish or subscription to broadcast DN! on your local cable public access channel, or to help DN! continue its important work.
What Kind of Event Should I Have?
The sky is the limit on events you can organize. Just use your imagination and have fun. Below are some tried and true suggestions:
Have a House Party:
Invite friends, neighbors, co-workers, or whoever you like over for a potluck dinner and screening of your favorite DN! episode. Have a follow-up discussion and debate over dessert. Raise funds, conciousness, and enlist their help in your efforts to get DN! on a local station or spread the word about the stations and times it already plays on.
Organize a Screening at Your College Campus:
Organize regular screenings of DN! programs followed-up by debates/discussions on your campus. We may be able to help you get credit for organizing such a series from your school's debate club.
Start a DN! Cafe:
Supporters in Germany wrote to tell us about the DN! Cafe they started by having regular monthly screenings at a local cafe with a video screen. They posted signs and invited friends, introducing many new people to the program. The cafe was also happy as they got many new customers.
Have a Garage Sale:
Garage Sales are a great way to get a large group of people together: selling, buying, and talking. Make the garage sale a Democracy Now! themed event.
Here's the story of Luisa Cerutti and Nicki Lindheimer's NYC's Garage Sale:
"We are great fans of DN! and if we miss it in the morning, we catch it on the internet whenever we can. We came up with the idea of a fund-raiser for DN! because our block association organizes a garage sale every year that covers the entire block and attracts thousands of people. We started e-mailing friends, neighbors and customers (we have a store).
Everybody got excited and people started going through their closets and bookshelves and donated whatever they could. A friend made big signs with info taken from the DN! website saying the proceeds from our tables were going to DN! Others offered their time to staff the tables, and the block association donated the space.
Before we knew it we had enough merchandise to cover 4 tables and 12 volunteers. Some people gave us more money than the price of their items, because they liked the cause! We also had a lady that told us "I don't need anything, but take the bills in my wallet for Amy"! Great fun was had by all, and at the end of the day we raised $1,270!!!"
Visit our resources section to find materials that can help you publicize your event and Democracy Now!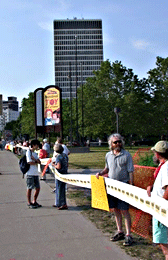 Don't forget to use the Daily Digest sign-up sheets. Pass them out and send them back to us. People who sign up for our electronic newsletter get DN! delivered to their email each day. It is a great way for us to keep in touch with the people you connect us to.
Tell us about your events! If you need help, advice, DVDs, or any other materials, let our Outreach Team know: outreach@democracynow.org