The Daily News Digest
Our Daily Digest brings Democracy Now! to you everyday.
This electronic newsletter provides: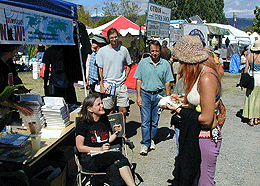 a synopsis of that day's show, with links to the headlines and each segment.
links to DN! headlines in Spanish.
links to full transcripts, as well as downloadable audio/video files.
links to Amy Goodman's most recent column.
listings of upcoming DN! events around the country.
notices about Amy Goodman's appearances on mainstream media talk shows.
updates on the next day's show.
postings about job openings and internships at DN!
media action alerts: letting people know about crucial media-related legislation and the efforts of grassroots groups working on media policy issues.


In your efforts to spread the word about Democracy Now!, ask friends to sign up for the Daily Digest, located on the left side of our home page (or send them this link: http://www.democracynow.org/subscribe).
If you sign up on someone else's behalf, they must be informed and agree. As a protection against spam, our Digest server asks the recipient to confirm their desire to receive this daily email.
If you are going to table or organize an event you can download some sign-ups and have people fill them out and send them back to us.
Download: Daily Digest Sign-Up Sheets
Outreach Department, Democracy Now!, 207 W. 25th St., Floor 11, New York, NY 10001