Bring Democracy Now! to a Station in
YOUR

Community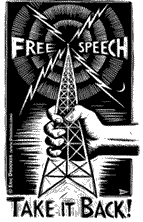 Thank you for your interest in bringing Democracy Now! to your community. One of our most important goals is to bring the voices on Democracy Now! to new audiences. From calling your local radio or public access TV station, to mobilizing your community, EVERY PERSON can make a difference.
Often, stations add Democracy Now! to their programming schedules simply in response to requests from the community. CALL TODAY!
The most successful efforts originate from individuals who work closely with our outreach team to mobilize others in their community, letting their local media outlets know people want DN! broadcast in the area.
GETTING
STARTED
Find out if there is an existing campaign in your area:
Check the stations map to see if Democracy Now! is already broadcast in your community.
If it isn't available, Look at the bottom of your region's list to see if there are already active campaigns in your community that you can join.
If NO campaign is listed and you want to start one, let us know!
TAKE

ACTION

!

There are several types of stations that air Democracy Now!: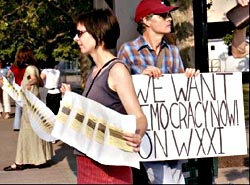 On Radio: Pacifica Radio stations, Public/

NPR

-affiliated stations, College and Community radio stations, Low Power FM stations, and several commercial AM stations.
On TV: Public Access stations and public television (

PBS

) stations.
Find a Station Near You that can Potentially Air DN!
To locate a radio station in your area that may want to air DN! use Radio Locator, which lists all US radio stations by zip code.
To locate a TV station in your area that may want to broadcast DN!, check out The Global Village
BEFORE you contact a station, it is helpful to review some of our downloadable resources. They will better equip you with helpful talking points, information about the show and how it is broadcast.
Tips
Review the Program Schedule of the stations you decide to pursue, to see where DN! might fit well. The more familiar you seem with a station, the better.
You can suggest that Democracy Now! replace any repeat programming that a station airs.
Stations can air Democracy Now! as little as once per week or every weekday. If a station is hesitant to broadcast the show, suggest that they broadcast DN! once per week and assess audience response.
Always take notes on the conversations you have with staff at the stations. Be sure to write down when and with whom you spoke to. This helps when you have follow up conversations and in telling other DN! supporters with whom to speak at the station.
If A Station Wants More Information
It is helpful to provide stations with a Democracy Now! publicity kit. This kit explains who we are and what we do. You can download it or request that we send a hard copy in the mail. It is also good to give the station a sample show (CD,

DVD

or

VHS

) along with the publicity kit. Contact us before you approach the station and we'll send you one in the mail.
If A Station Decides To Broadcast DN!
Station managers should sign up here. You can provide them with this link and we will give them all the information they need to know about how they can broadcast DN!
Success Stories
While it may take some time to get your local station to air DN!, just remember that many people have been successful in getting DN! on the air after long campaigns. To read more about how they did it go to Success Stories on our blog.
Consider Your Local Environment
Each community is unique. Find out about the local media environment and learn from activists who are doing like-minded work.
Connect with local media reform, independent media, and peace and justice groups that might already be working in your area, to build support for your DN! campaign.
You can find media reform groups in your area at freepress.net
You can find peace and justice groups in your area at unitedforpeace.org.
SPREAD THE WORD In order to have the people-power to enact and sustain a campaign to bring DN! to a local station, you will need to generate widespread support for Democracy Now! To raise awareness and get more people involved, spread the word and build alliances.
NEW!!! Radio stations can now broadcast Democracy Now!'s headlines in Spanish. It's FREE, ask YOUR station to air the headlines in Spanish today!
After you have contacted a station, please be in touch no matter what happens to let us know about your experience. Email us or Call: 212-431-9090 x8818.