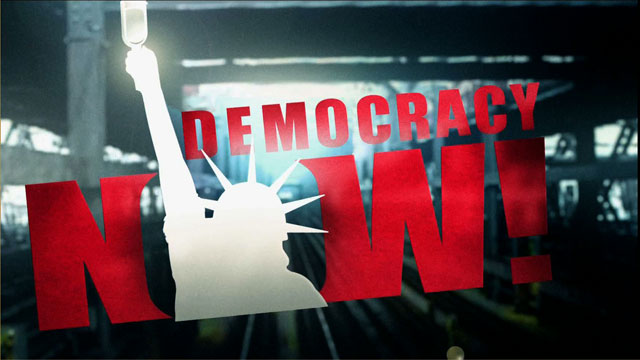 Media Options
The streets of Santiago de Chile exploded today in celebration after a British court ruled that former dictator Augusto Pinochet can be extradited to Spain to face charges of torture and other human rights abuses.
In his decision that Pinochet should be sent to Spain for trial, magistrate Ronald Bartle let stand all 35 cases of torture and almost 1,200 cases of disappearances presented by Spanish judge Baltasar Garzon, a ruling that was praised by human rights organizations.
Today we are joined by three people who have been very involved in the Pinochet case for decades.
Saul Landau was a close colleague of Orlando Letelier, former Defense Minister under Allende who was exiled in the United States after the coup, and who was killed in Washington in September of 1976 by a car bomb as he drove into work with his colleague Ronnie Moffit. The assassination was eventually traced back to Pinochet's secret police. At the time, both Landau and Letelier were working with the Institute for Policy Studies. Landau subsequently wrote the book ??Assassination on Embassy Row on the killing of Letelier and Moffit.
Joan Garces, an attorney based in Madrid, Spain, was a close advisor of Salvador Allende, the democratically elected president of Chile who was killed in the coup that put Pinochet in power. He was with President Allende inside La Moneda, the presidential palace, on September 11, 1973, the day of the coup. Together with his family, Cabinet members and close advisors, Allende held his ground for hours while the military surrounded and then attacked the palace. He eventually persuaded most people to leave, and died–many say by his own hand–moments before the palace was taken by the military.
Allende had to convince Garces to leave the presidential palace with a final argument. He said to him: " and lastly, someone has to tell the world what happened here, and only you can do that, isn't that true?"
Garces kept the promise he made to his friend. He now represents over 3,000 survivors and family members of victims of Pinochet's brutal regime. He helped to prepare the legal case that led to Pinochet's arrest in London almost one year ago, last October 16th. So far, he has worked more than 4,000 hours without pay, and has spent $120,000 of his own money.
Last week, Garces was named the recipient of Sweden's alternative Nobel peace prize, known as the "Right Livelihood Award." The awards aim to demonstrate that seemingly insurmountable problems can be resolved through cooperation.
He is in Washington this week, where he received the Letelier-Moffit award yesterday for his work on behalf of victims of torture, killings and disappearance in Chile.
Veronica De Negri is a former political prisoner in Chile whose son, Rodrigo Rojas De Negri, was killed by the Chilean police after they set him and another friend on fire during a student protest in Santiago de Chile in 1986. She has been fighting for justice on behalf of her son ever since.
Guests:
Christopher Hall, legal advisor to Amnesty International, who helped to put together the case in Britain against Pinochet. He was at the courthouse in London when the ruling was made.
Joan Garces, Spanish attorney representing over 3,000 survivors and family members of the Pinochet regime. He was a close advisor to Salvador Allende, the democratically elected president of Chile who was killed in 1973 in the military coup that put Pinochet in power. He is author of several books that have been translated into nine languages.
Saul Landau, Fellow at the Institute for Policy Studies and co-author of "Assassination on Embassy Row." He also wrote "The Guerrilla Wars of Central America" and directed several award-winning films, including "Conversations with Allende and Fidel."
Veronica De Negri, former political prisoner and mother of Rodrigo De Negri, who was burned alive by the Chilean police in 1986 during a student protest.
---