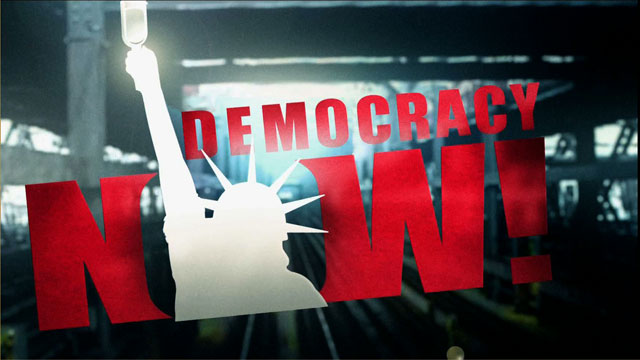 Media Options
More than three thousand people packed into the Cathedral of St. John the Divine in Manhattan yesterday for the funeral of Samori Marksman, the admired and beloved Program Director of Pacifica station WBAI. St. John the Divine is the largest gothic cathedral in the world. Samori died early last Tuesday, March 23, and left behind a wife, Rita, two daughters, Lindiwe Ona, Zindzi Sonjay, and a son, Kaifa, as well as two brothers, three sisters and many others.
Samori also left behind a large extended family. For many of us who knew him, and especially for those who work here at WBAI, Samori was a mentor, a leader, a friend and a brother. Born in the Caribbean Island of St. Vincent, Samori became a citizen of the world. He was a Pan-Africanist, and also understood the links between the struggle of working people all over the world.
As a longtime supporter of human rights and the international peace movement, Samori traveled extensively and struck up friendships with activists, intellectuals and leaders in Africa, the Middle east, Asia, the Caribbean, Latin America and Europe. He became acquainted with the late Ahmed Seku Ture of the Republic of Guinea, Prime Minister Maurice Bishop of Grenada, Amilcar Cabral of Guinea-Bissau, Walter Rodney of Guyana and President Sam Nujoma of Namibia.
However, it was as Program Director of WBAI that Samori made his mark over the past two decades. He strongly advocated that "a bigger audience can only be achieved when programming is organically linked to the community." As host of "Behind the News," a daily radio magazine on international political and economic issues, he was able to link the realities in Harlem and the South Bronx to the struggles in Africa, Asia, Latin America and the Middle East. This vision shaped WBAI, which became the vehicle for voices not heard in the mainstream media. As one of his WBAI colleagues recently said, Samori democratized the voices of the people.
Tape:
Past interviews with Samori Marksman
Memorial service and remarks from his closest friends
---