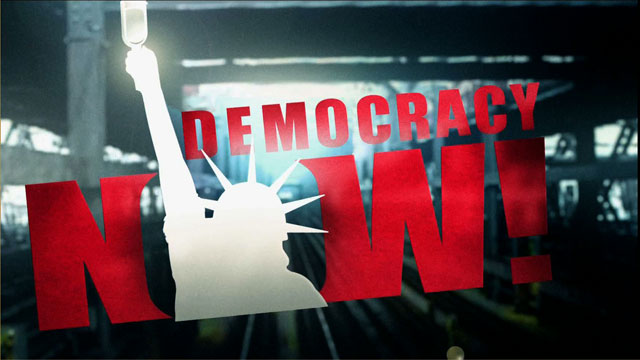 Media Options
At the beginning of every month Democracy Now! airs "All Things Censored," commentaries written by journalist and death row resident Mumia Abu-Jamal, and produced by Noelle Hanrahan of Prison Radio. The Pennsylvania Department of Corrections has banned new recordings of Mumia's voice, so we bring to you notable people reading his essays.
This month, Bear Lincoln reads Mumia's "Legalized Cop Violence." On April 14, 1995 Bear Lincoln was ambushed by the Mendocino County Sheriff's department in Northern California. Sheriff Bob Davis and another man died in a rain of gunfire. Lincoln was tried and acquitted of first and second-degree murder charges by an all white jury for the officer's death. On April 23, the district attorney will decide whether to retry Bear Lincoln for manslaughter.
It is ironic that Bear can read you this commentary, because he is not allowed to speak in his own defense. A California court has barred Bear and his attorney from speaking about the case or publicly proclaiming his innocence.
Tape:
Bear Lincoln, reading "Legalized Cop Violence," written by Mumia Abu-Jamal, recorded at the Round Valley Indian Reservation.
Related link:
---