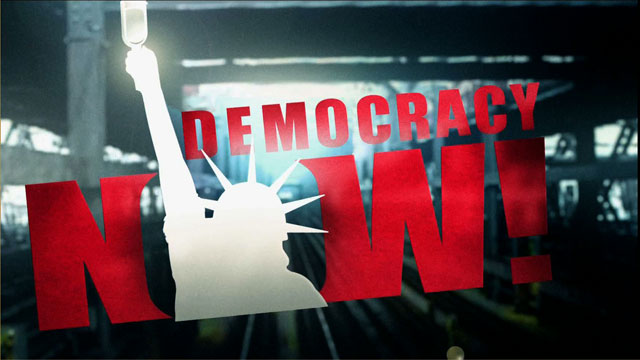 Media Options
Guests
Frances Fox Piven

professor of political science and sociology at the City University of New York and co-author of Why Americans Don't Vote: And Why Politicians Want It That Way.
Most people don't realize that just under half of the population actually votes — a figure that hasn't changed much in 80 years. In the last election, this meant that Bill Clinton was elected by just 27% of the population. Sociologist Frances Fox Piven says that the government wants it this way.
---
Transcript
This is a rush transcript. Copy may not be in its final form.
AMY GOODMAN: And you are listening to Pacifica Radio's Democracy Now! It's hard to think of voting when you're besieged by the kind of issues we've been hearing about today. But perhaps others are spurred to vote. Well, not most Americans. In fact, in the last election, less than half of Americans voted. President Clinton, I think, won on 27% of the vote.
Why Americans Still Don't Vote: And Why Politicians Want It That Way is a book written by Frances Fox Piven and Richard Cloward. Frances Fox Piven joins us now. She's a professor of political science and sociology at the City University of New York.
Welcome to Democracy Now!
FRANCES FOX PIVEN: Glad to talk to you, Amy.
AMY GOODMAN: So, why? Why don't we vote?
FRANCES FOX PIVEN: Well, there are two kinds of reasons that people don't vote. One set of reasons has to do with the arrangements that make it difficult for them to vote. You know, for a long time in the United States, people had to pass literacy tests, pay poll taxes — not only in the South, by the way, but also in the North. And they had to get themselves registered to vote, and the officials appointed by the parties that ran those voter registration arrangements typically made it difficult to register to vote. You could only register at one place in the county. You could only register during working hours. The people that ran voter registration were unfriendly, hostile, intimidating, likely to embarrass a less competent prospective voter.
And over time, as these arrangements were developed, both political — they were instigated by the Republicans at the end of the 19th century in the North, but by the Democrats in the South. And they were instigated precisely because each party was afraid. In the North, Republicans were afraid of the immigrant working classes that were pouring into the cities and were becoming naturalized and raising new kinds of issues, issues having to do with working conditions, for example. And in the South, the old Democratic Party was — never liked the fact that the national government had, in a sense, enfranchised Black people once they were freed, but had been ineffective in preventing Blacks from voting just by using violence and intimidation. And by the 1880s, 1890s, they began to develop legal or legalistic, quasi-legal methods for disenfranchising Blacks. Particularly, this became particularly urgent because they were afraid that Blacks would form an alliance with radical, radicalized dirt farmers who were joining in the populist movement.
The result of these arrangements was to effectively drive lower-strata voters out of the electorate all over the country. We had very high turnout in the 19th century, 80% turnout in presidential elections, compared to now it's 49%. But once these arrangements went into effect, the turnout dropped, and it dropped particularly among the people who were, in a sense, targeted by what appeared to be neutral provisions. You had to pay a poll tax, or you had to pass a literacy test. But, of course, these were not neutral provisions. They were provisions which singled out people who were less educated, less well off, had to work 10 hours a day, didn't have the time to register to vote. So, by the 1920s, turnout fell to 49%, just what it is today.
AMY GOODMAN: Eighty years later.
FRANCES FOX PIVEN: That's right. Now, in the interim between the 1920s and the year 2000, turnout bobbed up and down. And it did rise, although not very much, during the 1930s. It rose in response not to the political parties. You know, the political parties — you take political science 101, and you learn that the political parties are the key agents of democracy, that it's the political parties that name the issues that people care about, and then mobilize voters around those issues, go door to door to try to pull them out. But, in fact, the American political parties have never functioned that way.
You could make a stronger case — and we do make the case — that the political parties have tried to win elections not by mobilizing voters, but by demobilizing significant segments of the age-eligible voting population. One way was through these legal and procedural obstacles. But once these had, in a sense, done their dirty work and made it less likely that certain strata would vote — low-income people would vote, working people would vote, minorities would vote — the political parties ignored these groups. It became easier to run elections, cheaper because you had fewer in the electorate, but, most importantly, easier because the people who were likely to raise controversial issues, issues that would be very uncomfortable for the moneyed backers of the parties, were not in the electorate.
And so, this really brings us to our situation today, where we have actually, as a result not of party politicians, but as a result of the civil rights movement and good government groups, we have overcome many of the procedural obstacles. The Voting Rights Act outlawed — effectively outlawed literacy tests. The Constitution was amended in —
AMY GOODMAN: That's 1965.
FRANCES FOX PIVEN: That's right. And we also had a constitutional amendment in the 1960s, which outlawed poll taxes. Those were big steps. And then, in the 1990s, 1993, the legislation known as Motor Voter was passed, which made voter registration available in many more sites, particularly in driver's license agencies and in welfare, Medicaid, WIC agencies. Now, the implementation in welfare, Medicaid, WIC agencies has been very reluctant and uneven. But driver's license voter registration does work. So, many more people are getting registered.
But the political parties are not oriented toward those new voters, toward those young voters, those low-income voters, and so that we're now in a situation where it's not mainly the legal barriers, although it would help if Election Day was a holiday — it's not mainly the legal barriers, but it's the failure of the political parties to name the issues, to name the candidates that would resonate with the grievances and the aspirations of ordinary people.
AMY GOODMAN: We're going to bring our listeners Part 2 of this interview tomorrow, but I want to end with this question. It's about the debates tomorrow night as another of the debates — we're calling them Debate Lite number two, sponsored by Anheuser-Busch and Budweiser Lite. Do you think they play a role in demobilizing voters?
FRANCES FOX PIVEN: Well, the debates could play a role in mobilizing voters, obviously, if they were vigorous, if the candidates looked different, sounded different, if you could understand their inscrutable policy proposals, and if they allowed candidates who reflected dissenting and minority positions into the debates. But the debate — the Commission on Presidential Debates, not only is it funded by big corporations, but it's run by the two major parties, who don't want any dissenting voices, who have kept Nader out of the debates.
AMY GOODMAN: Actually, there's going to be another super rally here in New York on Friday night at Madison Square Garden for Ralph Nader. But we do have to wrap up this discussion. Part 2 with Frances Fox Piven tomorrow on Democracy Now! Her book, with Richard Cloward, Why Americans Still Don't Vote: And Why Politicians Want It That Way. Democracy Now! produced by Gillian Aldrich and Sidrack Franklin. Special thanks to Deepa Fernandes, Matthew Finch, our engineer. I'm Amy Goodman. Thanks for listening.