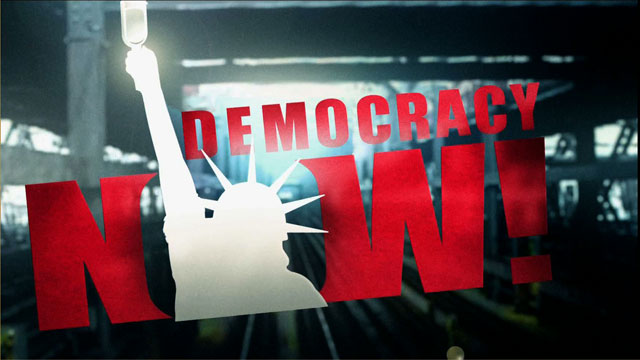 Media Options
In Belgrade Yugoslavia, thousands of people continue to occupy the streets. They are claiming victory in bringing down the government of Slobodan Milosevic. This follows a major uprising yesterday in the capital city that saw more than a half a million people attacking institutions of the ruling coalition, taking over state run media and declaring Vojislav Kostunica the new president of Yugoslavia.
Democracy Now! correspondent Jeremy Scahill has been in the streets of Belgrade the entire night. He is one of only a handful of foreign reporters in Serbia. He joins us right now.
Tape:
CUT 1: Storming of Parliament
CUT 2: New Radio Television Serbia–first broadcast
CUT 3: Kostunica on the new Radio Television Serbia
CUT 4: Young couple in streets after Parliament was taken over and RTS was burned to the ground.
As people continue to occupy the streets of Belgrade, we turn now to the two vice presidential candidates, Senator Joe Lieberman and Dick Cheney who last night stood together before the nation in their only official debate.
The debate took place in Danville Kentucky with the candidates very much echoing the words of their bosses from earlier this week. Among the many issues covered was the current situation in Yugoslavia. Here is what they both have to say.
Tape:
Vice Presidential Debate–Yugoslavia excerpt.
Guest:
Jeremy Scahill, Democracy Now Correspondent in Belgrade Yugoslavia.
---