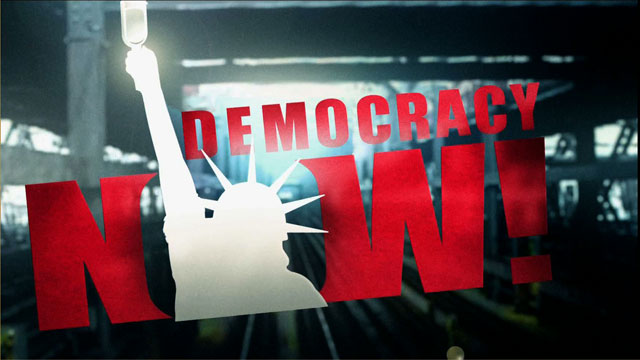 Media Options
Two women scaled a building in downtown Los Angeles today and unfurled a 1,500 square foot U.S. flag displayingcorporate logos as stars. The banner featured the logos of U.S. corporations including Citigroup, Nike, Enron andOccidental Petroleum, all major contributors to the Democratic and Republican conventions.
The flag-banner was flanked by huge painted images which are part of a towering Apple "Think Different" ad. The adfeatures Martin Luther King Jr., Bobby Kennedy and Cesar Chavez. The giant flag was hung on the Figueroa Hotel acrossthe street from the Staples Center where the Democratic Convention will take place next week. The banner displayedthe website: " www.soldoutusa.com."
This comes as more than 350 people continue to be held in prisons and jails in Philadelphia stemming from the massarrests during the Republican National Convention there last week. There are reports that many prisoners are holdinghunger strikes behind bars and that treatment inside the jails is very bad. Some of those who have been released saidthat many jailed protesters were dragged along the jail floor, were denied phone calls to lawyers and friends —-sometimes for days -— and were refused medical treatment for various ailments and conditions.
Among those being held are people like John Sellers of the Ruckus Society-he was being held on a $1 million bail onnumerous misdemeanor charges. Yesterday he had a bail reduction hearing where his bail was dropped to $100,000. ButKate Sorenson of ACT-UP Philadelphia and R2K continues to be held on a million dollars bail. Others are also beingheld on six figure bails as well.
Guests:
Han Shan, program director of the Ruckus Society.
Sara Marcus, an activist with the R2K Legal Team which is working on the cases of the more than 350 peoplestill behind bars in Philadelphia.
Related links:
---