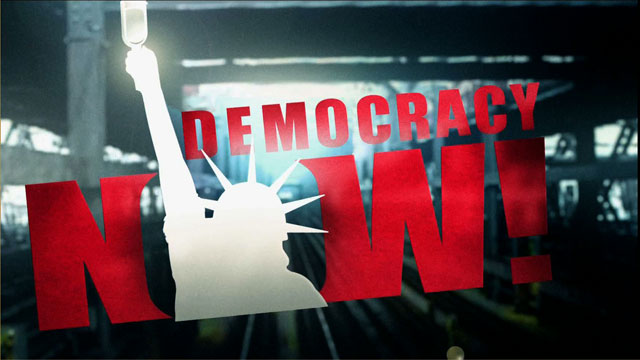 Media Options
With police in riot gear out in the streets, the mayor of Cincinnati yesterday declared a state of emergency andimposed a citywide curfew amid the largest racial uprising since the assassination of Martin Luther King, Jr. in1968. Activists shouted down Mayor Charles Luken during the news conference, accusing him of bailing out of a meetingon their efforts to obtain a parade permit for a protest march.
During the curfew, which lasted from 8 p.m. to 6 a.m., helmeted police patrolled the streets and a sheriff'shelicopter hovered overhead. Police reported 42 arrests.
The uprising was sparked by the police shooting of a 19 year old, unarmed black man. Officer Steve Roach gunned downTimothy Thomas as he fled from arrest for misdemeanor charges, most of which were traffic violations, includingfailure to wear a seat belt.
Police have killed 15 black men since 1995, four since November.
This week's uprising started in Over The Rhine, the neighborhood where Thomas was shot. According to the Over theRhine Community Center, it is Cincinnati's poorest neighborhood, with 95% of the 12,000 inhabitants live below thepoverty line. 5,000 of the 7,500 apartment units are below code or abandoned, and 95% of the housing is owned byabsentee landlords.
Guests:
Victoria Strong, Cincinnati representative of Black Cops Against Police Brutality.
Daryl Hammond, 25 year old protester in Cincinnati.
Aryan Love, law clerk for Kenneth Lausanne, attorney representing Timothy Thomas' family and a leadattorney on the class action lawsuit against the police department (filed by the ACLU and the United Black Front).
De Lacy Advise, founder and president for Black Cops Against Police Brutality and Sergeant in the EastOrange, New Jersey Police Department.
Ronald Hampton, Executive Director of National Black Police Association.
Allyson Collins, Human Rights Watch, author of a July 1998 report examining police brutality andaccountability systems in 14 cities.
Felicia Davis, board administrator of the Citizen Review Board in Syracuse, New York.
Related link:
---