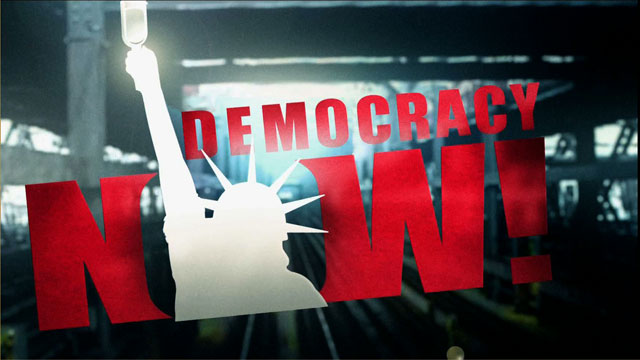 This is viewer supported news. Please do your part today.
Donate
Guests
Francisco Goldman
Acclaimed Guatemalan American novelist. He is the author of three novels, including "The Long Night of White Chickens." His latest book is his first nonfiction work. It's called "The Art of Political Murder: Who Killed the Bishop?"
---
Israeli forces invaded Bechala early yesterday, in the first prolonged act of reoccupation, since the start of the second Palestinian Entafada, eleven months ago. During the tank operation, Israel forces also shot dead a Palestinian policeman whom Palestinian officials claim belongs to a guerilla group. Tens of thousands of Palestinians were on the street, to attend the funeral of Abu Ali Mustafa, the first PLO leader to be assassinated by Israel, in this conflict. The double blow of the killing of 63-year-old Abu Ali Mustafa, political leader of the Popular Front of the Palestinian National Front of Liberation (PNFL), blown apart by Israeli helicopter missiles while he sat at his desk, and the Bechala invasion has seemingly demolished the feeble chances for a diplomatic solution to the Israeli occupation. A senior Israeli official claimed yesterday that the U.S. has not complained to Israel about the use of U.S. made weapons against Palestinians. Arabs have repeatedly objected to Israel's use of weapons supplied by the United States, especially in the assassination of leading Palestinians, they say Israel is violating the terms of the Arms Export Control Act, which limits the use of U.S. weapons to legitimate, defensive purposes.
We talk to our guests in Israel and the occupied territories, by phone: Dr. Galia Golan, a member of the Elective Executive of the Merits Party, a Leader of Peace Now, and professor of political Science at Hebrew University in Jerusalem and Abu Leila Head of the Democratic Front for the Liberation of Palestine, (DFLP) in the West Bank about recent events and the Israeli occupation.
20:41 "Back in the Box" David Byrne
---