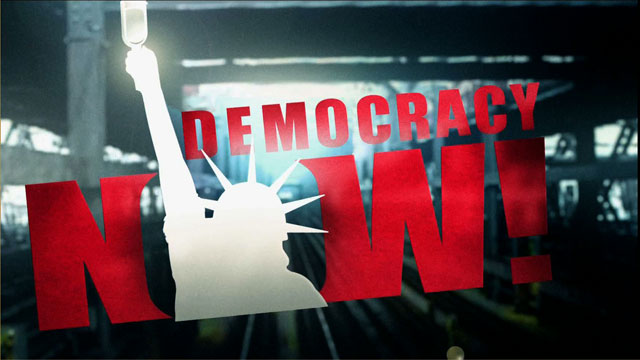 In defiance of the Obama administration, former Haitian President Jean-Bertrand Aristide is headed back to Haiti today for the first time since being ousted in a 2004 U.S.-backed coup. Hours ago, Aristide boarded a plane in South Africa bound for Port-Au-Prince. Joining him on the flight is his wife, Mildred Aristide, attorney Ira Kurzban and actor Danny Glover. Democracy Now! host Amy Goodman is also on aboard. Minutes before takeoff she filed this report (listen to MP3) and sent exclusive photos.
AMY GOODMAN: I'm Amy Goodman, the host of Democracy Now! at the Lanseria International Airport, a private airport in Johannesburg, where the South African government flight is about to take the Aristides home from South Africa — where they've been in exile for the last seven years — to Haiti. It is a momentous time.
We just went upstairs to the news conference, which was held by South African government officials and President Aristide. He spoke in Zulu, Xhosa, and he handed out an English translation for the rest of the press to the consternation of some of them. President Aristide said in Zulu:
"Dear brothers and sisters, a great day has arrived, a day to say goodbye before returning home, the day to whole-heartedly thank President Zuma and the government, former President Mbeki and his wife, our beloved Madiba and his family" — referring of course to Nelson Mandela. "Dear friends at the University of South Africa and Wits University — all of you brothers and sisters of South Africa. My family and I will never forget this long and beautiful time spent with you in the heart of Mama Africa. We saw the spirit of Ubuntu the first day we met with Minister Dlamini-Zuma in 2003 until today. Indeed, the cleverness of our ancestors is outstanding. Ubuntu is an honor to Africa and to this country. The world truly needs this philosophy. May the starts of Ubuntu shine in the sky over the entire world."
He ended again by saying, "Warm greetings dear brothers and sisters. We wish you a prosperous life and all the best. Thank you. Bye, bye."
He spoke in Swahili, in Zulu, in Afrikaans and in Tswana. He is extremely excited about returning home.
We had a private meeting with the president and his family this afternoon and the delegation that's accompanying him: Danny Glover, the actor and activist; James Early, of the Smithsonian Institution, formerly chair of the Institute for Policy Studies; and K.K. Kean, the filmmaker who has made a number of films about Haiti. It is —- and the family, of course, of the Aristides. He did not want to make any political statements there. He wanted the South African government to speak before he would speak. And, he simply said that he is thrilled to be going home. He looks forward to being –— these are his words, not mine -– "a resident of Haiti, not the president" at this point, to really pursuing issues of health and education in Haiti.
Now we're in a holding area, about to get on to the plane that will take us —– we don't know exactly the itinerary at this moment -— but will take us to Port-au-Prince, Haiti, where we expect to arrive sometime around noon on Friday. This is the culmination of years of effort. I mean, ever since that fateful day on February 29, 2004 -– the second of two U.S.-backed coups against President Aristide. The first was in 1991, when he was ousted for three years. The second when the number two man in the U.S. embassy came to the home of the Aristides in Tabar in Haiti and they were bundled onto a jet with security and military and they were sent off to the Central American Republic. The U.S. government insisted that the Aristides went of their own free will. And, it's something they've insisted to this day because, in the last days, the U.S. government has issued warnings to the State Department that the Aristides should not come back to Haiti. That, he left of his own free will in 2004.
We don't know the itinerary at this point, we just know that we expect to land in Port-au-Prince, Haiti about noon on Friday. It's about 11 o'clock on Thursday here in South Africa. It promises to be a long nights journey into a new day. It's very interesting to watch President Aristide right now; I'm watching him speak to a South African government official right now who is wishing him well, saying that he is a part of the South African family, not just a friend. And, it's interesting because the U.S. government has put so much pressure on the South African government not to return the Aristides to Haiti. Actually, news came out earlier this week that President Obama personally called President Zuma of South Africa to implore him not to provide this jet for the Aristides to return home. But, the South African government responded in a public way and said that they would not be pressured by anyone. So, tonight, the Aristides return home to Haiti. I'm Amy Goodman for Democracy Now! in Johannesburg, South Africa. We're about to board the plane and hope to arrive in Haiti in Friday about noon.
---