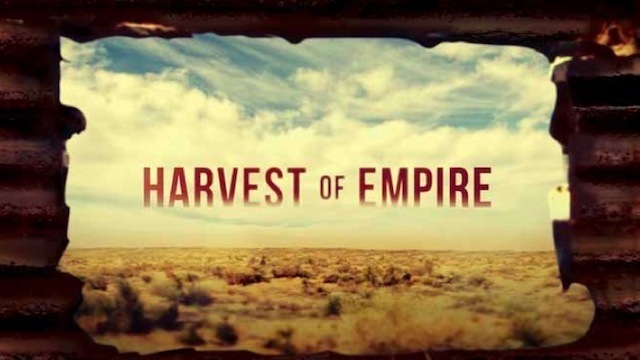 At a time of heated and divisive debate over immigration, the new 90-minute documentary "Harvest of Empire" examines the direct connection between the long history of U.S. intervention in Latin America and the immigration crisis we face today. The film opens Sept. 28 in New York City and Pasadena, CA.
Based on the groundbreaking book by award-winning journalist and Democracy Now! co-host Juan González, Harvest of Empire takes an unflinching look at the role that U.S. economic and military interests played in triggering an unprecedented wave of migration that is transforming our nation's cultural and economic landscape.
Click here to see an interview with Juan González about the film and his book
Click here to watch the trailer for the film.
Due to sold out screenings, the film will continue to be screened in Los Angeles and New York City.
New York City Through October 11
Quad Cinema
34 W 13th Street, New York, NY
Los Angeles Through October 7
Laemmle Theater Playhouse 7
673 East Colorado Boulevard, Pasadena, CA
Washington, D.C.
National Museum of American History
October 30
Smithsonian Institution, 14th St. and Constitution Ave. NW
From the wars for territorial expansion that gave the U.S. control of Puerto Rico, Cuba and more than half of Mexico, to the covert operations that imposed oppressive military regimes in the Dominican republic, Guatemala, Nicaragua and El Salvador, Harvest of Empire unveils a moving human story that is largely unknown to the great majority of citizens in the United States.
As Juan González says at the beginning of the film, "They never teach us in school that the huge Latino presence here is a direct result of our own government's actions in Mexico, the Caribbean and Central America over many decades — actions that forced millions from that region to leave their homeland and journey north."
---