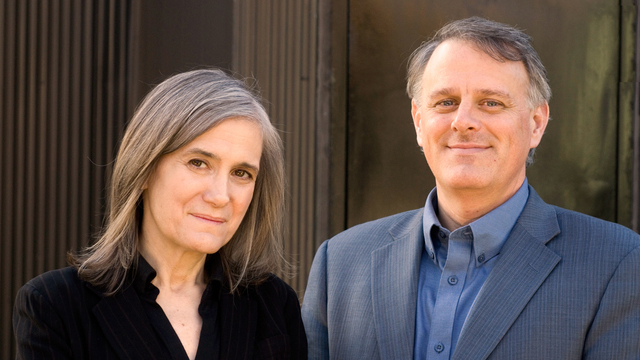 Media Options
By Amy Goodman & Denis Moynihan
"My Administration is committed to creating an unprecedented level of openness in Government." So wrote President Barack Obama, back on Jan. 29, 2009, just days into his presidency. "Openness will strengthen our democracy and promote efficiency and effectiveness in Government." Now, six years into the Obama administration, his promise of "a new era of open Government" seems just another grand promise, cynically broken.
As the news industry observed its annual "Sunshine Week" in mid-March, The Associated Press reported that "[m]ore often than ever, the administration censored government files or outright denied access to them last year under the U.S. Freedom of Information Act [FOIA]." The AP report continued, "The government's efforts to be more open about its activities last year were their worst since President Barack Obama took office."
This comes as no surprise to Ryan Shapiro, a graduate student at the Massachusetts Institute of Technology (MIT), who just filed a federal lawsuit against the FBI, the CIA and the National Security Agency, seeking public records pertaining to the U.S. role in the 1962 arrest of Nelson Mandela, which would land him in prison for 27 years. When his FOIA requests on Mandela were denied, he sued. "I'm pursuing these records," he explained to me, "mostly because I'm interested in knowing why the U.S. intelligence community viewed Mandela as a threat to American security and what role the U.S. intelligence community played in thwarting Mandela's struggle for racial justice and democracy in South Africa."
Shapiro filed a FOIA request with the NSA, seeking details on the arrest of Mandela over 50 years ago. The NSA wrote in reply, "To the extent that you are seeking intelligence information on Nelson Mandela, we have determined that the fact of the existence or non-existence of the materials you request is a currently and properly classified matter." Half a century later?
Shapiro also is seeking information on Mandela's placement on the U.S. terror watch list until 2008, which was years after he had served as South Africa's first democratically elected president, years after he had won not only the Nobel Peace Prize, but the U.S. Congressional Gold Medal and U.S. Presidential Medal of Freedom. I asked Shapiro why he was chasing down all these documents. "The answer," he replied, "has to do with this blinkered understanding of national security, this myopic understanding that places crass military alliances and corporate profits over human rights and civil liberties."
Shapiro has an interesting history, and a personal stake in the government labeling activists "terrorists." In 2002, Shapiro engaged in an act of civil disobedience, infiltrating a farm where ducks are raised for the production of foie gras, exposing what he calls "horrific conditions which are the absolute norm on factory farms." He said he and other activists "openly rescued, or stole, animals from a factory farm, made a movie about it. I did it as an act of civil disobedience, but it's a real crime … I did 40 hours of community service, and that was it." Since that time, state after state has passed so-called Ag-Gag laws, which equate some animal-rights activism with terrorism, and which can include incredibly harsh prison sentences.
He says his dissertation in progress, titled "Bodies at War: Animals, the Freedom of Science, and National Security in the United States," looks "at the use of the rhetoric and apparatus of national security to marginalize animal protectionists from the late 19th century to the present." Shapiro is seeking a wealth of public documents to answer the question. He has close to 700 FOIA requests before the FBI, seeking 350,000 documents, leading the Justice Department to call him its "most prolific" requester. The FBI has labeled part of his dissertation a threat to national security.
In 2008, when campaigning, Barack Obama was often touted as a constitutional-law professor. As such, we can assume he studied writings of one of that document's authors, James Madison, the fourth president of the U.S., considered the "Father of the Bill of Rights." Madison wrote, in 1822, "A popular Government, without popular information, or the means of acquiring it, is but a Prologue to a Farce or a Tragedy; or, perhaps both." With Edward Snowden's revelations of massive NSA spying and surveillance, and the administration's abysmal record on transparency, President Obama has tragically moved well beyond farce.
Amy Goodman is the host of "Democracy Now!," a daily international TV/radio news hour airing on more than 1,200 stations in North America. She is the co-author of "The Silenced Majority," a New York Times best-seller.
© 2014 Amy Goodman
Distributed by King Features Syndicate
---