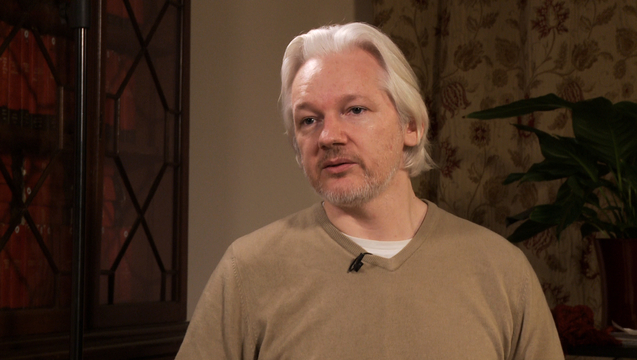 A Swedish court today upheld an arrest warrant for WikiLeaks founder Julian Assange. He is wanted in Sweden for questioning on allegations of sexual misconduct, though no charges have been filed.
For a detailed account of today's court hearing visit Rick Falkvinge's live blog.
Earlier this month, Democracy Now! traveled to London to interview Assange inside the Ecuadorean embassy. He has been holed up there for more than two years, having received political asylum. In addition to the probe in Sweden, a secret grand jury in the United States is investigating WikiLeaks for its role in publishing a trove of leaked documents about the Iraq and Afghanistan wars, as well as classified State Department cables.
"My lawyers are confident that either in the lower court, and more likely the appeal court, we will be able to dismiss the case, because the law is reasonably clear," Assange told Democracy Now! "You're meant to proceed with—the Swedish government has an obligation under its own law to proceed with maximum speed, with minimum cost, and also with bringing the minimum suspicion on the person who's being investigated. And it is in clear violation of all those points of law."
Watch our three-part interview:
Exclusive: DN! Goes Inside Assange's Embassy Refuge to Talk WikiLeaks, Snowden and Winning Freedom

WikiLeaks' Julian Assange Responds to Hillary Clinton: Fair U.S. Trial for Snowden 'Not Possible'

Julian Assange on Aiding Snowden, Tiff w/ The Intercept & Whether He'll Ever Leave Embassy Refuge

---