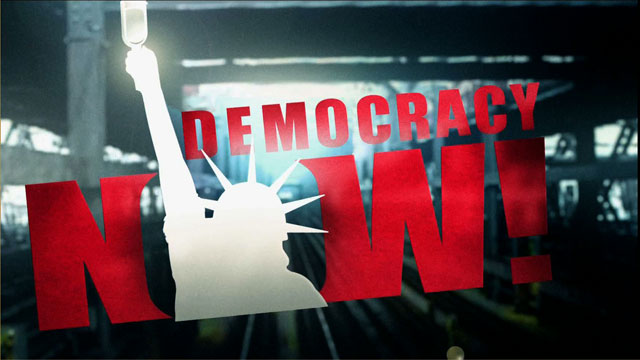 Media Options
In Arkansas, thousands of supermarket and retail workers, religious leaders and community activists are expected to descend on the city of Bentonville, corporate headquarters of the retail mega-giant Wal-Mart. The marchers, led by AFL-CIO leader John Sweeney, will protest the expansion of Wal-Mart into the supermarket industry — a move that they say is a direct threat to jobs, wages and health benefits of supermarket employees. The protest at Wal-Mart is expected to be one of the largest demonstrations against the company in its history. With sales of more than $119 billion a year, Wal-Mart is bigger than the world's three next-largest retailers combined. In fact, Wal-Mart has a larger economy than over 100 of the world's nations.
Guests:
John Sweeney, President of the AFL-CIO.
Doug Dority, President of the United Food and Commercial Workers International Union.
Bob Ortega, an award-winning investigative reporter who covered Wal-Mart for The Wall Street Journal for five years. He is the author of In Sam We Trust: The Untold Story of Sam Walton and How Wal-Mart is Devouring America.
---