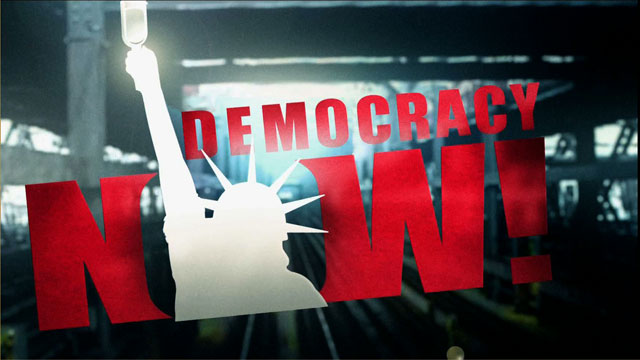 Media Options
This weekend marks the 100th anniversary of the U.S. invasion of Puerto Rico. And the debate over whether Puerto Rico should remain a commonwealth, become a state or be an independent nation, continues to raise serious questions about identity and self-determination. At the center of the debate is the reality of an outside power holding authority over the island. The U.S. government has more military bases on Puerto Rico than it has in any single U.S. state. Puerto Rico is now the point from which most U.S. military operations are launched in Central America and the Caribbean. But it's not just the military presence. For decades, U.S. corporations have exploited Puerto Rican workers, paying low wages and avoiding paying taxes to the local government. This is not to mention the devastation that the corporations and the military have caused environmentally.
To mark the anniversary of the U.S. invasion, there will be numerous demonstrations in Puerto Rico and across the U.S. Puerto Rican Governor Pedro Rosello, a strong supporter of statehood, will celebrate the landing of U.S. troops, while others will take to the streets to demand independence.
Today on Democracy Now!, we bring you a special round table discussion with several leading Puerto Rican scholars and activists to mark the 100th anniversary of the U.S. invasion of the island.
Guests:
Ana Celia Zentella, a Professor in the Department of Black and Puerto Rican Studies at Hunter College and in the Department of Developmental Psychology at City University of New York Graduate Center. She is the author of ??Growing Up Bilingual, published by Blackwell. Her latest article is "Puerto Rico: The Thorn in English Only's Side."
Ronald Fernandez, the director of the Center for Caribbean Studies at Central Connecticut State University. He is the author of ??Prisoners of Colonialism: The Struggle for Justice in Puerto Rico, published by Common Courage Press, and ??The Disenchanted Island: Puerto Rico and the United States in the Twentieth Century. He is also a co-author of ??Puerto Rico, Past and Present: an Encyclopedia, from Greenwood Publishing. Call: (203)226-3571. His other books include ??Cruising the Caribbean: U.S. Influence and Intervention in the Twentieth Century. Call: (860)832-3755.
Juan Manuel Garcia Pasalaqua, the senior political analyst in Puerto Rico for WSKN radio, WAPA TV and the San Juan Star, the English-language newspaper in San Juan.
Related links:
????
????.????
????.????
????.????
????
---