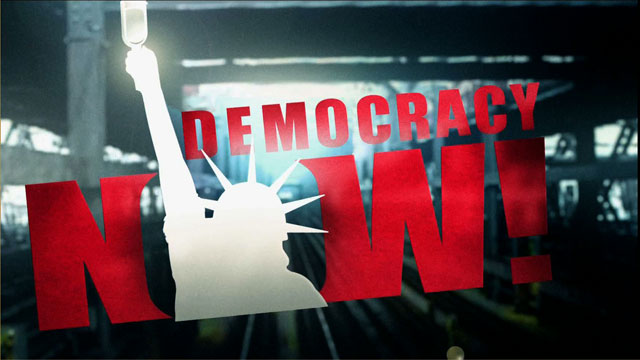 Media Options
Today we are broadcasting from Seattle, Washington, where delegations from 130 countries are meeting this week for a historic round of trade talks at the World Trade Organization. Tens of thousands of activists from all over the world–from labor groups, to environmental activists, to farmers, to women's groups, to many others representing a wide range of civil society–have also converged on Seattle for what the Wall Street Journal has said will be "the mother of all protests."
Over the course of this week, member countries of the WTO will be conducting talks on a wide range of issues that will have an enormous impact on the everyday life of ordinary people. Their decisions will affect what we eat, what we breathe, what products and medications we have access to, what our rights are as workers and as citizens, and who will control our destinies.
The activists are here to protest the way that the WTO operates–the trade body, considered by many as the most powerful organization in the world, makes most of its decisions in almost absolute secrecy, with no input from civil society, and with a tremendous amount of input from multinational corporations.
Guests:
Vandana Shiva, Director of the Research Foundation for Science, Technology and Natural Resource Policy in New Delhi, India.
Walden Bello, Executive Director of Focus on the Global South in Bankok, Thailand. He is currently a senior fellow at the San Francisco based Institute for Food and Development Policy.
Lori Wallach, Director of Global Trade Watch at Public Citizen and founder of Citizens Trade Campaign.
---