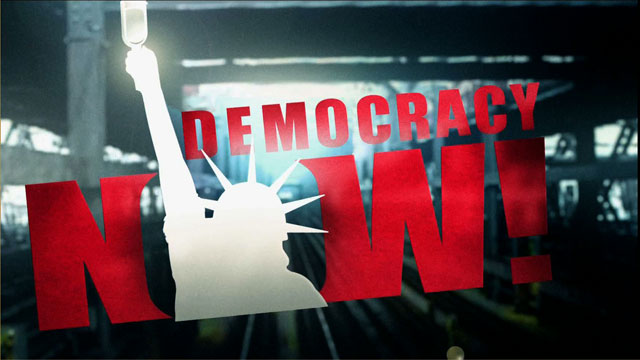 Media Options
The first of 24 "Apache" attack helicopters could arrive in Albania this week to join the NATO forces against Yugoslavia, according to the Pentagon. The military has said that the low-flying, lethal Apaches would increase the alliance's ability to smash Serb tanks and troops in Kosovo. It would be the first direct involvement of Army forces in the attacks. The Pentagon is also planning to send several hundred more U.S. warplanes to join the airstrikes.
Well, we have heard a lot in these past few weeks about weapons, warplanes and military tactics, mostly from the pool of retired military officers that are now being paid handsome amounts of money by the networks to provide their expertise on talk shows. Today, we hear about the weapons from anti-war activists who destroy these weapons.
The Jonah House community, which is a group of anti-war activists here in the United States, says it is being forced to split up by the U.S. government. The activists have lived for years in the Jonah House in Baltimore, and in their anti-war, anti-nuclear activities, they have targeted the weapons themselves–they enter weapons sites and hammer on weapons, or pour blood over them. Many have gone to prison for their activities. Just recently, the authorities have made it a condition of their parole that they not return to Jonah House because, they say, it is a place of on-going criminal activity. Today, the activists are planning a protest outside of the U.S. Probation Office in Baltimore.
Guests:
Phil Berrigan, longtime anti-war activist and one of the founders of the Plowshares Movement and of Jonah House. He was a member of the "Catonsville Nine" who burned draft records during the Vietnam War, and has spent over 10 years in prison for his anti-war activities. Call Jonah House: 410.233.6238.
Michele Naar Obed, member of the Jonah House community who recently served 18 months in prison for her Jubilee Plowshares action of August 1995 at Newport News Shipbuilding in Virginia. Since she was released in 1997, the U.S. District of Maryland Probation Office has not allowed her to return to Jonah House, where her husband had been living for 14 years.
Susan Crane, member of the Jonah House community. She joined Phil Berrigan and four others in an action known as the Prince of Peace Plowshares, when they disarmed an Aegis destroyer at the Bath (Maine) Iron Works in February of 1997. She served time in prison and upon her release was told by Maine authorities to report to Maine, where she has no job or shelter. She went underground and there is now a bench warrant for her arrest.
---