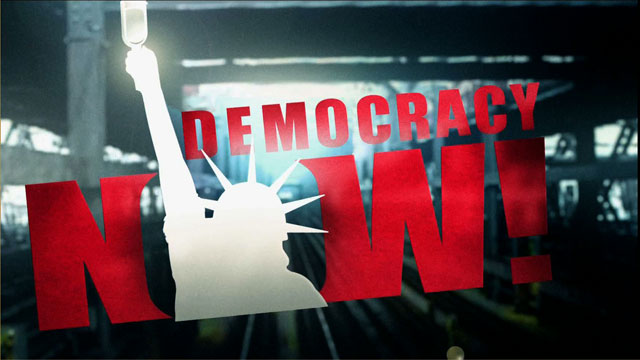 Media Options
Tonight, Project Censored honors some of the most censored stories from this past year–and one of those selected for an award was "Drilling and Killing: Chevron and Nigeria's Oil Dictatorship," Democracy Now!'s expose on the role that the San Francisco-based oil giant played in the killing of two Nigerian activists last May 28.
And yesterday, at Chevron's annual shareholders' meeting in San Ramon, just north of San Francisco, Amy Goodman had the opportunity for the first time to address the head of the corporation–Chevron CEO Ken Derr. In "Drilling and Killing: Chevron and Nigeria's Oil Dictatorship," Jeremy Scahill and Amy Goodman documented for the first time how the oil company had facilitated an attack on dozens of peaceful protesters who had occupied Chevron's Parabe oil platform in the Niger Delta, by flying in members of the Nigerian Navy and the feared mobile police. Two people were killed, one was critically injured and several more were handed over to the Nigerian authorities and tortured for several weeks.
Chevron's Nigeria spokesperson Sola Omole acknowledged to Democracy Now! that the company had transported Nigerian soldiers to the Parabe platform. Yesterday, Amy asked Ken Derr about the killings, and about whether Chevron would ask the Nigerian military to stop shooting protesters on Chevron sites. His answer: "No."
Tape:
Amy Goodman questions Ken Derr, Chevron CEO
---