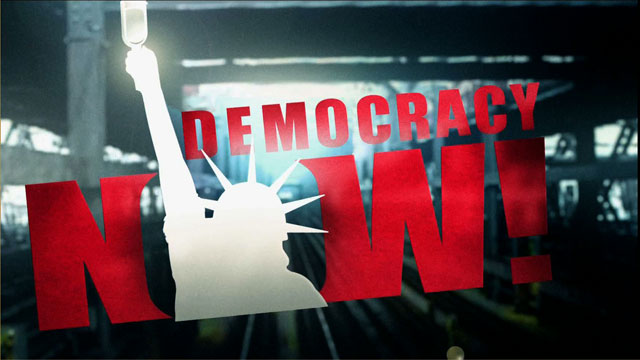 Media Options
Today we continue to follow the developments in the case of journalist Allan Nairn. Three days ago, he was detained by Indonesian soldiers as he walked past a military checkpoint in Dili, East Timor. After interrogation in the central army command headquarters, also the base of hundreds of militia, the military flew Allan to West Timor, where he is now being detained at Immigration Center of Quarantine. Today on Democracy Now!, Nairn reads a statement he gave to the Indonesian military as they consider charges against him. [includes rush transcript]
Nairn's arrest comes a week after his release of a report in The Nation magazine (http://www.thenation.com), describing US military backing for the Indonesian military and militia's deadly campaign in East Timor.
"U.S. officials say that this April as militia terror escalated a top U.S. officer was dispatched to give a message to Jakarta," Nairn said. Admiral "Dennis Blair, the U.S. CINCPAC, Commander-in-Chief of the Pacific, leader of all U.S. military forces in the Pacific region, was sent to meet with General Wiranto, the Indonesian armed forces commander."
"Blair's mission, as one senior U.S. official told me, was to tell Wiranto that [the] 'time has come to shut the militia operation down,'" Nairn said.
"According to a classified cable on the meeting, circulating at Pacific command headquarters in Hawaii, Blair rather than telling Wiranto to shut the militias down instead offered him a series of promises of new U.S. assistance," Nairn said. "According to the cable, which was drafted by Colonel Joseph H. Daves, U.S. military attache in Jakarta, Admiral Blair — and I'm quoting now directly from the confidential cable — 'told the armed forces chief that he looks forward to the time when [Indonesia] resume[s] its proper role as a leader in the region. He invited General Wiranto to come to Hawaii as his guest in conjunction with the next round of bilateral defense discussions in the July-August '99 time frame. He said Pacific command is prepared to support a subject matter expert exchange for doctrinal development. He expects that approval will be granted to send a small team to provide technical assistance to police and selected TNI personnel on crowd control measures.'"
"So although Blair was sent in with the mission of telling Wiranto to shut the militias down, he did the opposite," Nairn said. "Indonesian officers I spoke to said Wiranto was delighted by the meeting. They took this as a green light to proceed with the militia operation."
"When word got back to the State Department that Blair had said these things in a meeting, an 'eyes-only' cable was dispatched from the State Department in Washington to Ambassador Stapleton Roy at the Embassy in Jakarta," Nairn said.
"The thrust of this cable was to say that what Blair had done was unacceptable, that this must be reversed. As a result of that eyes-only cable from Washington to Roy, a corrective phone call was arranged between General Wiranto and Admiral Blair," Nairn said. "That phone call was on April 18th."
"I have the official report on that phone call which was written [by] Lieutenant Col. Tom Sidwell, Blair's aide," Nairn said. "According to Sidwell's account of the phone call and according to U.S. military officials I spoke to, once again, Blair failed to tell Wiranto to shut the militias down."
"At no point did Blair demand the militias be shut down," Nairn concluded, "and in fact this call was followed by further escalating militia violence and increases in concrete, new U.S. military assistance to Indonesia, including the sending-in of a U.S. Air Force trainer just weeks ago to train the Indonesian Air Force."
While in Timor on assignment for The New Yorker magazine, Allan Nairn was injured while attempting to stop the November 12, 1991 Santa Cruz massacre. His skull was fractured by Indonesian troops wielding U.S. M-16 rifles.
After the massacre, Nairn (together with Amy Goodman of WBAI/Pacifica Radio) was banned from Indonesia and occupied Timor as "a threat to national security." The ban has since been personally reaffirmed by the TNI commander, General Wiranto. Nairn returned to East Timor without the knowledge of the Indonesian armed forces in 1994 and 1998.
Earlier this year, in defiance of the ban, Nairn again entered Indonesia. He has been in occupied East Timor since August. Nairn has covered military and human rights issues since 1980. His reporting from Guatemala, El Salvador, Haiti, Indonesia, East Timor and other places, has won the George Polk Award, Major Armstrong Award, the Robert F. Kennedy Prize for International Reporting, The DuPont-Columbia Silver Baton, as well as awards from the Corporation for Public Broadcasting, and the Radio/Television News Directors Association.
Guest:
Allan Nairn, from West Timor.
---
Transcript
This is a rush transcript. Copy may not be in its final form.
AMY GOODMAN:
As I said in the news headlines today, there won't be any food drops over East Timor today. Officials in Australia have decided to hold off, because Indonesia hasn't yet given diplomat clearance for the aid. Australia had hoped to start the drops today. Officials also want to see peacekeepers on the ground before the drops begin, and the first troops aren't expected to arrive until Sunday or Monday.

Meanwhile, it could take months to restore order to East Timor. That's the prediction of the Australian commander of the UN peacekeeping force heading to East Timor. But Major General Peter Cosgrove says he's up to the task. Cosgrove also has a warning for the Indonesian-backed militias who might target Australian troops. He said, "Lay down your weapons and surrender." Indonesian government officials are warning that militias may have it in for Australians because of their strong push for a UN force to put down the violence. Cosgrove also says he's not sure when troops will enter the region. Earlier, officials said the first troops could arrive this weekend.
Well, daily, we've been trying to bring you, as regularly as possible, reports from East Timor about what's happening on the ground. The latest reports we have, that more than 100,000 refugees have been forcibly deported to West Timor. There, they're put into Indonesian refugee camps that are run by the Indonesian military and rampaged through by the Indonesian-backed militias. I just spoke to a Timorese friend, who said that her brother got a call out from one of the West Timor refugee camps, and he said, "We are afraid. This is a terrifying place."


Meanwhile, in East Timor, it's estimated that 200,000 to 300,000 people are in the mountains, have taken to the hills because of the terror, the reign of carnage that has been going on over the last few weeks in East Timor. It's also thought that thousands of people are dead.


We're joined on the telephone right now by Allan Nairn. We've been following his saga, first his reports daily in East Timor, but then, about two days ago, he was taken by the Indonesian military from a checkpoint on the road in East Timor. There, he was brought to Koram, which is the main army command of East Timor under Major — under General Kiki, who is in charge of martial law in the country. He was then brought to Polda, which is the police station he had been brought the week before and watched intel, military soldiers, militia, police interrogating Timorese, who were terrified and brought to the Polda station — not clear where many of them are today. Well, Allan stayed in military detention in East Timor and, just in the last day, was then flown on a plane to West Timor, where he's being held right now at the immigration center quarantine.


Allan, welcome to Democracy Now!


ALLAN NAIRN:
Yes, hello.
AMY GOODMAN:
Allan, we are going to play the statement that we recorded of yours earlier. But I was wondering, before we do, so that you won't have to read it again and because there's so much dropout on the line, if you could give us the circumstances in which you gave this statement. What is happening to you now in West Timor? And exactly where are you?
ALLAN NAIRN:
Well, right now I'm in the quarantine building run by the immigration department, but it's guarded by a lot of military intel. The most significant thing is the plane that I was flown here on, the military charter plane that I was flown in on, I had two military police who were guarding me. But the other [inaudible] filled up the plane, several dozen men, were — they looked like militias. And I recognized some of them from the streets of Dili [inaudible] among the more menacing Aitarak militia people. Actually, it turns out these were all members of police intel.

Indonesians, who are now being flown out in the same plane I was, their assignment was completed, and [inaudible] being flown back to Kupang, here in West Timor, Indonesia. And they were getting on the plane with their militia outfits and their pistols and long rifles and knives and so on. And it was, you know, another example, illustration, face to face, of how the militias are top-to-bottom military police [inaudible].
AMY GOODMAN:
What about everything else you saw on the way to the airport and what the Indonesian military was taking out?
ALLAN NAIRN:
Well, you know, as they were driving me to the airport, you could just see more of burnt-out Dili, the [inaudible] road, which goes to the airport, all — every single one of the [inaudible] is gone. The only major structure still standing there is the former Australian consulate, where the skeleton of the UN now is. That place is built like a fort. But just about everything else is burned out. The plane was taking off, and we were leaving Dili, you could — I could see two major fires burning, one toward the central, south-central part of town and one toward the east. The one in the south-central part of town, which I don't know what it was, but it must have been a very large building.
AMY GOODMAN:
And in terms of loot that the Indonesian military is taking out?
ALLAN NAIRN:
Well, I was actually supposed to be flown out on a US C-130 Hercules, [inaudible] transport plane, but the military escort, they weren't [inaudible] on that plane because it was full. It was just stuffed with — I mean, I couldn't [inaudible] for where these things came from. But it had — a lot of them had looted goods. There were things like gas, gasoline engines and electric generators that had been ripped from where they were — they'd been in. There were boxes and boxes of miscellaneous computer equipment and televisions. There were — there was one entire truck, which a whole group of soldiers pushed into the cargo bay of the plane, so that they were carrying a lot out of Timor. It was either looted stuff, or it was in with the plan laid out in the [inaudible] memo from the Office of Politics — the Ministry of Politics and Security, confidential memo that leaked about a month ago. And in that, they talked about how they would strip Timor of everything and destroy the facilities on the way out. And they certainly seem to be doing that, to say the least. Here in Kupang, they —- the person who's been my chief interrogator here, Mr. Soraya [phon.], said that there were thousands of Timorese, who are now East Timorese [inaudible] held in Kupang -—
AMY GOODMAN:
How many thousand?
ALLAN NAIRN:
—- in various -—
AMY GOODMAN:
How many thousand, Allan?
ALLAN NAIRN:
He said 40,000, four-zero. And in fact, one of them, and he pointed this out as we drove, he was — you know, I was being transported from the place I was being questioned to this quarantine center here, passed his house. And he pointed to a whole bunch of East Timorese being held right next to his house. And he's a top official. So, he estimated 40,000.

And I asked him, "Are these [inaudible] or pro-independence people?" And he laughed and said, "Well, you know, they're all [inaudible] independence." And I asked him whether the militias, the Aitarak, Besi Merah Putih and so on, were active in Kupang, because earlier in the [inaudible], when I saw some of the — standing out in front of the immigration office, I saw some of the — some people who were dressed up like Aitarak passing by on the motorcycle. And in fact, some of them were screaming at me. So I asked him, "Is Aitarak [inaudible] active in Kupang?" And he said, "Yes, but they go after the East Timorese, and they only go after the pro-independence East Timorese."
AMY GOODMAN:
Have you heard about the militias that are rampaging through the camps, Allan, near where you are, though you're not able to get out to see them?
ALLAN NAIRN:
Well, I haven't heard anything [inaudible] today, because, as you said, you know, I'm not free. I'm a prisoner, basically, and I go where they bring me. But yesterday, [inaudible] — yeah, or about a day and a half ago, still in East Timor, I got a call on the hand-phone from someone in West Timor, who [inaudible] in those camps, and they did describe a situation like that.
AMY GOODMAN:
Allan, when we come back from the break, we're going to play the statement that you read, but before we go into the break, can you tell us the circumstances that you wrote the statement in in the last hours?
ALLAN NAIRN:
Right now?
AMY GOODMAN:
Yes, if you can just tell us the circumstances. We're going to play the statement, so that it won't be breaking up as much as you are now.
ALLAN NAIRN:
Right. Well, today at the interrogation today, it was very long. It was about — oh, I don't know — maybe four hours, five hours, something like that. And they were — the way they do it is they make up a written form, a written statement, [inaudible] the questions and my answers. And when we got to item eighteen in the [inaudible], Mr. Soraya said I should give my own response to the charges against me, my own [inaudible]. He said that there are two potential charges against me, both having to do with being here illegally, in the eyes of the army, in violation of the ban, and engaging in unauthorized activities. And he said that there's currently a debate among the ministers of the Jakarta government as to what to do with me. He said that some say [inaudible] face the jail term, which is, based on showing me the regulations, ten years maximum and a five dollar rupiah fine, or another [inaudible] in Jakarta, he said, we're saying I should just be tossed out of the country, which to mean seems politically, you know, much more likely as to what they're actually going to do. And I know that in their discussion in the office, they were all saying that General Wiranto, the Army commander, will make the final decision and that kind of on an hourly basis the matter is being handled by army in Jakarta.

But this was the — what you have the tape of is point eighteen of the statement of the interrogation report, my chance to make my own statement. I started, as with every [inaudible], you know, he asked me the question, and I started to give my response, and he started to [inaudible]. But after he — I had said the first sentence, and he had written down the sentence, he got very uneasy, and he said, "Well, why don't you just write down the rest?" He didn't want to put it down in his own handwriting.
AMY GOODMAN:
Allan, we're going to break for stations to identify themselves, and then we'll hear the statement that you wrote down for the Indonesian military regime. You are listening to Pacifica Radio's Democracy Now! We're speaking with detained journalist Allan Nairn. He has been banned from Indonesia for surviving the 1991 Santa Cruz massacre, in which more than 250 Timorese were killed, got into East Timor in 1994, after being arrested, and then re-entered in 1997, in spite of the ban, and again, just in the last months, has been in Indonesia and East Timor. You're listening to Democracy Now! We'll be back in a minute.
[break]


AMY GOODMAN:
You are listening to Pacifica Radio's Democracy Now! I'm Amy Goodman, as we go now to journalist Allan Nairn's statement to the immigration authorities in Kupang, West Timor, where he is being interrogated throughout the day and then brought back to the detention facility where's he's being held, the immigration center of quarantine. This is what Allan Nairn wrote for the Indonesian military authorities just a few hours ago.
ALLAN NAIRN:

This is point eighteen of the interrogation report on me. This is the part where I get to respond to the charges. I'll just read it quickly.

"I know that the army has put me on the blacklist. They did this because I watched their soldiers murder more than 271 people at the Santa Cruz cemetery. This crime was the responsibility of the Indonesian army commander, General Try Sutrisno, and the minister of defense, General Benny Murdani.



"The murders were committed with American M-16 rifles. The American government also bears some of the responsibility because they have armed, trained, and given money to the TNI/ABRI, even though they knew the TNI/ABRI is led by murderers and is responsible for the deaths of hundreds of thousands of Timorese, Acehnese, West Papuan, and Indonesian civilians.



"Because I survived the massacre and denounced the crime to the outside world, the TNI/ABRI and the Suharto government banned me as a 'threat to national security.' That ban has been reaffirmed by each subsequent TNI/ABRI commander, including General Feisal Tanjung and General Wiranto.



"I do not think that I am a threat to the Indonesian or Timorese people, but I hope that I am a threat to General Wiranto and General Tanjung, and the other present and former leaders of the TNI/ABRI. I believe that they feel threatened by anyone who would expose their crimes. General Wiranto and Generals Bambang, Zacky, Syafei, Kiki, and many others, for example, are responsible for the current militia terror in occupied East Timor and for the increase in repression against the people of Aceh. This is no secret to the people of Timor or to the people of Indonesia or Aceh. They have suffered for decades under the repression and corruption of TNI/ABRI. Many brave Indonesians, Timorese, Acehnese, and West Papuans have been killed, arrested, tortured or raped because they dared to criticize the army and demand their right to freedom.



"As a foreigner and a journalist, particularly an American journalist, I know that I enjoy a certain de facto political leeway that enables me to say things that local people would be killed for saying. I have tried to use that privilege to tell the truth about TNI/ABRI. If, because of this, the army feels they must arrest or jail me, then I know that there is nothing I can do to stop them. But they know that they cannot arrest or kill all the people of Indonesia. That is why they are now so fearful, and that is why I believe they will lose their desperate struggle to retain their hold on power and their police state.



"During my most recent detention, I have been interrogated by officials from army Intel, police Intel, Kopassus Group 5, and many other units. They have asked me many questions about my political motives and opinions. I would summarize my opinions this way:



"I am pro human rights, pro democracy, and anti TNI/ABRI. I am a supporter of the people of East Timor, Aceh, West Papua, and Indonesia, and an opponent of the officials who have repressed and exploited them.



"As an American citizen who is visiting Indonesia and occupied East Timor, I also want to be clear that I believe in even-handedness. The same political, moral and legal standards that are applied to TNI/ABRI officers should also be applied to the officers and political leaders of the United States. So while I support the UN Secretary-General's call for war crimes and crimes against humanity prosecution on East Timor, I think that the prosecution should not be limited to Indonesian officials. Foreign officials who were accomplices to atrocities in East Timor, by providing both murder weapons and the logistics of repression, should also be investigated, charged, prosecuted and, if convicted, jailed.



"Pragmatically, it is hard to imagine General Wiranto sitting in jail. It is even harder to imagine President Clinton as his cellmate. But justice should be impartial.



"It is time for the genocide to end. Untold thousands of Timorese lie slaughtered. Their families are bereft. The victims of Santa Cruz, Liquica, and Suai can no longer speak. Those of us who can should insist that the killing stop right now. And we should also insist that the killers face justice, regardless of who they are.



"These same principles apply of course to atrocities everywhere. I think that this is a simple idea and that most people would agree.



"If General Wiranto or any other officials have further questions about my views, I would be glad to answer them personally at a time and place of their choosing. I would also be glad to give details on the crimes referred to above, and on the complicity in them of General Wiranto and other officials."
[break]


AMY GOODMAN:
And that was journalist Allan Nairn reading his statement that he has now given to the Indonesian military authorities. Allan, who has been reporting from the ground in East Timor [inaudible] the last weeks.
The Nation magazine published his report "US Complicity in Timor" last week, and in the introduction from the editors to that report, they said, "While the Indonesian military's thugs continue their rampage in East Timor, most foreign reporters fled the country. As of September 7th, frequent Nation contributor and award-winning journalist Allan Nairn was one of the only US reporters still there. Nairn left the besieged UN compound and walked the streets of Dili, where he hid in abandoned houses as he observed troops and militia burning and looting. He's been writing about the troubles there for years. In 1991, after being badly beaten by Indonesian troops while witnessing the massacre of several hundred Timorese, he was declared a 'threat to national security' and banned from the country. He's entered several times illegally since then. In his Nation dispatch from East Timor on March 30, 1998, Allan disclosed the continuing US military training of Indonesian troops implicated in the torture and killing of civilians. This last report, 'US Complicity in Timor,' filed last week, was reported by satellite phone to The Nation through Democracy Now!, as we were afraid that there was no other way to get the report out."


Allan, we hope you're still on the line from us. It is a strange situation, being able to talk to you as you are in detention, Allan picked up two days ago in Dili, East Timor by the Indonesian military, brought to the central army command, then flown to West Timor, where he remains in detention.

Allan, we just have a minute, and I know that at any point we could lose you on the phone. Can you tell us again what they say you face, and what is your circumstance? I mean, it is critical to get these on-the-ground reports, and I believe that's why they picked you up. For the same reason that they were able to kill a third of the population since 1975, they want the country closed to the outside world, and you were the eyes and ears that kept it open just a bit for us to peek in. What's happening now in terms of your case?


ALLAN NAIRN:
Well, yeah, I think that's probably true. At first they were —- you know, they just picked me up, seeing a foreigner on the streets. At that moment, I was probably the only foreigner left on the streets of Dili. Then, in the course of the day, as they found out who I was, you know, it got higher and higher level attention, and General Kiki became personally involved. And now they say General Wiranto in Jakarta is involved. But they're basically [inaudible] in Dili, part of one facet of their plan has been to drive the foreigners out as they burn down the town, clear out much of the population, and probably do even worse in the countryside. They already succeeded in clearing out most of the foreigners from the countryside. Several [inaudible] -—
AMY GOODMAN:
But right now, Allan, what is the sentence you face, and what can people do?
ALLAN NAIRN:
Well, they said the — today they said possibly ten years in prison, [inaudible] very unlikely, I don't think that will happen. I don't think I'll do any prison time. I think I'll probably be tossed out of here sometime in the next — tossed out of Indonesia sometime in the next few days. But it's now a matter of, you know, Wiranto and the other ministers are batting around and deciding what to do.
AMY GOODMAN:
Do you have any concerns about the military hearing this?
ALLAN NAIRN:
About what?
AMY GOODMAN:
About the military hearing this. Also, if you could tell us about the news conference that they had you hold while you were still in Dili?
ALLAN NAIRN:
Well, I don't have any concerns about them hearing this. I mean, they know where I stand, and I wrote that statement for them, I mean, at their request. That was a written statement that I submitted as part of my interrogation report. When I was in — being held at the Koram military headquarters in — I guess it was a bit more than a day ago now, maybe it was a day and a half ago, at one point all these Indonesian reporters came into the room I was being held in, some of them with TV cameras, others with radio microphones. They had been staying — I think they had just been brought into Timor, and they had been staying at the Koram complex. And they said they had just spoken to General Kiki, and he had told them about my case, and he told them to come in and ask me some questions. And so, it became an impromptu, an unexpected on my part, press conference with about seven or eight reporters. I don't know if any of what I said was actually reported in the Indonesian press, but that's how it started.
AMY GOODMAN:
Allan?
ALLAN NAIRN:
Hello?
AMY GOODMAN:
Well, yes. Can you hear us?
ALLAN NAIRN:
Yes.
AMY GOODMAN:
Yeah. You've been calling for an arms embargo against Indonesia for what it's done in East Timor. President Clinton, while he said he was cutting off military weapons sales and military relations, has already hinted that he will restore the relationship of the United States to the Indonesian military as soon as peacekeepers go in. What do you think of that?
ALLAN NAIRN:
I think the US cutoff of support for TNI should be total and final. This is not only the army that has killed a third of the population in Timor and occupied it illegally, it's the same army that is now doing a horrible slaughter in Aceh and is repressing and denying democracy throughout Indonesia. You know, Indonesia just went through a long — and is still in the middle of, actually — this long electoral process, which is supposed to be the herald of the beginning of representative democratic government in Indonesia. And here is General Wiranto and the army making a joke of the whole thing by spitting in the face of the incumbent president, President Habibie.
Habibie, even though he himself is an old Suharto protégé, and even though himself for many years he was kind of the Albert Speer of the Indonesian military — he was the man who ran the arms building industries — as president, he did do at least on commendable thing. Well, he did several. I mean, he tried to release some political prisoners. He opened up the press a bit. But he also announced that he would accept a UN-sponsored vote, referendum in Timor, and then abide by the results. And it's very clear that Habibie does not support this insane militia terror that the army is using to burn down East Timor at the moment. But he is completely helpless to stop it, even though he's the president of the country. So this army is a menace not just to the Timorese, but to the Indonesians and to the idea of democracy in Indonesia.


So the US should stop supporting this regime completely, not just on the military side, but also of World Bank and IMF funds. And the same goes for Britain and Australia and Belgium and many of the other Western powers that have helped to prop this army up. And I think that would hasten the army's downfall. I don't think this army is going to last and win politically. I think they will lose. I think over time they'll be defeated by the pro-democracy forces. But if the US were to pull the plug on them, that would really quicken their exit, make it much less bloody — I mean that far fewer Indonesians will die in the process — and open the door for some kind of democratic change in Indonesia.


AMY GOODMAN:
Allan, as we wrap up with you — and I always hate to get off, because it is — well, just concern about your safety and also ability to get back in touch with you. I know it's been extremely difficult to reach you, though listeners might be wondering, as we said before, in the last few days, how it is, with the brutality of the Indonesian regime, you can actually speak on a cell phone. It sort of redefines the term "cell phone." But why is it, again, that they let you use this?
ALLAN NAIRN:
Well, it's all pretty peculiar. I mean, the short answer is, I'm an American, I'm a journalist, and I'm a high-profile political case, so they treat me with kid gloves. If I was an Indonesian or a Timorese in the same situation, I'd be in very big trouble. They've tortured and killed people for far less.

At the same time, one of the peculiarities of style of the Indonesian prison system is that if — this sounds very strange, but I hope the listeners will bear with me — if you're not being tortured, and if you happen to be a high-profile or relatively high-profile case in the Indonesian — political case in the Indonesian prison system, you often end up with a lot more leeway than you would, say, in an American prison. It's inconceivable that if I were being detained in any way by the American penal authorities, even the immigration department — there's no way that I would be on a cell phone doing an interview, regardless of who I was, regardless of the politics surrounding it. But it's one of the oddities of the Indonesian system.
Xanana found that out. Xanana, a Timorese resistance leader who was in prison until just a few days ago, after he was captured in '92, he was able to get away with an awful lot in prison, in terms of maintaining contact with the outside world. So were many of the high-profile Indonesian political dissidents. If they had been in jail in the US, as — you know, not even for political matters, but the people in the US who are now imprisoned, oh, for example, let's say for the School of the Americas protests, or the various protests, you know, of people who've gone out to military bases and done symbolic desecrations of the airplanes, they're often under very tight lockdown conditions, which are actually much worse, in some respects, than those faced by political detainees in Indonesia.


So there's that peculiarity in the Indonesian system, and that plus the fact that I'm an American, so I'm able to get away with something like this, talking on the cell phone, although quietly, even though I'm not free to go and even though I'm constantly interrogated.


AMY GOODMAN:
What would be the most helpful way to get you out of that detention cell, because by you being there, we — aside from being deeply concerned about your safety, we can't get reports directly from East Timor and West Timor from the Indonesian Archipelago, precisely what the regime wants?
ALLAN NAIRN:
Well, I mean, the first imperative is to get the Indonesian army out of Timor, and that could happen within days or weeks. People just have to keep the pressure up on that to see to it that the US cuts them clean and there's just nothing left of US support. And that will very quickly cause Wiranto to pull the plug on the terror and the occupation in Timor. My case is very minor in the whole — in the whole scheme of things.
AMY GOODMAN:
Well, we thank you for doing what you're doing, Allan Nairn, in detention in Kupang, West Timor, and now being threatened with either expulsion or up to ten years in prison. And ultimately, as Allan said, it is up to the general of the armed forces to decide, Wiranto. That, according to the head of immigration that is questioning Allan in the Kupang immigration center.

Perhaps at the end of the show, we will give out some numbers. But since he won't say it, I would say I think the most effective way to get Allan out, so that we can continue this kind of reporting and also protect a journalist who is extremely brave, is to call your senator and Congress member and tell them to call — demand of the State Department and demand of the Indonesian regime that they let him go. If you want to add arms embargo and halt to US support of IMF and World Bank loans, it seems to be all part of the same picture. Again, the Indonesian regime responsible for more than 200,000 Timorese deaths, and in the last weeks the massive displacement of three-quarters of the Timorese population and untold number of people dead. And there, Allan sits in detention, and General Wiranto and Foreign Minister Ali Alatas and President B.J. Habibie walk around freely.
You are listening to Pacifica Radio's Democracy Now! I'll also add that as Allan spoke in detention to the Lehrer NewsHour, he was confined, but the person who had to respond to his charges was Madeleine Albright, the US Secretary of State. She was free to leave after the interview. Stay with us.